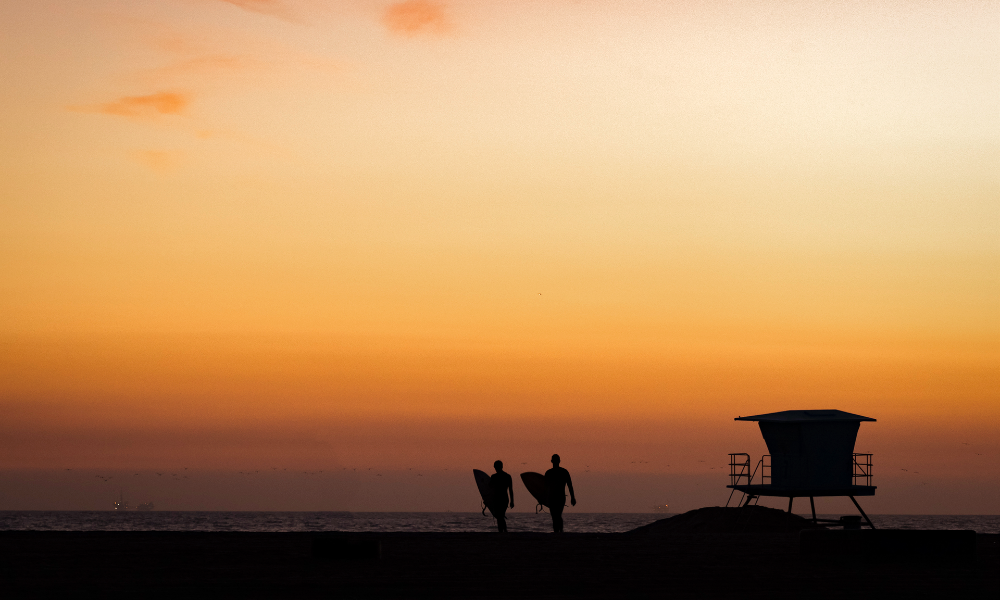 Consider happening Huntington Beach for your SoCal getaway.
Surf City USA is in the barrel —aka tubed, pitted, piped and, in the olden days, shooting the curl—all of which mean in the sweet spot of a perfectly breaking wave. Not only was surfing just named California's offical sport but it also makes its Olympic debut in Tokyo in 2020. And as a visitor destination, that sweet spot just gets sweeter.
Huntington Beach retains the sand-in-the-cracks vibe that comes with a century of surf history. But a quartet of luxe hotels that are steps across Pacific Coast Highway from the beach, and fine-dining options at and near those properties, have made for a dramatic transformation over the past few decades.
Those properties are the Kimpton Shorebreak Resort, Hilton's Waterfront Beach Resort, Paséa Hotel & Spa and the Hyatt Regency Huntington Beach.
The transformation continues.
Perhaps the most dramatic changes of late are at the Waterfront Beach Resort . Its $140 million expansion added the Twin Dolphin Tower—nine stories including more than 150 suites and Offshore 9, the city's highest rooftop lounge—plus two restaurants and Drift, a Waterfront Spa.
Chef Kenny Seliger helms new oceanfront fine-dining room Henry's as well as Offshore 9. Menu highlights at Henry's include Mussels on the Rocks with bok choy purée, a picturesque plating using real rocks, and Mangalitsa pork chop—think Kobe pig. Cocktails, notably the tableside Conductor, are exalted, too.
The Marine Layer skin-conditioning treatment at Drift is named for ingredients such as ume plum-infused seaweed serum and sea-fennel massage wax—and maybe those overcast May-June mornings.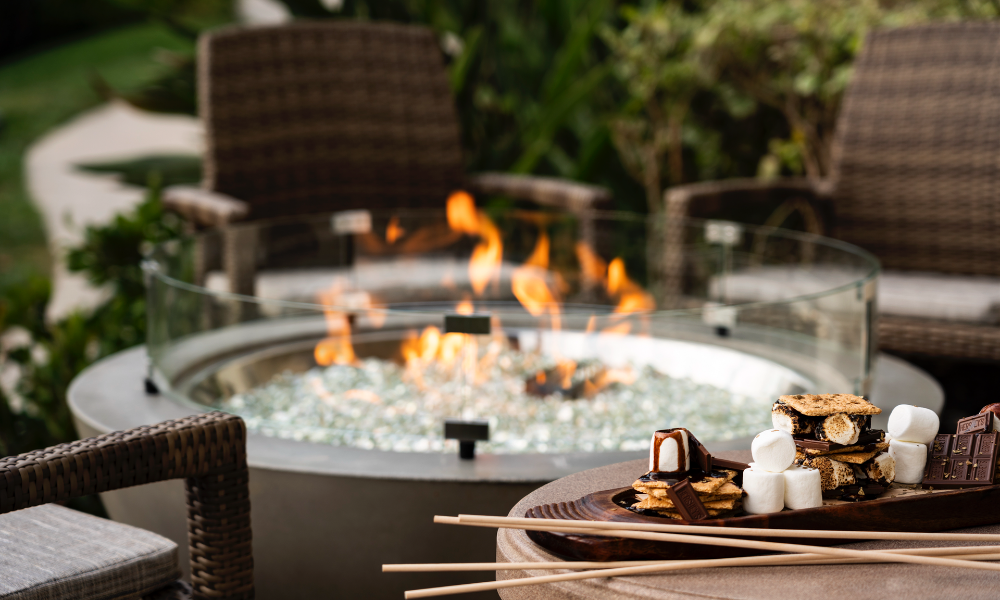 To its 500-plus rooms, the Hyatt Regency adds new beds, furnishings, flooring, 65-inch televisions, illuminated bathroom mirrors with embedded clocks and floor lights motion-activated at night. Six rooms get landscaped patios and fire pits—with fixings for s'mores upon request. Sixteen suites sleep up to 16, ideal for multigenerational travel.
Watertable chef Manfred Lassahn offers head-turning starters such as eggplant quennelles with tiny vegetables and an elaborate grilled branzino entrée. The Côtes de Fleur cocktail uses rosé wine, strawberry brandy and ice made from hibiscus tea in the shape of a gorgeous rose.
Cannabis ingredient CBD is legal in California, not intoxicating and apparently good for your health. The CBD Massage at Pacific Waters Spa reduces muscle and joint pain and inflammation; your muscles may feel like they're floating!
On a private section of beach are cabanas with bites and sips from beachfront bistro Shor. The Dig It! sandcastle concierge helps guests make elaborate sand structures.
Paséa Hotel & Spa offers striking design and truly memorable artwork both in its public spaces and in 250 ocean-view rooms and suites; enter those via high-tech wooden room keys resembling stylized surfboards. Other pluses: a beach butler, surfboard storage and new Paw-séa pup play park— pronounced almost like Paséa.
The shishito burger at Tanner's has been deemed one of the county's 10 best burgers; other options include grouper ceviche and periperi chicken. Its rooftop lounge— aka Treehouse for the bar's spectacular tree sculpture—offers live music and tasty cocktails.
The Mineral Massage at the Paséa's Bali-inspired Aarna Spa also uses CBD—to promote, ironically, detoxification.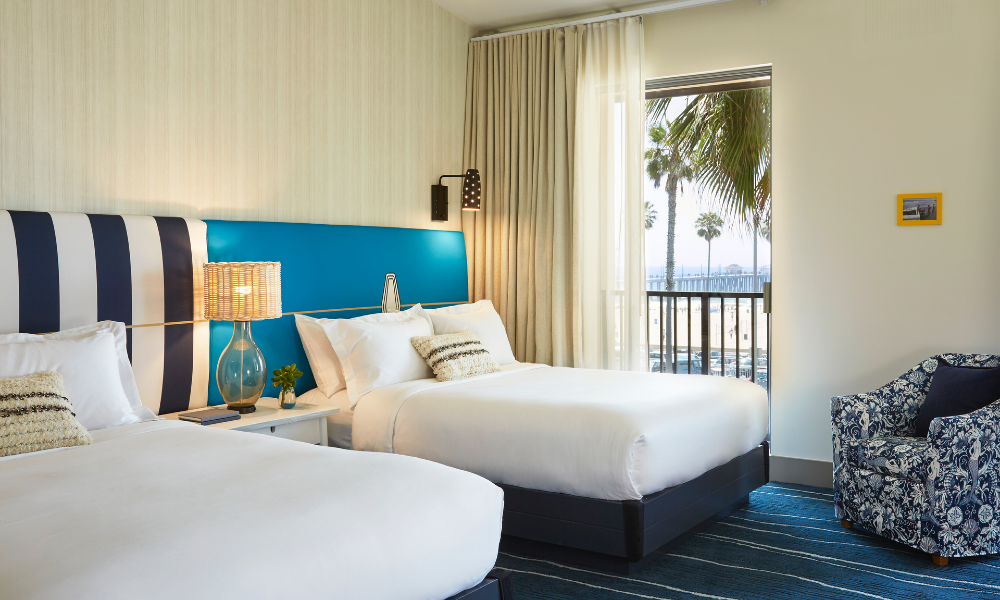 There's a neon "Stay wild" sign on each floor opposite the elevators at the Kimpton Shorebreak Resort, at the north end of the coastal hotel row. Its $3 million renovation upgraded its public areas and 157 rooms, which all have modern art and midcentury furnishings, and adds a 24-hour fitness center with climbing wall.
Overlooking the pier from its downtown perch, the Kimpton distills the coolest surf vibe through the hippest of lenses. Arguably the coolest "detail" is the stunning contemporary wooden pingpong table in the lobby; equipment is at the front desk.
Inspired by global surf destinations, the Pacific Hideaway menu is seasonal, but the whole fish with elaborate Korean-style side dishes and the Laos sausage wraps never come off. A mural of a flower-festooned Frida Kahlo is an irresistible—and Instagrammable— backdrop. Rum cocktail Dazed & Confused used a faux-joint garnish long before weed became legal.
Nearby Pacific City, which opened in 2015, offers acres of oceanfront retail such as West of Camden and Stitch & Feather boutiques and Sea Folly for swimwear.
Heading off-property for a meal? Pacific City's LSXO—one of the county's five Michelin Bib Gourmand eateries—is hidden within Bluegold restaurant. Follow stenciled butterflies to an unmarked door for a love letter to the bold fare of Saigon's District 1 and a superhip soundtrack.
Find casual fare at Pacific City's Lot 579 food hall—sandwiches at Burnt Crumbs, burgers and beers at American Dream, PopBar for frozen confections. Bungalow lounge is just opposite.
Culture? Surf culture! Visit Huntington Beach International Surfing Museum, Surfing Walk of Fame and surfer statues. Find surf shops—and a memorable Mai Tai at No Ka Oi—along Main Street.
The No. 1 attraction? The beaches, of course. Huntington City Beach, Huntington State Beach and Bolsa Chica State Beach are popular for volleyball and fire rings as well as surfing. Bolsa Chica Ecological Reserve is a birdwatching paradise.
Other popular activities include bicycling along 10 miles of ocean strand; kayaking and stand-up paddleboards in Huntington Harbour; and sunset yoga on the beach. Vans—sponsor of the U.S. Open of Surfing in summer— opened Off the Wall skatepark inland.