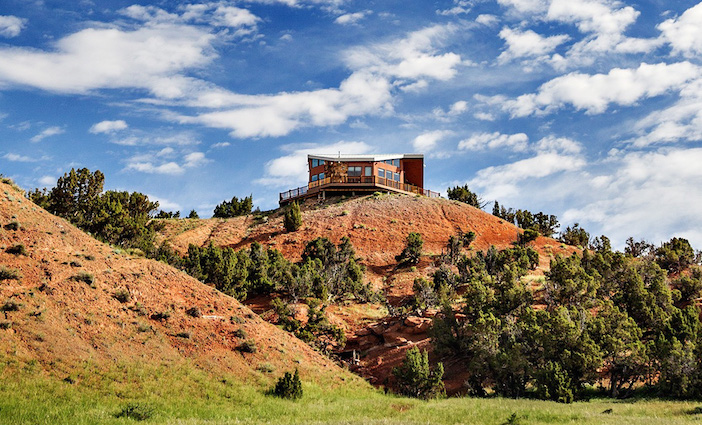 Amid the ever-changing displays at Autry Museum of the American West in Los Angeles, exhibits such as Art of the West, featuring masterworks by artists such as Frederick Remington or Georgia O'Keeffe, never change. Western painter Olaf Wieghorst inspires Wieghorst Western Heritage Center near San Diego.
The love of the West either is in Americans' DNA or—in the case of Wieghorst, raised in Denmark—it finds its way into it. Many Americans live the Western lifestyle; others wish they could. Among the latter, those with the wherewithal to pony up, as it were, might head to a luxury ranch resort such as Red Reflet Ranch, in northern Wyoming.
This is the land of the endless open, where a single property comprises black Angus range and elk-frequented forest, red and white sandstone cliffs and alfalfa fields, and where virtually any vista could inspire a Remington or Wieghorst. Deer and Nubian goats come and go. Where there are wranglers, there are horses, in this case more than 50.
Red Reflet offers the best of cowboy and cosmopolitan. Owners Bob Kaplan and his wife and impeccable hostess, Laurence, designed the four stunning chalets and lodge.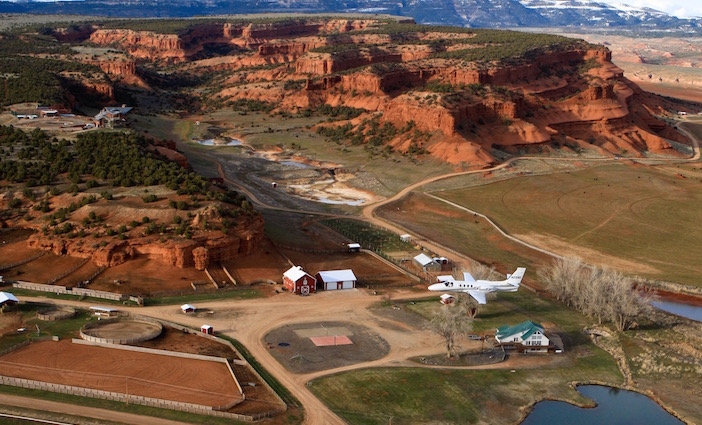 Meals are sophisticated—yet guests can dress up in boots and button-downs or come straight from tracking elk in camo with nary a glance. Whether from Australia or Newport Beach, many guests take advantage of the air strip. The Kaplans are both pilots.
Guests trade in their vehicles for ATVs upon arrival, for reasons both practical and adventurous. They take the ATVs from their chalet to the lodge for meals, for instance, as well as to explore the vast property. Dirt bikes are available, too.
The cost, about $700 per person per night, is all-inclusive, covering accommodations in a private chalet, multicourse gourmet meals paired with fine wines and a multitude of activities to occupy you until the cows come home. Among them: horseback riding for all skill levels on panoramic trails; roping lessons and barrel racing; and team cattle penning. There are pistol, rifle, trap and archery ranges. An artesian-well swimming pond features ziplining, waterslide, kayaks and fishing.
Near the hilltop lodge is a swimming pool, fitness room, tennis court and climbing wall. You can collect eggs from the coop; play volleyball or basketball; go mountain biking or, in winter, snowmobiling; or hike at nearby Castle Gardens, with its turret-like outcroppings. Consider a private meal in a remote mountain cabin, take culinary lessons—or just help in the kitchen.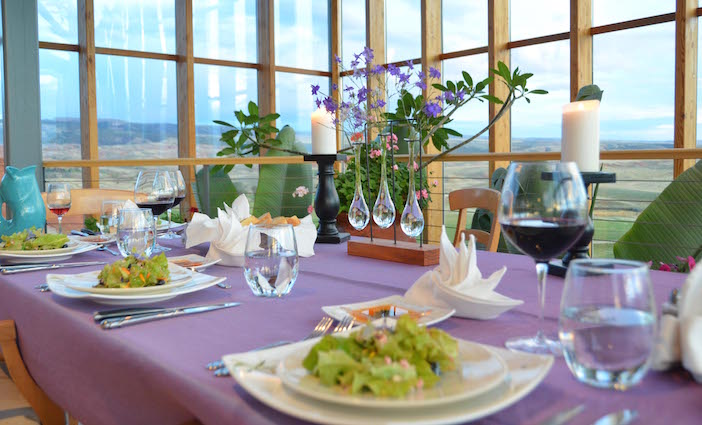 Chef Clint Loftin presents elaborate family-style meals, no two alike. Recent highlights included a superb osso buco atop unforgettable Italian farro. Whether whiskey or wine, pours are bottomless. Lunch and dinner end with top-notch pastries.
Red Reflet is a labor of love for the Kaplans, who made their respective fortunes before they retired and married. Bob's son, incidentally, is David Kaplan, owner of bars including New York's iconic Death & Co. and L.A.'s Honeycut and Walker Inn.
For those without their own single-engine jet, Red Reflet is a four-hour drive from Jackson Hole, home of the Grand Teton Music Festival each summer, or Yellowstone National Park. Cody, two hours away, and Worland, a half-hour drive, both have commercial airports.
In Cody, you'll find a nightly rodeo and the Buffalo Bill Center of the West, home to five museums: the Buffalo Bill Museum, Plains Indian Museum, Cody Firearms Museum, Draper Natural History Museum and—of special appeal to fans of the Autry—Whitney Western Art Museum.
Red Reflet Ranch, 10 Lodge Road, Ten Sleep, Wyoming, 307.366.2340. red-reflet-ranch.net
All photos courtesy of Red Reflet Ranch.