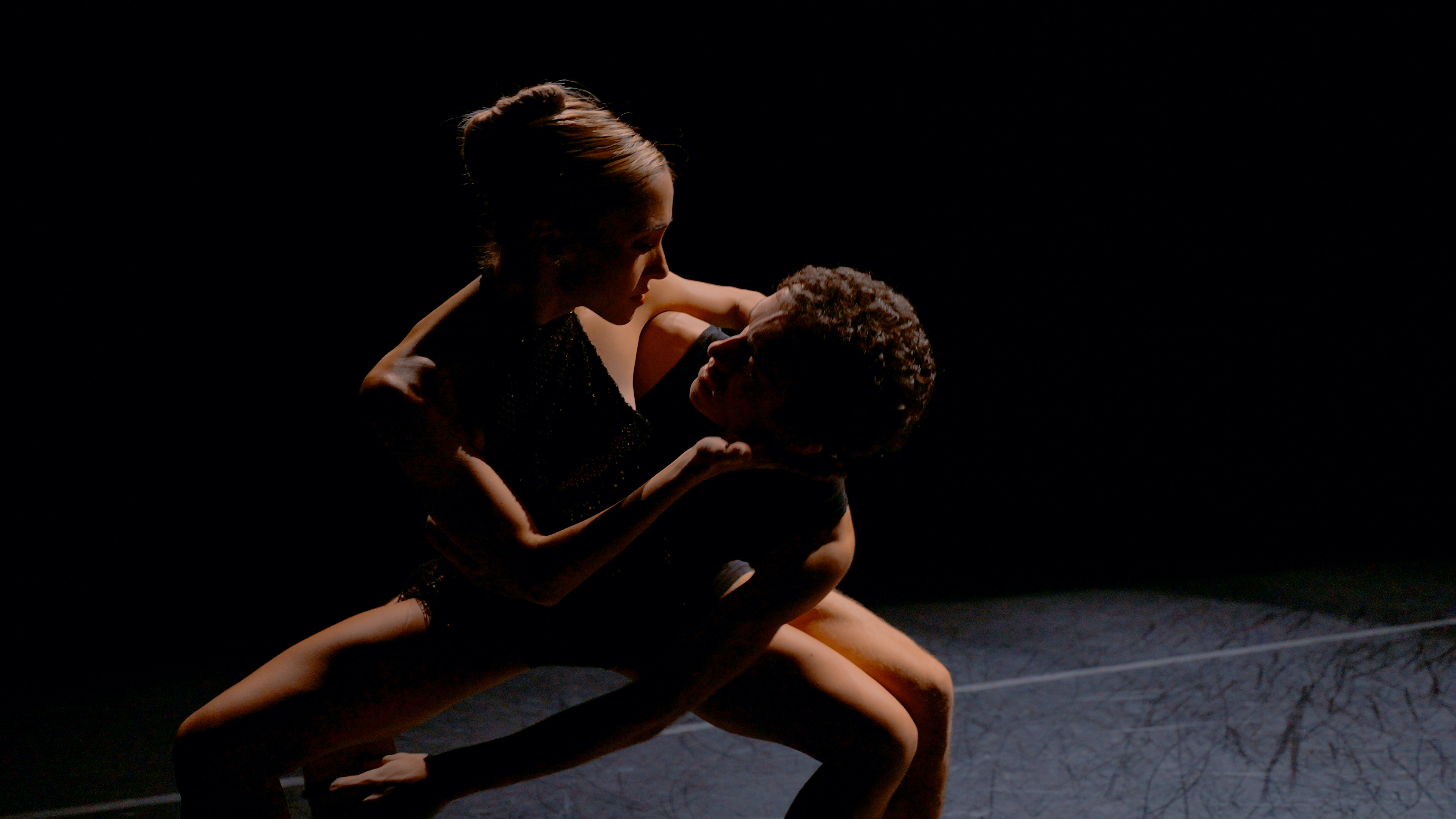 What empty hall? American Ballet Theatre takes up temporary residence at Segerstrom Center for the Arts.
Eighth in a nine-part series, "The Arts of Innovation," powered by Performances Magazine.
By Sherry Stern
Unable to work in their COVID-unfriendly studios in Manhattan, American Ballet Theatre dancers headed 2,800 miles west this spring.
Eighteen dancers settled into Segerstrom Center for the Arts in Costa Mesa and a nearby hotel for a five-week residency in which to rehearse and present four works, filmed for digital viewing through May 26.
As pandemic restrictions eased in California, they were able to dance for invited guests during two nights of filming and for an audience of 300 at a final afternoon performance, the first paying ticketholders inside a Segerstrom Center theater in more than a year.
"This is our first time going back to work as a substantial group, and it's a place that is kind of our second home," says Kevin McKenzie, ABT artistic director. "It's going home, and it's being on a stage."
ABT and Segerstrom have partnered for 35 years, presenting countless classic ballets and modern dance programs since the center's first year in 1986. The relationship solidified with the 2015 opening of the ABT William J. Gillespie School for dance in Costa Mesa.
Their shared history makes the center a natural haven for what McKenzie calls a "recalibration on how we create and deliver new work."
The culmination is Uniting in Movement, two works by contemporary choreographers Lauren Lovette and Darrell Grand Moultrie, plus ballet technique showcases Grand Pas Classique and Swan Lake's Act II Pas de Deux. Tickets at scfta.org.
Segerstrom Center president Casey Reitz started his job three months before theaters went dark in March 2020. One of the center's last performances was the world premiere of ABT's Of Love and Rage.
The two organizations talked about how to keep working together "almost since the day we shut down," Reitz recalls. The immediate challenge, according to McKenzie: "We have got to keep creating." Taking a cue from last summer's NBA season in Florida, ABT created its bubble.
Following a two-week quarantine, the dance contingent sequestered on one floor of the nearby Avenue of the Arts Hotel. Rehearsals with choreographers began; costumes were designed.
Remaining motivated, and in shape, has been a challenge for dancers during the lockdown. ABT member Jose Sebastian had coronavirus early on; when he recovered, he didn't have space to dance in his tiny Upper West Side apartment.
Then he was asked to join a dance pod heading west. "You know that saying 'You never know how much you miss something until you don't have it'?" he says during a rehearsal break in April. The bond among the dancers was an unforeseen benefit of the bubble, he notes.
"These pods have been so special, providing a unique way of getting to know the younger dancers," says Sebastian, an 11-year corps member. "Normally we're so busy with rehearsals, running all over the place, doing a million things in the city. We don't have time to talk, to get to know everybody at a deep level."
Reitz envisions a live audience later this year for the company's signature The Nutcracker.
Dance is a foundation of Segerstrom's arts mission. Executive vice president Judith O'Dea Morr, who more than anybody has shepherded the genre at the center, longs for its return to a stage. Keeping the arts alive, she says, "is a critical part of what we need for our well-being and to satisfy the need we have for beauty."
Photo by Dancing Camera