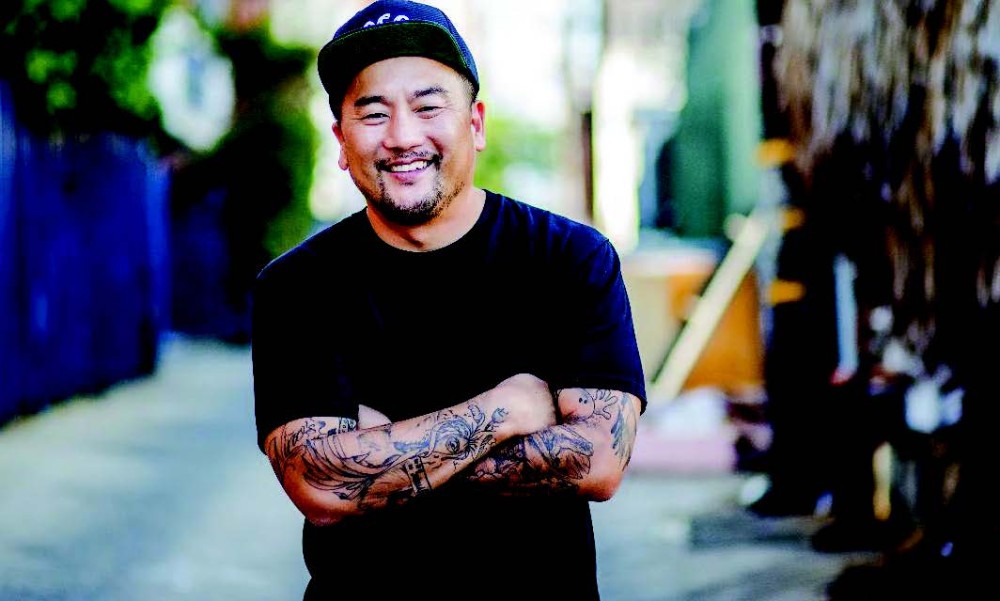 By Vicki Arkoff
The king of food trucks, Roy Choi, put his first Kogi BBQ truck on the streets of L.A. 11 years ago to sell drool-worthy Korean tacos for two bucks each. It started a multiethnic comfort-food revolution on four wheels. Brick-and-mortar restaurants followed—A-Frame, Alibi Room, Chego!, LocoL and, now, Best Friend at Park MGM Las Vegas, Choi's first eatery outside of California.
Along the way, Choi wrote a cookbook memoir (L.A. Son: My Life, My City, My Food published by HarperCollins), consulted and appeared in the movie Chef, cooked and judged a smorgasbord of food shows and collected major accolades: Food & Wine's Best New Chef, L.A. Times' Restaurant of the Year, Time's 100 Most Influential People in the World and more. But Choi's never really left the streets, not even now that he's the executive producer and host of Broken Bread, a documentary series for KCET and Tastemade that spotlights inspiring people making a difference in L.A. communities through food.
It's difficult keeping up with all your projects. Restaurants, publishing, TV, community outreach projects…
It may look like I do a lot of things, but it's been a 10-year marathon. I've actually not done a lot of things because I put my heart and soul into every project. I put everything I had into Broken Bread. I treated it like a new restaurant opening.
Broken Bread is a moving look at L.A.'s broken food chain, in a sense. What was your approach to the subject of food for this series?
I don't need to show you that I can eat a five-layer cheeseburger in under five minutes, or pit two young chefs together to the final death. There's enough frivolous television out there. This, being for public television, I wanted to show what's really going on out there, and how many beautiful people are doing beautiful things every single day, being worker bees, making the honey. We fundamentally believe that wholesomeness, deliciousness and affordability don't have to be mutually exclusive concepts in fast food. Fast-food restaurants can truly empower the communities they currently underserve. Giant corporations that feed most of America have degraded our communities by maximizing profits over decades. Chefs should feed America.
In the first episode, you introduce the people behind Homeboy Industries' gang rehabilitation program and Dough Girl Pizza, which employs kids struggling with drugs and homelessness. You have a history of giving second chances to marginalized people, too. Why?
Because I am a street cook, but before I was a street cook, I was a street person. In my mid-20s, I was right there where a lot of the kids were from Dough Girl. I was at rock bottom, drunk every day, on drugs, gambling, burning bridges. I was couch surfing, just trying to survive. I entered the food world after seeing the Essence of Emeril. I had an out-of-body experience. I felt Emeril Lagasse was reaching out from the TV, telling me that I'm f—ing up. I took that moment to heart, got up off the couch and started researching chefs and that whole world. Food completely changed my life.
Now your own businesses are changing the lives of others.
Why can't we feed each other, and just do it without having everything be about commerce? In South Central L.A., at Jefferson High, lunch might be their only meal of the day, so we offered $1 smoothies as a healthy option. The students are running it. We turned that into a store, and now the store is going to move to Watts next to LocoL, our healthy fast-food counter. Our purpose at LocoL was to provide jobs for the community, and to make good food from grains, fruits and vegetables. If we collectively just eat one less burger a week, that's the equivalent to taking 12 million cars off the road.
What's your next challenge?
Just running businesses, trying to grow every day. I don't have a master plan. I wake up, drink water, and take a s— like everyone else. I just do everything I can every day. I open myself up to the universe, and I do whatever I feel and what comes to me. If an idea pops into my head and I can't get ride of it, I'll pursue it.
Will you still pursue food trucks? Is that trend still alive and well?
Yes. There's something beautiful about eating outside. Taco trucks and stands still are my late-night go-to.
The title of your memoir is L.A. Son. From your vantage point, what is Los Angeles?
It's a multidimensional, multiracial, multicultural city filled with the highest of highs and the lowest of lows. It has quiet moments and private moments in the biggest, most hectic, most creative city in the world. L.A.'s a place that can be extremely tranquil, but there's a geyser of hot water right under you, constantly bubbling and changing and bleeding new ideas. We can imagine our dreams a lot better than other cities. We have the space to do that, but it's balanced with the intensity and complicated nature of our city. L.A. is not just one thing. It's a compilation of all these things. Also, it's a relatively new city, so we're not tethered down by traditions, which allows the city to constantly change. That's why a lot of world cultures are led by Los Angeles. We're constantly creating.
What made you want to gamble on the Vegas culinary scene by opening Best Friends in Park MGM?
MGM reached out to me about the Vegas project, and it felt right. I'd been looking for a way to expand because…I don't know how to describe it, except that it's like when the X-Men and Cyclops shoot out all his rays, and after all the rays are gone, you're completely exhausted and you have to rebuild again. That's pretty much how I build stuff. How I get involved in things. Obviously, with that composition in life, it's hard to open restaurant after restaurant after restaurant in New York, Dubai, Hong Kong, Chicago. Not that I don't want to or won't, it's just that I haven't figured out the formula where I don't walk away totally exhausted. I thought that Vegas could be a good bridge to figuring that out.
Broken Bread premieres on KCET and is available for streaming at brokenbread.tv on May 15.
WHERE TO BREAK BREAD
Check out Roy Choi's L.A. restaurants and the businesses he visits in Broken Bread.
A-Frame. Choi's take on Hawaiian soul food with an L.A. vibe. 12565 Washington Blvd., Culver City, 310.398.7700, aframela.com
Alibi Room. Cocktail bar serving Kogi BBQ and Chego! rice bowls from a walk-up window. 12236 Washington Blvd., Culver City, 310.390.9300, alibiroomla.com
Dough Girl Pizza. A pizza shop changing lives one slice at a time. 16851 Victory Blvd., Van Nuys, 818.373.7300, doughgirl.pizza
Earle's. Legendary hot dog grill that started as a street cart run by two can-do brothers. 3864 Crenshaw Blvd., Baldwin Hills, 323.299.2867, earlesrestaurant.com
Hank and Bean. Organic, vegetarian and alternate food events, plus private catering. 323.813.5125, hankandbean.com
Homegirl Café. Zagat-rated diner at Homeboy Industries. 130 W. Bruno St., downtown, 213.617.0380, homegirlcafe.org
Kogi BBQ Trucks. Choi's Korean short-rib-taco fleet. Check website for locations. kogibbq.com
Kogi Taqueria. Choi's OG tacos, burritos and kimchi hot dogs. 3500 Overland Ave., Suite 100, L.A., 424.326.3031, kogibbq.com
The Vegan Hooligans. Greasy-spoon pop-up restaurant serving up a plant-based menu. 4862 Eagle Rock Blvd., L.A., 323.257.2229. Instagram
Watts Coffee House. Soul food in the heart of Watts. 1827 E. 103rd St., L.A., 323.249.4343. Facebook