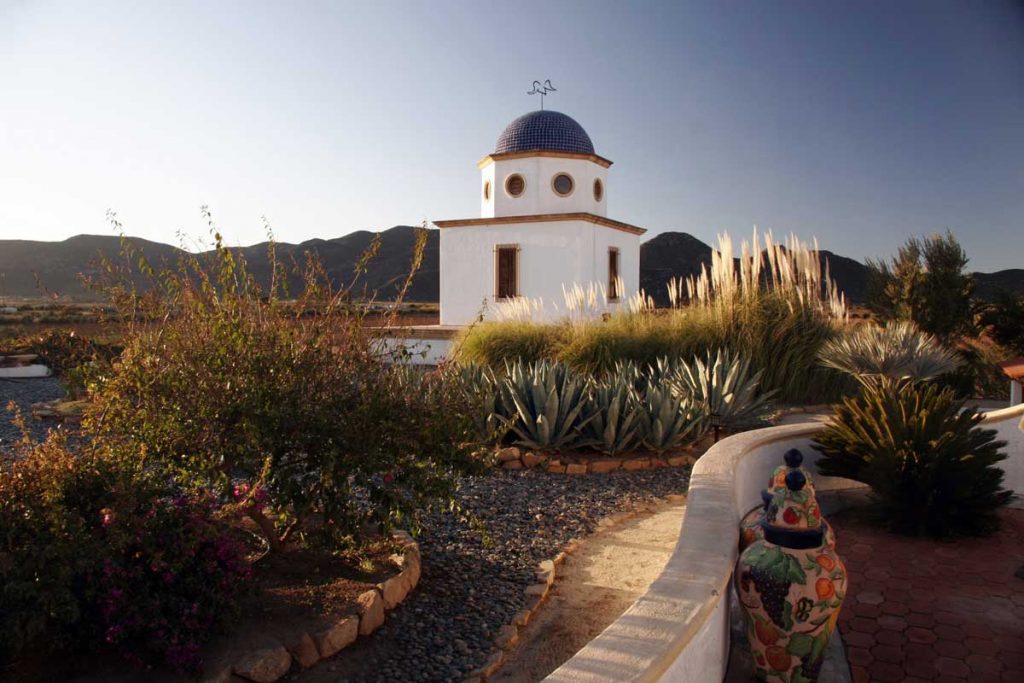 Where to stay in Mexico's vineyard-rich Valle de Guadalupe after tasting through the country's best wines.
By Sarah Daoust, adapted from Valle de Vino in the May 2016 edition of Performances Los Angeles magazine
The Northern end of the Baja peninsula, specifically the Valle de Guadalupe, is being hailed as "the new Napa." The region boasts more than 50 wineries, with more opening every year. A quiet landscape of boulder-covered hills and green valleys, it produces 90 percent of all of the wine that comes from Mexico. Damp winters and dry, hot summers, combined with porous soil and sea breezes, are ideal for growing grapes.
The valley also brims with accommodations that complement the winery experience, offering an easy and marvelous getaway just south of the border.
For an intimate and relatively private retreat, new Finca La Divina, at the southern end of the Valle de Guadalupe, is a three-bedroom bed-and-breakfast that feels like a cozy yet spacious family home—and it once was exactly that.
The latest endeavor from chef Javier Plascencia, the overhauled property boasts gorgeously appointed contemporary digs with a dose of rustic charm that reflects the region's wine country. Vibrant artworks accent each sumptuous, distinctively decorated bedroom, each of which has direct access to the great room and common area offering a full kitchen, bar and fireplace. Outside, guests can relax in one of several lounging areas with shaded porticos and a full grilling station, or enjoy the pool or hot tub.
Their stay includes a full breakfast. For lunch or dinner, options include Plascencia's nearby country kitchen, Finca Altozano, known for its sprawling indoor-outdoor seating, stunning Valle views and Baja-Med cuisine, notably wood-fire-grilled meats.
Eight new villas at Finca La Divina are planned for later this year.
Another charming destination in the Valle is Adobe Guadalupe Vineyards & Inn, outside the town of Francisco Zarco. Outfitted with six secluded guest rooms, it was one of the area's first B&Bs. The elegant, hacienda-style inn houses the winery and cellar room and is surrounded by 60 acres of vineyards producing cabernet sauvignon, cabernet franc, merlot, malbec, syrah, nebbiolo, viognier, tempranillo and grenache wines.
Also on the grounds are a seasonal alfresco restaurant and a romantic dining room with a cozy fireplace; plus a pool, Jacuzzi, meditation garden, serene fountain courtyard, brick archways and stables offering horseback riding.
Most visitors come to relax and to enjoy the wines. The guest rooms have neither televisions nor Wi-Fi, although both are available in the library. But eye candy and stimulation abound, thanks to the Valle views just outside.
Also very near Francisco Zarco, in the El Provenir area, sits Hotel Boutique Valle de Guadalupe—a 21-room, family-run property with exquisitely landscaped grounds, a wine cave for local tastings, a large pool, Jacuzzi, organic garden and a stable with horses, goats, sheep and peacocks.
The mountain-view Fuego restaurant/bar offers covered outdoor seating overlooking the vineyards. On the menu: spicy lamb tacos, tuna tostadas and Brussels sprouts with garlic jelly.
An array of activities can be enjoyed on site and nearby, including cycling, billiards and table tennis. The property also offers hot-air balloon rides, helicopter tours and guided horseback-riding trips.
Wine aficionados, of course, also head out to the many other wineries in the Valle de Guadalupe.
Highlight of the year arguably comes in August, when the Valle de Guadalupe celebrates the wine harvest festival, or Fiestas de la Vendimia. Wineries and restaurants host galas, dinners and parties celebrating the harvest and local food and wine.
Newer must-visit wineries include Finca La Carrodilla, which makes biodynamic wines; the family-run Viñas de Garza; small producers such as Monte Xanic, known for its sauvignon blanc; and the ultra-mod Paralelo, which showcases 250 acres of barbera, cabernet sauvignon, petite syrah, merlot, sauvignon blanc and zinfandel wines. For more information, visit bajabound.com and click on "Baja Wine Country."