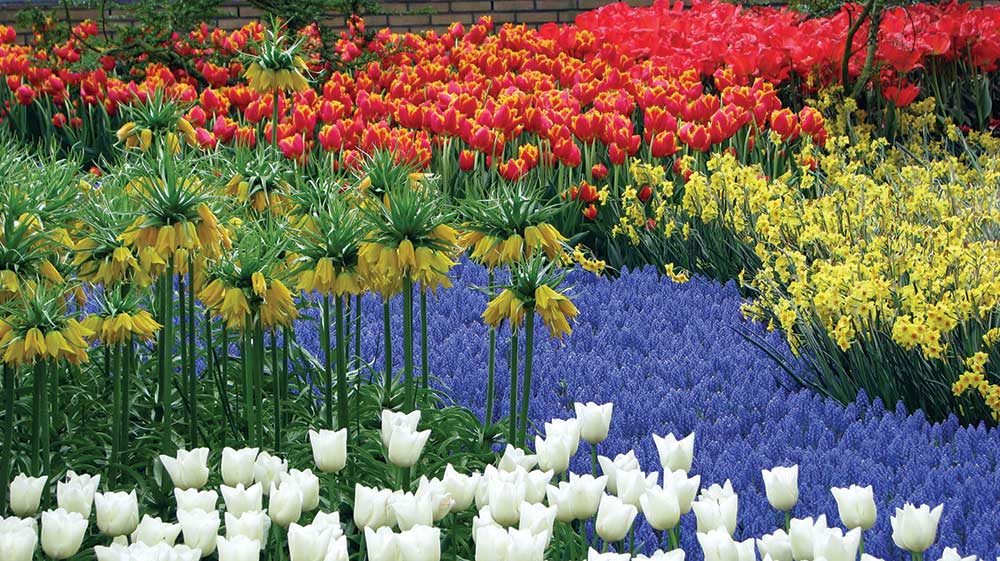 Stop and smell the tulips at these global destination where spring is truly in bloom.
Brittany Dietz
Some folks in parts of the U.S. wondered if spring would ever come as they battled through the last bit of a winter that refused to leave. But come it did, and for those who might need a little extra dose this year, cheapflights.com suggests these places around the globe where spring is really in bloom—where you can stop to smell the tulips as well as the roses.
Shibazakura Hill
Japan
Imagine 189,444 square feet covered in 400,000 bright and colorful flowers. That's what you find at Hitsujiyama Park through May. Winding paths guide you through the thousands of magenta, red and white flowers, and cherry trees. From Shibazakura Hill you get a picturesque view of the city below and the Daisetsuzan mountain range above.
Keukenhof
Lisse, Netherlands
With more than 7 million bulbs in bloom and 800 varieties of tulips, Keukenhof in the springtime is unforgettable. This year, the inspiration for the flower shows, the new Selfie garden and the flower-bulb mosaic (made up of thousands of tulips) is Van Gogh. Keukenhof—aka the Garden of Europe and the world's second largest flower garden—honors the 125th anniversary of the artist's death by displaying the beauty of his paintings through the combination of thousands of flowers. On view through May 17.
Biltmore Blooms
Asheville, North Carolina
United States Biltmore's in full bloom through May 25. Stroll the 2.5-mile path of manicured gardens and admire the work of landscape architect Frederick Law Olmsted. Once you've taken it all in, spend the rest of your day biking, horseback riding, hiking, shopping and dining at the Biltmore; there are 10 dining options.
Canadian Tulip Festival
Ottawa, Ontario
See nearly 300,000 tulips, 60 different varieties in 30 flower beds, in bloom. May 8-18, Ottawa holds the world's largest tulip festival to symbolize the gift given to the Canadian people for providing safe harbor to the Dutch royal family during the German occupation of the Netherlands. Events include fireworks and a treasure hunt.
Chelsea Physic Garden
London, England
This one-of-a-kind place is the oldest botanical garden in London, founded in 1673 by the Worshipful Society of Apothecaries. It is now one of the world's most important centers of botany and plant exchange. Each plant is edible and useful; all play a part in natural medicine. Stroll through the relaxing venue, then top off your day with tea at the Tangerine Dream Café.
Kirstenbosch National Botanical Garden
South Africa
No visit to Cape Town is complete without a visit to Kirstenbosch National Botanical Garden. On the slopes of Table Mountain in the Cape Floristic Region is the first botanical garden within a natural UNESCO World Heritage Site. Even though Cape Town is entering into its fall, the garden is brighter and more vibrant than at any other time.
Dunedin Botanic Garden
New Zealand
While much of the world is welcoming warmer weather, our friends Down Under will soon enter winter. But don't let that fool you: You can still witness beautiful flowers. Visiting on a chilly day? Stop by Dunedin's Winter Garden Glasshouse and its Tropical House; the east wing's subtropical-plant collection; and the west wing's cactuses and succulents.
Toowoomba Carnival of Flowers
Toowoomba, Australia
This festival actually is in the spring Down Under—Sept. 18-27—so plan this visit for a fall flower fix! The carnival is packed with events and activities—food and wine events, outdoor movies and steam trains. Oh, and flowers, parades with flowered floats and daily garden tours. Book activities early, though. Some are already selling out.