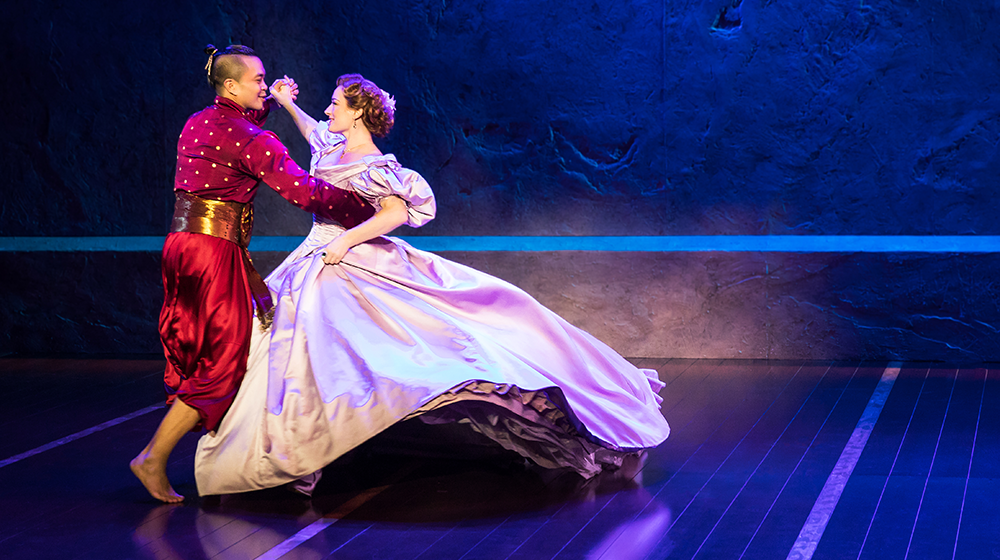 This month, Orange County brings you cultural festivals, Valentine's Day dinners, award-winning musicals and more. See our list of 35+ top Orange County things to do in February.
Bayside Restaurant's Nikka Whisky Dinner
Feb. 1. Indulge on delicious food and libations from Nikka Whisky at Bayside Restaurant. Featured whiskies include Nikka Whisky Coffey Grain, Coffey Malt, Pure Malt Taketsuru and more. RSVP to cameron@diningasart.com. 6 p.m. $58 (excluding tax and gratuity). 900 Bayside Dr., Newport Beach, 949.721.1222. baysiderestaurant.com
Silverstein & Tonight Alive
Feb. 1. Hailing from Sydney, Australia, rock band Tonight Alive will perform on stage along with Canadian rock band Silverstein for an electrifying performance that is sure to bring the house down. 6 p.m. $18. House of Blues Anaheim, 400 West Disney Way, Suite 337, Anaheim, 714.778.2583. houseofblues.com
The Stone Foxes
Feb. 2. Get ready for what Entertainment Weekly calls, "Perfect back-to-basics rock." Founded by brothers Shannon and Spence Koehler, The Stone Foxes will bring their foot-stomping rock 'n roll tunes to the Black Box Theatre for one night. 8 p.m. $20. Black Box Theatre at Soka Performing Arts Center, 1 University, 949.480.4278. soka.edu
'Violet'
Feb. 2-Mar. 4. Set in the deep South during the early days of the civil rights movement, this Tony-nominated musical tells the story of Violet, a young woman accidentally scarred on the face as a child, and her journey to find a TV evangelist that can cure her. Along the way, she meets two young soldiers who teach her about love, courage and the true meaning of beauty. Ages 13+ recommended. See website for showtimes and prices. Chance Theater @ Bette Aitken theater arts Center, 5522 E. La Palma Ave., Anaheim, 888.455.4212. chancetheater.com
Kristin Chenoweth
Feb. 3. Best known for her performance as Glinda the Good Witch in Broadway's smash hit Wicked, Emmy and Tony Award-winner Kristin Chenoweth will bring her strong vocals to center stage with a performance of popular songs from Broadway and the Great American Songbook. 7 p.m. $59+. Segerstrom Hall, 600 Town Center Dr., Costa Mesa, 714.556.2787. scfta.org
Great Train Show
Feb. 3-4. Roll over to the nation's only coast-to-coast model train show. Expect over 300 tables of trains for sale, 60 exhibitors from across the country, 20 operating model train displays and more. Upon entrance, there will be free door prize giveaways and children can enjoy bounce houses. Sa-Su 10 a.m.-4 p.m. See website for ticket prices. OC Fair & Event Center, 88 Fair Dr., Costa Mesa. trainshow.com
Yasmine Kasem: 'Mwasah'
Feb. 3-Apr. 15. After the loss of a close friend, American-Egyptian artist Yasmine Kasem's Mwasah expresses the formal aspects of Muslim historical and contemporary rituals with physical manifestations of her own mourning in this exhibition. The materials used include fabric, paper, rope and other unconventional materials. Reception (Feb. 3) 7-10 p.m. Grand Central Art Center Theatre, 125 N. Broadway, Santa Ana, 714.567.7233. grandcentralartcenter.com
Letter & Embossing Class at M. Lovewell
Feb. 4. Step up your creative game with this hand lettering workshop. Attendees will learn how embossing pens, powders, and heat can transform your lettering and create the most beautiful cards, bags and gift tags. Items provided include a hand lettering practice packet, a fudenosuke brush pen and two 5×7 cards for your embossing projects. 2-5 p.m. $100. 305 E. 4th St. Unit 103, Santa Ana, 657.245.3553. mlovewell.com
The Bungalow Huntington Beach x Los Sundays Tequila
Feb. 4. Make your way to The Bungalow on Super Bowl Sunday for this special event with tequila company, Los Sundays Tequila. Watch the game on LED TVs on the spacious patio and participate in a social media contest for the chance to win a two-hour table with two bottles of Los Sundays Tequila. Noon-10 p.m. 21058 Pacific Coast Hwy., Suite 240, Huntington Beach, 714.374.0399. thebungalow.com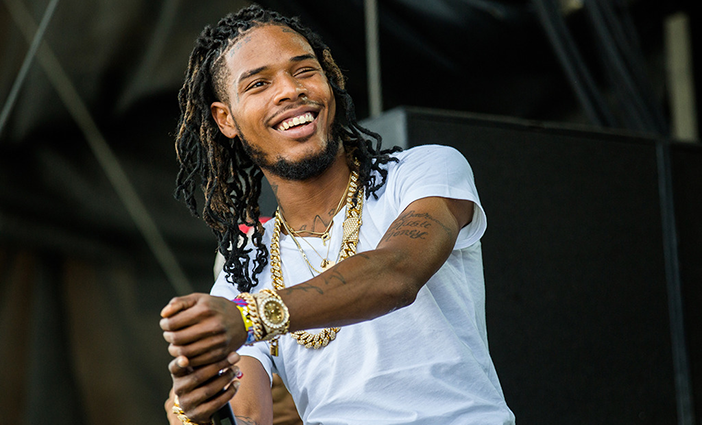 Fetty Wap
Feb. 5. Known for his 2015 smash-hit "Trap Queen," Fetty Wap (born Willie Maxwell) marks House of Blues his next stop in his The FMF Tour. 7 p.m. House of Blues Anaheim, 400 West Disney Way, Suite 337, Anaheim, 714.778.2583. houseofblues.com
'Kinky Boots'
Feb. 6-11. Inspired by a true story, this Tony Award-winning Broadway musical follows a struggling shoe factory owner who works to turn his business around with help from an entertainer in need of sturdy stilettos. See website for showtimes. $29+. Segerstrom Center for the Arts, 600 Town Center Dr., Costa Mesa, 714.556.2787. scfta.org
Jeezy – The Cold Summer Tour
Feb. 7. To kick off the start of his tour, Grammy-nominated rapper Jeezy will perform live at House of Blues Anaheim with special guest Tee Grizzley. 9:30 p.m. $40. House of Blues Anaheim, 400 West Disney Way, Suite 337, Anaheim, 714.778.2583. houseofblues.com
Casa Classic: California Chamber Orchestra
Feb. 8. Led by conductor and artistic director Dana Zimbric, the California Chamber Orchestra will perform Antonio Vivaldi's Four Seasons in concert along with eleven string musicians and a harpsichordist. Violin soloist Annelle K. Gregory will lead the violin concerto. 7 p.m. $30 GA, $25 members. Casa Romantica Cultural Center and Gardens, 415 Avenida Granada, San Clemente, 949.498.2139. casaromantica.org
Emerson String Quartet with Calidore String Quartet
Feb. 8. The Emerson String Quarter is joined by exceptional young ensemble the Calidore String Quartet to perform works from the string quintet, sextet and octet repertories. The performance will include the quartet First Essay: Nimrod by American composer, musician and vocalist Caroline Adelaide Shaw, the youngest winner of the Pulitzer Prize for Music. 7:45 p.m. $45+. Samueli Hall, 600 Town Center Dr., Costa Mesa, 714.556.2787. scfta.org
I Heart The OC Mix
Feb. 10. With Valentine's Day approaching, shop for your loved ones at the I Heart The OC Mix shopping event. Find artisan coffee, cheese, fashion, jewelry, kombucha and much more with in-store special offers, tastings and gift ideas for your Valentine. 11 a.m.-6 p.m. Free, RSVP recommended. The OC Mix, 3313 Hyland Ave., Costa Mesa, 949.760.9150. socoandtheocmix.com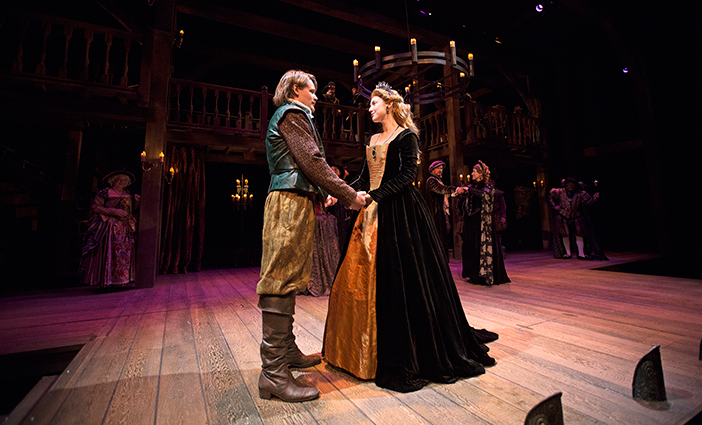 'Shakespeare in Love'
Through Feb. 10. Young Will Shakespeare is desperate. He has writer's block and owes two demanding producers a new comedy—a half-baked mess titled Romeo and Ethel, the Pirate's Daughter. Enter his inspiration: Viola. Smart, beautiful and Will's greatest admirer, she will stop at nothing—including breaking the law—to be in his play. As their love blossoms, so does his greatest masterpiece. Ages 12+. See website for schedule and prices. South Coast Repertory, 655 Town Center Dr., Costa Mesa, 714.708.5555. scr.org
James C. Leonard's Solo Exhibition
Feb. 10-Mar. 10. Known for his inventive layering process, artist James C. Leonard presents his solo exhibition at Avran Fine Art. On February 10, guests can talk one-on-one with the artist himself. Reception 6-9 p.m. Daily gallery hours 11 a.m.-7 p.m. Free. Avran Fine Art, 540 S. Coast Hwy., Suite 106, Laguna Beach, 949.494.0900. avranart.com
Baby Date Festival
Feb. 11. Take your little ones on a date to the Baby Date Festival. Highlights include arts and crafts, face painting, a balloon artist, a photo booth, professional photographer, shows on stage throughout the day and a marketplace. 9 a.m.-6 p.m. $3 GA; $5 ages 15 and under; $8 parking. OC Fair & Event Center, 88 Fair Dr., Costa Mesa, 909.282.8727. babydatefest.com

Valentini! Paint Your Partner
Feb. 11. Whether you're celebrating Valentine's Day with your partner, family or friend, you and your guest will enjoy delicious appetizers, martinis and classical music as you fill a 12×12 inch canvas with all the colors of your heart. Plus, there will be raffles and prizes to benefit the Chuck Jones Center for Creativity. 5:30-8:30 p.m. $75 per couple, $130 for two couples. The OC Mix, 3313 Hyland Ave., Costa Mesa, 949.760.9150. chuckjonescenter.org
Mardi Gras Fun
Feb. 13. Celebrate Fat Tuesday with special treats, festive fun and prizes at Outlets at San Clemente. Visit Customer Service for a free slice of King Cake (while supplies last) compliments of Rockwell's Bakery. If your slice of cake has the traditional toy baby inside, you will win a $50 gift card valid at more than 55 stores and restaurants. Additionally, look up to the balconies for masked revelers tossing Mardi Gras beads and receive one free order of beignets per table at Ruby's Diner from 8 a.m.-9 p.m. Festivities 11 a.m.-2 p.m. Outlets at San Clemente, 101 West Avenida Vista Hermosa, Suite 190, San Clemente, 949.535.2323. outletsatsanclemente.com
Studio's Four-Course Valentine's Dinner
Feb. 14. Indulge in chef Craig Strong's four-course Valentine's Day dinner at the Montage's Studio. Start with seared ahi tuna served with shaved root vegetables, shiro-dashi grapes, black garlic aioli and yuzu vinaigrette. Next, savor roasted lobster tail with turnips, orange-carrot purée, crispy cabbage and vanilla butter sauce. For the sweetest decision, select Saint Honoré Chocolate Chantilly or Saint Honoré Rosé Chantilly, both served with vanilla ice cream and caramel. 5-10 p.m. $150/pp, $250 with wine pairings. Montage Laguna Beach, 30801 Coast Hwy., Laguna Beach, 949.715.6420. montagehotels.com
A Veuve Valentine's at The Loft
Feb. 14. While taking in panoramic views of the ocean, chef Michael Campbell will be stirring up dinner at The Loft. Dinner begins with a Canape Duo of Burrata Spheres and Kumamoto oysters before moving on to a choice of shaved asparagus salad or lobster bisque, along with one bottle of Veuve Clicquot Yellow Label per couple. The three options for the second course are thyme-seared branzino, certified angus beef tenderloin or hand rolled Cavatelli pasta—each with their own unique sides. For dessert, choose between black forest sundae with black cherries, iced chocolate and kirsch foam or pink forest sundae with white chocolate, iced strawberries and kirsch foam. 5-10 p.m. $175. Montage Laguna Beach, 30801 Coast Hwy., Laguna Beach, 949.715.6420. montagehotels.com
Intro to Modern Calligraphy Workshop
Feb. 16. Instructor Julia Mattox of Luminous Lines will teach you all the basic essentials of modern calligraphy, including the anatomy of the nib, the proper way of holding a straight pen holder and an introduction to developing your own personal style. Students will get to practice strokes, basic shapes and letters. 6:30-9:30 p.m. $115. 305 E. 4th St. Unit 103, 657.245.3553. mlovewell.com
Pacific Coast Sportfishing Show
Feb. 16-18. Southern California's premier fishing show will feature tons of tackle, great travel destinations, cool boats and amazing seminars by the top captains in the area, plus a free kids trout pond. F 1-7 p.m., Sa-Su 10 a.m.-5 p.m. $15 GA; $10 military with ID; free ages 12 and under; $8 parking. OC Fair & Event Center, 88 Fair Dr., Costa Mesa, 949.650.3474, ext. 205. ocfair.com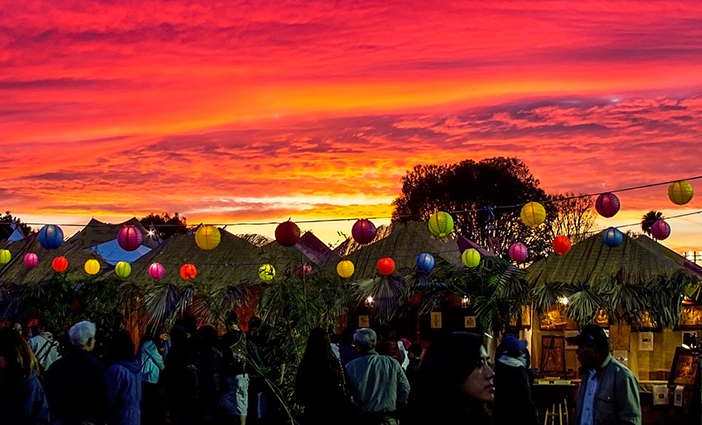 UVSA Tet Festival
Feb. 16-18. Celebrate the Lunar New Year at the 37th annual UVSA Tet Festival. With more than 150 exhibitors, delicious ethnic foods, cultural displays, live entertainment, and carnival rides and attractions, there's fun and excitement for the whole family. F 4-10 p.m.; Sa 11 a.m.-10 p.m.; Su 11 a.m.-9 p.m. $6 GA, $8 parking. OC Fair & Event Center, 88 Fair Dr., Costa Mesa, 714.388.6711. ocfair.com
25th Anniversary of ScotsFestival & International Highland Games
Feb. 17-18. The annual ScotsFestival and International Highland Games will honor nearly fifty Scottish clans and vendors throughout the festival weekend with professional and amateur competitions in darts, piping, drumming, massed bands, Highland dancing and Highland athletics. Daily festivities include Border Collie sheep-herding, firing demonstrations, performances by the Royal Scots Greys Calvary, LA and OC Royal Scottish Country Dance Society and many historic reenactments. Whisky and scotch tasting sessions with aged malt experts are available for adult festival goers ($18) and well-known chef McBride will demo authentic Celtic Cuisine in the Culinary Corner. 9 a.m.-6 p.m. $25 GA, $12 ages 4-11. The Queen Mary, 1126 Queens Hwy., Long Beach, 877.342.0738. queenmary.com
'The Graduate'
Feb. 21-Mar. 18. Based on the novel and the iconic 1967 film, Golden Globe winner and Academy Award nominee Melanie Griffith stars in The Graduate. Terry Johnson's stage adaptation is a bitterly hilarious dark comedy, full of rapid-fire dialogue between fascinating characters boldly celebrating a May-December romance in 1960s California. Laguna Playhouse, 606 Laguna Canyon Road, Laguna Beach, 949.497.2787. lagunaplayhouse.com
Eddie Izzard: 'Believe Me' Tour
Feb. 22. Comedian, actor, author and activist Eddie Izzard makes his Segerstrom Center debut as part of his "Believe Me" tour. Arguably one of today's top comedians, Izzard's funny and emotional show has all of the intelligent humor and ridiculous intrigue that fans expect from an Eddie Izzard performance. 7:30 p.m. $39+. Segerstrom Hall, 600 Town Center Dr., Costa Mesa, 714.556.2787. scfta.org
'Harmony of Light: Spring in California'
Feb. 22-June 21. The Harmony of Light: Spring in California exhibit is comprised of paintings by California Impressionists that show the flowering season from nearly a century ago. The exhibition features some of California's most distinctive landscape painters such as William H. Clapp, Paul de Longpré, Maurice Braun, John Frost and Millard Sheets. Tu-Sa 11 a.m.-5 p.m. Free. The Irvine Museum Collection at the University of California, Irvine, 18881 Von Karman Ave., Irvine, 949.476.2565. irvinemuseumcollection.uci.edu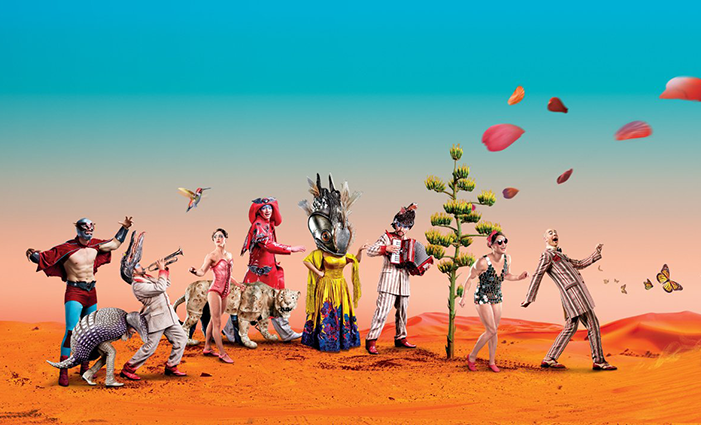 Cirque du Soleil's 'LUZIA'
Feb. 21-Mar. 25. LUZIA takes attendees to an imaginary Mexico, like in a waking dream, where light ("luz" in Spanish) quenches the spirit and rain ("lluvia") soothes the soul. With a surrealistic series of grand visual surprises and breathtaking acrobatic performances, LUZIA cleverly brings to the stage the places, faces and sounds of Mexico. See website for showtimes. $50-$495. OC Fair & Event Center, Lot G, 88 Fair Dr., Costa Mesa. cirquedusoleil.com
41st Annual Orange County Home & Garden Show
Feb. 23-25. Find everything for home and garden projects at this annual event in Orange County. Don't miss the Great Landscape Competition with the best of OC professionals competing for over $5,000 in cash prizes, plus a "People's Choice Award" for this competition. Free prize drawings and DIY workshops will take place hourly. F noon-8 p.m.; Sa 10 a.m.-6 p.m.; Su 10 a.m.-5 p.m. $6 GA; $4 seniors and military; $8 parking. OC Fair & Event Center, 88 Fair Dr., Costa Mesa, 714.708.1500. ocfair.com
Dublin Irish Dance 'Stepping Out'
Feb. 24. Step into this high-energy production with Dublin Irish Dance for an evening of dance and song. World champion Irish step-dancers, an eight member traditional Irish band and a vocalist take the audience on a journey through the history of the Celtic cultural experience. Sa 7:30 p.m. $29+. Segerstrom Center for the Arts, 600 Town Center Dr., Costa Mesa, 714.556.2787. scfta.org
Floral Watercolor with Jenna Rainey of Mon Voir
Feb. 25. With spring just around the corner, Jenna Rainey's floral watercolor workshop is the perfect way to jump into the new season. Beginners will learn basic brushstroke techniques, color theory and shapes, plus step-by-step instructions on a few different modern, loose florals. First session 10 a.m.-1 p.m., second session 2:30-5:30 p.m. $150. 305 E. 4th St. Unit 103, 657.245.3553. mlovewell.com
The Gray Event – An Evening to Benefit Save Elephant Foundation
Feb. 25. Join the Save Elephant Foundation for an evening dedicated to protecting these friendly giants. Enjoy a reception featuring music, dance, drinks, appetizers, a silent auction, photo ops and an opportunity to "Adopt an Elephant". Following the reception is dinner and a cooking demonstration by chefs Pascal Olhats and Cathy Thomas, plus a presentation on the Save Elephant Foundation by Sangdeaun Lek Chailert. Event attire is "resort casual". Reception 4:30 p.m., dinner 6 p.m. Café Jardin Restaurant at Sherman Library & Gardens, 2647 East Coast Hwy., Corona del Mar, 949.673.0034. thegrayevent.org
Albatross Ridge Wine Dinner
Feb. 27. Indulge in a culinary-meets-cork dining experience with CUCINA enoteca Irvine and Albatross Ridge Winery. The evening will feature five decadent courses from chef de cuisine Tony Trujillo, paired with five distinguished featured wines from winemaker Garrett Bowlus of Albatross Ridge. Menu highlights include grilled swordfish belly, mozzarella di bufala, potato gnocchi and more. 6:30 p.m. $70 (excluding service fee & tax). CUCINA enoteca Irvine, 532 Spectrum Center Dr., Irvine, 949.861.2222. urbankitchengroup.com
'The King and I'
Feb. 27-Mar. 11. The Rodgers and Hammerstein's four-time Tony-Award winning classic musical, The King and I, tells the story of the unconventional relationship that develops between the King of Siam and a British schoolteacher hired to teach his many wives and children. See website for showtimes. $29+. Segerstrom Hall, 600 Town Center Dr., Costa Mesa, 714.556.2787. scfta.org
'The King and I' photo by Matthew Murphy. Shakespeare in Love photo by Jordan Kubat.
[et_bloom_inline optin_id=optin_12]