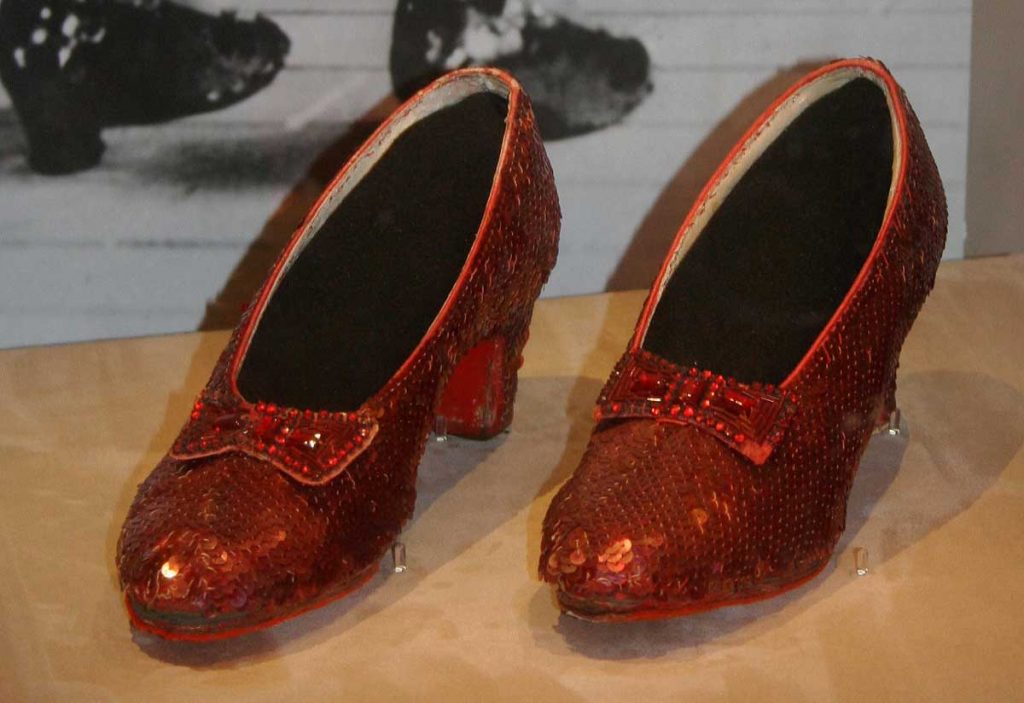 See the unlikely birth of the movie-memorabilia industry.
The magic powers of a wicked witch's footwear are nothing compared to the spell Tinseltown casts in The Slippers, Morgan White's look at the dawn of the movie memorabilia-collecting era via the case of some famous red Wizard of Oz props. Storytelling and some intriguing personalities overcome spotty production values in this specialty doc, which will amuse on the fest circuit and is well suited to a cable afterlife.
For film buffs who aren't Dorothy-obsessed, the story of these slippers' transfer through many hands actually reveals a much broader narrative, one in which vast stores of film props and wardrobe might well have been lost forever, when a down-on-its luck MGM sold off chunks of backlot to residential developers. If they couldn't be reused in new productions, props got little respect in this era — we're told that RKO's commissary used old costumes as washrags.
But when MGM sold off warehouses full of old property to auctioneer David Weisz, a door was opened — and Kent Warner, put in charge of the costume part of the haul, was one of few who understood what was behind that door. With an eye for the fabulous, he saved all sorts of things and tried to shepherd props into the hands of those who would appreciate them. His most famous find was that pair of slippers, which sold in a 1970 MGM auction for an astonishing $15,000.
Thing is, there were several pairs of slippers. (Can't make a movie about sparkly shoes without having backups on hand…) And how those others made their way from Kent's mitts to the trophy shelves of some seriously unusual devotees is a story best not spoiled here, except to reveal that it includes some betrayal, some serious escalations in retail value, and at least one mysterious heist.
Some of the film's interviewees are charmingly eccentric, some a little deluded — "I don't think any one person is strong enough to deal with the power of these shoes," one says — and some so proudly materialistic about the stuff they've collected it's hard to like them. But one subject is notably absent: Debbie Reynolds, who was early to the memorabilia-appreciation game and tried for years to build a museum where everyone could enjoy the artifacts she had gathered. That failed, and she had her own auctions in 2011. The doc would benefit from hearing how she feels now about her years as custodian of Ben-Hur's tunic, the Tramp's bowler, and, yes, one of those pairs of ruby slippers.
Production company: Tricon Films and Television
Director: Morgan White
Screenwriters: Derek Lajeunesse, Morgan White
Producers: Morgan White, Rhys Thomas
Executive producer: Andrea Gorfolova
Directors of photography: Kuba Psuty, Bartek Stojkowski, Mike Rilstone Jr.
Editor: Derek Lajeunesse
Composer: Brigitte Dajczer
Venue: South By Southwest Film Festival (Documentary Spotlight)
Sales: Karthiga Ratnasabapathy
91 minutes
Source: Hollywood Reporter