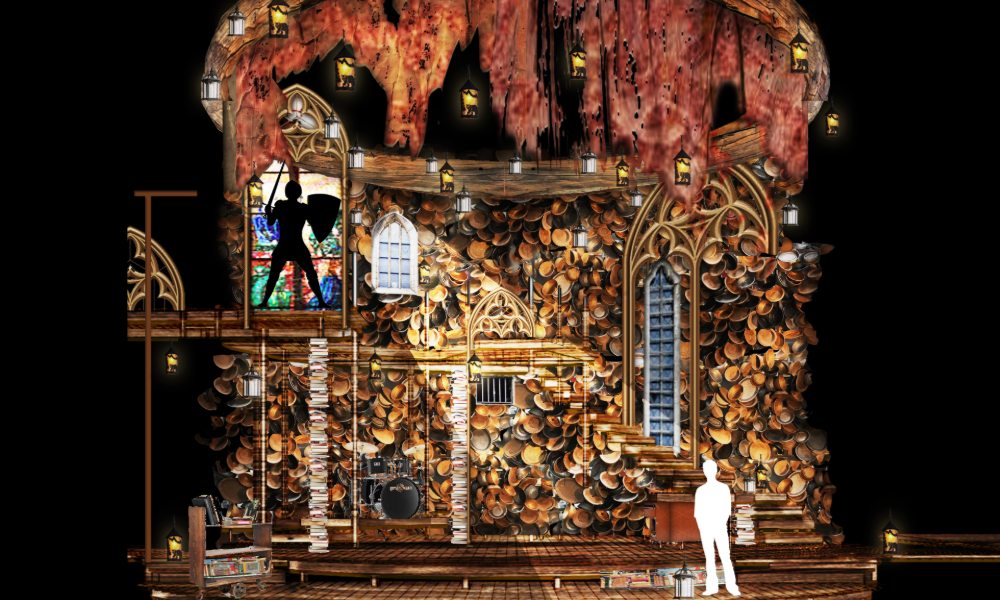 PigPen Theatre Co.'s world-premiere musical The Tale of Despereaux at The Old Globe.
By Pat Launer
Seven freshmen sat in an acting class at Carnegie Mellon University in 2007. They banded together for the school's Playground Festival, and found they had remarkably similar sensibilities and skillsets: They all acted, sang, played an instrument and preferred unconventional ways of making theater.
"The show went very well," says Matt Nuernberger, one of the seven. "And the school encouraged us to keep writing shows together. So we did."
Thus was born PigPen Theatre Co. The name was chosen "randomly," says Dan Weschler. "but it stuck. We grew into it. And," he quips, "it turned out to be an accurate way to describe our rehearsal room."
A dozen years later, PigPen is a multiplatform phenomenon. The troupe's unique brand of theater, combining music, imagination, stage magic and puppetry, has toured the country—scoring Critic's Picks from The New York Times, Chicago Tribune, Chicago Sun-Times and Boston Globe. PigPen's work was ranked among the top 10 theatrical events of 2011, 2012, 2013 and 2016. The New Yorker said their shows are "like watching child geniuses at play."
At Fringe/NYC, the New York International Fringe Festival, PigPen was the first group to win the top honor for a play two years in a row (2010, 2011). Other accolades include IRNE Awards (the Independent Reviewers of New England, 2012 and 2015) and Jeff Awards for Excellence in Chicago Theatre (2014).
As a band, PigPen has toured nationally to sellout crowds, and recorded two albums: Bremen, which was named the #10 Album of the Year in HuffPost's 2012 Grammy Preview; and Whole Sun, which was performed at Mumford & Sons' Gentlemen of the Road Festival in 2015. That same year, the company made its feature film debut, in the Meryl Streep-starring Ricki and the Flash.
In 2017, PigPen first appeared at The Old Globe, with the West Coast premiere of their celebrated fable, The Old Man and The Old Moon.
"Our audiences took a real shine to PigPen Theatre Co. when they were here with The Old Man and The Old Moon," says Barry Edelstein, the Globe's Erna Finci Viterbi artistic director.
"And as for me, while I was already smitten with them, I just fell head over heels in love. Their work is clever in the best sense: consistently inventive and fresh, full of wit and surprise, but what I find most special is that they wear their hearts on their sleeves. They want the stories they tell to be smart and entertaining, but also moving and deep. Their puppetry, homespun and decidedly low-tech, captures that combination of hipster wit and old-school charm; their music, rooted in folk and Americana traditions, has that same combination. It's a little bit of Brooklyn and a little bit country: touching and smart, and entirely winning.
"I jumped at the chance to bring them back to the Globe, especially with this absolutely beguiling story of a tiny mouse's quest to repair the world."
This summer, the much-lauded PigPen is presenting a world premiere musical at The Old Globe. The Tale of Despereaux, PigPen's first book musical, is based on the beloved 2003 Newbery Medal-winning fantasy novel by Kate DiCamillo and the 2008 computer-animated film of the same name. The new piece was commissioned by Universal Theatrical, which granted The Old Globe the rights to the world premiere, and gave PigPen "a lot of flexibility with the material, both the film and the book," according to Alex Falberg.
The story centers on a big-eared, undersized mouse, who wants to become a knight and rescue an unhappy Princess in a castle. In parallel tales, a rat wants to get to the light (rats hate light), and a serving girl wants to be a Princess.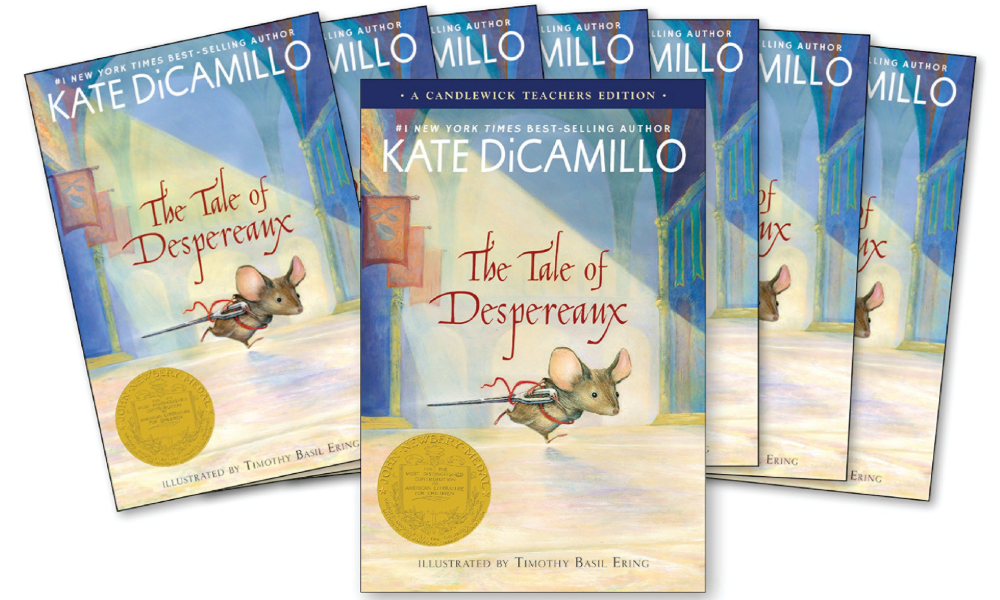 "What we loved about the book is that it's a classic hero's journey," says Weschler. "An unlikely hero. But it's told from four different perspectives. Each of the main characters is on their own hero's journey.
"There are so many themes and metaphors," Weschler continues. "We're focusing on story itself. If a story is believed too much, it may result in the realization that everything you received as a kid is not necessarily true. Another theme is being an outsider. Leaving your community and then coming back, for the good of the community."
Like all of PigPen's work, the show is family-friendly. "We started off writing for our friends," says Ryan Melia. "But we were surprised to find that children could appreciate this kind of spirit, too. We like that a family can enjoy it together."
In terms of Despereaux's narrative style, Weschler says, "we probably hew closer to the book, but a lot we invented. We're definitely trying to capture the authorial tone of the book: warm, inviting and witty. All of our plays have had narrators. For this one, we created a witty librarian who has warmth and mysticism. We open the show with the opening quote from the book: 'Lean close, my friends; I'm telling you a story.'"
True to the group's collaborative spirit, says Weschler, "everyone is invited to offer ideas, including the designers. We like discovering what each of us brings. We try to retain the sense of all seven of us hunkering down and agreeing. We've gone through several iterations for about five years now, the longest we've ever spent on a show. We're very excited about the production in San Diego."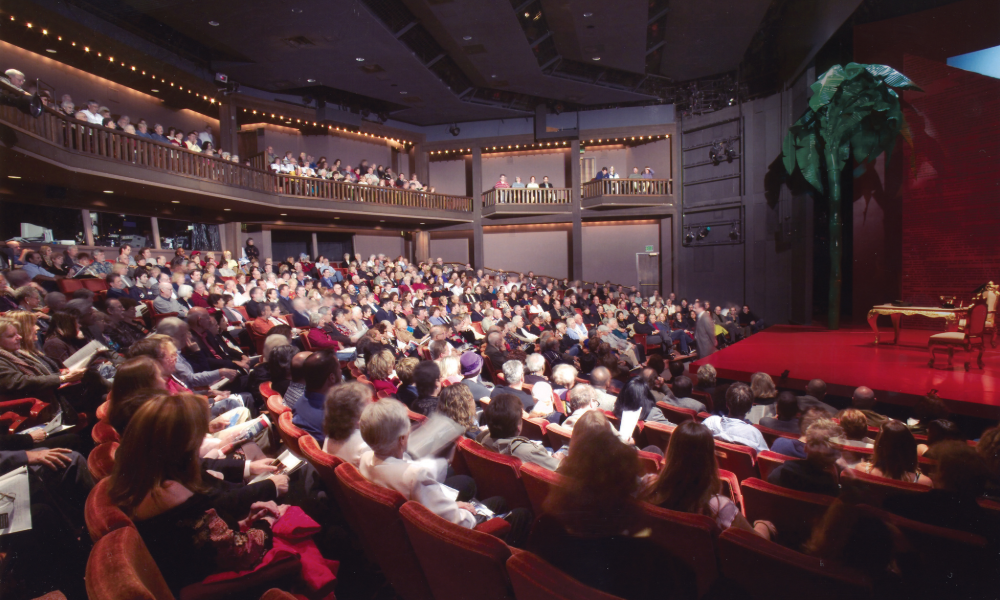 There was a reading at The Old Globe in January 2018; Edelstein has remained actively involved in the development process. Pig-Pen also brought in Marc Bruni, a director with many years of musical theater experience. He directed Beautiful: The Carole King Musical, which won Tony, Grammy and Olivier Awards.
"I came on board after the show was already developed to a certain point," says Bruni. [Both he and the PigPen Theatre Co. are credited as directors.] "For the first time, they're bringing in other actors, including women. Two of the four designers are female, as is the choreographer."
Nuernberger thinks "these new voices will illuminate the story and help us discover more about these characters. They sing jaw-droppingly well."
"It was an interesting challenge to come into such a tight group," says Bruni, "but they generously welcomed me as the eighth contributor. Their process is very much in the spirit of their work: many ideas thrown around. I'm the arbiter, more interested in curating than imposing. It was mostly about exploring how the visual elements, the puppetry and shadow puppets fit into the story.
"One of the themes of Despereaux," Bruni continues, "is what happens to those who do not conform. Despereaux is the first mouse ever to flout the rules. One particular challenge is creating three very different worlds: for the humans, the rats and the mice. We're playing around with how we show the sense of scale, to remind the audience that what they're looking at is a tiny mouse and a full-sized human.
"In this show," says Bruni, "there's humor, but also some darkness. The dark moments allow the themes to be fully appreciated without being superficial or perfunctory. All the characters find a way from darkness or hopelessness into light and forgiveness. It will be interesting to see if the audience relates it to where we are as a country: on a quest for more empathy and hope."
Photos courtesy of The Old Globe.