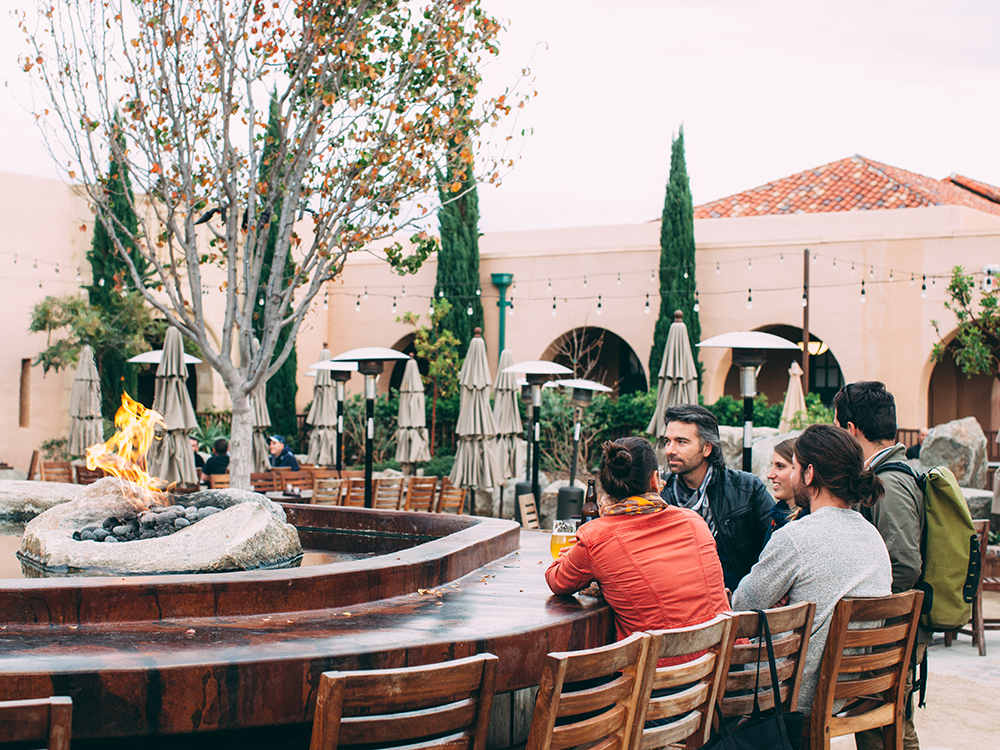 Restaurants Reopen with Expanded Outdoor Seating
Working to reopen many of its doors as safely as possible, Point Loma's beloved community hub, Liberty Station, is largely back in business—with changes. Nearly two dozen (more than 60 percent) of the 'hood's hospitality outposts have reopened for dine-in service—spanning the Arts District, The Quarter and South Point. Expect ample outdoor seating and spaced-out alfresco dining spaces nestled among the promenades and courtyards. In conjunction, Liberty Station also has launched its Anchored in Hope campaign—featuring strategically placed signage guiding the public to "follow the anchor" in support of open businesses, from in-store shopping to in-house dining. I plan to follow the anchor to four of my favorite eateries …
The sprawling patio of Stone Brewing World Bistro & Gardens—with its trickling water features and sea breezes ushered in from the nearby bay—is my happy place. I'm a sucker for the hand-braided Stone Bavarian Pretzel with beer cheese; followed by the Yucatan pork tacos, and the spicy Electric Noodles with hanger steak—all chased by the medium-bodied Stone Ripper pale ale.
At Liberty Public Market—now with 17 artisanal food vendors open daily again—deciding where to devote my daily calorie consumption is torture. To start, these three stops are a must: BOPJO (aka Seoul in a bowl … or a tortilla) for Korean-Mexican fusion fare such as the kimchi-fried-rice burrito; Parana for authentic Argentine empanadas; and Olala Crepes for the Un Peu topped with salted caramel and sliced almonds. All can be devoured on one of the market's expanded dining lawns.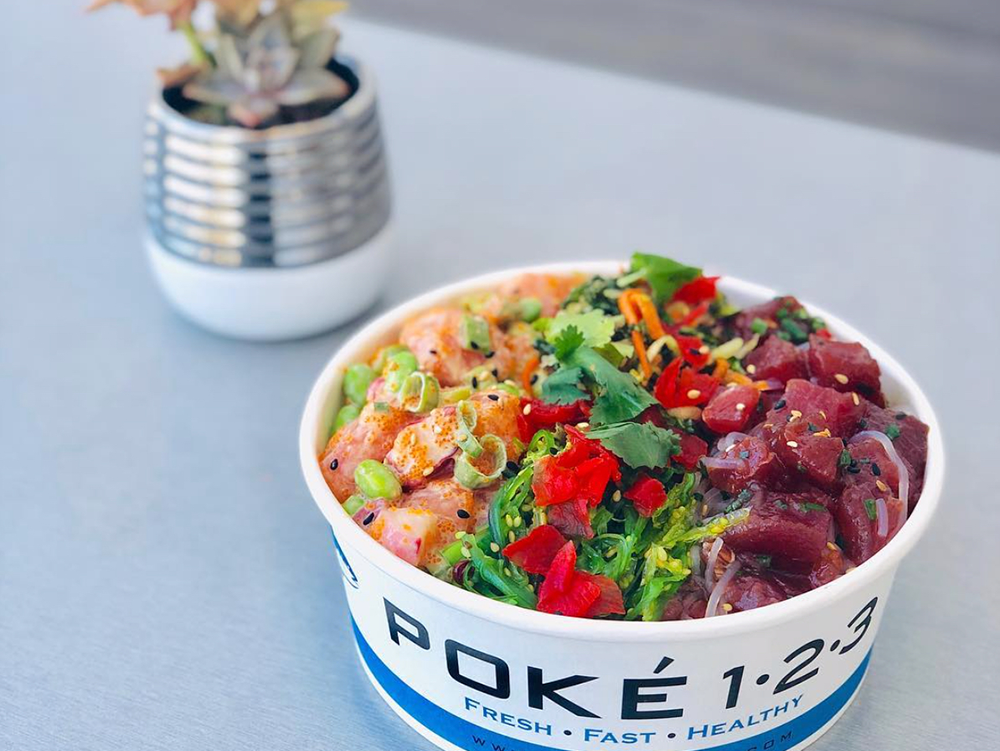 With its airy, mod interior and quaint dining patio—both trimmed in bright blue—Poke 123 is my fast-casual go-to for fresh fish. The build-your-own poke bowls are the drawl, but I also love the "norittos"—burrito-style nori wraps stuffed with three protein scoops of your choice and goodies such as avocado, cucumber, sweet onion, macadamia nuts and more. They make for a healthy, filling lunch savored at one of Poke 123's umbrella-covered outdoor tables.
Committed to the four Bs—burgers, bacon, beer and booze—Slater's 50/50 is my favorite burger joint in the area. I don't waste any time and go straight for the Original 50/50 Burger, made with half ground beef and half bacon, avocado, pepper-jack cheese and a sunny-side-up egg sandwiched between buttery brioche. On a dare, I'll split the Lone Star Smoke burger with a willing friend—it's a tower of Black Angus beef, smoked bacon, cheddar, giant crispy onion rings, pickles, smoky barbecue sauce and garlic aioli. Both are best enjoyed on the front patio after sundown, when strands of hanging lightbulbs overhead enhance the laidback vibe.
Enjoy more fresh air (and burn off any extra calories accrued) by strolling among Liberty Station's many scenic outdoor spaces—including the fountains and gardens of Luce Court; and NTC Park, boasting open grassy stretches and wide waterfront paths.
libertystation.com/directory/eat
Photos from top: Courtesy Liberty Station and Poke 123