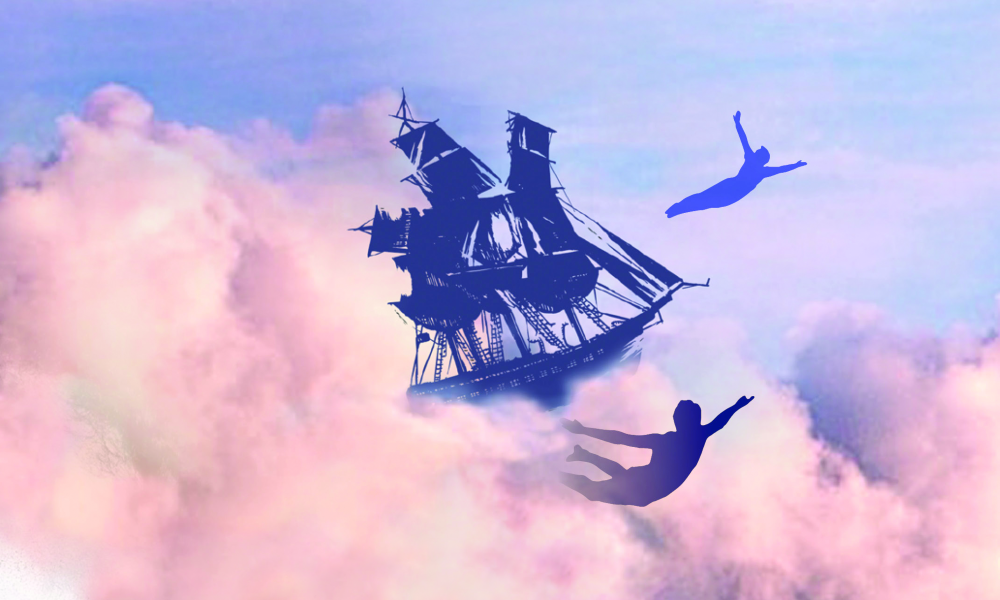 Hamilton Producer Jeffrey Seller Returns to the Director's Chair for Fly at La Jolla Playhouse.
By Stephanie Thompson.
Some stories delve so deeply into our psyches that they seem to never lose their appeal. A Christmas Carol encourages us to be more kind and charitable; A Star Is Born reminds us that fame and success can exact a steep price. Then there's Peter Pan —the boy who never grew up. Few tales have enjoyed as many retellings, remakes and reimaginings—perhaps because we all like to fantasize a happy, innocent childhood that never has to end.
Now another iteration comes to the La Jolla Playhouse this month. Fly , a musical with book by Rajiv Joseph, lyrics by Joseph and Kirsten Childs, and music by Bill Sherman, directed by Jeffrey Seller, will receive its West Coast premiere on Feb. 18 and run through March 29, at the Mandell Weiss Theatre.
Wait—directed by whom? Jeffrey Seller, the multiple award-winning producer of Rent , Avenue Q , In the Heights, and Hamilton ? The impresario who invented Broadway's first rush ticket and lottery ticket policies? The mogul who currently has six Hamilton productions breaking sales records around the globe?
You would think that with such phenomenal success already under his belt, Seller would sit back and relax, watching the money and accolades continue to roll in. But a quick call to his production company, Adventureland, offers a hint about why he's so passionate about Fly that it would bring him back tothe director's chair.
"It's a story and play that I have been coming back to over and over since I first encountered it as a child," says Seller. "I wrote a play in the fourth grade called Adventureland , in which the character who saves the protagonist—me—from death is Peter Pan. The antagonist is Captain Hook. I also have a very distinct memory of seeing a TV musical version of Peter Pan when I was little, starring Mia Farrow and Danny Kaye. That's the version that I fell in love with."
Over the years, Seller kept bumping into more and different Peter Pan s. "The more research I did, the more I found that there had been so many iterations," he says. "There was also a musical on Broadway by Leonard Bernstein. There was Steven Spielbeg's Hook ; a puppet version called Peter and Wendy in the '90s. So about 10 years ago I said to myself, 'I think there's room for yet another interpretation of Peter Pan .'"
Seller started working on a new musical that drew inspiration from two main sources. That summer, he says, he would watch a Brazilian samba drum circle form at the beach. It would start with about 10 people and grow to 30 or 40. "The sound of it was so guttural and joyous. I thought, what if there was a Peter Pan in which the drum was the purveyor of the sound? There would only be instruments you could make on an island—drum, guitar, flute. The sound is driven by the drum—a strong, visceral sound that would give the story muscle."
Seller's other main source of inspiration was the novel Peter and Wendy by J.M. Barrie, written in 1911, six years after Barrie's play Peter Pan premiered. The opening paragraph starts with the famous line "All children, except one, grow up," and ends with "Wendy knew that she must grow up. You always know after you are two. Two is the beginning of the end."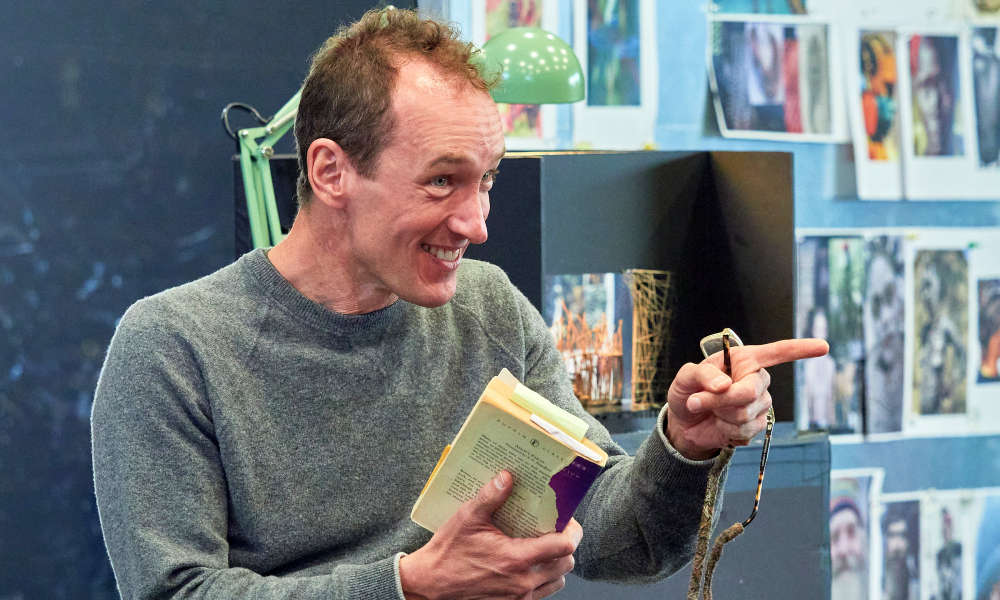 Seller says he was struck by the darkness of that last line. "There's a sense of whimsy and existentialism and darkness in the novel that doesn't fully come through in the play. I wanted to use the novel as our source. That's what drove me to Rajiv Joseph, whose work I'd seen, and whose characters and muscularity I loved. He told me, 'Peter Pan was my first superhero.' This entire play is trying to serve that paragraph."
Fly brings Broadway firepower to this new version of Peter Pan's story. In addition to Joseph, 2010 Pulitzer Prize finalist for Bengal Tiger at the Baghdad Zoo , co-writer Kirsten Childs has won multiple awards for her 2000 off-Broadway musical The Bubbly Black Girl Sheds Her Chameleon Skin . Composer and arranger Bill Sherman, Lin- Manuel Miranda's college roommate and frequent collaborator, had already won 2008 Tony and Grammy awards for In the Heights .
Seller already had Rent, Avenue Q and In the Heights to his name as a producer. Fly premiered at the Dallas Theatre Center in 2013. Seller has made some changes for the 2020 production. "When we did Fly in Dallas, we were making a new musical, which is a difficult, challenging, imperfect process. We had a list of things we wanted to improve when and if we were to do it again. But Rajiv immediately went on to do three more plays, one of which was Guards at the Taj , which has had productions all over the country. And the minute I finished doing Fly in Dallas I went on to produce my new musical, Sting's The Last Ship , and then Hamilton . Time gets in your way, but the authors of Fly never forgot about it; they said, 'We want to do this again, we're not done. We can do better.' We're now guided by that spirit."
One decision was to cast young adults as Peter and Wendy (Lincoln Clauss and Storm Lever), rather than children as in Dallas. Seller also recruited Hamilton 's threetime Tony Award-winning choreographers Andy Blankenbuehler and Stephanie Klemons to help bring Fly to life on the stage. As the name of the musical indicates, aerial effects will be involved.
Is there room for another Peter Pan interpretation? In Fly , the adventure of traveling to Neverland focuses on Wendy's experience. Some elements of the traditional play remain, but some are transformed. It's not a fairytale for just kids anymore.
"The story of Peter Pan is an existential question about what it means to grow up and what it means to not grow up," Seller says. "We all wrestle with it throughout our lives. I think that's why so many artists are drawn to this material, and want to interpret it and make sense of it through their own hearts, their own souls, their own brains."
Seller is aware that expectations of him as a director might be high, based on his success as a producer. "It's definitely a pressure that I would wish to not have," he says with a rueful laugh. "But I'm approaching this work with the same vigor and rigor that I approach the works that I produce. On the other hand, every time I do a new musical, whether I'm producing or directing it, I'm scaredout of my mind.
"This is a life in which we need to keep stretching ourselves and expanding our boundaries. With this show in particular, I have such a strong vision of how it sounds and how it looks, and I have a goal for how I want it to feel that I hope we can realize. I want to make audiences feel something different than they have ever felt at Peter Pan before, that's for sure."
Fly runs at La Jolla Playhouse Feb. 18- March 29. For tickets and more info, visit lajollaplayhouse.org