Live Concerts in Los Angeles by the Day
There's nothing quite as soul-cleansing and life-affirming as a rollicking musical performance. Check out these concerts in Los Angeles every day of the week.
By Rebecca Pardess
Los Angeles' world-renowned stadiums and amphitheaters make it onto the tour routes of today's most famous acts, but there are many more artists to be discovered beyond Staples Center and the Hollywood Bowl. In fact, It's entirely possible to have a different live-music experience every night of the week in this town. Take a peek at showcases and residencies bringing down the house at clubs and other niche venues across l.A. Sunday through Monday.
Sunday
Sundays Live at LACMA
Top off the weekend with an evening of chamber music at one of L.A.'s best museums. Every Sunday at the Los Angeles County Museum of Art (LACMA), all are welcome to enjoy the weekly chamber music series featuring up-and-coming artists from around the globe, as well as local groups such as the Lyris Quartet, UCLA Comrades and Capitol Ensemble. Traditionally, chamber music is known as classical music performed by a small combination of instruments; however, in modern times, the term has broadened to encompass any genre performed by a small group of musicians, with each playing a designated part. At LACMA, enjoy a range of performances, from opera excerpts and solo pianists to thundering percussion ensembles. Performances take place at the Leo S. Bing Theater, not far from LACMA's iconic Urban Light installation, beginning at 6 pm. 5905 Wilshire Blvd., L.A., 323.857.6000. lacma.org
Roll Call Jazz at Sassafras Saloon
Set up at Hollywood's Sassafras Saloon and listen to the bebop and post-bop jazz stylings of Roll Call Jazz, a band of four up-and-coming musicians who have held residency Sundays at the Southern-inspired bar for more than two years. Kick back with a Hurricane or Sazerac and enjoy tunes from the Great American Songbook, plus experimental renditions of classics by John Coltrane, Wayne Shorter and Bill Evans. There is no cover at this 21-and-over bar; plus, its Deep South design and decor provide a microescape to New Orleans circa 1933. 1233 Vine St., L.A., 323.467.2800. sassafrashollywood.com
Monday
School Night at Bardot
How do L.A.'s hippest of hip keep their fingers on the pulse of the newest, most eclectic musical acts? School Night at Bardot. At the top of each week, KCRW DJ Chris Douridas features several emerging bands and DJs at the Avalon's back bar, Bardot. Attend this event and you might just fall in love with the next big thing long before all your friends do. Acts like Mikky Ekko (the male half of Rihanna's "Stay"), Hozier, Wolf Alice and James Bay have played this showcase, and the calendar just keeps getting better. Those 21 and over can RSVP for free admission. 1735 Vine St., L.A., 323.462.8900. itsaschoolnight.com
Free Monday Nights at Silverlake Lounge
Take it down a notch from the glitz and glam (and valet parking) of Hollywood, and enjoy a free indie show at Silverlake Lounge, on the eastern side of Sunset Boulevard. The small, gritty, cash-only dive bar features local musicians such as instrumental rock band Barrows, which has a residency this April, free of charge on the most dreaded day of the week. For those who are over 21 and looking to cure the Monday blues without a big to-do, Free Monday Nights at Silverlake Lounge are a solid start to the week. 2906 Sunset Blvd., L.A., 323.663.9636. thesilverlakelounge.com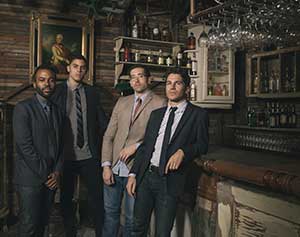 Tuesday
Monster Smash Tuesdays at Los Globos
A staple for anyone living or playing east of Western Avenue, Los Globos is one of Los Angeles' oldest nightclubs, known for hosting Latin dance and music parties 'til the wee hours behind its big, red, gaudy, neon-lit facade. In recent years the club's programming has diversified, and its two stages now host a wonderful mix of local and national musical acts every night of the week. For a powerful and intense end to your day, come for Monster Smash Tuesdays, which feature vinyl-spinning guest DJs and local garage rock bands. It's a $5 cover for some good-quality flailing and head-banging in the huge, two-story structure that can't be missed. 3040 Sunset Blvd., L.A., 323.666.6669. clublosglobos.com
Live Country Music at Cowboy Palace Saloon
Garage rock not quite your thing? Just 25 miles north-west of Hollywood, amid the ranches and tumbleweeds of Chatsworth, is the Cowboy Palace Saloon, a bona fide honky-tonk complete with horse-hitching posts and live country music. There's no cover. Local bands including the Doo-Wah Riders and Chris Johnson and the Hollywood Hillbillies are on deck seven days a week to serenade fans for a proper boot scoot on the sizable dance floor. 21635 Devonshire St., Chatsworth, 818.341.0166. cowboypalace.com
Wednesday
Dub Club at the Echoplex
Get over the midweek hump as special guest DJs spin roots, dub and dancehall reggae for a soulful, good-vibed, rub-a-dub dance party to power your soul through Friday in Echo Park. It's 21 and over, with free entry before 10 pm and $7 thereafter. 1822 Sunset Blvd., L.A., 213.413.8200. theecho.com
King Chris and the Groove Thang at Backstage Bar
Every Wednesday night, Culver City's Backstage Bar is home to King Chris and the Groove Thang, a soul-funk cover band that promises a "soultastic exploration of great songs," free of charge. Settle in, grab a stiff drink and sing along to renditions of classic Stevie Wonder, Steely Dan and more. 10400 Culver Blvd., Culver City, 310.839.3892. backstageculvercity.com
Thursday
Matt Goss at Spaghettini & the Dave Koz Lounge
Every third Thursday of the month, Beverly Hills' new addition Spaghettini & the Dave Koz Lounge houses one of contemporary jazz's most celebrated crooners, Matt Goss. Reserve a seat at a table, or find a spot at the bar for a performance that harks back to the Rat Pack days. Even if jazz isn't your taste, the showmanship and acoustics are enough to make anyone swoon. Can't make it on third Thursdays? Spaghettini features various world-class artists Tuesday through Sunday evenings, as well as during Sunday brunch. 184 N. Cañon Drive, Beverly Hills, 310.424.4600. spaghettinibh.com
Greek Music and Family Dinner at Papa Cristo's
Whether it's Petros the bazouki player or Edvin the classical guitarist performing, it's a festive, musical experience every Thursday evening at Koreatown's Papa Cristo's. Since 1948, the Greek restaurant, market and bakery has served up classic food and entertainment for the entire family. For $24 per person, Petros or Edvin (whoever is available at the time) serenades the huge dining room as a Greek feast is served on long tables covered in white butcher paper. If you're lucky, Papa Cristo will join your table. Papa Cristo's Family Night is every Thursday starting at 6:30 pm, and reservations are required. 2771 W. Pico Blvd., L.A., 323.737.2970. papacristos.com
Friday
First Fridays at the Natural History Museum
Every first Friday of the month, from February through June, L.A.'s Natural History Museum offers a micro music festival, featuring live performances by emerging bands and DJs, plus after-hours museum access, exhibit discussions and tours. Bands such as Lord Huron and Little Dragon have taken the stage here, and April's lineup includes Cherry Glazerr and White Fence. Tickets tend to sell out in advance and run between $18 and $25 per person. 900 Exposition Blvd., L.A., 213.763.3466. nhm.org
Mariachis at El Mercadito
If the rapturous combo of guitars, bass, violins and vihuelas is calling your name, look no further than El Mercadito, L.A.'s hub for authentic mariachi music. Located on the third floor of Boyle Height's El Mercado de Los Angeles, two Mexican restaurants are housed in one vast space with a capacity of 800 people. Rivaling stages are positioned at each end of the room, with staggered showtimes on the weekends that sometimes overlap—a battle of the mariachi bands, if you will. On one end of the floor, El Tarasco features live mariachis Friday and Saturday at 7 and 10 pm. On the other end, La Perla has showtimes every day of the week starting at 9 pm. 3425 E. 1st St., L.A., 323.268.3451. elmercaditorestaurant.com
Saturday
Flamenco at El Cid
For the past 50 years, Silver Lake's El Cid has been entertaining audiences with Spanish flamenco dinner shows. Friday through Sunday nights, sit back in your chair and clap along to the swift rhythms of Spanish guitar and the carefully choreographed taps of the dancers' heels. Enjoy the likes of Flamenco Andalusí, featuring dancer Misuda Cohen, Saturday nights at 7:30 pm. Tickets are $15 per person and can be bought online or on-site. 4212 Sunset Blvd., L.A., 323.668.0318. elcidla.com
Middle Eastern Music and Dancing at Carousel
Lively Middle Eastern strings and percussion, dancing and mouthwatering food abound Friday and Saturday nights at Glendale's meze staple, Carousel. For $45 on Saturdays, enjoy a Lebanese feast accompanied by a live band and award-winning belly dancers in ornate costumes, starting at 9:30 pm. Be warned: Audience participation is highly encouraged. 304 N. Brand Blvd., Glendale, 818. 246.7775. carouselrestaurant.com
Check out the Top 20 Venues for Live Music in Los Angeles