icdc Serves up Ice Cream, Doughnuts & Coffee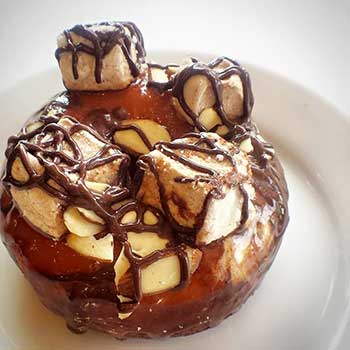 The long awaited sweet shop from BLD's Amy Knoll Fraser and Pastry Chef Mariah Swan starts slings house made ice cream, outrageous doughnuts and coffee on Beverly Blvd.
By Christina Xenos
When life gives you lemons, you make doughnuts, right? At least that's what BLD's Amy Knoll Fraser and Pastry Chef Mariah Swan did when the city said that a portion of BLD was zoned for retail and not for a restaurant. To comply the sweet temple of ice cream, coffee and doughnuts, icdc was born.
Stop in the yellow, orange and blue striped shop for a daily selection of over-the-top doughnut creations like Rocky Road, Campari-filled grapefruit, Fluffernutter and many more, including gluten free options.
Swan sources top ingredients like TCHO chocolate and Harry's Berries strawberries to make sorbet and ice cream from scratch so flavors like Guinness chip, TCHO chocolate sorbet, tangerine vanilla sherbet and strawberry rhubarb sorbet that can be piled on one another into waffle cones, blended into a milkshake or poured into a cup to be topped with espresso for an indulgent affogato, with espresso from Vittoria Coffee, an Australian, family-owed purveyor. icdc also uses it in it's full menu of lattees, cappuccinos and Americanos.
icdc is located next to BLD restaurant and opens on April 22. 7450 1/2 Beverly Blvd., L.A., 323.930.9744. Info.