Concierge Interview: James Reza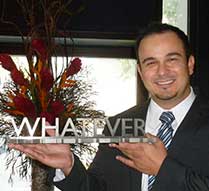 James Reza, Concierge The W Hotel
CONCIERGE INSIDER (CI): How did you become a concierge for the W Hotel?
Reza: I worked as a banquet captain and bartender at a hotel downtown throughout college. The property was closing for a renovation, so it hosted a job fair in one of the banquet rooms where about 10 other hotels had set up booths. I was a little bored while I was running the banquet, so I ended up visiting the different booths and interviewing with them. Although I really enjoyed working in the hospitality industry, I did not have intentions at the time to work at any of the exhibiting, so I began asking them what I thought were ridiculous questions such as "What kind of food is served in the lunch room?" and "What kind of music do you play at the holiday parties?" When the function was over, the human resources director for the W Hotel handed me her card and she told me to call her if I ever needed a job. The funny thing is, I didn't even go to her booth, she had just overheard me at the booth next to hers. I then moved to Huntington Beach to finish school and worked as a loan representative for a mortgage company, but after the mortgage debacle I returned to San Diego and the W kept their promise and hired me as a welcome ambassador. When a position opened up, I moved to the concierge desk.
CI: 2013 will be your first year on the San Diego Concierge Association's board of directors. What made you decide to run for office?
Reza: Actually, Philip Kaufman, concierge at the Manchester Grand Hyatt, actually decided for me. I was surprised when he nominated me, but decided that I actually did want to serve on the board. It would be a good opportunity to be able to assist in the advancement of the profession and to give back to the members of the SDCA that helped me when I first became a concierge. It's been tough being the only concierge at the W; there isn't exactly a guide book that your employer hands you on how to do the job. When I started out, I leaned on my fellow concierges for guidance and the SDCA was a great resource for that. I want to make the transition for other concierges that are starting out that much easier and give them the resources that were given to me.
CI: What's your philosophy on being a concierge? Can you share any memorable stories?
Reza: Our mantra at the W Hotel is "Whatever, Whenever." There is even a sign on my desk that says so. It's supposed to mean guests can have whatever they want whenever they want it. Essentially, the word "no" is not in our vocabulary. I've done everything from driving to Del Mar to buy the last bottle of a certain rare scotch in the county to driving to Beverly Hills to deliver a laptop that a guest left in their room. One of the most memorable ones though, was a guest that was visiting from Australia. She was flying out the next morning and realized she left her passport in an antique shop in Solana Beach. The shops were closed, so she came to me for help. She purchased a number of things that day and couldn't remember what shop she had left it in. After showing her some images on Google Maps, where I could zoom in to see the storefronts on the street, we were able to figure out what store it was. I began calling until I came across the cell phone number of the owner of the shop. Eventually I was able to contact the owner, and he had a neighbor meet me at 10 p.m. to let me in to get the passport. It was a long process, but my Aussie guest made it home and I didn't have to use the "N" word.
CI: What's your favorite thing about working at the W?
Reza: The best thing about working at a hotel like the W is that most of the time it doesn't feel like work at all! My desk overlooks the bar and lounge area, there is always good music playing and I get to share all the things I love about this city with my guests. That's a pretty sweet gig if you ask me. We just went through a major renovation—I love the results. We have free wi-fi in our living room area and a DJ hovered above, and I am excited about the changes Chef Kevin Harry is making in our restaurant, Kelvin. As the executive chef of the new Yankee Stadium, he helped pioneer farm-to-field cooking in stadiums, and is taking Kelvin in that same direction.
CI: What do you like to do in your personal time?
Reza: I'm always trying to find that little hole-in-the-wall restaurant or bar outside the city. Most are places that I would probably never send my guest to, but you never know! I've always lived in the downtown area, so I like to challenge myself to discover new spots in obscure neighborhoods. Sometimes I feel like I'm concierging myself— planning day trips and outings to Barrio Logan one day and Solana Beach the next. I plan adventures for my girlfriend and myself to test out before I recommend certain things to guests. I'm just happy my car gets good mileage.