Concierge Interview: Grace Steverson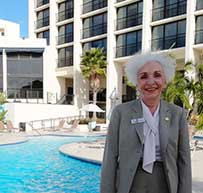 Grace Steverson, Newport Beach Marriott Hotel & Spa
Conceirge Insider (CI): How did you become a concierge?
Grace Steverson: I had never worked until my husband passed away when I was 47. I began helping my girlfriend out at her travel agency while working as a gym instructor. Then I worked at Air Cal's reservation desk before it was bought by American Airlines. After 20 years with American, I retired and took a year off. El Toro Marine Base needed a travel coordinator so I worked there for awhile until my friend Donna got a job here at the Marriott. She encouraged me to apply and nine years later, here I am! I never really looked for these jobs, they just sort of fell in my lap.
CI: What drew you to the Newport Beach Marriott Hotel & Spa?
Steverson: I had thought about applying to the Montage when it first opened, but Donna encouraged me to apply at the Marriott, so it just sort of happened. Marriott is such a great company to work for and obviously there is no age discrimination!
CI: How do you deal with stress at the concierge desk?
Steverson: Working with the airlines and all the stress that comes with that definitely prepared me for the stressful and sometimes strange requests that come to the desk. Those earlier jobs help me handle all the requests of this job while always staying impartial and positive.
CI: What is your definition of excellent service as a concierge?
Steverson: Being a good listener, having empathy and trying to go above and beyond with all of the requests I receive.
CI: How do you feel that you impact a guest's stay at your hotel?
Steverson: The concierge job is very important because we can help them with anything. We're more available for guests—we can take their complaints and make them better because our job allows us to be a little more flexible.
CI: Why do you think visitors are so drawn to Newport Beach and Orange County?
Steverson: Orange County is a beautiful area and it's central for L.A. and Disneyland and San Diego. It provides easy access for whatever the guest would like to do while they're here.
CI: What are some of your favorite local spots to recommend to guests?
Steverson: I like to recommend 21 Oceanfront for fine dining. I love Laguna. Strolling the park at the Montage is fabulous, as is Las Brisas—it's great for a drink. Also, the boat tour in Newport is great. It's really beautiful and gives a great overview and history. I often suggest the Laguna Playhouse—their productions are so great for local theater.
CI: What do you like to do on your own time?
Steverson: I like to keep busy. I lift weights three times a week, go skiing in Mammoth with my ski club and I enjoy cycling vacations. I've biked through Provence, the Greek islands, California wine country, Cajun country and several other places throughout the world. I might be the last one to the finish line each day, but I make it!