Concierge Interview: Adam Schon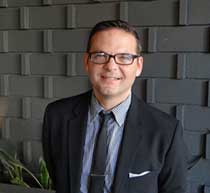 Adam Schon, Lead Concierge, Thompson Beverly Hills
CONCIERGE INSIDER (CI): How does a Chicagoan know how to deliver the best this city has to offer to out-of-towners?
Schon: I'm basically in love with Los Angeles. Yes, I'm born and bred in Chicago—you can't take that out of me—but moving to Los Angeles twelve years ago was the best thing I ever did. This city has everything I want. Where do I begin? It's just such an incredible city on every level. From the food to the nightlife to the actual stunning geography. From the beaches in Santa Monica to the hills of Hollywood overlooking the basin to the snow-capped mountains and desert. You can visit Santa Barbara, Palm Springs or even San Diego in a day. I train myself to be a student of this city, it's not just a part of the job, it's my passion. I'm a meticulous reader because it's an ever evolving city and I love that about L.A.
(CI): What do you love about being a concierge?
Schon: This job perfectly fits my skills and personality. Everyday is different and it's constantly challenging. It's always an ever rotating group of new guests, but you also get the loyal returning guests. I get so many different requests that the scope of my work is so varied and keeps things fresh. I finally found what I was meant to do. I just love assisting guests and helping them have the best time possible during their stay.
(CI): What does the Thompson Beverly Hills offer that other properties can't deliver?
Schon: Thompson Hotels have recurring themes in all our properties and each hotel is stylish and chic. There are stylistic design details that make each property unique. One of the key fun features here is the homage to film in our corridors with artistic micro film strips from different movies lining the walls and artwork throughout the rooms and halls by fashion photographer Steven Klein. Our signature feature is our beautiful rooftop lounge, ABH, with 360-degree views of Beverly Hills. It's one of the top destinations for people to see and be seen. Our Caulfield's Bar and Dining Room has just been reimagined with new décor and menu by Executive Chef Stephen Kalt who came from the Wynn Las Vegas. His menu is delectable. And beneath the chic exteriors is our warm and genuine staff that focuses on guest service.
(CI): What are some of your favorite dining spots?
Schon: One of my favorites is Taste on Melrose for its casual California cuisine. The Phoenix on La Cienega is the coolest bar in L.A. right now, they have this amazing cherry cider that is so delicious. It's truly to die for! Rustic Canyon Kitchen in Santa Monica is a newer restaurant with great healthy farm fresh cuisine. I'm a brunch guy and one of my latest finds is Blu Jam on Melrose. They literally make the best breakfast sandwich that you'll ever taste.
(CI): Anyone inspire you in this industry?
Schon: James Little of The Peninsula has taken on a mentoring role for me as I've taken on the Treasurer position for the Los Angeles Concierge Association this year.
(CI): What made you want to serve on this year's LACA Board?
Schon: It's an amazing organization and a great source of information and networking. I've made great partnerships and relationships that I wouldn't necessarily have access to. It's a great social outlet and I wanted to get involved more in a leadership capacity and I'd like to pursue earning my Les Clefs d'Or keys.
(CI): What could we find you doing when you're not at the hotel?
Schon: I'm probably hiking one of the many L.A. canyons or playing basketball. I'm also a huge movie buff. I also enjoy the Santa Monica and Malibu beaches.
(CI): Why do you think people flock to this city?
Schon: It's just an amazing city on every level. You have the vibrant energy of the Hollywood industry of film, music, studios and stars. We have the best food, nightlife, shopping, weather and sunsets. You pretty much have every spectrum on earth here— all in one place. I just can't stop appreciating what a beautiful place L.A. is and how lucky I am that my job is to keep on discovering all it has to offer.