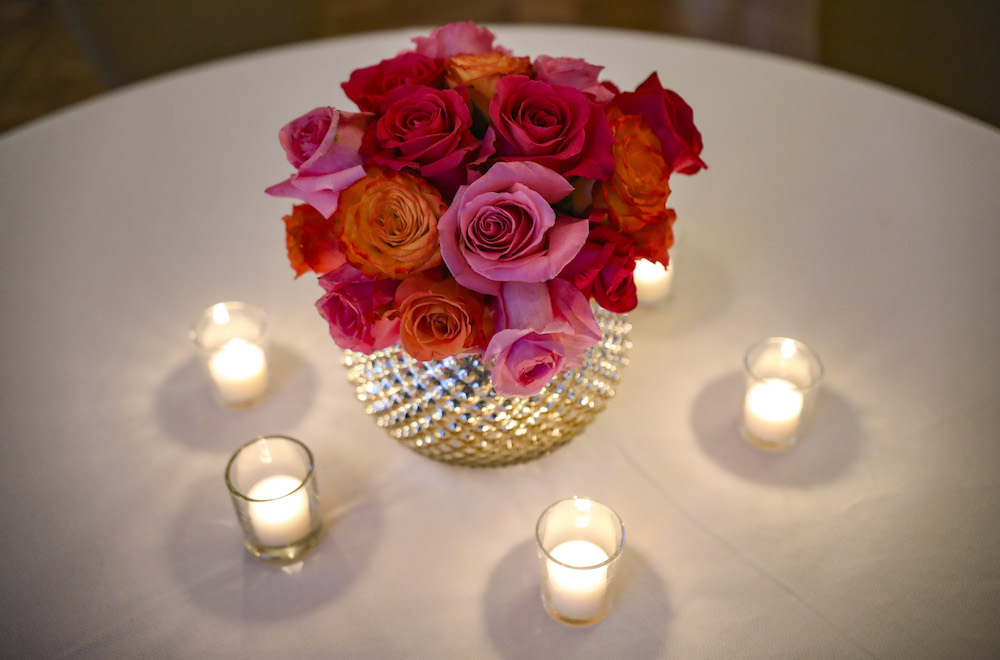 From decadent dinners to lavish cruises, here are the best places to celebrate Valentine's Day in San Diego.
Edited by Brooke Knetzger. 
Valentine's Cookie Decorating Party at 619 Spirits Distillery & Tasting Room 
Feb. 11. Enjoy a Valentine's Cookie Decorating Party at North Park's award-winning distillery and tasting room. Terri Fry of @donetoatte will be hosting a "Kiss These Lips Event" where she will guide guests step by step on how to decorate your lips on a stick cookie, while sipping on a specialty cocktail from 619 Spirits. Tickets include a specialty cocktail, the cookie and all the decorations and props, and cute photo opps. There will also be prizes for best cookie. $32. 7-8 p.m. 3015 Lincoln Avenue, North Park. Tickets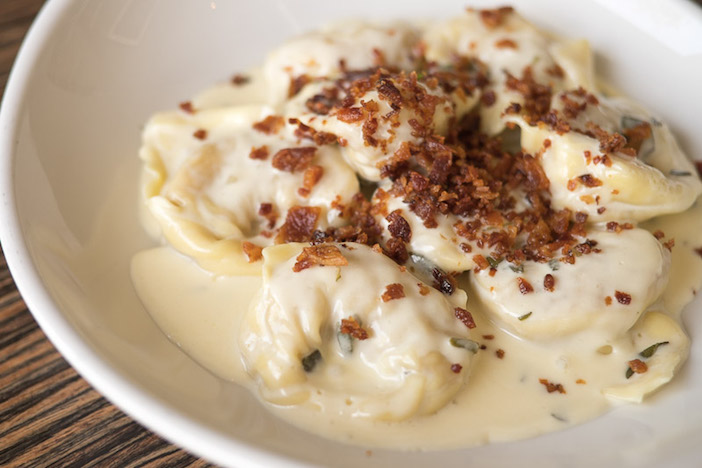 Bencotto 
Feb. 12-16. Known for their handmade pasta and excellent Italian pairings, Bencotto will offer a special Valentine's Day a la carte only menu on Valentine's Day, as well as a Valentine's Day three-course prix fix menu on February 12, 13, 15 and 16 for $45 a person. Guests will choose from options like their Gnocchi di Brasato and their Lasagna al Tartufo. 750 W Fir St, Little Italy, 619.450.4786. lovebencotto.com
Monello 
Feb. 12-16. Little Italy's Monello will offer a special Valentine's Day a la carte only menu on Friday, February 14 and a Valentine's Day three-course prix fix menu, on February 12, 13, 15 and 16 for $40 a person. Menu highlights include Panzerotti Al Tartufo, fried mini calzones stuffed with mozzarella, shiitake mushrooms and white truffle, and Tagliatelle Nere, squid ink fettuccine in a spicy pink tomato sauce with shrimp. Or, choose to opt-out of the fixed menu and go for the cheese wheel pasta of the week, which will be a homemade fettuccine in a veal ragu topped with ossobuco and served tableside out of a lodigiano Nero cheese wheel. 750 W Fir Street, Little Italy, 619.501.0030. lovemonello.com
Blade 1936
Feb. 13-15. Oceanside's newest dining destination will celebrate Valentine's Day with an exclusive three-course menu available from Thursday to Saturday. Menu highlights include Yellowfin Tuna Carpaccio, Risotto Raccogliere, and Soy-braised Beef Short Rib. End your evening with a complimentary champagne toast over your choice of Tiramisu, Panna Cotta, or Espresso and Chocolate Mousse. Reservations are recommended. $65 per couple. 401 Seagaze Drive, Oceanside, 760.231.1456. blade1936.com
Culture & Cocktails at San Diego Museum of Art
Feb. 13. The San Diego Museum of Art's pre-Valentine's Day edition of Culture & Cocktails centers around the exhibition Bouguereau & America, with a special nod to William-Adolphe Bouguereau's canvases that portray Cupid, his arrows and his escapades. Guests can look forward to a complimentary cocktail, waffle dessert bites, a photo booth and much more. $10 members, $25 nonmembers. Ticket prices increase the day of. 6 – 10 p.m. 1450 El Prado, Balboa Park. sdmart.org
Domaine Chandon Valentine's Tasting at JRDN
Feb. 13. Kick off the long weekend early with Domaine Chandon on JRDN's sunset patio. Guests will sip on five to six tastings of sparkling wine paired with small bites prepared by Executive Chef David Warner. One of the first French-owned sparkling wine ventures in the U.S., Domaine Chandon is highly remarked as producing some of the best sparkling wines in Napa Valley. 6-8 p.m. $40 per person. 723 Felspar Street, Pacific Beach, 858.270.2323. t23hotel.com
Giardino
Feb. 13-16. The charming and cozy Italian restaurant will offer an a la carte dinner menu in addition to a 3-course menu for $45 per person. The preset menu features dishes such as lobster bisque, salmon San Remo and short rib. Guests can end their meal with a heart-shaped chocolate mousse. 8131 Broadway, Lemon Grove, 619.825.7112. giardinosd.com  
Ranch 45's Couples Cooking Class
Feb. 13. For a hands-on Valentine's celebration, the Solana Beach eatery will be offering a Valentine's Day Couples Cooking Class. Spend the evening creating a romantic dinner for two, learning techniques for searing the perfect steak, and taking mashed potatoes to new levels. The class includes the class and recipes, dinner, non-alcoholic beverages, tax, and service charge. Wine and beer will be available for sale. $140 per couple. 6:30 – 8:30 p.m. 512 Via De La Valle, Suite 102, Solana Beach, 858.461.0092. ranch45.com
20|Twenty
Feb. 14. Executive Chef Julian Quiñones and the 20|Twenty team invite guests for a cozy four-course prix fixe dinner. All guests will be treated to an Amuse-Bouche to get their taste buds in the mood, and then can choose from a menu of various offerings. Starters include the heirloom tomato and crab bisque, and the lobster squash blossom. Mains include the Prime N.Y. Strip or seared yellowfin tuna and scallop duo. Don't forget to leave room for dessert. 5-10 p.m. $75 per person. 5480 Grand Pacific Drive, Carlsbad, 760.827.2500. 20twentygrille.com
ALBACA
Feb. 14. Visit ALBACA at the Coronado Island Marriott Resort & Spa and enjoy dinner for two with unbeatable views. Executive Chef Rafael Corneil has prepared a prix fixe dinner menu starters that will not disappoint. Menu highlights include grilled swordfish with marcona almond and mushroom risotto and grilled Snake River ribeye. For dessert, order the dulce de leche crème brûlée with raspberry coulis and vanilla cream. 2000 2nd St, Coronado, 619.522.3150. marriott.com 
Animae
Feb. 14. Treat your valentine with Animae's decadent four-course pre-fixe menu. The special menu will feature dishes such as Misty Point Oysters, Green Papaya Salad, Red Curry Tofu and Chili Garlic Lobster. For dessert, indulge in the Mandarin Semifreddo, Sorbet or a Chocolate & Miso Bar. $95 per person. 969 Pacific Hwy, San Diego, 619.432.1225. animaesd.com
Catamaran Resort & Spa
Feb. 14. Indulge in Oceana Coastal Kitchen's three-course Valentine's Day dinner this Valentine's Day. Couples will be greeted with a complimentary rose and glass of champagne and will get to enjoy unbeatable views of Mission Bay. Guests will have the choice of entrees such as the herb-crusted rack of lamb or beet caramelle pasta, followed by Grand Marnier crème brûlèe for dessert. $65 per person. 5:30 p.m.-11 p.m. 3999 Mission Boulevard, Mission Bay, 858.488.1081. catamaranresort.com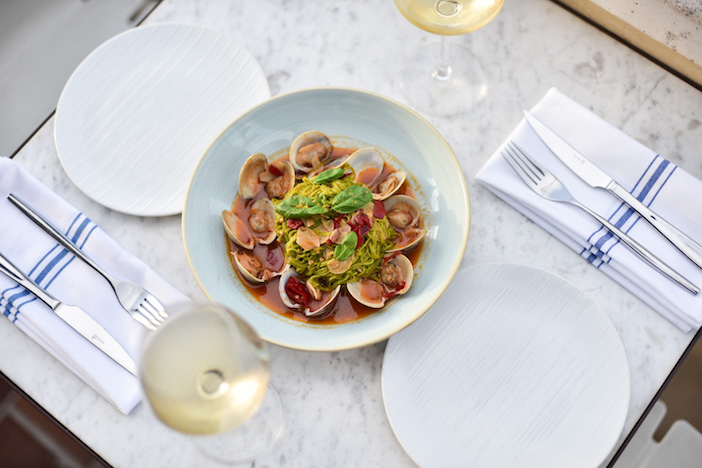 Catania 
Feb. 14. The La Jolla eatery is offering a special dinner for two menu in addition to their entire regular menu this Valentine's Day. Chef Dustin Karagheusian's menu includes a two-person 4-course meal for $99, featuring dishes such as Beef Heart Carpaccio or Oysters to start, Beet Agnolotti, Wood-Grilled Filet, Local Pam Roasted Halibut and more. Guests can finish with Panna Cotta or Chocolate Nemesis for dessert. 7863 Girard Ave, La Jolla, 858.551.5105. cataniasd.com 
Cusp Dining & Drinks 
Feb. 14. Spend Valentine's Day with a view at the 11th-floor restaurant atop Hotel La Jolla. Chef Ingrid Funes is serving her regular menu alongside chef specials, like a Land & Sea Duo of scallop and prime beef short ribs. For dessert, order Bananas Foster Cheesecake or her famous Chocolate Crunch Bar. Guests who make a reservation between 4-5 p.m. will enjoy a complimentary toast with their meal. 7955 La Jolla Shores Dr., La Jolla, 858.551.3620. cusprestaurant.com 
Herb & Sea
Feb. 14. To celebrate the occasion, Herb & Sea is offering a three-course prix fixe menu focusing on their signature coastal cuisine. Menu highlights include Hamachi Crudo with white ponzu, radish sprout, fresnos, sunflower seeds, citrus, and avocado; and Lobster Gnocchi with brown butter, grana padano, asparagus, lemon, and tarragon. $75 per person. 131 D Street, Encinitas, 760.704.8300. herbandsea.com
Hornblower's Valentine's Cruises
Feb. 14-15. Celebrate this Valentine's Day on the water with an intimate cruise from Hornblower. Guests can expect stunning views, wonderful dinner and drinks and live music for dancing. Romance is on the horizon! See website for various cruise options and pricing. Pier 1, Hornblower Landing: 1800 N. Harbor Drive, San Diego. hornblower.com 
International Smoke 
Feb. 14-16. Celebrate Valentine's Day all weekend long at Del Mar's International Smoke. The restaurant has several Valentine's Day specials to enjoy. Guests can start their meal with the restaurant's decadent Smoked Caviar for Two appetizer. Next, enjoy the best of both worlds with Surf and Turf for Two, a smoked 24 oz porterhouse steak and lobster tail with grilled asparagus and potatoes. For dessert, diners can indulge in the restaurant's delicious chocolate cake, an eight-layer cake accompanied by strawberry sorbet and a table-side champagne pour-over. Smoked Caviar for Two: $80, Surf & Turf for two: $75; dessert: $21. 3387 Del Mar Heights Rd Suite 0100, Del Mar, 619.331.4528. internationalsmoke.com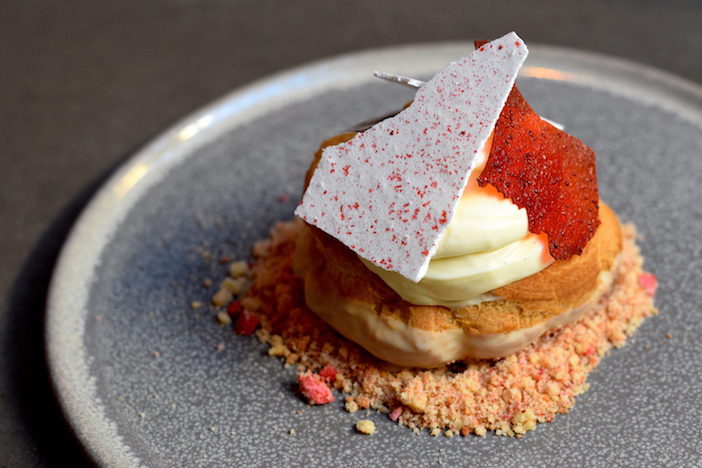 Juniper & Ivy 
Feb. 14-15. Juniper & Ivy will celebrate Valentine's Day with a special four-course menu, developed by Executive Chef Anthony Wells with wine pairings from Beverage Director and Sommelier Nick Gergin. The prix fixe menu includes three to four options for each course, in addition to optional add-ons for a wine pairing, caviar service, and two specialty cocktails. $115 per person. 2228 Kettner Boulevard, Little Italy, 619.269.9036. juniperandivy.com
Primavera
Feb. 14. Coronado's Primavera Ristorante will set the mood this Valentine's Day with a romantic prix fixe dinner menu. Menu highlights include baked oysters on the half shell topped with panko crumbs, brunoise roasted peppers and smoked bacon; lobster-stuffed ravioli with sun-dried tomatoes and sage brown butter sauce; and flourless chocolate torte with ganache glaze. Primavera's specialty three-course menu is priced at $75 per person, with a specialty cocktail, Love Potion #9, also available for $14. 932 Orange Ave., Coronado, 619.435.0454. primavera1st.com
The Westgate Hotel 
Feb. 14. Enjoy a four-course prix-fixe menu with an optional wine pairing prepared by Executive Chef Fabrice Hardel. Menu highlights include the Diver Scallop with bowfin caviar and grilled leek in a vermouth emulsion; the Cape Grim New York Steak with charred shallot, Yukon gold potato puree, in a port wine reduction; and Raspberry Mascarpone Mousse on a pistachio sponge cake, topped with raspberry sorbet. $79+ pp. 5- 9 p.m. 1055 Second Avenue, Gaslamp. westgatehotel.com
Photos: Westgate Hotel and Bencotto courtesy Chemistry PR. Primavera courtesy Wicked Creative. Catania courtesy the Nth Element. Juniper & Ivy courtesy Juniper & Ivy.