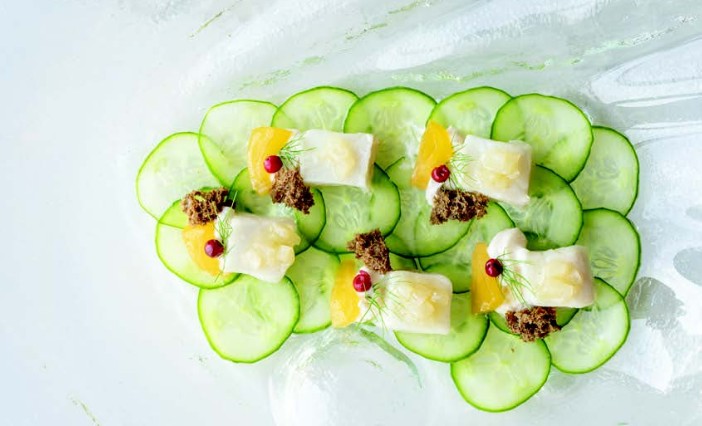 By Cole Casey.
What might happen if one took the world's first international luxury hotel brand (and the largest of its kind), and combined it with a historical location on the downtown San Diego waterfront? Then, one combined tastes from all places coastal, from the Mediterranean to Baja to the Pacific Islands? And then, these coveted components were all tied together with the accomplished hands of two of San Diego's most talented and adored chefs? Those winning combinations lead to a result called Vistal.
The gleaming new restaurant unfolds on the third level of the new 400-room InterContinental San Diego hotel, which towers over the very space where the Pacific Coast League San Diego Padres played from 1936 to 1957: Lane Field, just behind Embarcadero Park, across from the historical Star of India sail ship. The view from the terrace can only be described as glorious, and a reminder to all who call San Diego home how truly blessed we are to live here. Vistal immediately welcomes you with a panoramic, unobstructed view of the waterfront, spanning from the USS Midway to Lindbergh Field.
Vistal is the brainchild of two of San Diego's finest, to be sure. Amy DiBiase and Paul McCabe are both well known to San Diego foodies. DiBiase emerged as a rising culinary star in her tenure at Roseville in Point Loma, moving from there to Tidal at Paradise Point. McCabe, while most recently creating gastro magic in Arizona at the Royal Palms, was previously named one of James Beard Awards' Rising Stars while he was at Kitchen 1540 in Del Mar. Both chefs are also alumni of Top of the Cove in La Jolla.
When I first walked in, I was impressed (read: blown away) by the size and very spacious feeling of the main dining room. At no table within the restaurant would one feel crowded, cramped or unable to have an intimate conversation.
There's breathing room, lots of it. And adding to the feeling of openness is a 30-seat bar and a full outdoor terrace (with heaters and firepits) that runs the entire length of the dining room. And for those who enjoy watching the artists at work, an exhibition kitchen with a chef's table seats up to 14 guests.
Beginning with libations, let's be clear. I like gin. I'm not British; I'm Irish. I'm supposed to like whiskey. But I like gin. And Vistal's cocktail menu includes a fine selection of specialty gin cocktails. I naturally needed no nudging to begin the sampling process, and I opened with a Gin-Serac, which combines Ford's Gin, yellow chartreuse and Peychaud's bitters. And it was undeniably lovely. On my next visit, the Spicy Martini (Botanist gin, Ancho Reyes Verde, agave and lime) will be up first.
While admiring the lights of the Big Bay from my seat next to the impressive floor-to-ceiling windows, I asked my server what I should not miss from the starter menu, and she guided me to the pickled black cod (with Persian cucumber, fennel, persimmon, horseradish crema and malted toast). The improbable yet captivating combination of these innovative elements was astounding. I could have ordered several more of these, for both entree and dessert, and had I tossed back one more Gin-Serac, I just might have. But, noting that an entire section of the menu is dedicated to dumplings, I knew my work was incomplete.
The sheep's milk ricotta gnudi—with local lobster, Tahitian squash, vanilla beurre blanc and smoked pistachio—was divine and flavorful with an almost silky texture. It could easily serve as an entree for those who weren't famished, or who perhaps treated themselves to a bit of the menu's signature bread service: Epi (a rustic bread made from French wheat stalk) by local bakery Con Pane, served with beet hummus, fennel butter, local olive oil, mint and oregano.
In a refined establishment such as Vistal—and with two award-winning chefs at the helm inside a world-class hotel—the last thing I expected to see on the entree menu was chicken-fried steak. But there it was, and any legitimate culinary enthusiast would not forgive themselves for failing to investigate further. For this amazing innovation, Vistal uses a Snake River Farms rib-eye cap wrapped in chicken skin with a
potato espuma (foam), carrots and foie gras gravy. This dish can only be described as a symphony of savory—one that you hope never ends. It was simply delightful.
Vistal's entree menu offers other inviting dishes such as coriander cider-glazed pork cheeks and olive oil poached halibut, and sides such as twice-cooked marble potatoes and roasted heirloom carrots, but it was now dessert time for me.
I selected the Coconut Haupia, a traditional Hawaiian coconut milk-based pudding. It's prepared at Vistal with passionfruit curd and seed, macadamia shortbread, white-chocolate-coconut bark and lemon sorbet. This light and playful dessert was the perfect exclamation point upon a magnificent epicurean experience.
Vistal is an idyllic spot for a sunset happy hour, or, as it was for me, a perfect opening act to a night at the San Diego Symphony. Vistal is also open for breakfast and lunch, both featuring equally fun and engaging menus and daytime bay views. Reservations are recommended. Treat yourself to what can only be described as textbook definition of winning combinations.
Vistal, 901 Bayfront Court, third floor, downtown, 619.535.0485. vistalsd.com
Photo courtesy Vistal.