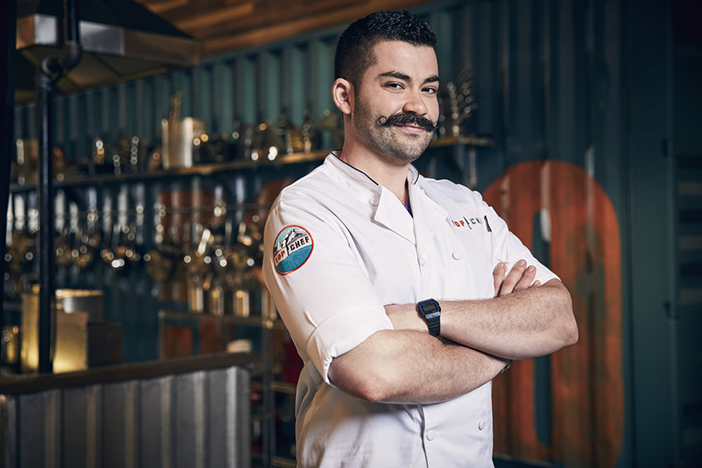 San Diego Beer Week, Turkey Trots, the return of 98 Degrees and more fun things to do are on tap this month. Here are the top 30+ things to do in November.
Edited by Jordan Fraser.
Dia de Los Muertos "Food Memorias" Celebration and Dinner
Nov. 1. Chef Claudette Zepeda-Wilkins welcomes Top Chef castmate and chef Joe Sasto to El Jardín. This six-course meal features collaborative dishes from Joe and Claudette that pay homage to recipes by Joe's late mother and Claudette's grandmother. Starting bites include pasta "nachos" from Joe and open-faced mulita grilled chicken taco bites from Claudette, while main offerings include a plated vegetable dish made from produce found in El Jardín's garden, braised oxtail with garden herbs and pig's feet Tagliatelle, topped with a chicharron crumble. Additionally, the restaurant's fully decked-out altar will be on display, which features different layers of traditional elements including photos of loved ones, fresh fruit, decorative paper and candy. Reservations can be made between 5-10 p.m. $80 per person, $45 for optional beverage pairing. 2885 Perry Road, Point Loma, 619.795.2322. eljardinrestaurantbar.com  
Lea Michele & Darren Criss
Nov. 1. Glee sensations and Broadway veterans Lea Michele and Darren Criss team up for the LM/DC Tour, which will include a little bit of everything from their expansive repertoires both as solo artists and a powerhouse duo. 7:30 p.m. $75+. Humphrey's by the Bay, 2241 Shelter Island Dr., Shelter Island, 800.745.3000. humphreysconcerts.com
Barrel Republic Fifth Anniversary
Nov. 2. The unique self-service gastropub celebrates another successful year with the release of a special collaboration beer with Stone Brewing Co. Plus, pour your own perfect portions of many of Stone's favorite brews during a complete tap takeover. 6 p.m. 1261 Garnet Ave., Pacific Beach, 858.270.9922; 215 N. Coast Hwy., Oceanside, 760.435.0042; 2961 State St., Carlsbad, 760.841.8404. barrelrepublic.com
Friday Night Liberty
Nov. 2. Wander, explore and enjoy this local art experience. Taking place on the first Friday of every month, Friday Night Liberty is San Diego's biggest monthly art walk. Meet working artists, enjoy dance, theater and music performances, visit museums and galleries and explore the growing Arts District. 5-9 p.m. Free. 2950 Truxtun Rd., Liberty Station, 619.756.7992. libertystation.com
San Diego Beer Week
Nov. 2-11. Join in what many call "the best time of the year" and celebrate the art of craft beers during this annual event featuring upwards of 500 individual events such as a lineup of tastings, festivals, brewery tours, cheese pairings and beer dinners. SDBW is flanked by its two largest events: the signature Guild Fest on Nov. 3 at Embarcadero Marina Park South and The Beer Garden on Nov. 11 at The Lodge at Torrey Pines. See website for full list of events and locations. sdbw.org
Betamaxx
Nov. 3. Relive the glory days of the '80s with this authentic sound experience that includes hits from the era's heavy hitters like Depeche Mode, Pat Benatar, Guns N' Roses and more. Plus, Paging The '90s warms up the crowd with all the best sing-a-longs from the '90s. 8 p.m. $17-$19. 21+. Belly Up Tavern, 143 S. Cedros Ave., Solana Beach, 858.481.8140. bellyup.com
Bike The Coast
Nov. 3. Experience the gorgeous Southern California coast by bike with course options including 100-, 50-, 25-, 15- or seven-mile routes on Highway 101. Plus live music, a beer garden and biker's expo. Beer garden and expo are open to the public. See website for race times and prices. Beer garden and expo open 10 a.m.-5 p.m. The Pier, 300 N. The Strand, Oceanside. spectrumsportsevents.com
"Dr. Seuss' How The Grinch Stole Christmas"
Nov. 3-Dec. 29. The perfect holiday tradition for spirited kids young and old, Dr. Seuss' How The Grinch Stole Christmas is a colorful production of the heartwarming Dr. Seuss classic. See website for show times and ticket prices. Shiley Stage at the Old Globe, 1363 Old Globe Way, Balboa Park, 619.234.5623. theoldglobe.org
Felipe Esparza "Bad Decisions" Tour
Nov. 3. Laugh at the edgy, dark humor of the What's Up Fool? podcast host in this all-new tour where he delves deeper into every bad decision he has ever made in life, including drugs, mischievous trials and journeys that remain questionable to this day. 7 p.m. $37.50+. Balboa Theatre, 868 Fourth Ave., downtown, 619.570.1100. sandiegotheatres.org
Imperfect Produce x JuneShine Hard Kombucha Special Release
Nov. 3. Imperfect Produce, the service that sources "ugly" produce straight from farms and delivers it to your door for less than grocery store prices, has partnered with North Park's JuneShine, which brews high alcohol jun kombucha, to create a special fall flavor (Cranapple Cinnamon) that utilizes organic gala apples that would have otherwise ended up as landfill.  Celebrate the release of this limited-edition collaboration brew with tacos from local food truck Tacos La Mezcla (attendance and tacos are free) and the collab flavor, which will be available for purchase. 6-9 p.m. Free. JuneShine Tasting Room, 3052 El Cajon Blvd, North Park. RSVP
Carlsbad Village Faire
Nov. 4. Stroll this annual street fair featuring 800 vendors with everything from jewelry and antiques to art, home decor and handcrafted goods over 14 blocks. The international food court offers more than 50 booths, while a dedicated children's area will entertain youngsters with a super slide, bounce house and face painting. 8 a.m.-4 p.m. Free. Grand Ave., between Carlsbad Blvd. and Jefferson St., Carlsbad. carlsbad.org 
Vinyasa & Vino
Nov. 4. Enjoy a yoga class taught by a Lululemon instructor in Estancia La Jolla's Garden Courtyard followed by complimentary Trinitas wine, Moët & Chandon Champagne, super-food tapas and mini-spa services from Kopari Beauty at this #SelfCareSunday event. Plus, enter for your chance to win complimentary spa services, a one-night stay at Estancia and retail products. 11:30 a.m-1:30 p.m. $50. Estancia La Jolla Hotel and Spa, 9700 N. Torrey Pines Rd., La Jolla. Tickets
National Doughnut Day with The Crack Shack and Sidecar Doughnuts
Nov. 5. To commemorate this holiday The Crack Shack is teaming up with Sidecar Doughnuts to offer a special one-day-only offering.  Dubbed the Dough-Bird, the new menu item features a spicy fried thigh, runny egg and crispy bacon all on a buttermilk old fashioned Sidecar doughnut. Available beginning at 9 a.m. in Little Italy and out of the Sidecar pop-up truck at 10 a.m. in Encinitas until sell out. $13. The Crack Shack, 2266 Kettner Blvd., Little Italy, 619.795.3299; 407 Encinitas Blvd., Encinitas, 760.230.2968. crackshack.com     
Thanksgiving Feast with Chef Malarkey
Nov. 7. Join Chef Brian Malarkey at Farmer & The Seahorse as he shares how to craft his takes traditional holiday dishes. Chef Malarkey will demonstrate the techniques and secrets behind a masterful roasted turkey, stuffing, green beans and gravy. This live demonstration will be followed by an intimate family style dinner on the restaurant's heated outdoor patio, where guests can try out all the food they've learned how to make in addition to an iconic holiday dessert. Food & Beverage Director Chris Simmons will also curate a festive cocktail to pair with the meal. Following the event, everyone will be able to take home recipe cards, allowing them to recreate all the dishes come Thanksgiving Day. 6:30-8:30 p.m. $100. 10996 Torreyana Road #240, Torrey Pines, 858.260.5401. Tickets
Moët & Chandon Wine Dinner at THE MED
Nov. 8. THE MED's Wine Dinner Series showcases its culinary team's extraordinary talent. Led by Executive Chef Alex Emery, each dish of the five-course tasting menus are created to be paired superbly with each of the celebrated wines from Moët & Chandon. Reservations are required. 6-9 p.m. $125. La Valencia Hotel and Spa, 1132 Prospect St., La Jolla, 855.476.6870. lavalencia.com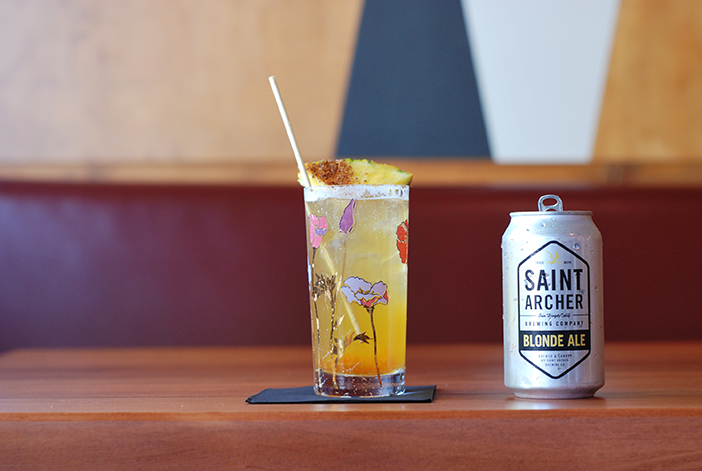 Saint Archer x Madison on Park Exclusive Beer Cocktail Launch
Nov. 8. Madison on Park partners with Saint Archer Brewing Company to create two highly-drinkable beer cocktails that will launch for one night only at Saint Archer's Leucadia location. Made with two of Saint Archer's best-selling beers, these beer cocktails will appeal to anyone who favors craft cocktails and those who are die-hard beer connoisseurs. The Spicy Blonde cocktail is crafted with pineapple juice, housemade habanero-apricot marmalade, mixed with Saint Archer's Blonde Ale and garnished with pineapple and Tajin or try the White Rose made with house-made peach-rose balsamic shrub, simple syrup, dehydrated rose, white sugar and Saint Archer's White Ale. 3-9 p.m. 978 N. Coast Hwy., Encinitas. saintarcherbrewery.com
San Diego Asian Film Festival
Nov. 8-17. The 19th annual event includes more than 150 films, including features, shorts and animation from Asian artists worldwide. The fest concludes with an awards gala hosted by Lou Diamond Phillips. See website for show times and ticket prices. Various locations. pacarts.org
"This Beautiful City"
Nov. 8-Dec. 9. Created from actual interviews with citizens of Colorado Springs—the capital of the Evangelical movement—this timely musical explores faith and the organized resistance against gay rights. See website for show times and ticket prices. Diversionary Theatre, 4545 Park Blvd. #101, University Heights, 619.220.0097. diversionary.org
Del Mar Racing
Nov. 9-Dec. 2. The fall "Bing Meet" features thoroughbred racing four days a week. Pepper and Easton Corbin perform post-race concerts on Nov. 10 and Nov. 24. See website for race days, post times and ticket prices. Del Mar Fairgrounds, 2260 Jimmy Durante Blvd., Del Mar, 858.792.4242. dmtc.com
San Diego Bay Wine & Food Festival
Nov. 11-18. SoCal's largest wine and culinary event celebrates its 15th anniversary with a palate-pleasing array of 40+ events including wine-tasting seminars and dinners, cooking classes and celebrity chefs galore. The epic signature Grand Tasting event is Nov. 17. See website for schedule and ticket prices. Embarcadero Marina Park North, 400 Kettner Blvd., downtown. sandiegowineclassic.com
Tahona
Opens Nov. 13. Indulge in modern Mexican cuisine and more than 120 varieties of mezcal at the newest addition to San Diego's dining scene. Tahona promises a wanderlust-worthy interior with Spanish archways, hand-painted tiles and rattan lights perfectly suited for its location adjacent to the historic El Campo Santo Cemetery. 2414 San Diego Ave., Old Town. tahonabar.com
SuicideGirls Blackheart Burlesque
Nov. 16. Brace yourself for the sexiest, smartest and geekiest pop-culture burlesque show. SuicideGirls has been redefining beauty since 2001 with its network of over 3,000 SuicideGirls and almost 9 million pinup-style photographs on its members-only social network. 21+. 8 p.m. doors, 9:30 p.m. show. $30-$75. Music Box, 1337 India St., Little Italy, 619.795.1337. musicboxsd.com
Get Crafty
Nov. 17. Channel your inner artist with a glass of wine in hand as an art expert teaches you to paint like Van Gogh or hammer out on a wooden art board and stencil and paint your very own Thanksgiving craft. 1 p.m. $35. Corked at Harrah's Resort Southern California, 777 Harrah's Rincon Way, Valley Center, 760.751.3100. harrahssocal.com
Krug Dinner at Addision
Nov. 17. Addison's chef William Bradley and Wine & Beverage Director Rafael Sanchez welcome Krug Champagne Ambassador Garth Hodgdon and Master Sommelier Chris Miller for an encore Krug dinner. This luxurious affair features six courses, plus an amuse bouche, complemented by twelve rare Krug Champagnes. Courses include Smoked Salmon Rillette, Coquille St. Jacques, Agnolotti Encré, Canard Roti, and Apple Tarte Tatin, with Nicoulai Caviar showcased in select dishes. Wines poured will be available for retail purchase, and guests will receive a special takeaway from Krug and Tsar Nicoulai following the conclusion of the meal. Call for reservations. Seatings begin at 5:30 p.m. $1,000. Fairmont Grand Del Mar, 5200 Grand Del Mar Way, Del Mar, 858.314.1900. addisondelmar.com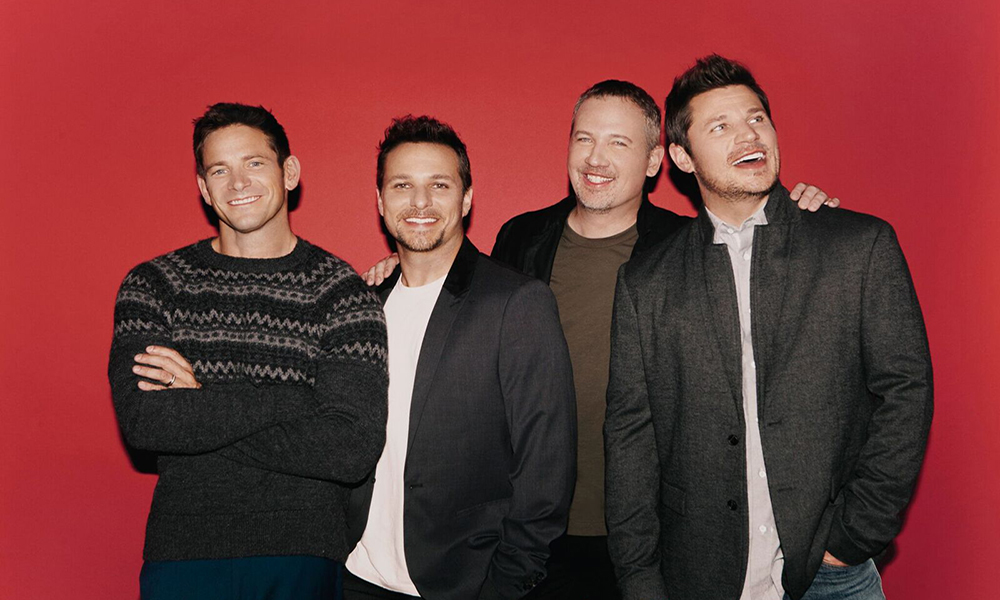 98 Degrees
Nov. 18. From 1997 to 2002, 98 Degrees sold a staggering 10 million records thanks to chart-topping singles "Thank God I Found You," "True to Your Heart," "Because of You," "Give Me Just One Night (Una Noche)" and "The Hardest Thing." Now, the harmonic crooners are back with a Christmas tour that includes their hits and Christmas classics. 7:30 p.m. $46+. Balboa Theatre, 868 Fourth Ave., downtown, 619.570.1100. sandiegotheatres.org
"Holmes & Watson"
Through Nov. 18. See if you can solve the riddle at the West Coast premiere of Holmes & Watson in which Dr. Watson must discern which of three men is the missing Sherlock Holmes. Conceived by Jeffrey Hatcher, this show is fast-paced, thrilling, and full of twists and turns. See website for show times. $42+; discounts for seniors, students, military and educators. North Coast Repertory Theatre, 987 Lomas Santa Fe Dr., Solana Beach, 858.481.1055. northcoastrep.org
Mother Goose Parade
Nov. 18. The 72nd annual parade offers a bevy of family fun to start the holiday season. Keep an eye out for some special celebrity guests. 1 p.m. Free. Parade route begins on Main St. and Magnolia Ave., El Cajon. mothergooseparade.org
"Persuasion"
Through Nov. 18. The California premiere of this musical adaptation of Jane Austen's final novel unravels the tale of a hero returning from war as he discovers that the woman who had hastily broken off their engagement years before remains unmarried. Funny and heartwarming, the action unfolds while he is still wounded from her snub, and she has a wealthy suitor in the wings. See website for show times and ticket prices. Lamb's Players Theatre, 1142 Orange Ave., Coronado, 619.437.6000. lambsplayers.org
"A Doll's House, Part 2"
Nov. 21-Dec. 16. This sharp-witted sequel to Ibsen's iconic masterpiece garnered eight Tony Award nominations, and is a blistering and funny meditation on marriage and the high cost of personal fulfillment. See website for show times and ticket prices. San Diego Rep, Lyceum Theatre, 79 Horton Plaza, downtown, 619.544.1000. sdrep.org
San Diego Jazz Festival
Nov. 21-25. The 39th annual event celebrating jazz features live performances by international artists representing a wide variety of traditional jazz, Dixieland, ragtime, swing and rockabilly styles. See website for show times and ticket prices. Town and Country Resort Convention Center, 500 Hotel Circle N., Mission Valley. sdjazzfest.org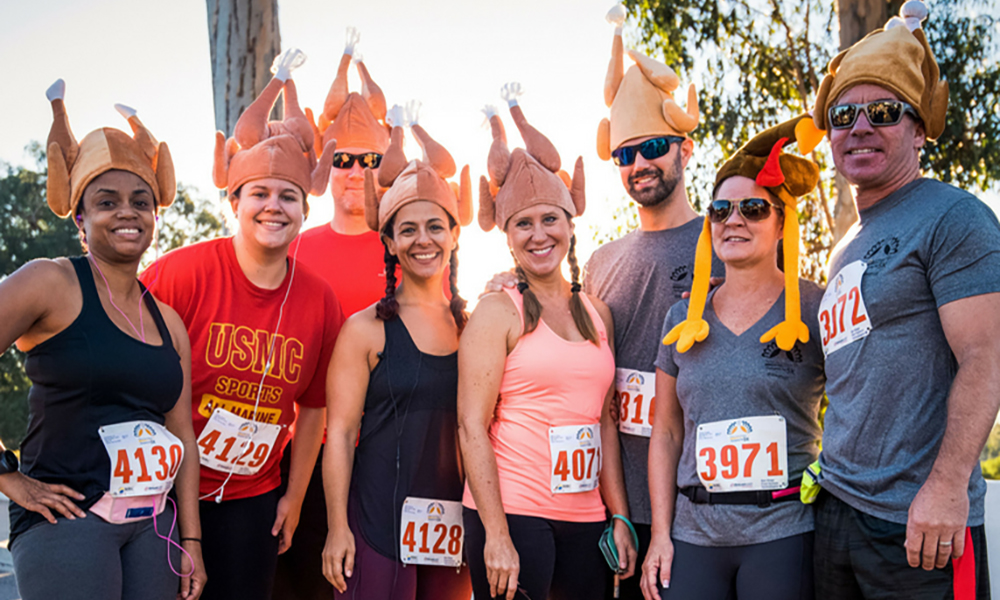 Father Joe's Villages Thanksgiving Day 5K Run & Walk
Nov. 22. Before filling up on Thanksgiving dinner, join more than 7,500 runners and walkers for San Diego's original turkey trot. Walk or jog the iconic route through Balboa Park to reach a family-friendly festival at the finish line. 7:35 a.m. race begins, 8:30 a.m. festival begins. $35-$42. Spreckles Organ Pavilion, 1549 El Prado, Balboa Park. Tickets
Thanksgiving Celebrations at Cafe Sevilla
Nov. 22. Celebrate Thanksgiving Spanish-style with Cafe Sevilla's delicious four-course prix-fixe Thanksgiving menu. Enjoy Thanksgiving classics with a Spanish twist such as butternut squash soup, roasted turkey breast and pumpkin pie with cinnamon ginger whipped cream for dessert. Plus live music by Charlie Chavez and Perla Negra from 7:30-11:30 p.m. Noon-11 p.m. $35.50 adults, $19.50 children. 353 Fifth Ave., downtown, 619.233.5979. cafesevilla.com
Julian Country Christmas
Nov. 24. Kick off the holiday season with the annual lighting of the town's huge living Christmas tree. In this mountain town, you'll feel a nip in the air, sniff wood fires, and maybe catch a glimpse of snow-capped mountains while you explore the town's holiday festivities and shop for one-of-a-kind gifts. 2-7 p.m. Free. Julian Pioneer Museum, 2811 Washington St., Julian. visitjulian.com
Small Business Saturday
Nov. 24. Support small businesses and the local economy while knocking out your holiday shopping in Little Italy. Many businesses will extend their hours for this special event and offer great discounts for locals. Grab a "Shop Small, Shop Little Italy Passport," and scoop out all of the amazing deals at participating Little Italy businesses, such as Stroll, Atacama Surf Shop, Vitreum and more. Free. littleitalysd.com
Platinum Comedy Tour
Nov. 25. Comedian Mike Epps hits the road with some of his hilarious friends including Tony Rock, Sommore, Bruce Bruce and Earthquake. Epps is best known from the 1990s Def Comedy Jam tours and TV specials, as well as feature films Next Friday, How High and The Honeymooners. 8 p.m. $56+. Valley View Casino Center, 3500 Sports Arena Blvd., Midway, 619.224.4171. Tickets
"Wicked"
Through Nov. 25. The Tony Award-winning Broadway musical tells the untold story of the two witches of Oz, long before that girl from Kansas arrives in Munchkinland. See website for show times and ticket prices. San Diego Civic Theatre, 1100 Third Ave., downtown, 619.570.1100. broadwaysd.com
Kelli O'Hara and Matthew Morrison
Nov. 27. Two of Broadway's brightest stars come together for an evening with the San Diego Symphony Orchestra. Matthew Morrison, best known for his role on the hit TV series Glee, has had numerous featured roles on Broadway including Light in the Piazza where he co-starred with O'Hara. 8 p.m. $40-$115. Copley Symphony Hall, 750 B St., downtown, 619.235.0804. sandiegosymphony.org
"Waitress"
Nov. 27-Dec. 2. Inspired by the film of the same name, Waitress tells the story of Jenna, a waitress and expert pie maker who dreams of a way out of her small town and loveless marriage through music written by Sara Bareilles. See website for show times and ticket prices. San Diego Civic Theatre, 1100 Third Ave., downtown, 619.570.1100. broadwaysd.com
Joe Sasto photo by Tommy Garcia/Bravo courtesy Becca PR. "Dr. Seuss' How the Grinch Stole Christmas" photo by Jim Cox courtesy The Old Globe. 98 Degrees photo courtesy ABC PR. Father Joe's Village Turkey Trot photo courtesy Father Joe's Village.