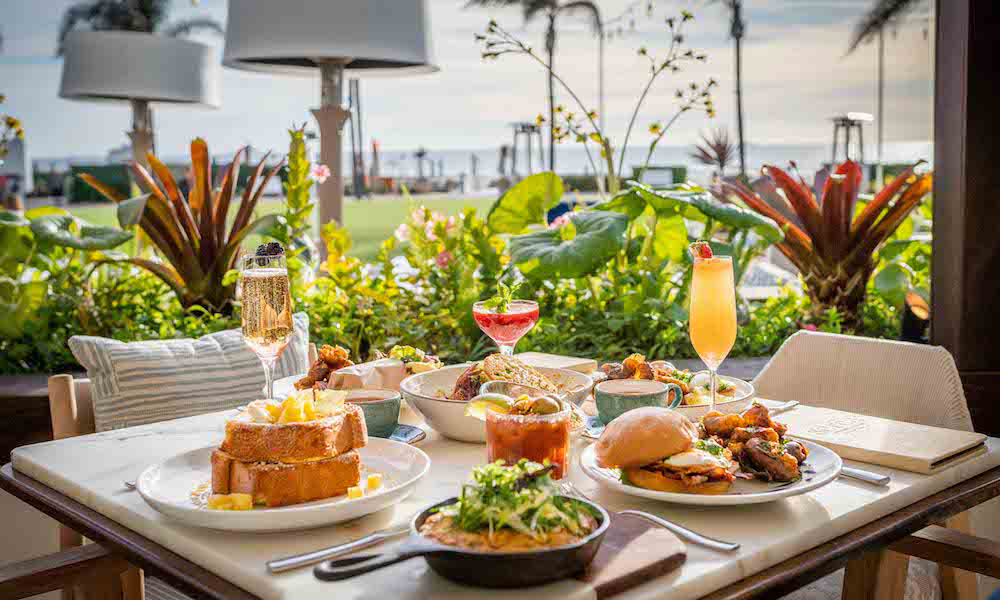 The Flower Fields, Best Coast Beer Fest, Little Women and more. Here are the top 30+ San Diego things to do in March.
Edited by Brooke Knetzger.
Carlsbad Flower Fields
Starts March 1. Adventure among 50 acres of blooming spectacular ranunculus flowers in North County during this photo-worthy salute to spring. See website for exciting events and festivals throughout the season. 5704 Paseo Del Norte, Carlsbad, 760.431.0352. theflowerfields.com
Alice
March 1-29. Go down the rabbit hole in this imaginative musical adaptation of the Lewis Carroll classics Alice in Wonderland and Through the Looking Glass. See website for various showtimes. Through April 12. Lamb's Players Theatre, 1142 Orange Ave., Coronado. lambsplayers.org 
ABBA Mania
March 4. Don't miss ABBA MANIA, which has been delighting audiences of all ages since it's formation in 1999. Featuring a special concert presentation, which celebrates the music and style of Abba, ABBA MANIA revives special memories of when 'Abba' ruled the airwaves. Enjoy timeless hits such as 'Mamma Mia', 'Dancing Queen', 'Super Trouper' and many more. $33+. 7:30 p.m. Balboa Theatre, 868 Fourth Ave, San Diego. sandiegotheatres.org
Daou Family Vineyards Winemakers Dinner 
March 4. Rancho Valencia Resort & Spa is bringing back its exceptional winemaker dinner series with Daou Vineyards & Winery. Enjoy an elegant five-course wine dinner with hand-picked pairings, as Daniel Daou guides guests through this exclusive private tasting featuring two rare estate reds. $155 per person. 6:30- 10 p.m. Rancho Valencia Resort & Spa, 5921 Valencia Cir, Rancho Santa Fe, 858.759.6246. ranchovalencia.com
Mezcal Talk and Fundraiser with Erstwhile Mezcal at Tahona
March 5. Tahona continues its robust series of mezcal-centric events on with an intimate presentation featuring several rare small-batch expressions from Esrtwhile Mezcal, a supporter of artisanal and ancestral mezcals produced by independent family businesses. Taking place in Tahona's tasting room at 7 p.m., the tasting will expand guests' knowledge about agave spirits and what makes mezcal unique. Erstwhile's founder Yuan Ji will present and take questions from guests. A special happy hour featuring Erstwhile Mezcal's signature cocktail, The Velociraptor, will be available to all Tahona guests from 5-7 p.m. 2414 San Diego Ave., Old Town, 619.255.2090. Tickets
House of Joy 
Premieres March 5. Set in the 17th century, in a place like Delhi, India, House of Joy spins the tale of Hamida, one of the elite female bodyguards in the Emperor's Imperial Harem. When faced with an impossible ethical quandary, Hamida goes against everything she believes and risks her life to help abused Queen Mariyam escape the heavily guarded harem. Inspired by the epic legends of Indian history, Shekar has crafted a swashbuckling action-adventure romance centering on strong women who battle each other as well as a world threatening to enter their sacred space. Through March 29. San Diego Repertory Theatre, 79 Horton Plaza, San Diego. sdrep.org
Cirque du Soleil Presents OVO 
March 5-8. OVO is teeming with life. Insects work, play, fight and look for love in a non-stop riot of energy in motion. Their home is filled with biodiversity, beauty, action and moments of quiet emotion. The awestruck insects are intensely curious when a mysterious egg appears, representing the enigma and cycles of their lives. Various dates and showtimes. Viejas Arena at Aztec Bowl San Diego State University, 5500 Canyon Crest Dr., San Diego. Tickets
San Diego Comic Fest
March 5-8. The San Diego Comic Fest is the friendly comic convention with a casual atmosphere and an intimate scale that allows fans to mingle directly with professionals and exhibitors. Come out and indulge in your love of comics, science fiction, and films, and meet an outstanding array of professional creators. See website for schedule and various ticket prices. Four Points by Sheraton,  8110 Aero Drive, San Diego. Tickets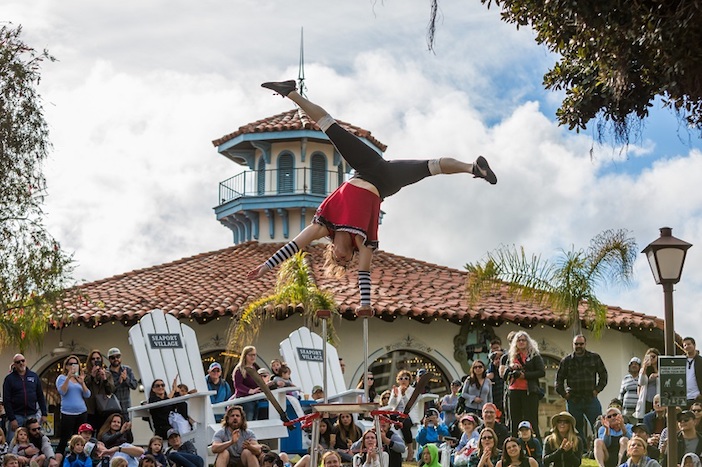 Busker Festival at Seaport Village
March 7-8. The Busker Festival at Seaport Village celebrates the fascinating and unique talents of street performers who come from across the world to entertain us here in San Diego. In its 14th year, this free event is a family-friendly spectacle and a beloved Seaport Village tradition. Witness unique acts such as sword swallowing, knife throwing, pogo stick tricks and more. Noon-6 p.m. 849 West Harbor Drive, San Diego. seaportvillage.com
CRSSD Festival Spring 2020
March 7-8. CRSSD Festival returns to Waterfront Park in downtown San Deigo with this now annual springtime event. The electronic heavy festival has introduced indie rock into the lineup over the last few editions as well as some incredible underground DJs. crssdfest.com
gUnTOPIA
Premieres March 8. Harry Nelson has a model family, his loving wife Mary and their children Bobby and June, all of them excellent shots. They attend the range every Sunday. Faithfully. It's a wonderful world they live in. Dogs, friendly neighbors, and neatly trimmed lawns. Safe inside their normal lives, all's as well as it can be. Or is it? In gUnTOPIA. See website for showtimes. Through March 29. MOXIE Theatre, 6663 El Cajon Blvd., San Diego. theroustabouts.org
She Loves Me
Through March 8. Set in a 1930s European perfumery, meet shop clerks, Amalia and Georg, who don't see eye to eye. After both respond to a "lonely hearts advertisement" in the newspaper, they now live for the love letters that they exchange, but the identity of their admirers remains unknown. Join Amalia and Georg to discover the identity of their true loves… and of all the twists and turns along the way! Horton Grand Theatre, 444 Fourth Ave, San Diego. sdmt.org
Tame Impala
March 9. Tame Impala heads to Pechanga Arena this March with special guest Clairo. Known for lush orchestrations and retro, psychedelic-inspired songs, Tame Impala has risen to international stardom since its early beginnings as vocalist Kevin Parker's solo project. $49.50+. 8 p.m. Pechanga Arena, 3500 Sports Arena Blvd, San Diego. Tickets
San Diego Latino Film Festival
March 12-22. Check out 160+ feature and short film screenings in celebration of Latino film, art and culture. Plus guest celebrities, live music, after-parties, filmmaker workshops and more. AMC 18 Fashion Valley, 7037 Friars Road, Mission Valley; Digital Gym Cinema, 2921 El Cajon Blvd., North Park. sdlatinofilm.com 
The Fish Market 30 Year Celebration
March 12. Come out and celebrate The Fish Market turning 30! Explore the rooms and decks of The Fish Market and Top of the Market to enjoy extraordinary seafood, exquisite libations, performances by musicians of the San Diego Symphony Orchestra, seafood demonstration showcases and sunset views over San Diego Bay. Tickets are all-inclusive with 100 percent of proceeds from ticket sales donated to support the San Diego Symphony Orchestra's military appreciation concerts and events, bringing free concerts to members of active and retired military and their families. $120+. 21+. 6-9 p.m. 750 North Harbor Drive, San Diego. Tickets
Tiësto
March 13. The world-famous DJ, who recently topped a travel report as the world's most-traveled musician of all time, will head to San Diego's OMNIA Nightclub this March. Tiësto has performed for millions at Ultra, Coachella, Tomorrowland, TomorrowWorld and Electric Daisy Carnival, in addition to the many clubs that he headlines. Doors open at 9 p.m. $40+. 21+. OMNIA Nightclub, 454 Sixth Ave, San Diego. Tickets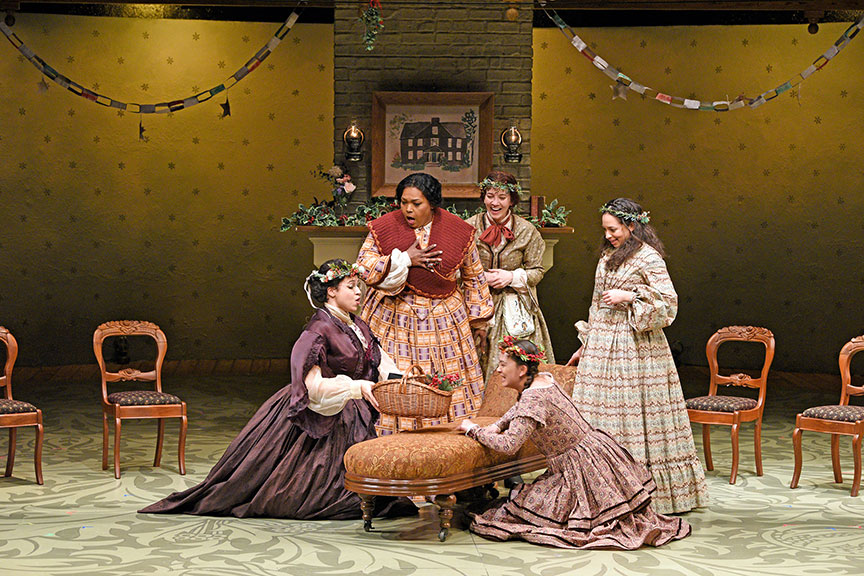 Little Women
Premieres March 14. Louisa May Alcott's classic novel of the March sisters is beloved by generations of readers. Now her heartfelt story of Jo March and her three unforgettably distinct sisters, Meg, Beth, and Amy, comes to the stage in a brand-new version that honors the spirit of Alcott's original while freshly interpreting it for a new era. The Wall Street Journal named the prolific and widely produced Kate Hamill Playwright of the Year. Her sparkling adaptation will have audiences falling in love with the March sisters all over again as they grow from young girls to little women. Through April 19. The Old Globe Theatre, 1363 Old Globe Way, San Diego. theoldglobe.org
40th Annual St. Patrick's Day Festival & Parade
March 14. Check out more than 120 parade entries, followed by an Irish festival including craft and food vendors, a beer garden, live music, dancing and kids' activities. Following the parade, an event filled Irish Festival in Balboa Park (Sixth and Maple) features live entertainment on three different stages. 10:30 a.m. (parade), 9 a.m. – 6 p.m. (festival). Fifth Avenue and Laurel Street, Balboa Park. stpatsparade.org
Shamrock 2020
March 14. The Gaslamp turns green for its 26th annual St. Patricks' Day block party- featuring live DJs and Irish bands on three stages, games, and Irish fare and drinks at dozens of participating bars and restaurants. 21+. 2 p.m.-midnight. Gaslamp Quarter. sandiegoshamrock.com
Seaside Brunch at Serẽa
March 14-15. The Del is making brunch wishes come true with the launch of their brand new Seaside Brunch. Guests can delight in an elevated alfresco brunch experience, complete with unmatched coastal views and a menu serving thoughtfully-crafted sustainable seafood dishes and other brunch specialties crafted by Executive Chef JoJo Ruiz. Menu highlights include a buttery lobster roll, fresh farmers market vegetable frittata, decadent Nutella french toast, eggs benedict, a daily selection of fresh oysters or shellfish and much more. Not to mention, a menu of specialty brunch cocktails including bloody marys, mimosas, and spritzers. 11 a.m.-3 p.m. Hotel Del, 1500 Orange Ave, Coronado. sereasandiego.com
Cherry Blossom Week
March 16-22. Japanese Friendship Garden's Cherry Blossom Week returns for its 15th annual celebration! From March 16-19, select vendors will be set up giving guests a sneak peek of what's to come during the weekend. JFG will bloom into a full festival from March 20-22 with visiting and local merchants offering unique crafts and presents in the upper garden; performances, a beer & sake garden, and tea garden at the Inamori Pavilion; mouth-watering street food in the lower garden courtyard; and an arts & crafts area for children. 2215 Pan American Road. E, Balboa Park. niwa.org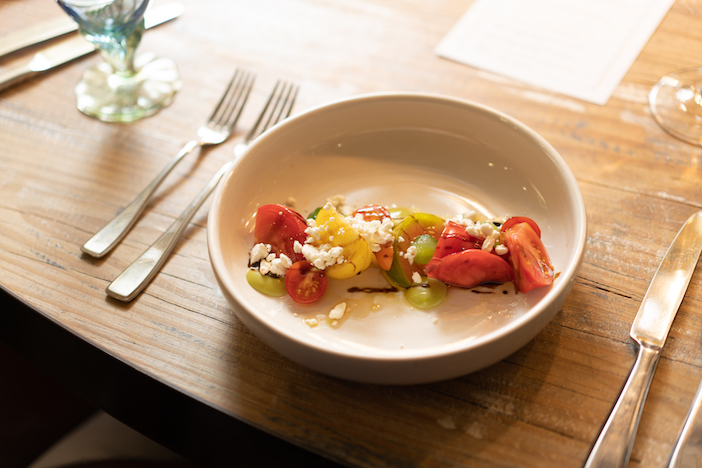 AVANT School of Cooking at Rancho Bernardo Inn 
March 18. Guests and locals can join together at Rancho Bernardo Inn's AVANT for the AVANT School of Cooking series for an intimate, interactive dinner inspired by locally sourced San Diego ingredients for healthy and flavorful dishes. The class will take guests through a 30-minute Mindful Cuisine for a true culinary experience to bring home new skills to your kitchen. $75 per person, plus optional $35 wine pairings. Call for reservations. 17550 Bernardo Oaks Dr, Rancho Bernardo, 858.675.8551. ranchobernardoinn.com 
Frog's Leap Wine Dinner at Hotel del Coronado
March 19. Enjoy the warm ocean breeze and an iconic San Diego sunset at the property's beachfront restaurant, Sheerwater, in a special collaboration with Frog's Leap Winery. The evening will be hosted by owner and winemaker, John Williams, and will offer a curated five-course menu created by Master Chef Patrick Ponsaty to complement the expertly paired wines. 6-10 p.m. Orange Ave, Coronado. 1.800.468.3533 1500 hoteldel.com
National Ravioli Day at Bleu Boheme
March 21. Bleu Bohème will bring the flavors of France to National Ravioli Day with a featured dish for the holiday: ravioli d'agneau, available exclusively on Friday, March 20. Owner and executive chef Ken Irvine will prepare house-made lamb ragout and goat cheese ravioli served with sautéed mustard greens and Beaujolais sauce, priced at $28. Raviolis maison, one of the restaurant's signature dishes, will also be available: shiitake and oyster mushroom raviolis served over sautéed fresh spinach and tomato relish with fines herb sauce, priced at $26.95. 4090 Adams Ave., Kensington, 619.255.4167. bleuboheme.com
Best Coast Beer Fest
March 21. Best Coast Beer Fest, San Diego's cancer hating, beer-loving fest, is moving to Embarcadero Marina Park North for unbeatable views of the San Diego Bay. Bringing together over 100 breweries from all across the Best Coast, the festival will allow nearly 5,000 beer lovers the opportunity to sip on over 200 beers from 100 of the West Coast's best breweries. Every ticket sold goes to support Cuck Fancer and helps young adult cancer patients and survivors. 1-4 p.m.; VIP noon-4 p.m. 400 Kettner Blvd., San Diego. bestcoastbeerfest.com
San Diego Cake Show
March 21-22. Come see San Diego's best cake decorators compete in the largest event of its kind in California. The 37th annual San Diego Cake Show, themed "Red Carpet Cakes", is a weekend with celebrity chef appearances, raffles, cake competitions, classes by world-renowned cake artists, shopping from the top caking vendors and free stage demos. Master pastry chefs, well-known California "sugar artists," talented local bakers, amateur decorators and those who enjoy beautiful sugar art of all kinds will come together for the San Diego Cake Show. A percentage of proceeds will benefit Ronald McDonald House Charities of San Diego. $12+. 10 a.m.-5 p.m. Del Mar Fairgrounds, 2260 Jimmy Durante Blvd, Del Mar. Tickets
The Outsider
Through March 22. The Outsider is a razor-sharp, hilarious satire of modern American politics and an inspirational tribute to democracy. Overflowing with clever plot twists portraying the contemporary political climate, Paul Slade Smith's play is a fun-house mirror, held up to reflect our often confounding governmental system. If you're overwhelmed by today's headlines, this thoroughly non-partisan laugh-fest is just what you need. North Coast Repertory Theatre, 987 Lomas Santa Fe, Suite D, Solana Beach. Tickets
Best Coast Brunch Bash
March 22. Celebrate the most important meal of the day on the bay with boozy options such as rosé all day, Bloody Mary bar, bottomless mimosas, and The Michelada Experience; paired with food samples from the best brunch spots in town, live entertainment and more. $45+. 11 a.m.-3 p.m. Embarcadero Marina Park North, 400 Kettner Blvd., San Diego. bestcoastbeerfest.com
Hot Chocolate 15K/5K-San Diego
March 22. San Diego's sweetest race returns! Participants will enjoy a beautiful run through the city's most scenic spots and can celebrate with fellow chocolatiers at the post-race party. Start and finish at Petco Park. 5k starts at 6:45 a.m., 15k starts at 7:45 a.m. Petco Park, San Diego. Register
Frozen The Musical 
Premieres March 26. Disney's FROZEN is an unforgettable theatrical experience perfect for the whole family, filled with fabulous special effects and powerhouse performances. The critics rave "Disney's struck gold! Sumptuous sets, gorgeous costumes and plenty of special effects to wow the audience!" (New York Post). The plot is a timeless tale of a family pulled apart by a mysterious secret – one sister struggles to find her voice and harness her powers within, while the other embarks on an epic journey to bring her family together through the redemptive power of love. San Diego Civic Theatre, 110 Third Ave, San Diego. broadwaysd.com
8th Annual Bankers Hill Art & Craft Beer Festival
March 27. Enjoy local craft breweries, restaurant tastings, pop-up art displays and music at this annual festival that draws over 500 people. Tickets include unlimited two-ounce pours from more than a dozen craft breweries, sweet and savory bites from participating Bankers Hill restaurants, access to pop-up art exhibits, DJ'd music and more. $30. 6-9 p.m. The Abbey, 2925 Fifth Avenue, San Diego. Tickets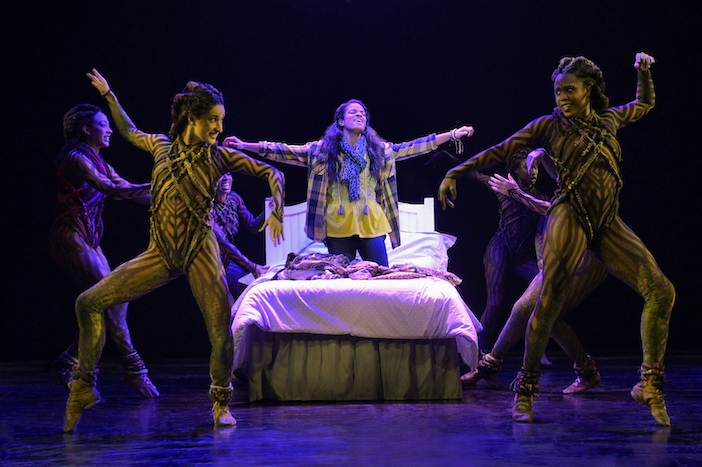 Fly   
Through March 29. Two major Tony Award-winning Broadway veterans team up with two of the most exciting writers in American theatre today to bring a cherished tale into the present. Wendy's life is about to change forever when she meets a boy named Peter, a pirate named Hook, and a beguiling, beautiful Crocodile, who's much more than meets the eye. In this thrilling, funny, dangerous look at J.M. Barrie's novel Peter and Wendy, a whole new Neverland comes to life. La Jolla Playhouse, 2910 La Jolla Village Drive, La Jolla. Tickets
Celine Dion
March 31. The iconic Celine Dion will bring her Courage World Tour to Pechanga Arena. The Courage World Tour is the fourteenth concert tour by the Canadian singer and her first world tour in over a decade. $69.50+. 7:30 p.m. pechangaarenasd.com
Photos: Serea courtesy Serea. Busker Festival courtesy Seaport Village. Little Women courtesy The Old Globe. AVANT courtesy AVANT. La Jolla Playhouse courtesy La Jolla Playhouse.