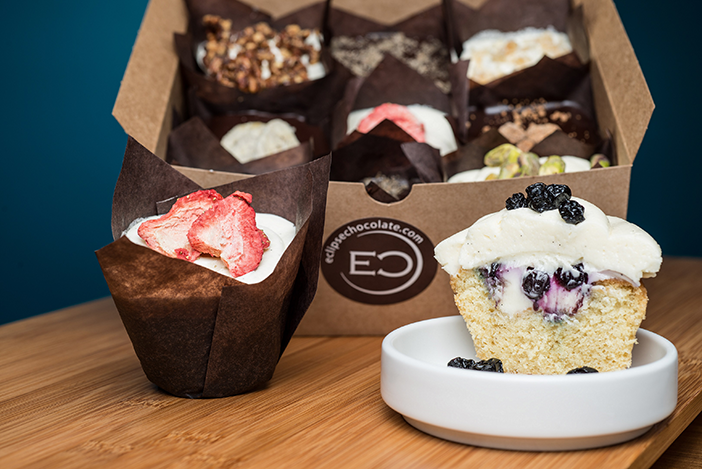 This month, San Diego brings you outdoor concerts, unique tasting events, movie nights and more. See our list of the top 30+ San Diego things to do in July.
Edited by Eva Scattergood.
LOLA 55 Pop-Up
July 2. Chef Drew Bent of LOLA 55 will bring his skills to Grand Ole BBQ y Asado's signature open fire smoker and grill to present his elevated take on tacos as a preview of what's to come at his soon-to-open East Village location. Tickets include three tacos (pork belly al pastor, mesquite grilled chicken and rainbow cauliflower) along with your choice of aqua fresca and a special Mexican-inspired dessert. 6-8 p.m. $16. Grand Ole BBQ y Asado, 3302 32nd St., North Park. Tickets
Movie Night Mondays at Duck Dive
July 2, 9. Get rid of your case of the Monday blues with movie nights at Duck Dive. Features include Top Gun (July 2) and Road House (July 9) with $5 build your own mules and complimentary popcorn. 8 p.m. Free. 4650 Mission Blvd., Pacific Beach, 858.273.3825. theduckdive.com
Big Bay Boom
July 4. The Port of San Diego presents this annual festive display of fireworks—Southern California's largest—from four barges on San Diego Bay. Best viewing sites include downtown, Coronado, Harbor and Shelter Islands, and Imperial Beach. 9 p.m. Free. bigbayboom.com
Summer County Fare Tasting Dinner
Through July 4. Grant Grill's Executive Sous Chef Phil Hoffer has curated a menu of playful dishes inspired by classic fair cuisine. Features include smoked California squab with rhubarbeque sauce and peach fritters; shrimp corn dog with red curry ketchup and kaffir lime mustard; strawberry cotton candy with watermelon sorbet; and more. Each guest will receive lobster caramel corn to take home. 5:30-10 p.m. $60. Grant Grill, 326 Broadway, downtown, 619.744.2077. grantgrill.com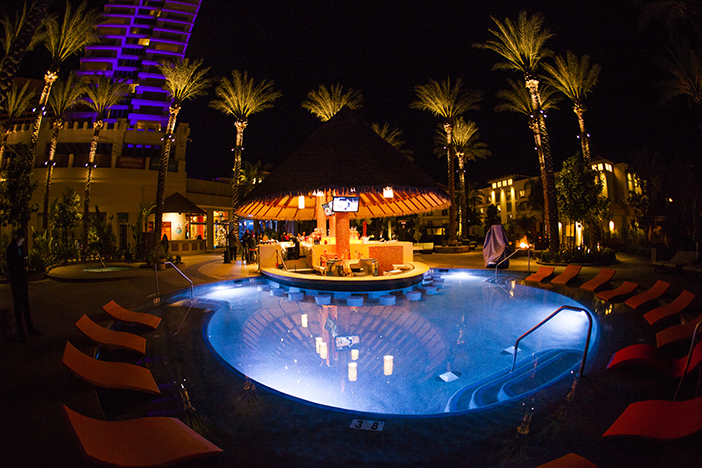 Cowboy Boots & Swimsuits
July 5, 12, 26. Grab your cowboy boots and head on over to Dive for a poolside music series. Catch country artist Brandon Lay on July 5, followed by Jimmie Allen (July 12) and Devin Dawson (July 26). The evenings include drink specials, games, water bull riding and more. 7 p.m. doors, show 8 p.m. $10+. Harrah's Resort Southern California, 777 Harrah's Rincon Way, Funner, 760.751.3100. harrahssocal.com
First Friday Night Market
First Fridays Starting July 6. Join the inaugural First Friday Night Market at Anthem Vegan, featuring vegan food and drink vendors, local vegan-friendly beer in a 21+ beer garden and music. Food options include El Veganito, The Vegan Tamale Company, Maya's Cookies and more, with drinks from Thorn Brewing Co. and Bambucha Kombucha. 6-10 p.m. Free. 2611 El Cajon Blvd., North Park. veganinsandiego.com  
"Mankind Edited" Opening
July 6. Attend the opening of La Playa Gallery's newest exhibition Mankind Edited featuring pieces from painters Dan Adams and Matt Snyder, and sculptor Ry Beloin. Peruse selected works that explore the emotional range of Americana, from joy to depression, influenced by everyday objects such as the kitchen honey bottle, the skyscraper and the posture of man all while enjoying a wine and cheese reception. 5-8 p.m. Free. 2226 Avenida De La Playa, La Jolla, 858.454.6903. laplayagallery.com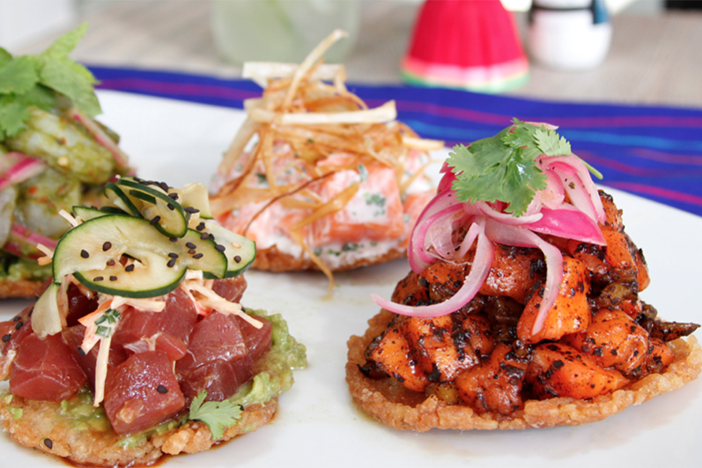 POKE IT Grand Opening
July 7. POKE IT, Hillcrest's newest Cali-Baja poke concept, has teamed up with the San Diego Fire-Rescue Department's newly remodeled Station No. 5 to host a public grand opening, which will serve as a fundraiser for the San Diego Fire Rescue Foundation. Guests can enjoy a special poke dish created by the firefighters of Station No. 5, who will be available throughout the day for photos. 11 a.m.-9 p.m. À la carte pricing, free to attend. 690 University Ave., Hillcrest, 619.773.6486. pokeitsd.com
Eclipse Chocolate's Annual Cupcake Extravaganza
Through July 8. Experience 24 limited-time flavors created by Eclipse's founder and Food Network's Guy's Grocery Games winner Will Gustwiller while delighting in a pop-up baby goat petting zoo (July 8) and prizes including free gourmet cupcakes for a year. Each box of nine cupcakes is an entry to win and additional "instant winner" tokens can be found attached to the bottom of various cupcakes throughout the event. See website for hours. Cupcakes priced individually, $25 for a box of nine. Eclipse Chocolate, 2145 Fern St., South Park, 619.578.2984. eclipsechocolate.com  
Summer Film Series
July 11, 18, 25. The Women's Film Festival San Diego, in partnership with Women In Entertainment and ArcLight Cinemas, is proud to present their first Summer Film Series. The series will showcase women-directed documentaries followed by filmmaker Q&A sessions, beginning with Fattitude on July 11. 7:30 p.m. $17.50. ArcLight Cinemas, 4425 La Jolla Village Dr., La Jolla. Tickets  
Rum Runner Night
July 12. Climb aboard the steam ferryboat Berkeley to enjoy specialty craft rum cocktails, pick up tips from Havana 1920 mixologist and GBOD Hospitality Group's beverage director Ryan Andrews, listen and dance to live music, and imbibe in delicious authentic Cuban cuisine. Tickets include one specialty rum cocktail, appetizers, entertainment and general admission to all historic vessels and exhibits at the Maritime Museum. 21+. 5-8 p.m. $30. Maritime Museum, 1492 N. Harbor Dr., Embarcadero, 619.234.9153. sdmaritime.org  
Summer and Songs
Thursdays Starting July 12. Spend your summer evenings at the Village at Pacific Highlands Ranch with this eight-week outdoor concert series. Headliners include Grammy-nominated Steven Cade, Lee Coulter, Justin Froese, Corey Leal, Gaby Aparicio, Lola and Ariel Levine. Dine on the restaurants' patios or hang out in the courtyard to take in the night's music. 6-8:30 p.m. Free. Village Square between Westroot Tavern and Casa Rústica, 13490 Pacific Highlands Ranch Pkwy., Carmel Valley. summerandsongs.com  
King Taylor Project, Josh Weinstein, and Julia Othmer
July 14. King Taylor Project celebrates their return from the road and the revival of the Lestat's West Music Venue with a show that features new original music from every act on the bill. The night opens with L.A.-based singer-songwriter Julia Othmer, followed by songwriter/ composer Josh Weinstein, who plays keyboards with KTP as well as a host of other acts around town. Tickets include a signed copy of About Time, a KTP decal and a Julia Othmer sticker. 8-11 p.m. $10. 3343 Adams Ave., Normal Heights, 619.282.0437. Tickets  
FIFA World Cup Championship Outdoor Viewing Party
July 15. Soccer fans gather for the largest West Coast outdoor viewing party of the FIFA World Cup Championship. Massive jumbotrons will be showing the game all morning along this block of fun which will also feature food trucks, a Mike Hess beer garden and 619 Spirits Bloody Mary Bar for those 21+ and a family zone for those of all ages. 7 a.m.-2 p.m. Free. 30th Ave. and University Ave., North Park. explorenorthpark.com  
Passport to Peru: Masters Cocktail Reception
July 16. Sip and savor your way through the evening as you learn about Peruvian flavors from three of the most well known names in the country's booming culinary scene. Executive Chef Emmanuel Piqueras—Peru's culinary ambassador—and renowned Chef Ricardo Zarate will present six tray-passed dishes alongside mini pisco cocktails by Master Distiller Johnny Schuler, who will be flying in from Lima to share his expertise. 6-8:30 p.m. $35. Pisco Rotisserie and Cevicheria, 2401 Truxtun Road, Suite 102, Point Loma, 619.222.3111. Tickets   
Opening Day Pre-Party on Pacific Terrace
July 17. Get ready for opening day of the Del Mar horse races with a party complete with live music, specialty drinks including this year's signature cocktail—the Del Mar Julep—and tray-passed hors d'oeuvres. Christine A. Moore Millinery and Percy Knox Jr. of Élevée Custom Menswear will be conducting a Race Day Fashion 101 session and horse racing expert Michelle Yu will lead a panel discussion with jockeys and horse owners to give an inside look at the sport. 6-8 p.m. $79.99. L'Auberge, 1540 Camino Del Mar, Del Mar, 858.259.1515. laubergedelmar.com
Opening Day of the Del Mar Races
July 18. Hold on to your hats! Join thousands of fans for Opening Day—one of the most unique, exciting events on the West Coast. Take part in the fabulous fashion scene, see some of your favorite celebrities, experience the thrill of the high-speed races and bet on some of the world's most prestigious thoroughbreds. Gates open 11:30 a.m., first race 2 p.m. $15-$30. Del Mar Racetrack, 2260 Jimmy Durante Blvd., Del Mar, 858.755.1141. dmtc.com
Comic-Con Cocktails at The Blind Burro
July 18-22. Bring out your inner superhero with these Comic-Con inspired cocktails. Try the Deadpool Daiquiri crafted with 1888 Rum, strawberry purée, lime juice agave nectar and float black strap rum ($14); The Lady in Red Sangria made with red wine, orange liqueur, blackberry brandy, juices and fresh apples (12); and more served exclusively during Comic-Con. W-Th 11 a.m.-11 p.m.; F-Sa 11 a.m.-1:30 a.m.; Su 10 a.m.-10 p.m. The Blind Burro, 639 J St., East Village, 619.795.7880. theblindburro.com   
Captain America Special at Cafe 222
July 19-22. Superheroes deserve super breakfasts, and Cafe 222 is answering the call with waffles inspired by Captain America's shield, available during Comic-Con International. The golden brown malted waffles will be shaped like the hero's famous shield, topped with fresh berries and whipped cream. The dish will be available on the children's menu and made in limited supply each day. 7 a.m.-1:45 p.m. 222 Island Ave., downtown, 619.236.9902. cafe222.com
Mario Time at Primavera Ristorante
July 19-22. Primavera Ristorante will celebrate Comic-Con International with featured dishes and a specialty cocktail inspired by the beloved Super Mario series. Executive Chef Ryan Moore will prepare Super Mario Brothers Meatballs, house-made pork and beef meatballs topped with creamy ricotta and served with house-made marinara and basil crisps, available for $12; and Mario Marsala, lightly breaded chicken breast sautéed in Sicilian Marsala wine with cremini mushrooms, priced at $28. The Princess Peach Bellini, made with prosecco and fresh peach slices, will also be available for $12. 5-10 p.m. 932 Orange Ave., Coronado, 619.435.0454. primavera1st.com
The Experience at Comic-Con
July 19-22. Quench your superhero thirst outside of the Convention Center with or without a Comic-Con badge. Expect a three-acre pop-culture playground equipped with engaging fan activations of Comic-Con-esque brands, lounge areas, celebrity sightings, entertainment and food trucks. Th-Sa 9 a.m.-7 p.m., Su 9 a.m.-5 p.m. Free, badge holders get VIP access. Petco Park, 100 Park Blvd., downtown.    
Saint Archer's Party in the Plaza
July 20, 27. Start your weekend off the right way with Saint Archer's Party in the Plaza. Enjoy half-off all of Del Mar's signature cocktails and a special Saint Archer small batch brew unique to Del Mar during Happy Hour Fridays from 2-6 p.m. Make sure to stay for live musical performances throughout the evening, ending with the Friday headliner performance starring some of the music industry's biggest artists. Free with racetrack admission. Del Mar Racetrack, 2260 Jimmy Durante Blvd., Del Mar, 858.755.1141. dmtc.com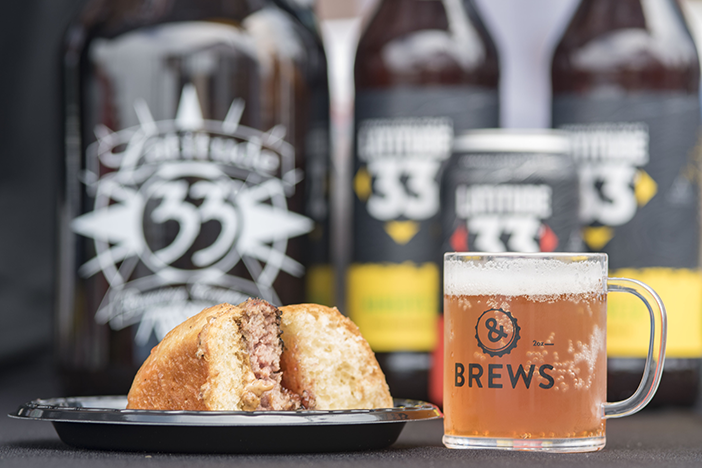 Burgers & Brews
July 21. This foodie favorite is back to showcase the best award-winning craft breweries alongside the top burger establishments in San Diego. Tickets to the event include racetrack admission, access to an exclusive trackside viewing area, five 5-ounce samplings of 100+ craft beers, access to the french fry bar and unlimited samples of all burgers. 1:30-5:30 p.m. $38 GA, free for children 3 and under. Del Mar Thoroughbred Club, 2260 Jimmy Durante Blvd., Del Mar. Tickets 
South Park Summer Walkabout
July 21. Join this evening festival that showcases all the unique and independent businesses within South Park. Enjoy complimentary treats, live entertainment and special offers. Kids and dogs welcome. 6-10 p.m. Free. 30th/Fern St. & Kalmia to 30th & Beech St., South Park. southparksd.com
Family Fun Day
July 22. Make this a weekend your family will remember. This special day will be packed with fun, free attractions that the whole family will enjoy including pony rides, a bungee trampoline, Albion SC soccer clinics, a rock climbing wall, face painters and much more. Stop by the track early to take pictures of your kids with the world-class jockeys at Jockey Photo Day taking place right before Family Fun Day. 1:30-5:30 p.m. $6 GA, free for children under 18. Del Mar Racetrack, 2260 Jimmy Durante Blvd., Del Mar, 858.755.1141. dmtc.com
Arts & Amps
July 28. Experience the fourth season of Arts & Amps, a festival-like experience with a diverse array of artists, live performances and an expanded list of beer offerings. Features include live mural art by Cohort Collective, a gallery show presented by Creative Souls on the West Coast, as well as live music by Little Hurricane and Well Well Well. 4:30-8:30 p.m. Free. Karl Strauss Tasting Room and Beer Garden, 5985 Santa Fe St., Pacific Beach, 858.273.2739. karlstrauss.com  
Joe Rogan "Strange Times 2018" Tour
July 28. Known for his commentary of the UFC and specials on Netflix, Joe Rogan brings his tour to San Diego. See this standup comedian with more than 20 years of experience and an inquisitive and intense comedic style. Shows at 7 p.m. and 9:30 p.m. $69.50+. Pechanga Theater, 45000 Pechanga Pkwy., Temecula, 888.810.8871. pechanga.com  
Phil's Big BBQ at the Ballpark
July 29. Get your fill of Phil's barbecue and watch the Padres vs. Arizona Diamondbacks game at this event supporting Operation Bigs, a program of Big Brothers Big Sisters. Tickets include Phil's ribs and chicken with two sides, a Coca-Cola beverage and a ticket to the game. "Big League" tickets are also available, which include everything plus an upgraded Padres ticket, two drink tickets, VIP entrance, priority food line, VIP seating area with bar access and a fountain drink and candy or popcorn at the game. BBQ 10:30 a.m.-1 p.m., game starts at 1:10 p.m. $25 GA, $60 VIP. Tailgate Lot at Petco Park, corner of 14th and K St., downtown. Tickets
"Once"
Through Aug. 12. The hit Irish movie Once has been turned into an eight-time Tony Award-winning musical, including "Best Musical." See the story of love, longing and an artist's fight to make his voice heard. See website for show times. $28+, discounts for seniors, youth, young adults, veterans and active duty military. Lamb's Players Theatre, 1142 Orange Ave., Coronado, 619.437.6000. lambsplayers.org  
Bayside Summer Nights
Ongoing. San Diego Symphony's summer concert series is back with shows overlooking San Diego Bay. This year's lineup includes Megan Hilty (July 6 and 7), Rick Springfield (July 13 and 14), Patti Labelle (July 28) and many more. See website for show times and prices. Embarcadero Marina Park South, 200 Marina Park Way, Embarcadero, 619.235.0804. sandiegosymphony.org  
Concerts in the Park
Ongoing. Sit back and relax at these outdoor concerts all summer long. The lineup includes Little River Band (July 20) and Loverboy (July 28) with more to come. 21+. Doors 7 p.m., show 8 p.m. Viejas Casino & Resort in the park between the Viejas hotel towers, 5000 Willows Road, Alpine, 619.445.5400. viejas.com
Annual Cupcake Extravaganza photo courtesy of Eclipse Chocolate.