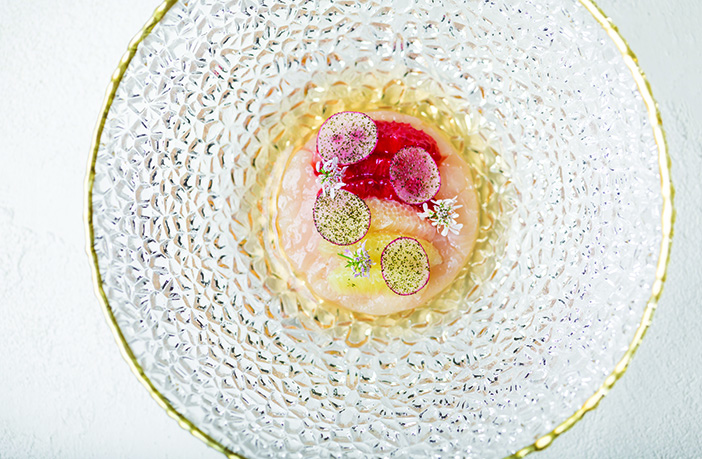 In 2008, the lights on the marquee of fine dining dimmed with the onset of a mighty recession that left several establishments shuttered, and even the diners with deep pockets were reticent to spend significant sums on culinary experiences. Like many other cities, San Diego had its share of casualties with white tablecloths disappearing faster than in the old magician's trick. With the buzzword "casual" at the tip of everyone's tongue, many wondered … was fine dining dead?
By Ann Wycoff
In San Diego a collection of refined restaurants weathered the storm, and 10 years later, the city stands even taller as a compelling culinary destination. These stalwart restaurants, some with the same chef/owner for multiple decades, remain the anchors and beacons of the city's respected dining scene. So, what's kept them impervious to the whims, trends and tedium of time in the same place? After speaking to a handful of these chefs and restaurateurs, passion, a willingness to evolve and a commitment to their clientele seem to be recurring themes. Fine dining is alive and well in San Diego—enhanced by the bounty of small farms (some 5,500!) and abundance of seafood—and it's anything but staid and stuffy. Meet the forces behind our dynamic culinary scene at the city's legacy restaurants.
Part of San Diego's intrigue lies in its 70 miles of sun-kissed coastline, and George's at the Cove (1250 Prospect St., La Jolla) embodies the soul of our city's seaside dining. Making diners swoon since 1984, this La Jolla jewel has a trio of dining experiences masterminded by Executive Chef Trey Foshee, who's partnered with its affable and approachable owner George Hauer, the unofficial mayor of La Jolla. A pioneer of authentic, farm-fresh cuisine in San Diego, Foshee has long championed the flavors and wonders of nearby Chino Farms.  And while their upscale, award-winning California Modern offers some of the best ocean-view tables in San Diego with the surf, sand and seals below, Chef will be the first to tell you, "We don't rest on our laurels. We are constantly improving and changing but with the focus on what makes San Diego special from an ingredient approach."
Through his inventive cuisine, Foshee tells the story of his hometown, distilling down the essence of "California modern" to "San Diego on a plate," whether he's preparing San Diego spot prawns with foraged herb and flower butter, local opah with nasturtium harissa and Chino Farms carrots; or reinventing the fish taco in a composition of achiote-cured snapper, avocado, roasted jalapeño-pineapple salsa, and snapper chicharron on a scratch-masa tortilla. The ultimate reflection of Foshee's edible storytelling can be found in his TBL3 experience, where the chef curates a 12- to 14-course meal for an intimate group with perfect wine pairings at the restaurant's best table. So what gives them their staying power? "I feel from a culinary standpoint we are always relevant and looking forward," explains Foshee.
Another exceptional experience in La Jolla can be found at The Lodge at Torrey Pines (11480 N. Torrey Pines Road), an elegant arts-and-crafts-style property, overlooking the greenery of the famed golf course. Named for the talented early 20th-century California artist whose works adorn the signature restaurant, A.R. Valentien may feel like a walk into the past with its stained glass, Mission-style furniture and hushed white tablecloth service. Yet, Executive Chef Jeff Jackson, who opened it in 2002, orchestrates an ever-changing menu of San Diego regional cuisine that's both progressive and original. Of note is the duck and pistachio pâté with cranberry and persimmon mostarda; and beef short rib terrine with pickled cauliflower. (Jackson's kitchen is one of the very few that still makes such pâtés and terrines.) Creativity abounds in dishes such as his lovely braised halibut cheek with Meyer lemon puree and smashed peas, or his truffled celery root and mascarpone risotto.
"The older I get, the more appreciative I've become in being able to practice my craft and spread my wings," notes Jackson, who cites consistency as the key to his restaurant's success and longevity.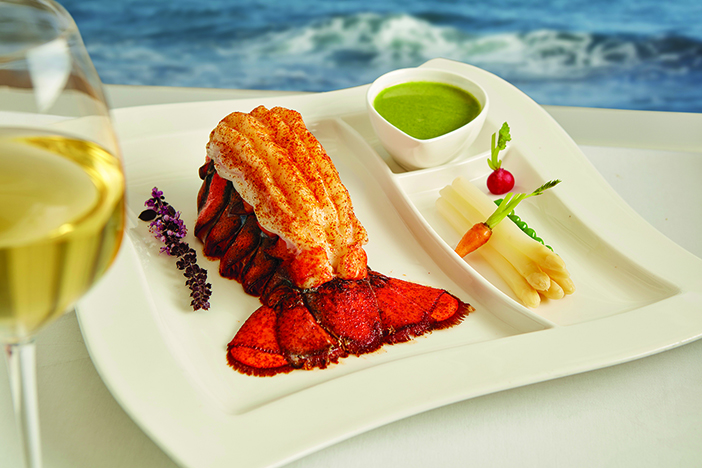 "Chefs are like scientists, artists and magicians. A white canvas is replaced with a sleek white plate. On our palette, we use the natural colors and textures of ingredients to awaken all of the senses. It is a journey through the magic of cooking." So says Master Chef Bernard Guillas, who's overseen the culinary experience at The Marine Room (2000 Spindrift Drive, La Jolla) for the past 20 years. Famous for its surf-splashed La Jolla Shores location, the 77-year-old restaurant sits literally on the beach. During special High Tide events, breakfasts and sunset dinners, the atmosphere is further enlivened by waves crashing against the glass windows. And while many million-dollar-view eateries rest heavily on the wow factor of their ambiance, Chef Guillas' focus is on "harvesting the best ingredients from the oceans and land." Built on the foundation of French cooking techniques, Guillas' seasonal menu is a treasure trove of unusual, playful ingredients with dishes like organic mushroom cocotte with kabocha gnocchi, lily bulb, mimolette, truffle dust and red lillet; or Cervena Farm elk medallions accompanied by baobab wattleseed, maple boniato, rhubarb jam and blackberry wine. As a culinary ambassador of San Diego, Chef Guillas has traveled the world but still takes inspiration from his local vantage point. "When I look out the windows of the Marine Room, I see my favorite Monet and Manet paintings. Like any other artist, I try to translate that beauty into impressionistic masterpieces on the plates that come out of our kitchen."
Set across from the polo fields, Market Restaurant + Bar (3702 Via de la Valle, Del Mar) is a savory sanctuary in North County, guided by owner/proprietor Carl Schroeder. What commenced as a casual concept in 2006 has evolved over time into a sophisticated dining experience influenced by its clientele. Schroder's creative, contemporary farm-to-table cuisine lacks pretension, and while it's masterfully prepared and presented, unbridled joy appears on the plate. Known to spearfish after a surf session in the morning and later forage for edible flowers in local canyons, Schroeder is unafraid to experiment—whether he's preparing shrimp-crusted halibut in a truffled dashi broth or a blue cheese soufflé with strawberry-rhubarb chutney. "If a chef is working with seasonal ingredients, it never really gets boring. It is always a challenge to find new ways to work with the produce and local fish that is constantly changing. I have always had a passion for cooking and being part of a team. Every day is different."
Jeffrey Strauss has cooked for presidents and dignitaries, celebrities and socialites—everyone from George H. W. Bush and the late Jacqueline Onassis to Steven Spielberg and Elton John. But now you'll find the chef/owner at Pamplemousse Grille (514 Via de la Valle), his Solana Beach restaurant of 22 years. Strauss, who favors French-inspired New American cuisine, believes "we are only as good as our last meal." But clearly, he and his team have triumphed as Pamplemousse has a devoted following. In particular, it's an oasis for oenophiles, as wine-bullish Strauss offers more than 2,000 wines with 800 California cabs alone. Servers are impeccably trained (most are certified sommeliers) when it comes to pairing with Strauss's fare—think miso black cod with an Aubert chardonnay from Sonoma or the mixed grill of game with 100 Acre Arc Cab or Screaming Eagle by the glass. Strauss also loves "pouring a Sauterne with foie gras or a vintage port with our warm chocolate caramel cake."
At the Fairmont Grand Del Mar (5200 Grand Del Mar Way), Addison represents the pinnacle of fine dining in San Diego. A four-time James Beard nominee and Relais & Châteaux Grand Chef (in good company with the likes of Thomas Keller and Daniel Boulard), William Bradley has reigned supreme here since its opening 12 years ago, having mastered the art of French contemporary cuisine. If Bradley's kitchen were a car, it'd be a Rolls Royce Phantom—imitable and impeccable with clean lines and the soft purr of perfection. Many of his contemporaries deem Bradley worthy of a Michelin star or two, and when you try his foie gras pot de crème with passionfruit gelée, or his calotte de beouf with escargot à la dijonaise, you'll most likely agree. Staff glissade across the marble floors in a ballet of seamless service as sommeliers pour cult wines or classics from its 8,300-bottle cellar. "Our culinary approach at Addison is simple—we allow ingredients to speak for themselves and flavors to be their own. Simplicity over complexity," says Bradley. "Every single person on our team here is dedicated to making an evening at Addison the best possible dining experience, from start to finish."
When Bertrand Hug traded France for California in 1973, San Diego was "a Navy meat-and-potato town." Arguably now the Godfather of fine dining in San Diego, Hug opened Mille Fleurs (6009 Paseo Delicias) in tony Rancho Santa Fe back in 1984. At this polished gem, gentlemen don jackets, and the European-style service is poetry in motion. Executive Chef Martin Woesle has 33 years under his Mille Fleurs' toque, serving modern American seasonal cuisine with European accents and great panache.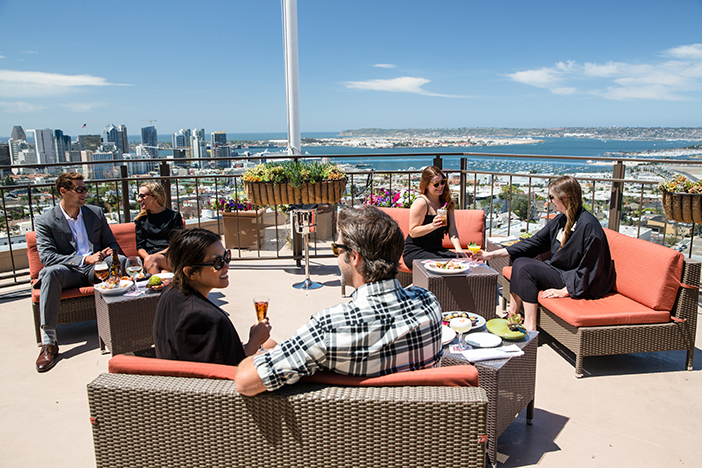 In 2000, Hug took over the iconic 53-year-old Mister A's (2550 Fifth Ave., Bankers Hill), with its panoramic patio perch for sunset cocktails while eye to eye with the incoming airplanes, and formal dining inside the glass box with views of downtown and the yacht-sprinkled bay below. "I am like the leopard, unable and unwilling to change my spots. I have two venues that will indelibly represent fine dining."
And while Hug relays that the fine dining has declined in San Diego with the influx of more informal small-plate eateries with casual service and the millennial crowd gravitating toward trendy environments, he believes, "No matter what the trends of the moment are, I am confident that there will always be the need for a truly fine place where you can easily converse, while enjoying elegant food served on a tablecloth by professional servers." Amen to that.
Addison photo by Jakob Layman. The Marine Room and Mister A's photos are courtesy images.