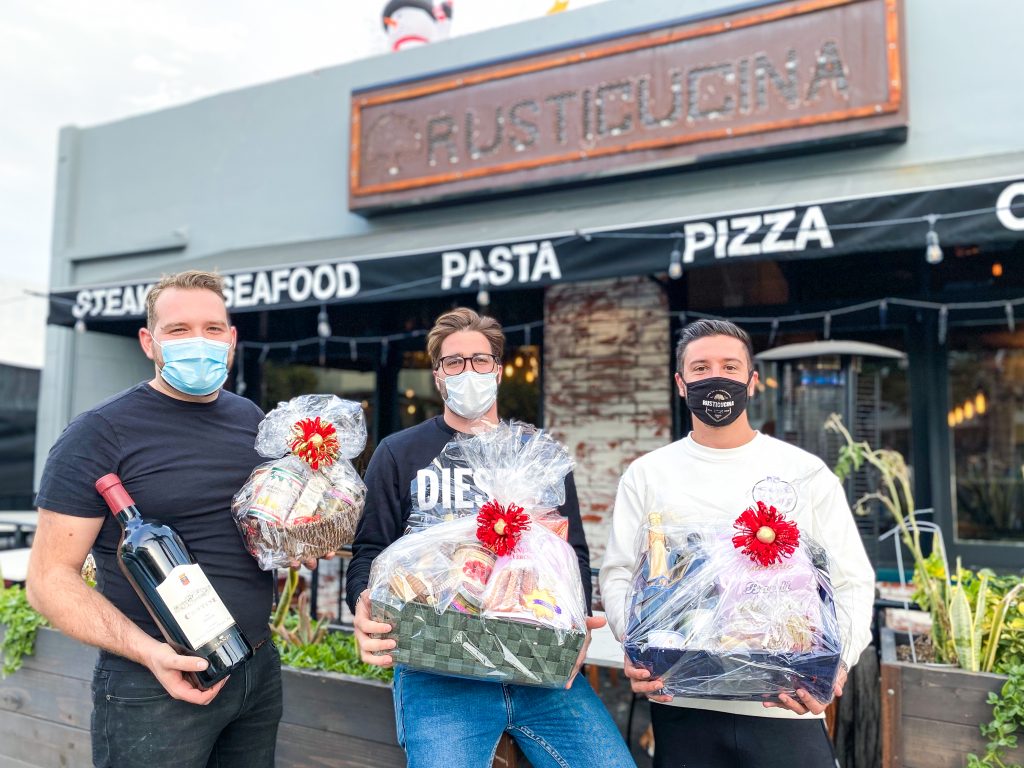 Make the most of December in San Diego with these holiday happenings and festive dining options to-go.
As the end of a strange and difficult year draws near, we could all use some cheer. Celebrating the holidays in 2020 simply won't look the same as years past, but there's still inspiration and fun to be found. So many San Diego businesses have worked so hard to offer some holiday magic in the form of socially distanced events and culinary delights. We hope the following roundup of festivities and meal packages from local restaurants help you and yours to make it a December to remember (in a good way).
Note: Call or check websites for pandemic-related updates and to confirm hours of operation before visiting venues as they can change without notice.
FESTIVITIES
Dec. 24. A San Diego holiday tradition for more than 20 years, the beloved musical has pivoted to an audio format this year. Gather the family around the radio for The Old Globe theater's final installment of the Grinch on Christmas Eve. The production is directed by James Vásquez, with book and lyrics by Timothy Mason, and music by Mel Marvin. The performance can be heard for free on KPBS Radio 89.5 FM, on the KPBS website and app, and on smart speakers. Only sweet Cindy Lou Who can save Christmas! 6 p.m.
Through Dec. 27. What's a San Diego Christmas without A Christmas Carol? Cygnet's annual staging of this holiday classic at Old Town Theatre lives on virtually—thanks to artistic director Sean Murray, who refused to let it be canceled entirely. Filmed in black and white, the streaming production follows the 1843 Charles Dickens novella. We get to know (and eventually love) Ebenezer Scrooge—a cold-hearted miser who has an epiphany after being visited by ghosts on Christmas Eve. Murray wrote and stars in this one-man adaptation—portraying all the characters, from Tiny Tim to Scrooge himself. $25.
Through Dec. 28. Take in holiday lights from the comfort of your car along this one-mile loop at Brengle Terrace Park. The drive-thru experience features themed displays designed by Mike Bradford—including several "lands" highlighting the City of Vista's community programs. Installations include: Ahoy to the World, Steal Home for the Holidays, 'Twas the Moonlight Before Christmas, Winter Solstice, Merry and Flight, and Santa's Workshop. You can even download a special soundtrack to play while driving through the area. 6-10 p.m. nightly (closed Dec. 24-25). Free. 1200 Vale Terrace Drive, Vista.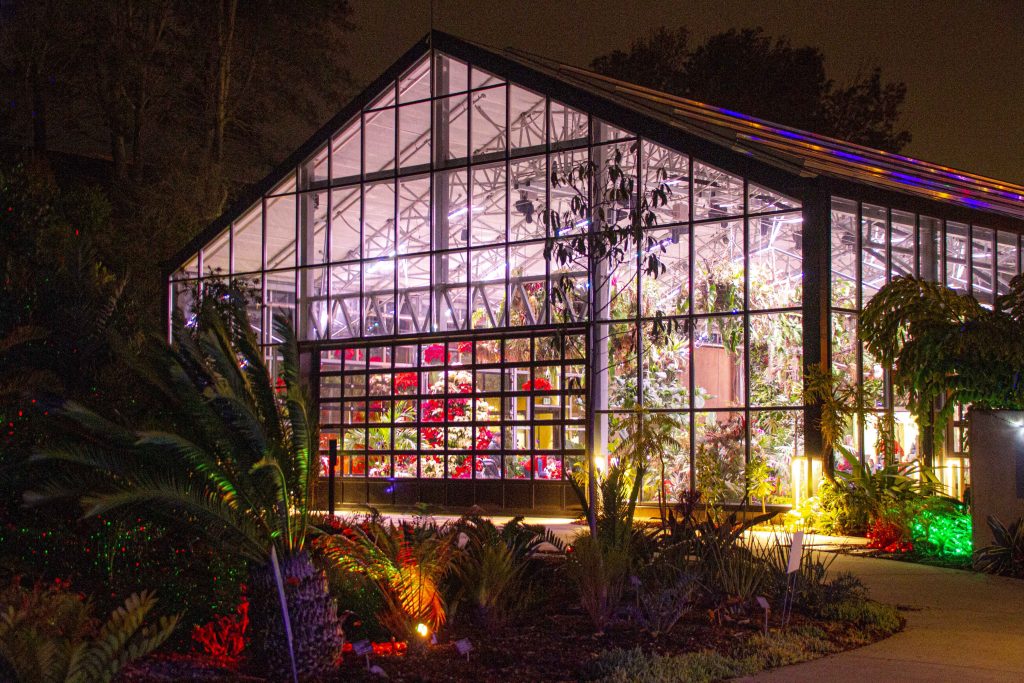 Through Dec. 30. Stroll among San Diego Botanic Garden's 37 acres of gardens—including the conservatory, Toni's Treehouse, the rainforest and waterfall, the Lawn Garden and more—which will be decked out in holiday lights and decorations. Presented by Bitchin' Sauce, the family-friendly event runs select evenings throughout the month (see website). See the garden's plant collection illuminated in a way that guests have never seen before; plus live music with performers roaming the property, theatrical laser lighting and fire pits. Advance reservations required. 5-8:30 p.m. 300 Quail Gardens Drive, Encinitas, 760.436.3036.
Through Jan. 3. Take a self-guided, socially distanced stroll through this artsy, alfresco haven at the California Center for the Arts, Escondido. The 12-acre campus has been transformed into a festive fantasyland—complete with giant LED Christmas trees, blow-up figurines of holiday characters, tunnels of twinkling lights and more. There's even a special display curated by a local Escondido family (featured on ABC's The Great Christmas Light Fight) with lights that move to music. Open daily 4:30-9 p.m. Free (donations welcome). 340 N. Escondido Blvd., Escondido, 760.839.4138.
FEASTS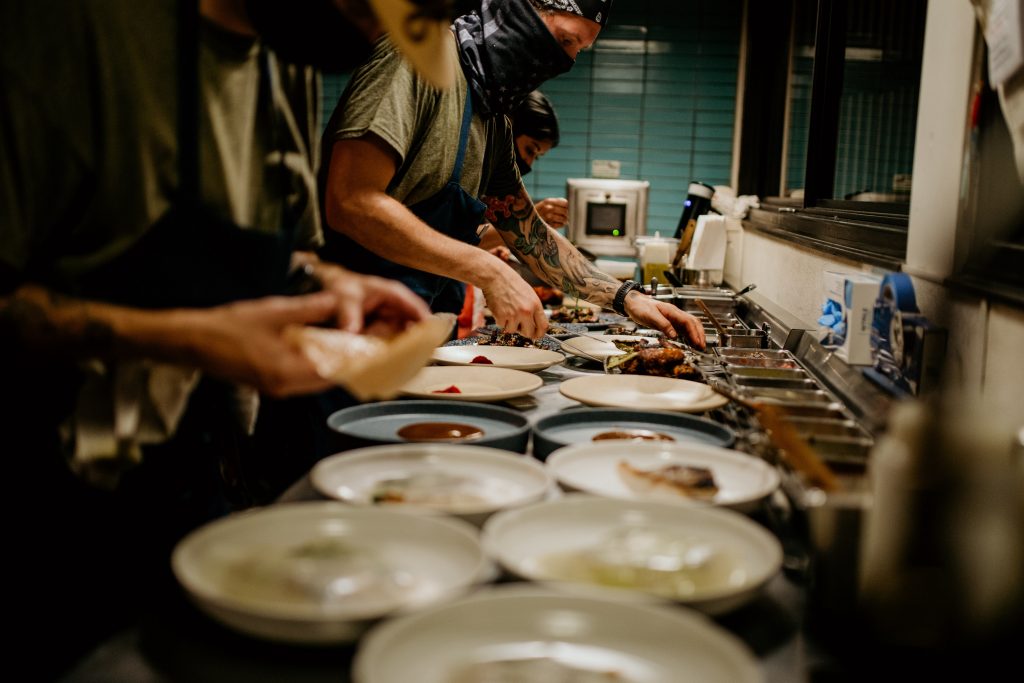 Preorder by Dec. 20. The two beloved Carlsbad restaurants by owner John Resnick have teamed up to bring you a special "Camp Jeune Christmas" menu. Enjoy smoke-roasted beef rib, Brussels sprouts with bacon and chestnuts, carrot cake with cream-cheese frosting, and more. Add-ons include shrimp cocktail, bittersweet hot cocoa and French toast to enjoy on Christmas morning. Orders are available for pickup at Jeune et Jolie on Dec. 24. Meals start at $225 and serve three people. 2659 State St., Carlsbad, 760.637.5266.
Preorder by Dec. 21. Let chef Brad Wise of Trust Restaurant Group doing the Christmas cooking for you this year with an individually prepared prime rib dinner. This means 12 ounces of prime rib with horseradish cream—accompanied by a mixed-greens salad, truffled mashed potatoes and green beans almandine. Add on some homemade apple crisp by pastry chef Jeremy Harville; pints of Mr. Trustee ice cream; and holiday cocktails and wine to-go. Meals start at $45 per person. 4033 Goldfinch St., Mission Hills, 619.600.5311.
Preorder by Dec. 22. The spirit of giving is alive at this quaint cucina. Cesarina is offering limited-edition holiday boxes filled with two-dozen, house-made Italian pastries—priced at $99 each, with 100% of profits benefitting its employees. Or order from the (Take) Home for the Holidays menus, with themed meals for Christmas Eve and Christmas Day. Multicourse meal packages serve up to four and include salad, house-made pasta and dessert. Or order Italian dishes a la carte. And extra perks for those picking up orders: Cesarina's walkway and patio have been transformed into a magical walk-through tunnel of lights, icicles, poinsettias and ornaments. Sip on free hot cocoa or mulled wine while you wait. Christmas meal packages start at $76. 4161 Voltaire St., Point Loma, 619.226.6222.
Preorder before noon on Dec. 23. Indulge in dishes from the owners' native Calabria, Italy with your choice of three prix-fixe menus to-go: pesce, carne and vegan. Offerings include risotto with fresh mussels and clams; braised pork shank; and panettone zabaione (a traditional Italian Christmas dessert with Grand Marnier sabayon). Add libations to your order from the new menu of specialty cocktails, such as the Christmas Negroni and Holiday in Manhattan; plus bottles of wine offered at retail prices. Contact the restaurant for pickup hours (free delivery offered on Dec. 24). Pricing starts at $40 per person; along with a children's menu for $20 per person. 2550 Fifth Ave., Bankers Hill, 619.310.5669.
Preorder by Dec. 22. Estancia La Jolla Hotel & Spa's signature restaurant is offering a special holiday dinner to-go. Chef Vincent Savignano is preparing a feast of 11 different dishes—including baked brie cheese, butternut-squash soup, Brussels sprouts, red-wine-braised short ribs, pork roast, pecan tartlets and more; plus a bottle of wine. Orders are available for pickup on Dec. 24 from 2 to 5 p.m. Meal packages are $350 and serve four-to-six people. 9700 N. Torrey Pines Road, La Jolla, 858.964.6500.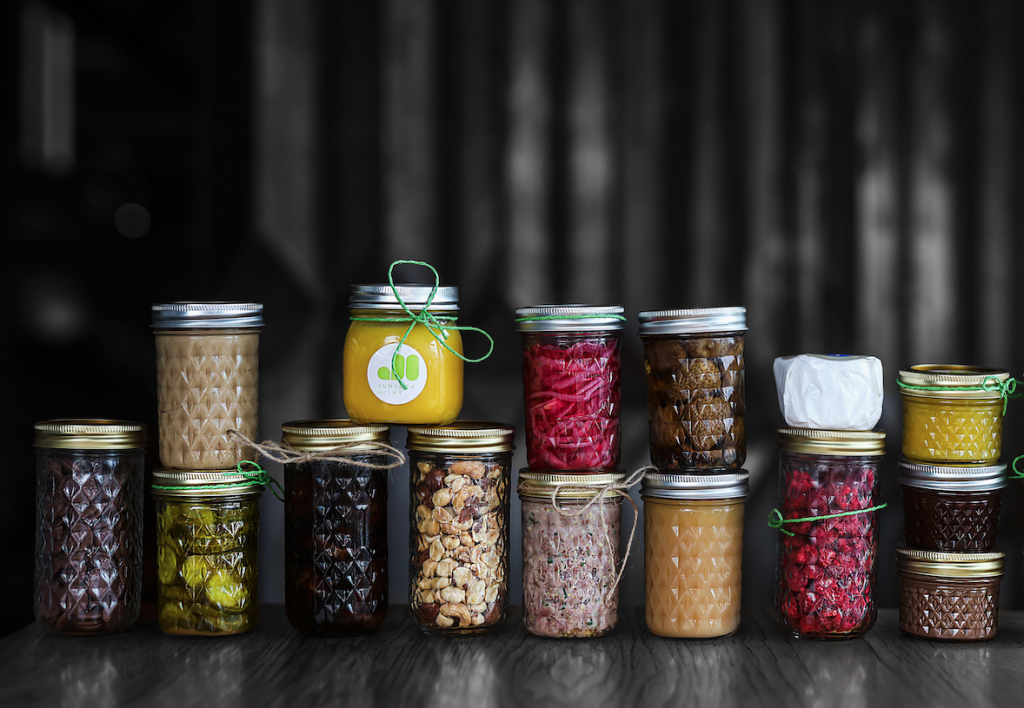 Preorder by Dec. 22. Enjoy comfort food via curbside pickup with the restaurant's Holiday at Home experience, with packages serving two or six people. Choose beef or tuna Wellington, with sides such as a whole loaf of sourdough bread, pot-roasted vegetables and chocolate Bundt cake; plus add-ons such as sommelier-selected wine pairings and cocktails. Meals are $155 for two people; $350 for six. Separately, Juniper and Ivy's Fresh at Home pantry market offers the same jams, sauces, purees and condiments that are used in the restaurant's dishes; along with baked goods, pastas and exclusive wines. Items start at $4; or select a chef-curated package for $25. 2228 Kettner Blvd., Little Italy, 619.269.9036.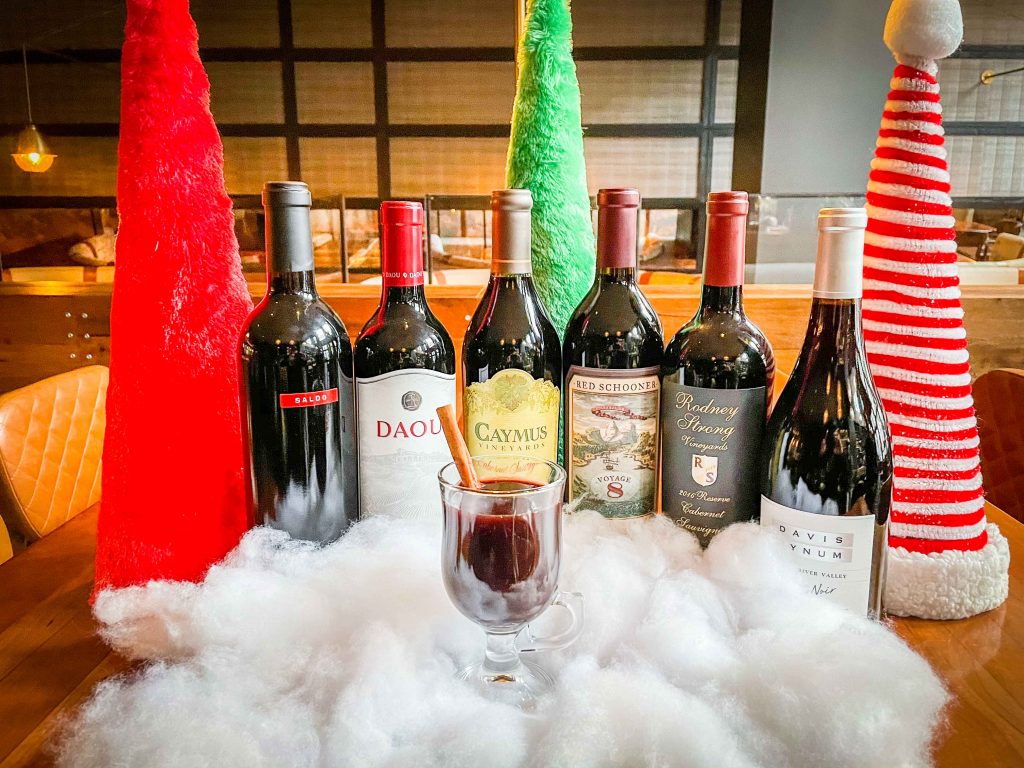 Preorder by 8 p.m. on Dec. 22. Pendry San Diego hotel's flagship restaurant is offering Christmas dinner to-go with a prix-fixe menu by executive chef JoJo Ruiz. Dishes include candy-stripe beet salad, shrimp-and-chicken-dumpling soup, a nigiri sampler platter, miso-butter-beef tenderloin and sticky-toffee pudding; plus add-ons such as king crab legs, sushi rolls and festive to-go cocktails. Meals start at $150 and serve two people. 435 Fifth Ave., Gaslamp Quarter, 619.738.7200.
Preorder by Dec. 21. Executive Chef Moira Hill has prepared a five-course Christmas Eve and Christmas Day dinner menu. Dishes include pear Waldorf salad; sweet-potato au gratin; prime rib with marsala sauce; Pacifico sea bass with piccata sauce; and honey flan with Earl Grey shortbread for dessert. (A vegetarian entree is available by request.) Add-ons include shrimp bisque, a cheese-and-charcuterie board, wines by the bottle and themed cocktails. Orders can be picked up Dec. 23-24 at 4 p.m. and 6 p.m. $65 per person. 2305 India St., Little Italy, 619.255.8000.
Preorder by Dec. 22. The completely plant-based restaurant is offering savory vegan meals to-go for Christmas Eve and Christmas Day. Each order includes a wild-rice-and-lentil roast with gravy; a seasonal green salad; garlic-herb-roasted potatoes; roasted carrots and squash; green beans with cranberries and walnuts; rosemary-sage stuffing; and house-made sauces. $40 per person. 1733 S. Coast Hwy., Oceanside, 442.266.8200.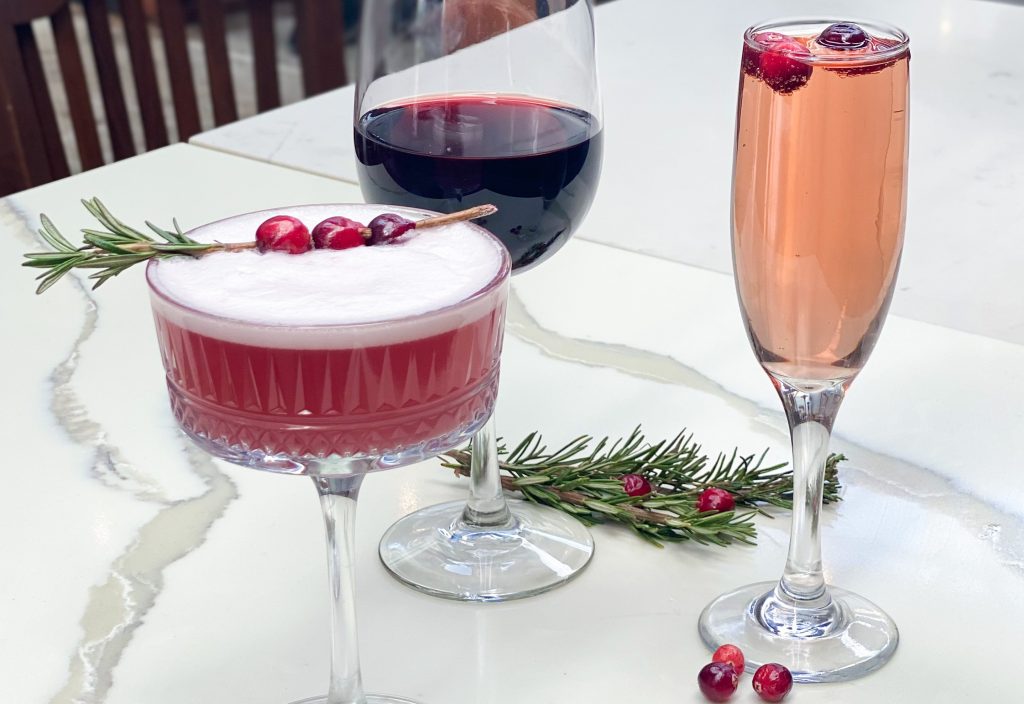 Preorder by Dec. 22. Savor Sicilian dishes via to-go meal packages serving up to 10 people from this neighborhood trattoria—from short ribs to cannelloni to panettone (sweet bread) for dessert. Add lasagna, charcuterie and wine to any meal; and order fun Christmas baskets filled with bubbly, Italian pastries and gourmet pantry items. Meals start at $65 (for two people). 3797 Park Blvd., Hillcrest, 619.310.5291.
Photo credits: Rusticucina by Eckis Marketing. San Diego Botanic Garden by Rachel Cobb. Camp Jeune and Juniper and Ivy are courtesy of the restaurants.