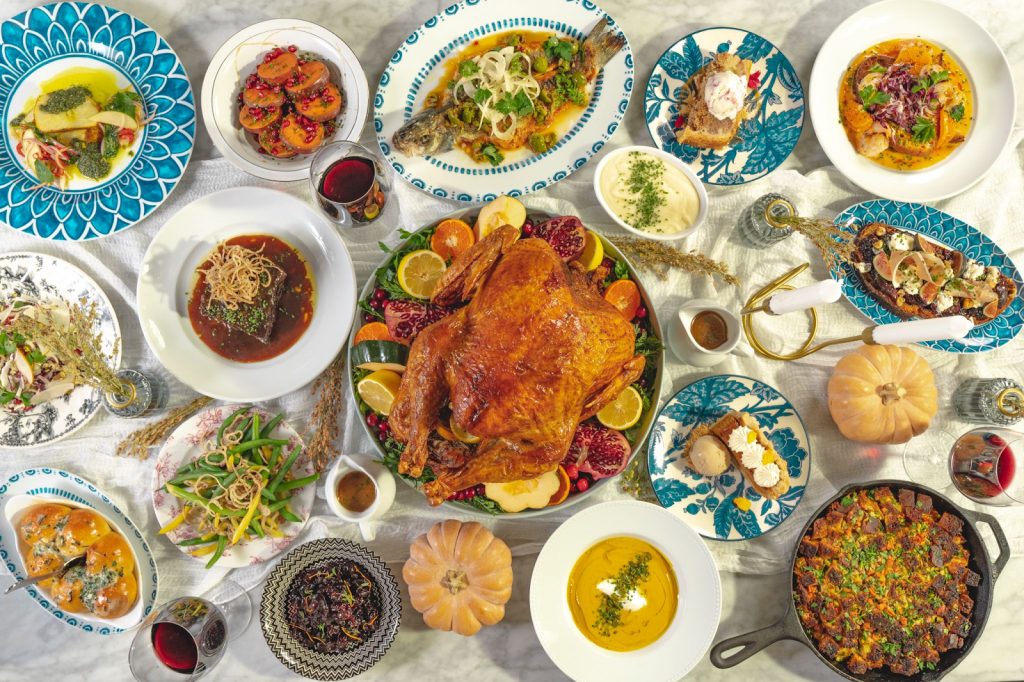 From festivities to feasts—including special restaurant menus and takeout meals—we've rounded up some fun ways to celebrate Thanksgiving in San Diego.
Let's talk turkey. From traditional Thanksgiving dinner enjoyed at your favorite San Diego restaurants, to decadent to-go meal packages, turkey is no doubt the star of most menus this holiday weekend. We've rounded some of our favorite spots offering special menus filled with delicious classics and other festive comfort fare. And should you be interested in burning off some calories (while also giving back) in advance, and/or seeing a live theater show to get into the holiday spirit afterward, we've got ideas to consider. Happy Thanksgiving!
Note: Before visiting venues, please call or check websites for possible menu/schedule updates and to confirm guest safety protocols.
FESTIVITIES
Nov. 25. Start the holiday by helping to feed the hungry. Father Joe's Villages invites the public to participate in San Diego's longest-standing Thanksgiving Day turkey trot, which returns in person this year for its 20th annual installment. Proceeds from race admission help to provide meals to those in need, as part of the organization's Food Services Program. Race starts at 7:30 a.m. (Registration opens at 6:30 a.m.) Starting at $14 to enter. 1549 El Prado, Balboa Park.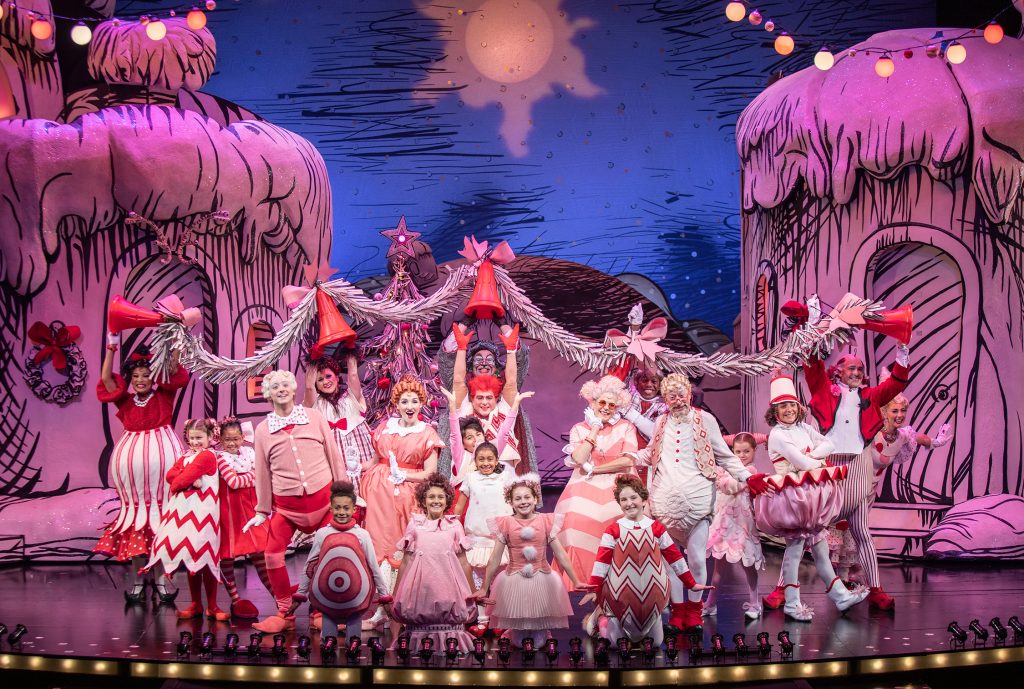 Through Dec. 31. Who better to get us into the holiday spirit than the big, hairy, grumpy green guy? Live theater is back this season, and so is the infamous Grinch, with the return of The Old Globe's beloved, family-friendly musical—based on the classic Dr. Seuss book. Andrew Polec stars in the title role. See website for theater safety protocols, showtimes and ticket pricing. 1363 Old Globe Way, Balboa Park, 619.234.5623.
FEASTS
Preorder by Nov. 23. Enjoy a family-style, Sicilian meal to-go this Thanksgiving. Designed to feed four, Barbusa's holiday meal comprises an entree, greens, pasta and dessert; plus sides of mashed potatoes, gravy, stuffing and cranberry sauce. Entree options include oven-roasted turkey breast, ham and short ribs; greens such as Caesar salad, spinach amandine and balsamic Brussels sprouts; pasta options including truffle mac 'n' cheese, pasta al forno and baked ziti; and apple pie or cannoli chips for dessert. Call to preorder. $199 per meal. 1917 India St., Little Italy, 619.238.1917.
Nov. 25. Celebrate with the French bistro's special three-course menu—with your choice of appetizer, entree and dessert—by owner/executive chef Ken Irvine. Choices include pumpkin-hominy soup and duck pâté with pork terrine to start; beef bourguignon, Faroe Island salmon with ratatouille, and turkey prepared two ways as entrees; and crème brûlée and bread pudding for dessert. Add-ons such as the limited-edition Pumpkin Pie cocktail are also available. Reservations required. 11 a.m.-4 p.m. $68.95 adults; $24.95 kids under age 12. 4090 Adams Ave., Kensington, 619.255.4167.
Nov. 25. Chef Travis Swikard is cooking up a four-course, family-style feast at his downtown hot spot. The Thanksgiving menu boasts your choice of Diestel Ranch turkey with Tuscan-sage sausage and brown-butter-cranberry sauce, braised Moroccan lamb shank and slow-baked salmon; a pasta course; sides such as Tuscan-sourdough stuffing and roasted Brussels sprouts; and pumpkin-cheesecake mousse and Turkish rice pudding for dessert. Reservations required for full dine-in meal; à la carte menu available at the bar for walk-ins. Noon-6 p.m. $80 adults (optional $50 wine-pairing); $35 children age 10 and under (two-course meal). 1195 Island Ave., East Village, 619.255.9696.
Preorders begin Nov. 19. Devil's Dozen Donut Shop is offering special Thanksgiving-themed delights, available for pickup Nov. 24. The cult-followed bakery is known for its classic and creative flavors (with donuts made fresh hourly) and locally roasted coffee. Order special holiday flavors by the bundle, including pecan pie, pumpkin pie, apple pie and cranberry-cheesecake. 7 a.m.-1 p.m. Call for pricing. 2001 Kettner Blvd., Little Italy, 619.780.0914.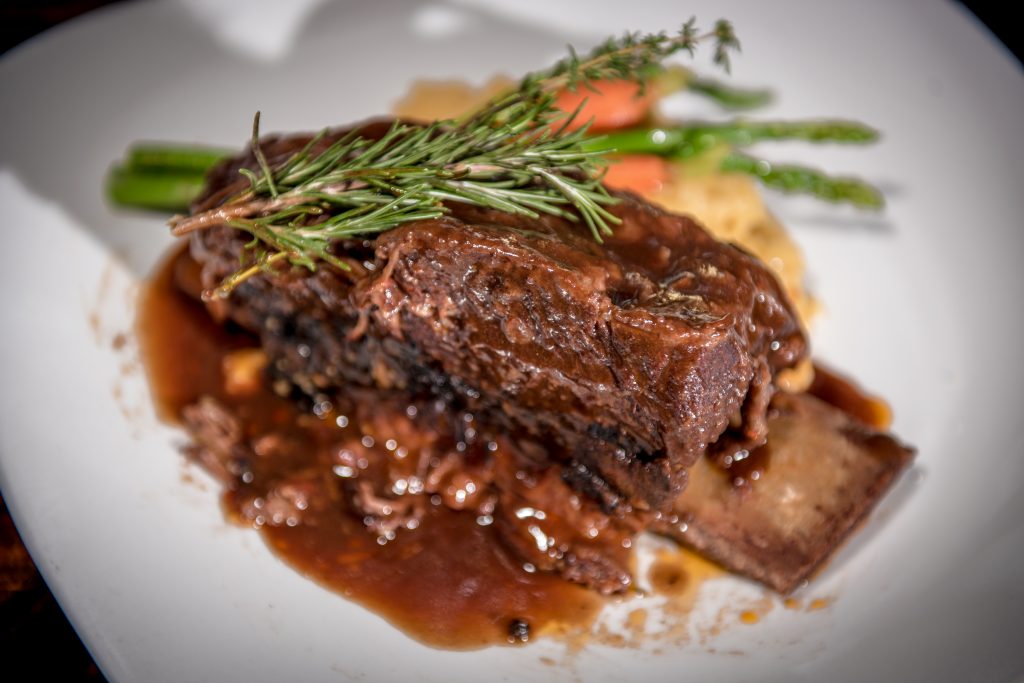 Nov. 25. The farm-to-fork eatery will offer a three-course dinner and a special kids' menu. Selections include beet salad and pumpkin soup to start; mains such as short rib and braised lamb shank with mascarpone risotto; and a traditional roasted turkey plate with mashed potatoes, gravy, string beans, corn and cranberry sauce. Dessert options include apple pie, pecan pie and peach cobbler. Reservations strongly encouraged. 2-8 p.m. $70 per adult; $25 children age 10 and under. 860 W. Washington St., Mission Hills, 619.458.9929.
Nov. 25. Chef Brian Malarkey's two sister restaurants will offer the same three-course menu of elevated holiday classics. Choose from starters such as Baja shrimp with preserved lemon and kuri-pumpkin soup; herb-and-citrus-marinated turkey, plancha-seared branzino and red-wine-braised short ribs as mains; and apple pie with cranberry-cream-cheese ice cream for dessert. Reservations required. 1-7 p.m. $84 adults; $34 children. 131 D St., Encinitas, 760.704.8300; 2210 Kettner Blvd., Little Italy, 619.955.8495.
Preorder by Nov. 21. Dine in at the restaurant or order from the same holiday menu to enjoy Thanksgiving at home (each to-go meal serves four). Feast on maple-roasted turkey, focaccia-sage stuffing, Yukon-mashed potatoes, giblet gravy, curry-pumpkin soup, sauteed green beans, Parker House rolls with ricotta-honey butter, assorted desserts and more. Reservations required for full dine-in meal on Nov. 25; à la carte menu available at the bar for walk-ins. $88 adults; $30 kids; $320 per takeout package. One Paseo, 3387 Del Mar Heights Road, Del Mar, 619.331.4528.
JRDN | Dine-In
Nov. 25. Enjoy the holiday with a gourmet three-course meal, created by JRDN's executive chef Stephen Gage, with a side of ocean views. Menu highlights include pumpkin-lobster bisque, a traditional turkey plate with fixings, peppercorn-crusted beef tenderloin, hash-brown gratin and apple-miso cheesecake; plus optional wine pairings. Reservations recommended. Noon-8 p.m. See website for menu pricing. 723 Felspar St., Pacific Beach, 858.270.5736.
Nov. 25. Take in those epic bird's-eye views of the city and bay from 12 floors up while dining on a delectable holiday meal. Chef Stephane Voitzwinkler's special prix-fixe menu includes roasted, organic Diestel Farm turkey with gravy and traditional accompaniments; Parmesan-crusted seabass; butternut-squash agnolotti; slow-roasted Brandt Farm prime rib; black-truffle mac 'n' cheese; cranberry-brioche-bread pudding; and much more. In fact, it's one of the more vast and generous Thanksgiving menus we've come across this year. Reservations highly recommended (and see website for dress code). Starting at $89.95 per person. 2550 Fifth Ave., Bankers Hill, 619.239.1377.
Preorder by Nov. 21, 4 p.m. The butcher shop/eatery is offering a fully customizable à la carte Thanksgiving menu, available for pickup. Choose from mains such as herb-crusted prime rib, smoked turkey legs and smoked Cornish game hen; sides including honey-and-thyme roasted rainbow carrots, green-bean almondine and olive-oil-smashed potatoes; and pumpkin pie, pecan pie and apple crisp for dessert. 512 Via de la Valle, Suite 102, Solana Beach, 858.461.0092.
Preorder by Nov. 18. The barbecue outpost in La Mesa has "gobble 'til you wobble" meal options for everyone. Dine at the restaurant on Nov. 25 and enjoy smoked turkey, mashed potatoes, gravy, corn, stuffing, green beans, cranberry sauce and pumpkin pie. Preorder meals are also available to-go, with packages tailored for four to six people, and eight to 12 people—the latter includes an entire smoked turkey. Reservations recommended for groups of six or more. 11 a.m.-8 p.m. $35 per person; $120-$230 per takeout meal. 5465 Lake Murray Blvd., La Mesa, 619.439.6544.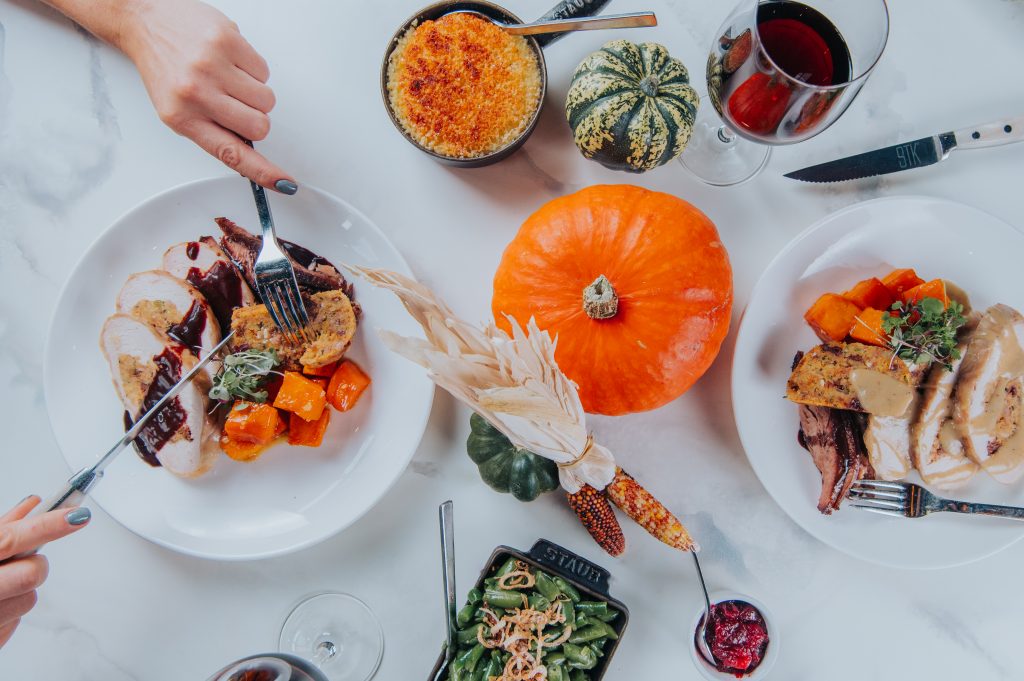 Nov. 25-28. The posh steakhouse is offering Thanksgiving specials all holiday weekend long, available for dine-in or takeout. Offerings include roasted free-range turkey with cornbread-sage stuffing and shallot-and-thyme confit thighs; with sides including sauteed green beans with crispy shallots, maple-baked sweet potatoes, Yukon Gold mashed potatoes with a Parmesan crust, classic gravy and cranberry-orange chutney; plus add-ons such as spiced pumpkin pie. Reservations recommended. $59 per adult; $29 per child age 10 and under; $119 per takeout meal (serves two). 600 F St., Gaslamp Quarter, 619.354.5988.
Nov. 25. The landmark "Pink Lady" is offering a three-course meal by chef Timothy Ralphs, with a side of La Jolla Cove views. Feast on your choice of free-range turkey served with whipped potatoes and sweet potatoes, French green beans, baby carrots, cornbread stuffing, buttermilk gravy and cranberry sauce; beef tenderloin with fingerling potatoes, cauliflower, pumpkin and cipollini onions; and more. Starters include curried-kabocha-squash soup and a shellfish plate; with carrot cake, pumpkin pie or chocolate-souffle cake for dessert. Reservations required. $95 adults; $20-$36 kids selections (age 12 and under). 1132 Prospect St., La Jolla, 844.602.5048.
Photo credits: Herb & Sea by James Tran. The Old Globe by Jim Cox. Callie by Kelly Wood. Farmer's Bottega and STK San Diego are courtesy images.