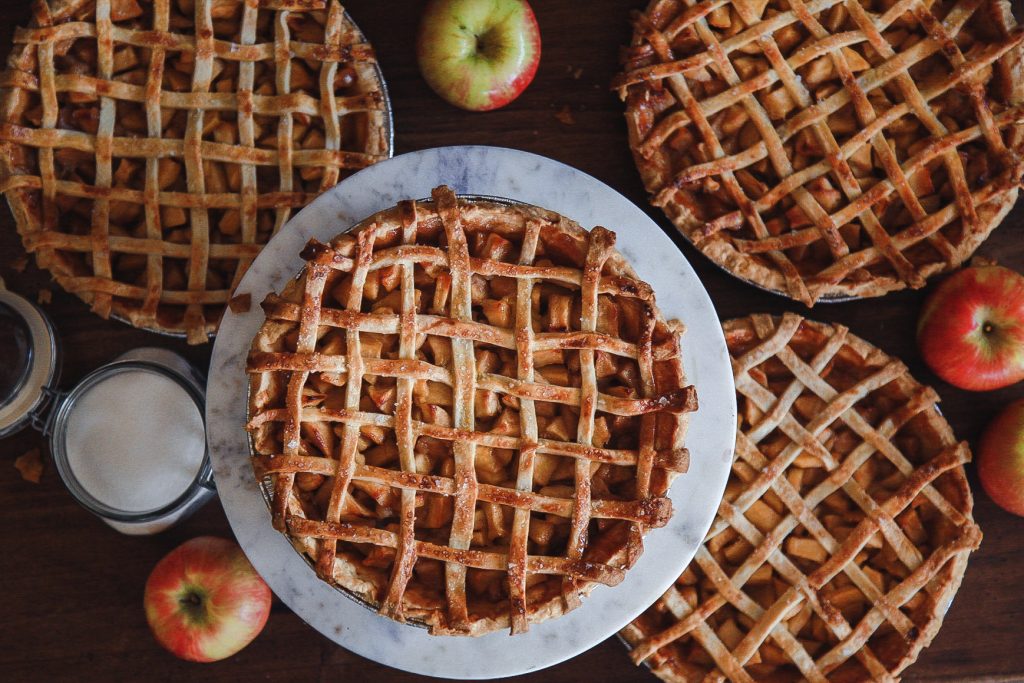 From festivities to feasts—including outdoor dining and takeout meals—we've rounded up some fun (and socially distant) ways to celebrate Thanksgiving in San Diego.
Celebrating the Thanksgiving holiday this year no doubt will require a little creativity and, quite likely, modifying our usual traditions. We're grateful to all the San Diego businesses and restaurants making the extra effort to prepare take-home feasts and offering safe ways to dine on-property outdoors. We invite you to listen to a special holiday radio production, laugh a little, eat your feelings (now's the time!), and, most importantly, celebrate safely. We hope these ideas help. Happy Thanksgiving!
Note: Call or check websites for pandemic-related updates and to confirm hours of operation before visiting venues as they can change without notice.
FESTIVITIES
Nov. 25. Who else could use a good laugh? Enjoy some live, socially distanced standup comedy—outdoors, under the stars—with this special Thanksgiving Eve event at The Comedy Palace. Comedians Brian Moses and Zoltan Kaszas headline—along with guests Gordon Downs, Daniel Gerstyn, Rebekah Peace and Walter Ruskin. 7:30 p.m. (Doors open at 7 p.m.) $20 (see website to purchase tickets). 8878 Clairemont Mesa Blvd., Kearny Mesa.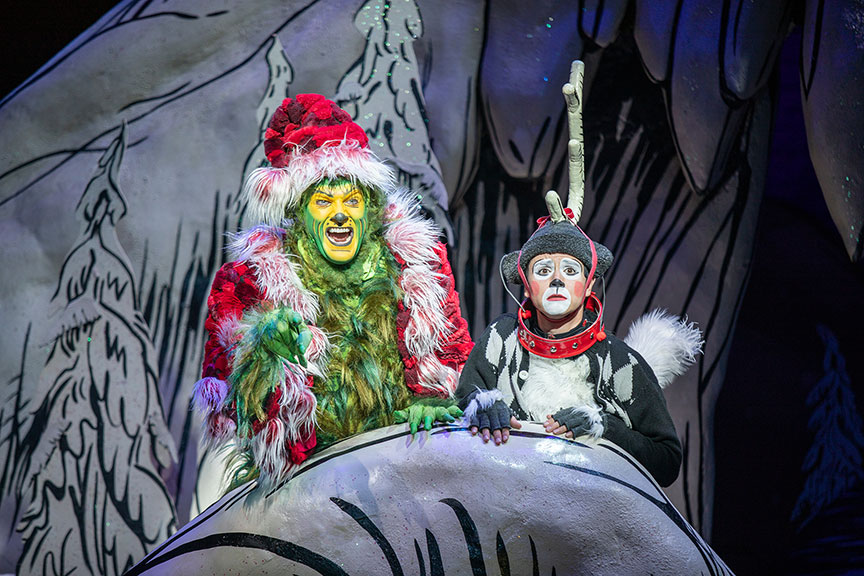 Nov. 26. The show must go on! Gather the family around the radio this year for The Old Globe theater's special installment of the beloved annual holiday production. The audio-only Grinch production is directed by James Vásquez, with book and lyrics by Timothy Mason and music by Mel Marvin. The performance can be heard for free on KPBS Radio 89.5 FM, on the KPBS website and app, and on smart speakers. Noon.
FEASTS
ARLO | Outdoor Dining
Nov. 26. The new standalone restaurant at the recently renovated Town and Country Resort—boasting an ample alfresco patio—is offering a three-course Thanksgiving dinner menu, and it's lots of fun. Festive selections from chef Josh Mouzakes include blue-cheese gougères to start; smoked turkey meatballs; turkey breast with prosciutto, smoked potato and cornbread-stuffing ravioli; and turkey thighs and chestnuts with butternut squash, gruyere-parsnip gratin and black-truffle gravy. Cap off the feast with apple pie or dulce-de-leche creme brulee. See website for reservations and hours. $54 per person. 500 Hotel Circle North, Mission Valley, 619.908.5058.
Preorder by Nov. 24, 11 a.m. | Outdoor Dining Nov. 26. Enjoy a family-style, three-course feast with all your Thanksgiving favorites, including slow-roasted prime rib, traditional carved turkey and pumpkin-bread pudding for dessert. Call to preorder or to make reservations. 3-9:30 p.m. $49 per person. 998 W. Mission Bay Drive, Mission Bay, 858.539.7635.
Barleymash | Outdoor Dining, Takeout
Preorder by Nov. 24 | Outdoor Dining Nov. 26. The Gaslamp hot spot is serving up a three-course Thanksgiving dinner with an added Wild Turkey bourbon flight (for $50, while supplies last). Offerings include butternut-squash soup, andouille-stuffed turkey roulade, garlic-mashed potatoes and Brussels-sprout casserole. For dessert, choose between chocolate-chip-bourbon-pecan pie and caramel-Dutch-apple pie. Or, order a family-meal package ($149), which feeds up to six people, to-go. Seating on Thanksgiving begins at 2 p.m. $45. 600 Fifth Ave., Gaslamp Quarter, 619.255.7373.
Nov. 26. Enjoy traditional dishes with French twists. Entree selections include Diestel Family Ranch turkey prepared two ways; pan-seared Faroe Island salmon; Angus boneless short rib; Shiitake and oyster mushroom raviolis; and Hudson Valley Muscovy duck leg confit. More menu perks: your choice of four decadent desserts; and a limited-edition, pumpkin-themed cocktail. 1-6 p.m. $75 per person, $24.95 children under 12. 4090 Adams Ave., Kensington, 619.255.4167.
Available Now. Order fall-inspired, Thanksgiving specials (all vegan, of course) and be done. Family-style dishes include: cranberry-roasted butternut squash and garnet yams ($30); cauliflower-mashed potatoes with garlic confit ($25); truffled-porcini gravy ($15); maple-miso Brussels sprouts ($35); pear-pomegranate chutney ($15); French lentil and butternut squash loaf ($35); persimmon-pomegranate salad ($35); and raw and gluten-free pumpkin pie, chocolate-coconut-cream pie and baked apple pie ($25) for dessert. 1980 Kettner Blvd., Little Italy, 619.736.5077.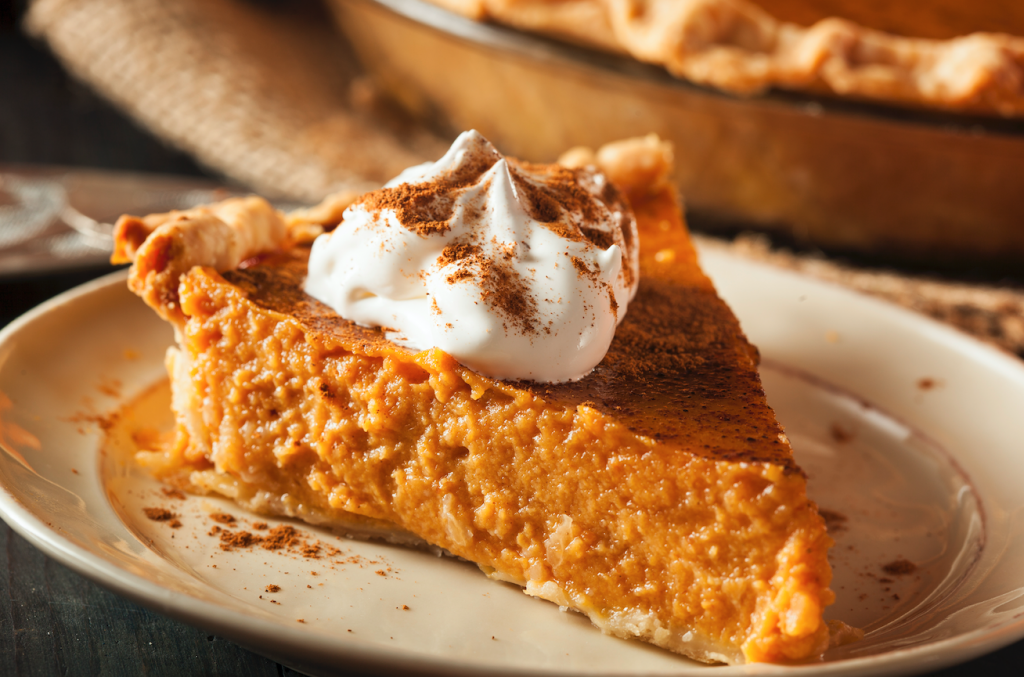 Cafe Sevilla | Outdoor Dining, Takeout
Preorder by Nov. 24 | Outdoor Dining Nov. 26. Feast on Thanksgiving classics with a Spanish twist, via Sevilla's hearty three-course, prix-fixe meal. Offerings include butternut-squash soup with lemon and chive cream; roasted turkey breast and glazed black forest ham, served with sweet mashed potatoes, stuffing, Brussel-sprout casserole, cornbread and barbacoa pineapple chutney; and pumpkin pie with cinnamon-ginger whipped cream for dessert; plus Thanksgiving-themed cocktails available. 3-9 p.m. (last seating). $49.50 adults, $24.50 kids. 353 Fifth Ave., Gaslamp Quarter, 619.233.5979.
Nov. 26. The farm-to-fork eatery will offer a three-course dinner and a specialty kids' menu. Selections include baby kale salad, pumpkin soup, a traditional roasted turkey plate and the signature pork chop—served alongside garlic mashed potatoes, braised radicchio and a dried-apricot-balsamic reduction. Dessert options include pecan pie and peach cobbler. Reservations strongly encouraged. 4-9 p.m. $65 per person, $20 children under 10. 860 W. Washington St., Mission Hills, 619.458.9929.
Giardino | Outdoor Dining, Takeout
Preorder Available Now | Outdoor Dining Nov. 26. The Italian cucina will be open for its first Thanksgiving, offering an all-day menu of a la carte dishes and holiday specials—including a traditional turkey dinner. Or order a meal to enjoy in the comfort of your home. Giardino's family-style menu features holiday-inspired favorites such as prime rib and butternut-squash ravioli; plus sides, salads and plenty of vino. 11 a.m.-8 p.m. 8131 Broadway, Lemon Grove, 619.825.7112.
Herb & Sea | Outdoor Dining, Takeout
Preorder Available Now | Outdoor Dining Nov. 26. The Puffer Malarkey Collective's newest addition in Encinitas is celebrating Thanksgiving on its new Moonlight Deck. Dine on Kuri pumpkin soup, herb-and-citrus-marinated turkey and pumpkin cheesecake; plus sides such as crème-fraiche mashed potatoes with whipped butter; green beans and crispy onions; and Parker House rolls with herb-honey butter. Reservations highly recommended. 3-7:30 p.m. $69.95 per person, $29.95 children. (Or order from the Herb at Home takeout menu, which feeds up to eight people at $59 person.) 131 West D St., Encinitas, 760.704.8300.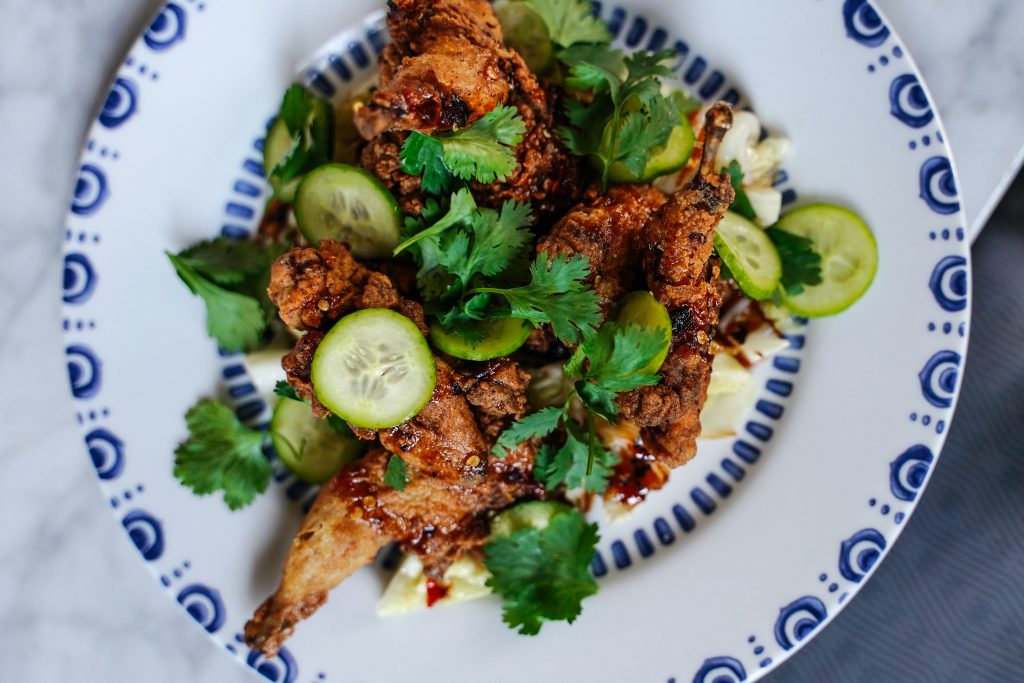 Herb & Wood | Outdoor Dining, Takeout
Preorder Available Now | Outdoor Dining Nov. 26. Chef Brian Malarkey's Little Italy outpost will be offering a three-course menu. Highlights include fig-and-blue-cheese toast; country-fried quail; pink-peppercorn-and-sea-salt-crusted prime rib; celery-seed-rubbed local swordfish; New Zealand venison and dates; and apple-and-pear pie for dessert. You can also enjoy classic Thanksgiving sides, including mashed potatoes and stuffing. Reservations recommended. 3-7:30 p.m. $79.95 per person. (Like its sister restaurant Herb & Sea, Herb & Wood also offers the Herb at Home takeout menu, which feeds up to eight people at $59 person.) 2210 Kettner Blvd., Little Italy, 619.955.8495.
Preorder by Nov. 24, 11 a.m. | Outdoor Dining Nov. 26. Give thanks over a delicious three-course prix fixe menu, with a side of Mission Bay views. Entrees include oak-smoked turkey breast and Harris Ranch rib-eye; plus classic pumpkin pie, a baked-to-order brownie, and Grand Marnier creme brulee for dessert. $45 per person. Catamaran Resort Hotel and Spa, 3999 Mission Blvd., Mission Bay, 858.539.8635.
Nov. 26. Make memories with a Thanksgiving Day feast featuring a four-course dinner at A.R. Valentien, with a curated menu of locally sourced dishes from executive chef Jeff Jackson. The experience comes complete with sweeping views of the famous Torrey Pines Golf Course from the restaurant's spacious dining deck. 4-8 p.m. $110 per person, $55 children under 12. 11480 N. Torrey Pines Road, La Jolla, 858.777.6635.
Preorder by Nov. 24 | Outdoor Dining Nov. 26. The ocean-view eatery offers a three-course menu, which includes a choice of starter, such as butternut-squash soup. Entrees include oven-roasted, free-range turkey with the fixings; slow-cooked Angus prime rib; Zinfandel-braised beef short ribs; and Pacifica seafood classics. End on a sweet note with a choice of dessert. $65 per person, $20 children 12 and under. See website for details and hours. 1555 Camino del Mar, Del Mar, 858.792.0476.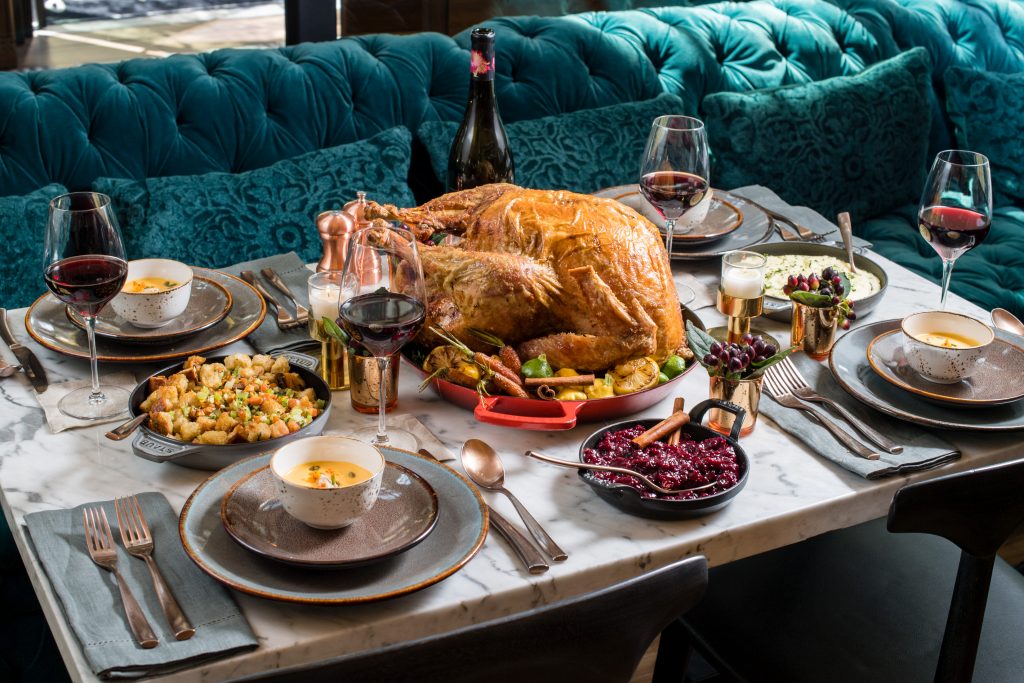 Available Now. Indulge in a three-course, prix-fixe menu by chef Brandon Sloan. Highlights include butternut-squash soup; a date-bacon-goat-cheese tart; brown-butter gnocchi with smoked duck breast, celery root and apple; braised Snake River Farms short rib; and persimmon-mustard-glazed salmon. Desserts include roasted-vanilla-apple pie and pecan cream pie. Call directly for pricing and options for possible dine-in seating, given current pandemic restrictions. Pendry San Diego Hotel, 425 Fifth Ave., Gaslamp Quarter, 619.738.7300.
Preorder by Nov 24. The quaint butcher shop and eatery is offering an a la carte Thanksgiving pick-up menu that lets you fully customize your meal. Choices include herb-crusted prime rib, smoked turkey leg, smoked Cornish game hens, roasted broccoli with Parmesan, olive-oil smashed potatoes, pumpkin pie, apple pie and carrot cake. 512 Via de La Valle, Suite 102, Solana Beach, 858.461.0092.
Serẽa | Outdoor Dining
Nov. 26. Pairing a Thanksgiving feast with an upscale, sea-to-table culinary experience and ocean views, Serẽa is offering a gourmet three-course menu. Choose from prime rib carpaccio; white-truffle-winter-squash bisque; slow roasted, lightly smoked turkey; mountain-berry-apple crumble for dessert; and more. Family-style options include whole-roasted, Baja striped sea bass; beef tenderloin roast; and whole-roasted spaghetti squash. 3-9 p.m. $125 per person, $45 per child. Hotel del Coronado, 1500 Orange Ave., Coronado, 619.435.6611.
STK San Diego | Outdoor Dining, Delivery, Takeout
Nov. 26-29. The steakhouse is offering a grand meal with all the fixings—roasted turkey with chestnut-cornbread stuffing, green beans, sweet potatoes, Yukon Gold potatoes, gravy and cranberry-orange chutney. The full STK menu is also available, as well as a children's menu. $49 adults, $29 children 12 and under. (Add pumpkin pie served with Bailey's whipped cream and vanilla ice cream for $12 more.) 3-10 p.m 600 F St., Gaslamp Quarter, 619.354.5988.
Vistal | Outdoor Dining
Nov. 26. The InterContinental Hotel San Diego's signature restaurant will be offering a Thanksgiving dinner for both hotel guests and visitors. The turkey plate will feature all the Thanksgiving classics—including mashed potatoes, stuffing and more—all with a side of stunning San Diego Bay views. Noon-8 p.m. $32 per person. 901 Bayfront Court, downtown, 619.535.0485.
Photo credits: Ranch 45 pies by Maraelia Romaine. Dr. Seuss's How the Grinch Stole Christmas! by Jim Cox / courtesy The Old Globe. Herb & Wood by Kimberly Motos. Cafe Sevilla and Provisional Kitchen are courtesy photos.