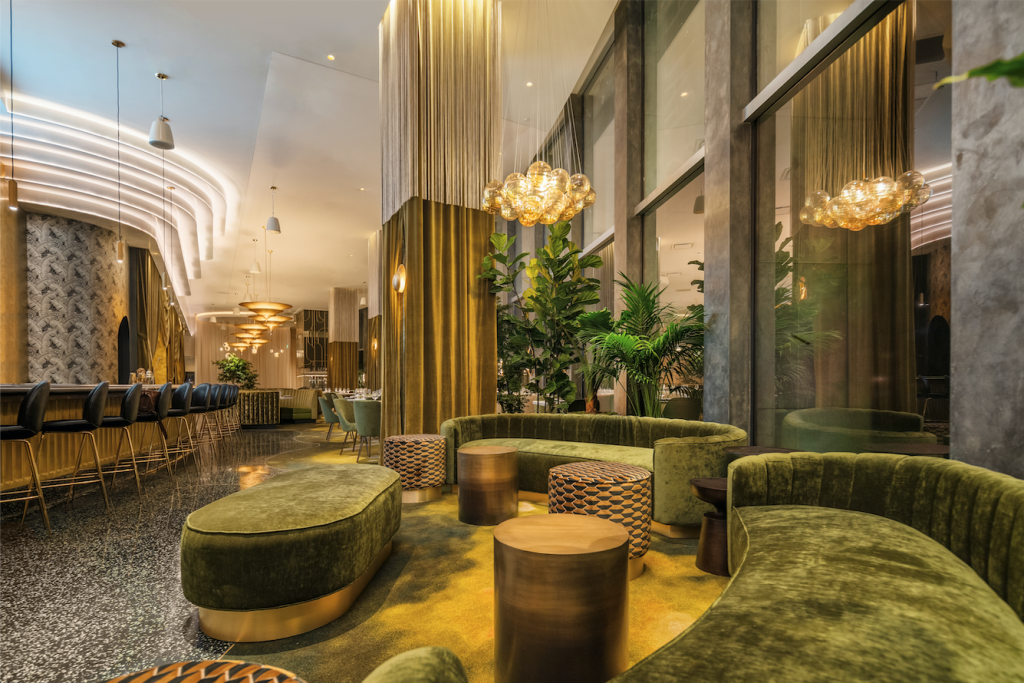 For a dreamy date night, these five fab restaurants fit the bill.
Since mid-March 2020, my heart has hurt for all the businesses deeply impacted by the pandemic—in particular, the San Diego restaurant community. Lockdowns; orders to close; orders to close again after reopening; developing entirely new to-go services; expanding outdoor dining spaces (and in some cases, building them from scratch); opening limited indoor dining (while knowing that, too, could change in a heartbeat) … It's been months of curveballs, sometimes daily. I have so much respect and appreciation for you all. The resilience of restaurateurs is remarkable.
For me, getting dolled up to dine out (whether in jeans and heels or a cocktail dress) is pure joie de vivre. So to finally get the greenlight to do so again has been medicine for the soul and stomach. Following are a few of my personal favorite restaurant picks for date night. Come as you are or dress up a little. Just be ready to celebrate all things that make dining out dazzling—exceptional cuisine, decor, service and style.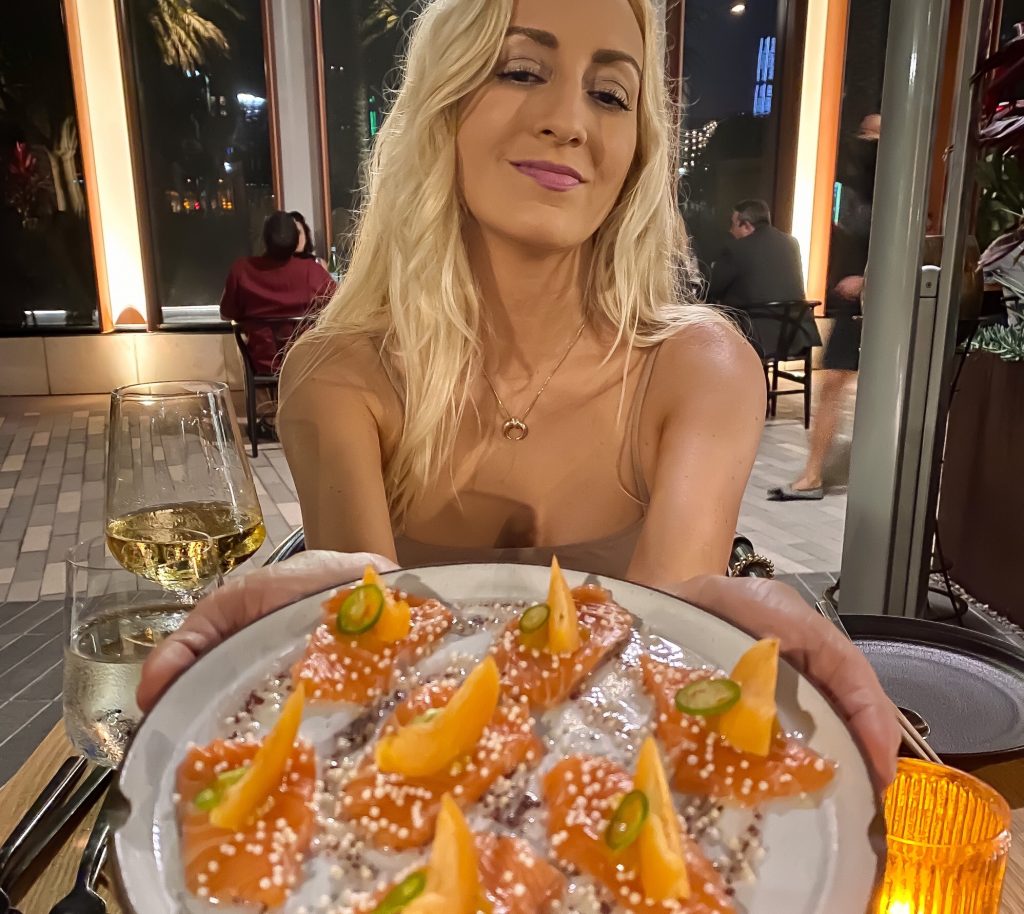 For the best of all worlds, come to this magical wonderland by the Puffer Malarkey Collective. Don't even mess around. Inside, the decidedly dramatic decor designed by Bells + Whistles is simultaneously sexy, opulent and playful. Think: glam, art-deco romance meets a luscious Japanese forest—punctuated by rich jewel tones of emerald and gold and grandly draped curtains—topped with a pop of post-punk futurism. (For reference on the latter, stop by the bar and meet the robotic Big Chuck—the eye-popping, backlit mural by Berlin artists Igor Posavec and Sven Sauer installed behind it—and report back. You can't miss him.) The melding of such contrasting, even theatrical, design elements should feel jarring or possibly intimidating, but somehow it doesn't. You feel welcome and energized. (I tend to feel slightly cooler than I actually am.)
Outside, be transported to the firefly forests of Japan's Shikoku Island by way of the Zen Garden dining patio. Nestled among lush foliage, swaying palm trees and trickling water fountains next to the Pacific Gate by BOSA tower, the space is an entrancing urban oasis. The tables are so well spaced that the last time I dined there, the nearest "guest" to me was the 25-foot-tall Pacific Soul sculpture by artist Jaume Plensa. (The installation adds to the ambiance by emanating a warm glow at sunset.)
In the kitchen, James Beard Award-winning chef Nate Appleman is seriously some sort of gastronomic Jedi. As Animae's new culinary director, Appleman was challenged to build upon the restaurant's already-acclaimed Asian-infused West Coast cuisine. This means coal-fired meats (there's an entire wagyu section on the menu); elegant sea fare; flavor-dense rice and noodle dishes; and refined plates that spotlight seasonal ingredients and local produce. My personal favorites: the Ora king salmon crudo and wagyu beef carpaccio starters (both of which are plated so beautifully that you almost feel bad about destroying them); the Singapore chili lobster noodles; and the prime skirt steak. For dessert, the Vietnamese iced coffee and bao donuts made me forget that I don't have much of a sweet tooth. Try the Lemongrass Gin & Tonic or Cherry Blossom Margarita to wash it all down. Did I mention that Animae is date night gold? Tu-Sa 5:30-9 p.m. 969 Pacific Hwy., downtown, 619.432.1225.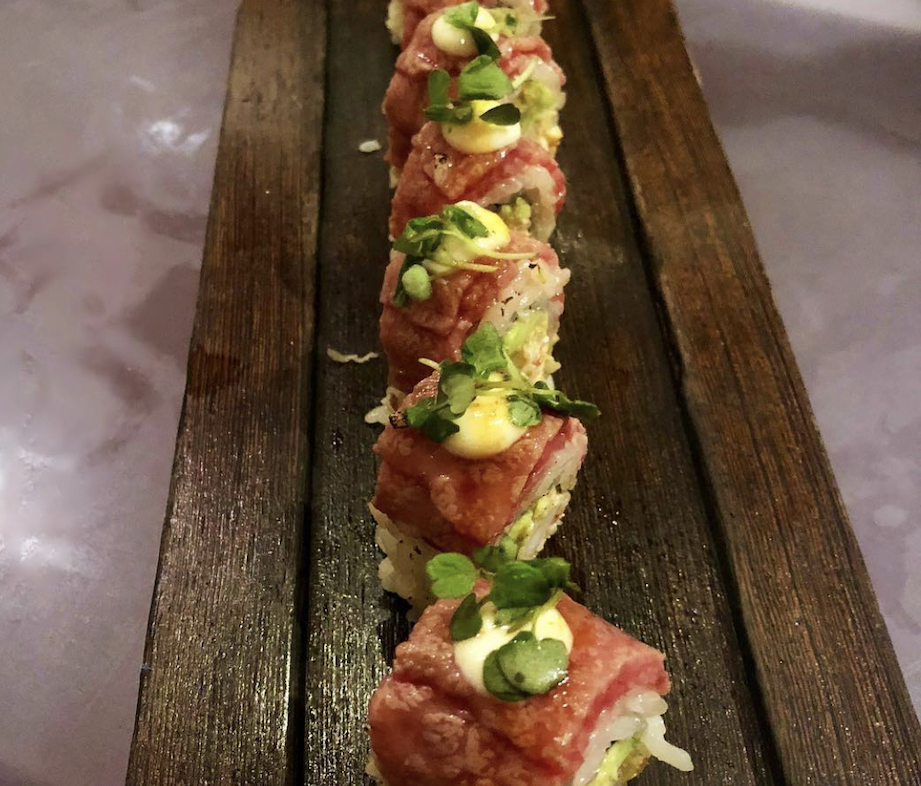 Bold statement alert: If forced to choose just one sushi restaurant in all of San Diego as my personal favorite, I'd pick Azuki. It's the stuff of casual date night dreams—a boutique, urban atmosphere; quaint alfresco dining; masterful sushi chefs; sustainably sourced, premium-quality fish; impeccably cut sashimi and rolls; and an impressive assemblage of sake.
My go-to menu favorites include the spicy tuna atop crispy rice; the miso black cod; the Shigoku oysters with ponzu, scallions and spicy daikon radish; and the Kobe roll with seared wagyu beef, black tiger prawns, avocado, tempura onion and truffle aioli.
But the real measure of a sushi eatery's excellence is in its nigiri and sashimi—the freshness, simplicity and selection. Azuki is on another level in this department. The bluefin nigiri special gets you a sampling of bluefin akami tuna, otoro (fatty tuna belly), chutoro (a blend of otoro and akami), and negitoro (akin to minced tuna). Or try the salmon nigiri special comprising salmon, salmon toro, king salmon and ocean trout. Also swoon-inducing: the mildly sweet and ultra-fresh uni; and the A5 Miyazaki wagyu beef served sashimi-style. A carafe of the Kubota Manjyu "10K Dreams" Niigata sake completes the umami experience. Reservations only. F-Su noon-2:30 p.m.; Tu-Su 4-10 p.m. 2321 Fifth Ave., Bankers Hill, 619.238.4760.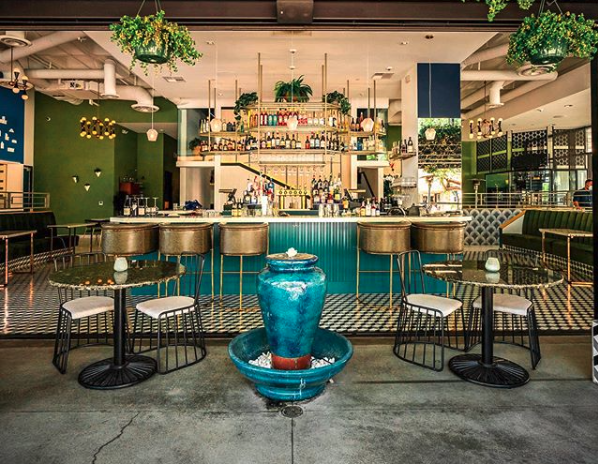 Don't worry; it's the same gorgeous space and family ownership, but with a new name, menu and focus on more casual (but equally delicious) Italian dining. Brothers Dario and Pietro Gallo welcome you to Civico by the Park—formerly Il Dandy and now a sister restaurant to their popular Civico 1845 cucina in Little Italy. I'm convinced there are at least five Darios; every time I come in for dinner, he's seemingly in the kitchen, at the bar and visiting every table all at once—ensuring guests are having a primo experience. The man simply doesn't tire.
The cuisine here pays homage to the brothers' native Calabria, featuring authentic antipasti (I adore the fritto di mare and carpaccio di bresaola with shaved Parmesan), scratch-made pastas and entrees. But the star of the menu is the pizza, and the star of the pizza is its dough. Choose traditional Calabrian-style pizza dough; or try the pinsa Romana—original Roman pinsa made with wheat, soy and rice flours, and left to rise for 72 hours. The result is a light, airy dough that is low in calories and gluten, and easy to digest. (Another fun difference: Roman pinsa pizzas are oval-shaped versus round.) Try the margherita pie and let the simple, fresh ingredients and dough do the talking. More bonuses: Civico by the Park offers a full vegan menu (try the potato gnocchi with crispy vegan sausage); as well as Italian cocktails such as the Civico Spritz with Aperol and grapefruit kombucha.
As for ambiance, the 5,000-square-foot a restaurant is a stunner. A glamourous decor fuses mid-century modern with European opulence and Italian futurism—ornate trimming, jewel-toned velvet chairs, gleaming marble floors, 16-foot-ceilings and abstract modern artwork. And the ample outdoor dining terrace merely steps from Balboa Park makes for an enchanting date night. W-Su beginning at 4:30 p.m. 2550 Fifth Ave., Bankers Hill, 619.310.5669.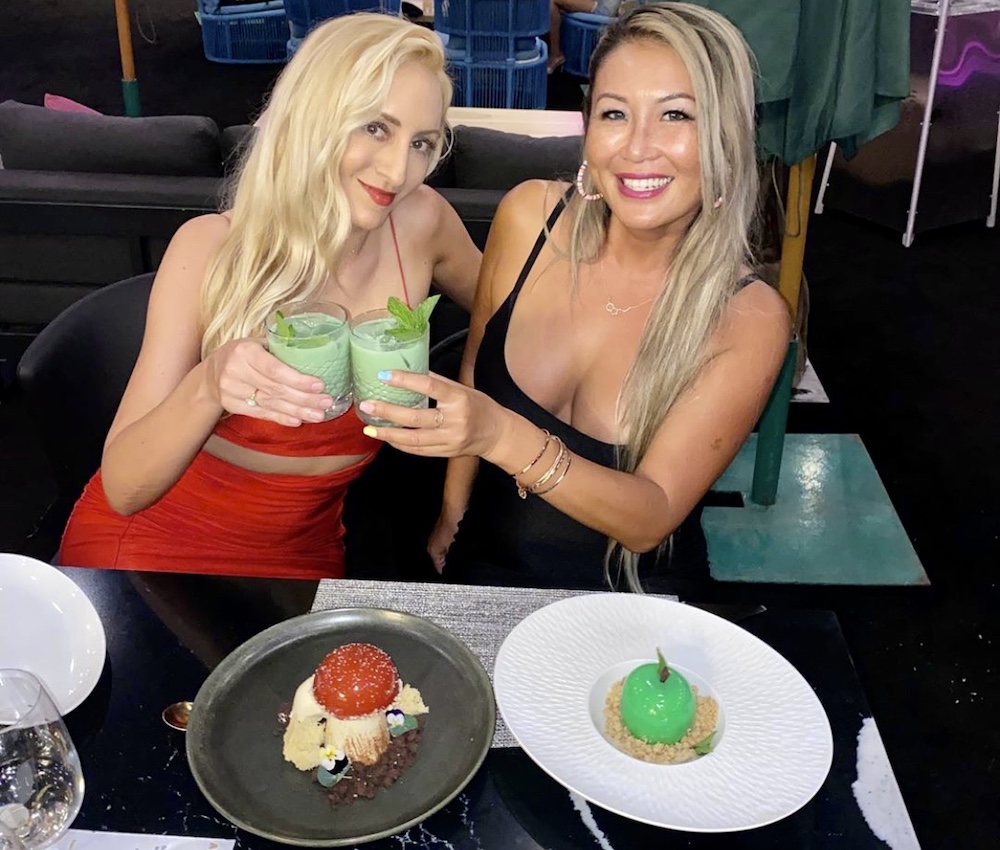 Dress to impress for a night out, big-city style. One of the more anticipated new restaurants of the year, Huntress has at last opened its doors, and guests are in for a real treat (especially if you love wagyu steak). With the kitchen helmed by executive chef James Montejano, the high-style, contemporary steakhouse and Japanese whisky bar by RMD Group offers alfresco dining on its expanded patio fronting Fifth Avenue. Or dine and imbibe indoors amid an ultra-sexy, sleek decor designed by Davis Ink—complete with a custom-designed chandelier made of 95 strategically placed glass pendants; and a more intimate mezzanine overlooking the main dining floor.
My first love: the thick-cut, wagyu katsu sando on the appetizer menu. Tender, rare wagyu meat is sandwiched between toasted, buttery brioche—bite after bite, it literally melts in the mouth. I've had several dreams about it since … Carnivores will swoon in general over Huntress' vast steak selection, which includes both American and exclusive A5 Japanese wagyu selections, prime filet mignon and dry-aged cuts. For the ultimate splurge, go for the prime, 50-day-dry-aged tomahawk with sides of black truffle butter and bone marrow butter. (At 32 ounces, this bad boy is ideal for date-night sharing.) I was also smitten by the miso Chilean seabass—which arrives with a dashi consommé that gets poured before your eyes—surrounded by delicate vegetables and fragrant truffle-prawn wontons.
For a sweet finish, I couldn't resist the Forbidden Fruit and the literally smoking Magic Mushroom—both dreamt up by brilliant pastry chef Melanie Stagnaro. And if you think the dinner menu at Huntress is decadent, make sure you return for Sunday brunch. (Salmon belly hash, anyone?) Th-Sa 5-10 p.m.; Su 10 a.m.-2 p.m. 376 Fifth Ave., Gaslamp Quarter, 619.329.4868.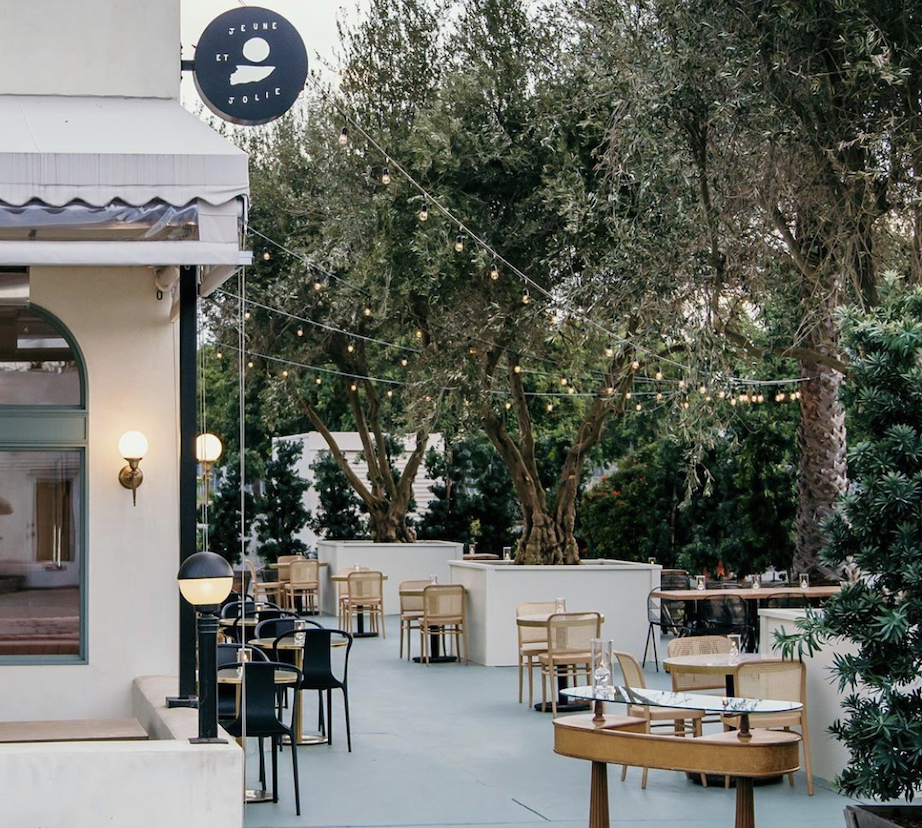 Candlelight, olive trees, twinkling lights, stars above, soft music playing … Sold. The outdoor dining space at this beloved French bistro is so lovely that I can barely recall its former life as the parking lot. The "Starry Night" experience entails a five-course tasting menu that changes weekly; plus add-ons such as wine pairings and elegant shellfish platters of oysters, mussels and crab legs. On a recent visit, I enjoyed a beautifully seared big-eye tuna plated with a drizzle of yuzu aioli, celery, cherry and pistachio; a succulent salmon fillet lightly draped with beurre monté (melted butter), accompanied by asparagus, beet, cucumber and creamed corn; and Wagyu Zabuton côte de boeuf cooked perfectly medium-rare. And I usually skip the bread when dining out to save stomach space and minimize carb guilt, but the brioche pain here is worth every flaky, buttery bite.
Be sure to wave "Bonsoir!" to Jeune et Jolie's new executive chef Eric Bost if you catch a glimpse of him in the open kitchen. Owner John Resnick sought him out after Bost's revered restaurant Auburn in Los Angeles became a casualty of the pandemic. His experience and accrued accolades are tremendous—including stints at Alain Ducasse au Plaza Athénée and Les Ambassadeurs at the Hôtel de Crillon in Paris; Restaurant Guy Savoy (awarded two Michelin stars) in Las Vegas; Guy Savoy in Singapore; and République in Los Angeles. Oui, Chef! Pre-paid reservations required ($95 per person). W-Su 5-10 p.m. 2659 State St., Carlsbad, 760.637.5266.
Photo credits: Animae interior by Dustin Bailey. Civico by the Park by James Tran. Jeune et Jolie by Devin Castañeda.