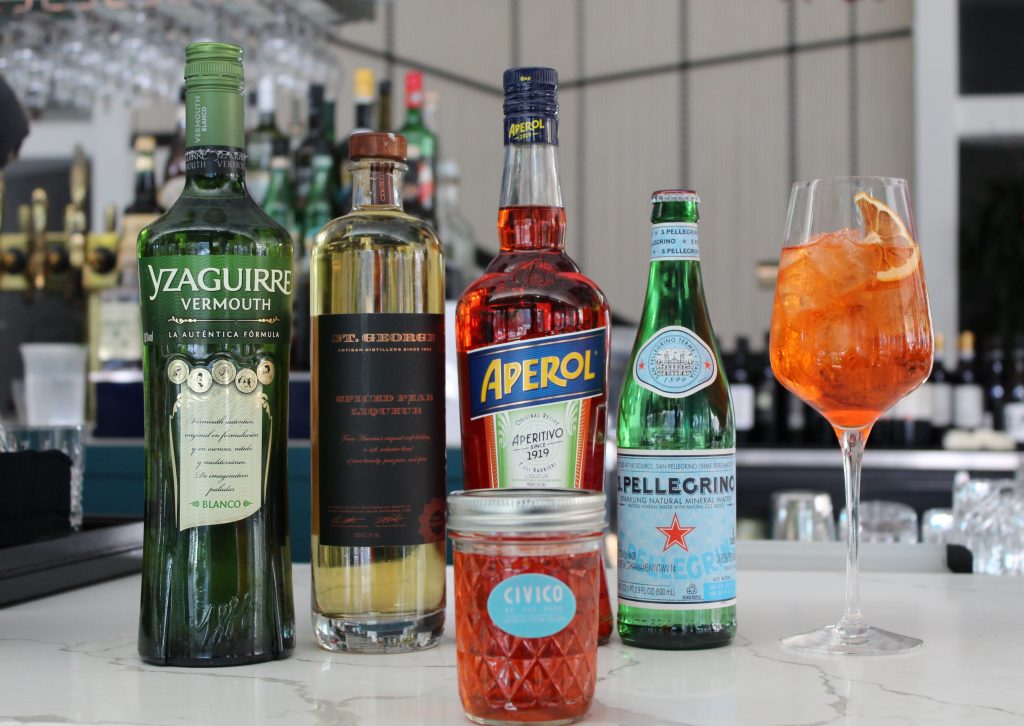 These three San Diego restaurants are serving some seriously stellar takeout libations.
The concept of "cocktails to-go" has evolved from a trending, pandemic-fueled menu option into an art form—a truly special (and fun!) imbibing experience. Open for takeout and delivery, these three local restaurants in particular are serving up concoctions so creative and delicious that they can transport you to your getaway of choice with each sip—all while enjoying from the safety and comfort of home.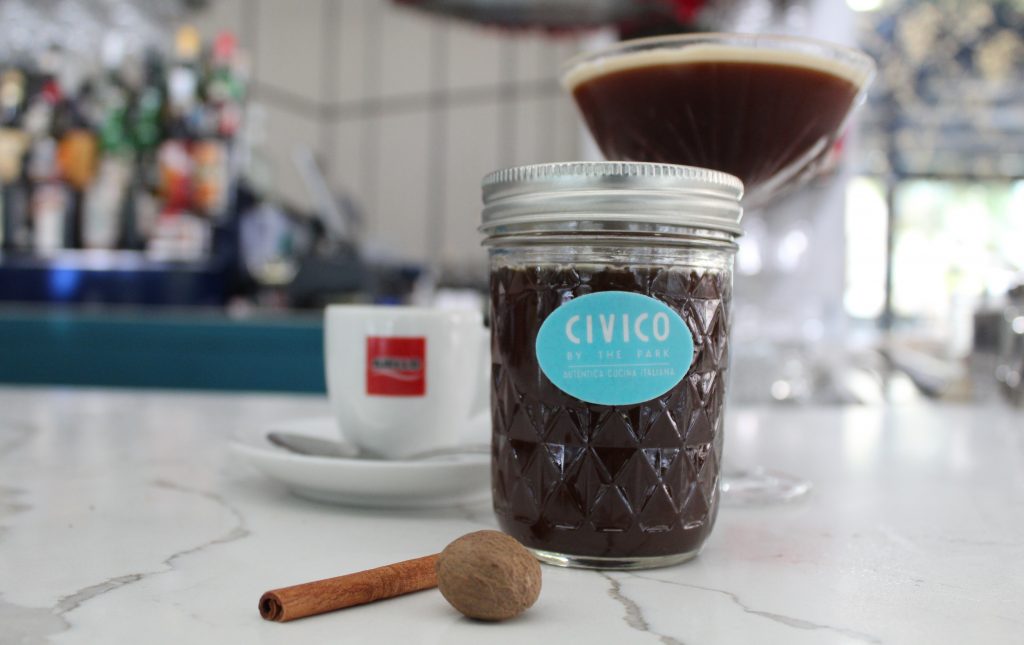 Espresso martini, anyone? Civico by the Park's indulgent blend of Drake's Organic Vodka, Lucano Cordial Caffee liqueur, Aiello espresso, Bailey's and vanilla-bean syrup—sprinkled with cinnamon and nutmeg—is the ultimate, subtly sweet treat in cocktail form. This and other expertly crafted libations to-go—including the popular Negroni, Manhattan, Spiced Pear Spritz and Italian Old Fashioned—arrive in cute glass jars (each serving two people); along with serving instructions and garnishes (think: cherries, dried oranges and rosemary sprigs). Civico also offers prosecco and other Italian wines by the bottle at retail prices. To eat, feast on authentic cuisine from Calabria, Italy, where owners and brothers Dario and Pietro Gallo grew up. This means decadent dishes such as slow-braised pork ragu, sausage, pork shoulder, pancetta and meatballs tossed with paccheri pasta; both Calabrian-style pizzas and pies made with Roman pinsa (read: lighter, airier and easier to digest than traditional pizza dough); a full vegan menu; and scratch-made desserts. Open daily 4-9 p.m. 2550 Fifth Ave., Bankers Hill, 619.310.5669.
The locally beloved lair for all things death-metal music, plant-based cuisine and Jedi-level libations is celebrating its fifth anniversary—and in true unorthodox, campy-cool style. Kindred has launched a "Five-Year Anniversary DIY Rampage" celebration unfolding over several days. Offerings include retro bottled cocktails from the original menu, such as the revered rum-and-scotch-based Brain Candle; themed merchandise, including its signature wolf-embossed tees and hoodies; and free doughnuts with takeout orders. (Follow Kindred on Instagram for dates, details and latest offerings.) My current favorite cocktail is the King Friday—a potent blend of three rums, pineapple, lime and coconut. (It's no wonder this powerful punch-packer is limited to two per guest; think of it as a sneaky, extra-spiked mai tai.) And new on the drink menu: Capitan Peligro, an "astro-tropical" mélange of rum, mezcal and more—inspired by the skull-ship captain from the Space Riders comic. As an added bonus, Kindred offers some of San Diego's tastiest plant-based eats—known to win over carnivores while soaking up the booze in one swoop. The grilled cheese on rustic sourdough bread with the cashew-truffle brie "upgrade" will have you in disbelief that it's entirely vegan. Add a bowl of the tomato bisque to warm up on a chilly winter day. And don't miss the buttermilk biscuits with mushroom gravy on the weekend brunch menu. Open daily 4:30-9 p.m.; Sa-Su 10 a.m.-2 p.m. 1503 30th St., South Park, 619.546.9653.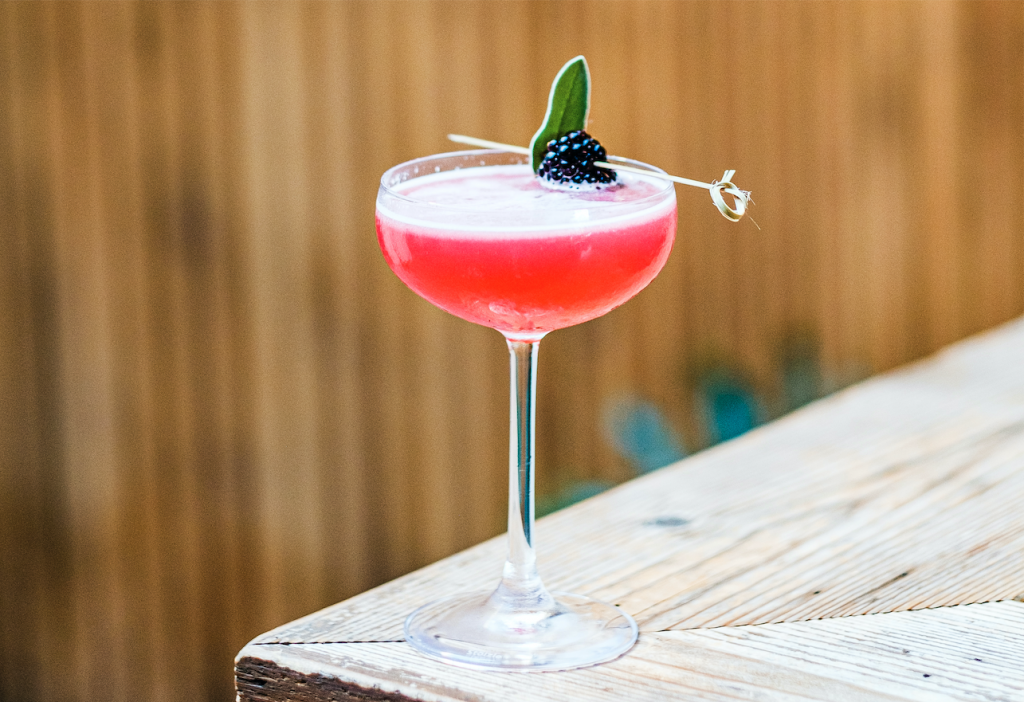 This frisky neighborhood lounge and eatery is serving several fun potions, ideal for sipping while snuggling at home. Order the Save the Bees—made with Eagle Rare bourbon, local lavender honey, Amaro Nepeta liqueur, lemon and honeycomb—and $1 of each purchase will be donated to nonprofit Operation Honey Bee. Also try the Night Forage, crafted with locally distilled You & Yours Vodka, blackberry, wild black sage, lemon and prosecco; and the rum-based Any Port in a Storm, infused with house-made avocado-pit orgeat. I also love the signature Old Fashioned; the Carajillo made with Licor 43, espresso and orange peel; and the Peruvian-pisco-based Stellar Ember. Complement your cocktails with the restaurant's modern Mediterranean fare, such as the hummus plate and famous panko-crusted pork chop for dinner; and the Turkish breakfast sandwich on the weekend brunch menu, chased with a bloody mary or the mezcal-based Oaxacan Spritz. Tu-Su 5-9:30 p.m.; Sa-Su 9:30 a.m.-2 p.m. 4622 Park Blvd., University Heights, 619.269.6566.
Photo credits: Madison by Haley Hill Photography. Civico by the Park is courtesy of the restaurant.