The Curious Fork Offers an Artisan Culinary Experience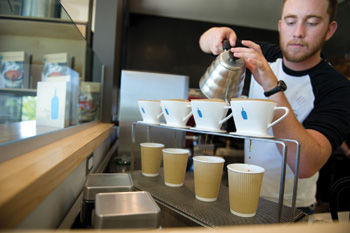 From cooking classes to artisan coffee, satisfy your culinary cravings at The Curious Fork in Solana Beach.
This is casual wine and dining in San Diego at its best!
Are you a health-conscious foodie? So are the creators of The Curious Fork, a new hybrid culinary concept in Solana Beach. The new outfit is one part quick-service café for breakfast and lunch, one part educational kitchen offering cooking classes and seminars (think weekly Farmers Market Basket cooking and organic baby food making), and one part culinary retail center. The café, open Monday through Saturday from 7 a.m. to 2:30 p.m., serves pour-over coffee, freshly baked pastries, smoothies, salads, sandwiches, soups and handmade pizzas. In the kitchen, learn everything from the basics to advanced cooking classes; plus pop-up chef demos and hosted guest speakers.
512 Via de la Valle, Solana Beach, 858.876.6385. thecuriousfork.com