New Guadalajara Menu at Venga Venga Cantina & Tequila Bar
Venga Venga Cantina & Tequila Bar may sit in the beautiful Otay Ranch Town Center of Chula Vista, but the launch of its new destination menu invites guests to savor the playful seaside and casual street-side influences of Guadalajara.
Just 20 minutes from downtown San Diego, guests step into an atmosphere reminiscent of a ranch-style hacienda with indoor and outdoor dining, a large courtyard lit by over-sized lanterns, and a rowdy yet welcoming communal bar space. House-infused tequilas, homemade tortilla chips and salsas and hand selected fresh ingredients attest to the authenticity that Venga Venga makes a priority.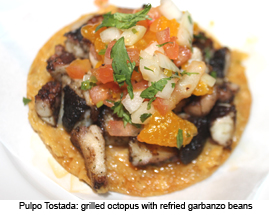 As the test kitchen for celebrity Chef Richard Sandoval's international collection of restaurants, Venga Venga takes pride in the release of this brand new menu. The destination menu will continue to feature culinary concepts from a new region of Mexico every six months. Chef de Cuisine, Paulo Mendoza describes the menu as "giving guests a concept they understand, but pulling it out of context." Because of the abundance of Mexican restaurants throughout San Diego, he's helped create a menu that is a new twist on the classics, while preserving the simple and approachable flavors. "In this area, you throw a rock and hit a dozen taco shops, or someone's grandmother makes the best enchiladas they've ever had. The only way to compete is to give them a new context." Influenced by the flavors of his Mexican heritage, Mendoza also pulled inspiration from his background in Japanese cuisine working at Morimoto, as well as the seaside flavors of Seattle. The effect is seen in menu features like the ahi tuna tostada–his version of an ahi poke.
Other destination menu highlights include esquites (a Guadalajaran street food based around roasted corn), a grilled octopus tostada, and pork chicharron street tacos. For dessert, enjoy corn flan topped with caramel popcorn and crushed peanuts. "This food tells a story," says Mendoza. "When I was working in other restaurants, it wasn't my story to tell. With this menu, we've been able to combine so many flavors that piece together the story of the different Mexican regions. I want people to experience the regions, to feel at home, to laugh and to talk around the table."
Venga Venga, 2015 Birch Rd., Ste. 710, Chula Vista, CA 91915, 619.397.0977. richardsandoval.com