Indulge In The Best Pizza In San Diego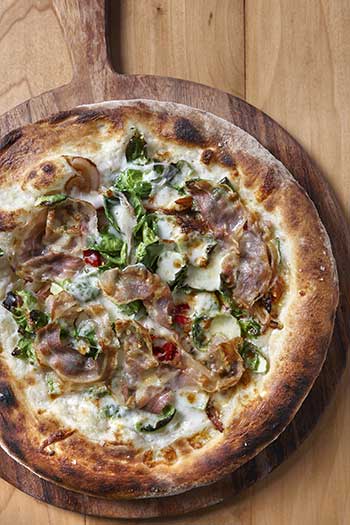 No matter your idea of the perfect pizza, San Diego has a slice for you. A pizza feast: the perfect way to spend an evening in San Diego.
By Sarah Daoust
Thin crust, thick crust, wood-fired, artisan, build-your-own, traditional, gluten-free, extra cheese, hold the cheese … San Diego is brimming with pizzerias and Italian eateries serving up top-notch slices for just about every taste—and the rest of the country is taking notice. In fact, a recent report from TripAdvisor.com ranked San Diego as the No. 1 pizza city in the country, edging out both New York City and Chicago. We rounded up some favorite pies from a few brand-new restaurants and a couple hidden gems, so you can find the slice that suits you best. We may need to consider changing our nickname from "America's Finest City" to "America's Finest Pizza City." Just a thought…
Pizzeria Mozza
Squash blossoms on a pizza? Pizzeria Mozza is famous for its rendition of this delicate topper—lightly fried blossoms accompanied by silky burrata and tomato. The acclaimed Los Angeles restaurant of the same name by celeb chef Mario Batali recently opened a new locale at The Headquarters at Seaport District. Its artisanal pizzas are wood-fired in one of two wood-burning ovens, with fresh ingredients and interesting combinations that don't overdue it on flashiness. Another Pizzeria Mozza favorite is the breakfast-style pie; the yolk of a sunny-side-up egg in the center gently fraternizes with Yukon Gold potatoes, crisp bacon and Bermuda onions. Delizioso.
Davanti Enoteca
In the wake of its successful Little Italy outpost, Davanti Enoteca has opened a new location at Del Mar Highlands Town Center. The farm-to-table, rustic-Italian menu includes a handful of simple pizzas that are big on flavor. The Pizza con Salsiccia e Rapini comes with mild Italian sausage nuggets, rapini (broccoli rabe), mozzarella, tomato, garlic and chili oil. And the Pizza D.O.C. with tomato, mozzarella and fresh basil is simplicity perfected.
Zigzag Pizza
Up north in the beach community of Oceanside, Cohn Restaurant Group recently debuted its newest culinary offspring near the Oceanside Pier, Zigzag Pizza Pie—a casual, quick-serve Italian market with a walk-up pizza bar and a fun, rock 'n' roll vibe. Guests can play chef and concoct their own dream pizzas, or choose from one of nine specialty pies. Try the White Album pizza with blackened shrimp, spinach, caramelized onions, slivered almonds, garlic and a five-cheese sauce. Zigzag is a best bet for families with picky eaters and who don't want to break the bank—all pizzas and salads are less than $10. And adults will love the selection of 50 craft beers on tap.
Pizza Studio
As another fast-casual, build-your-own-pizza option, Pizza Studio—under the wings of veteran restaurant entrepreneur George Katakalidis—just opened its doors in downtown San Diego, with a second location slated to open in Kearny Mesa later this spring. (Katakalidis founded the fast-casual restaurant chain Daphne's Greek Café, which grew to 83 locations. He later started the casual-Greek restaurant concept Taverna Blu with locations in Del Mar and Irvine, Calif.) At Pizza Studio, design your own custom pizza from a wide assortment of crusts, specialty sauces, cheeses, nitrate-free meats, and both fresh-cut and roasted vegetables. We love the premium-quality ingredients and accessible price points; a "Starving Artist" section of the menu sells a selection of pizzas for $6 each. We suggest the White pizza with a rosemary-herb crust, virgin olive oil, caramelized onions, roasted red peppers, Kalamata olives, mozzarella and arugula.
Isola Pizza Bar
Make it a date night at Isola Pizza Bar in Little Italy—a romantic, candlelit den with a charming back patio for privacy and a bustling front patio for people-watching. Its hand-tossed, thin-crust pizzas are baked in a stone wood-burning oven imported from Napoli, Italy, and use simple, local ingredients. Truffle-oil lovers will swoon over the prosciutto-and-arugula pizza with mozzarella and lightly drizzled with the earthy oil.
Cucina Enoteca
Inside restaurateur Tracy Borkum's sprawling Del Mar hotspot, Cucina Enoteca, the Cali-Italian menu is packed with organic, sustainable antipasti, salads, pastas and artisan pizzas. Each medium-sized pie arrives bubbling-hot and with a crispy, slightly tangy crust—ideal as a meal for one or to split among a table of four as an appetizer. Try the pancetta pizza with Brussels-sprout leaves, fontina cheese, roasted garlic, red onion and Calabrian chili; along with a side of gluten-free pasta.
Buona Forchetta
For traditional, Napoletana-style pies, head to sleeper-hit Buona Forchetta in South Park, where regulars claim it's the best pizza they've ever had outside of Napoli, Italy. Perhaps co-owner Matteo Cattaneo's native roots in Bergamo in northern Italy has a little something to do with its authenticity. Expect a thin, chewy crust, robust sauce and flavorful gourmet-quality toppings that wow the palate. We recommend sitting at a table on the generous, twinkle-light-covered patio with the Daniela pizza—covered in Brie cheese, crème fraiche and speck (a smoke-cured Italian ham)—and chase it with a glass of Chianti Classico. You'll think you've died and gone straight to Italy.