Pamper Yourself with the Latest San Diego Spa Trends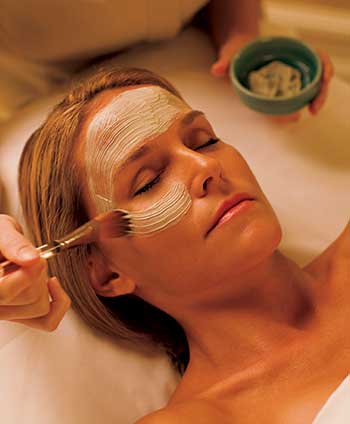 Get glowing this fall with the latest San Diego spa trends, treatments and head-to-toe pampering.
By Sarah Daoust
With summer's lingering effects showing up on your skin (e.g., sun exposure and dehydration) and the stressful holiday season straight ahead, fall is prime time to indulge in some well-deserved "you time." Enter a few of San Diego's top trendsetting spas to the rescue, armed with cutting-edge treatments that provide both pampering and performance. No matter which one you pick, your skin will thank you.
Kin Spa
Incorporation of aromatherapy, essential oils and organic botanicals are big trends in the spa world this season, according to the staff at Kin Spa. The stunning wellness oasis overlooking San Diego Bay provides full-body massages, facials, manicures and pedicures, hair styling, and skin treatments among its services. From Sept. 1 through Nov. 30, Kin is offering an aromatherapy massage as part of its Fall Collection—using Tara pure essential-oil blends known for their healing effects. Select your own customized journey toward relaxation—Unwind, Renew, Revitalize or Harmonize—and experience the benefits of aromatherapy during your massage. Choose a 50-minute session for $135, or 80 minutes for $185. Manchester Grand Hyatt San Diego, 1 Market Place, downtown, 619.358.6699.
Spa L'Auberge
With Thanksgiving not far around the corner, this time of year is all about seasonal comfort food—think pumpkin pie and mashed potatoes. These dishes aren't found only on restaurant menus in San Diego, but also on spa menus. Spa L'Auberge—a 5,000-square-foot beauty den located at beachy-chic resort L'Auberge Del Mar—offers a specially priced fall spa menu loaded with treats for the skin. The decadent Bourbon Pecan Body Renewal (80 minutes for $165) starts with a full-body scrub that warms the skin and fills the senses with a nutty, brown-sugar scent as it exfoliates. The treatment ends with a 50-minute massage using antioxidant-rich massage oil made with cinnamon and cloves. The nutrient-rich Purifying Pumpkin Wrap (50 minutes for $125) begins with a dry-brush body exfoliation, followed by a pumpkin mask and finished with a caramel body-milk application. Or try the Hot Toddy Mani Pedi (80 minutes for $99) that includes a hot vanilla foot and hand soak, a rum and brown sugar scrub, and a honey glaze hand and foot softening masque. 1540 Camino Del Mar, Del Mar, 858.793.6493.
Spa Gregorie
Also embracing fall's culinary delights, Spa Gregorie's has introduced some festive treatments and products. Its new Epicuren Pumpkin Apple Spice Peel ($49) promotes clarity by sloughing off dead cells and activating cell turnover, using mild pumpkin and apple enzymes. With the OktoberBest Package ($185), enjoy a 45-minute massage, an Arcona pumpkin peel for the face and a manicure incorporating lavender and sea salt. The spa also sells Arcona Cranberry Gommage ($46), a purifying exfoliant that cleanses, tones and decongests enlarged pores; and Arcona Cranberry Toner ($36), a three-in-one cranberry milk toner that hydrates and infuses the skin with protective antioxidants. 2710 Via de la Valle, Del Mar, 858.481.6672.
The Spa at Omni La Costa
In honor of National Honey Month in September (when most of the honey in the U.S. is harvested) The Spa at Omni La Costa has launched a fall treatment menu that's the bee's knees. Back in June 2013, Omni La Costa Resort established bee colonies on the property as part of its sustainability efforts and to fight the country's declining bee population. The bees have produced honey that is used in the resort's cocktails, appetizers and spa treatments. We love the Honey and Calendula Body Buff (80 minutes for $230)—a warm lavender and chamomile oil application followed by a freeze-dried honey and calendula body buff, and finished with a honey and lavender Shea butter massage. Another favorite is the Bee Propolis Massage (50 minutes for $160), which combines a beeswax menthol salve to soothe tense muscles with a cooling lotion enriched with bee propolis. 2100 Costa del Mar Road, Carlsbad, 760.438.9111.
Spa Velia
At Spa Velia, which recently relocated to luxurious new digs at the base of Harbor Towers downtown, choose from several soothing fall treatments that also wake up the skin. Fans of "green" and vegan body care will love the Organic Coffee Confection (80 minutes for $130). The skin is first drenched with replenishing non-GMO organic soymilk, then scrubbed and coated with a unique confection of exfoliating bamboo coffee and a rich, aromatic blackstrap molasses—all of which firms, repairs, nourishes and tones the complexion. A molasses facial mask and soothing scalp massage is next, followed by a full-body application of organic oils of coconut and ginger. Another skin recharger is the Brown Sugar Botanical Buff (50 minutes for $100). Made with organic raw sugars and an essential oil of organic red mandarin, this soothing scrub gently exfoliates the skin, followed by a mild rinse and generous application of organic virgin coconut oil infused with lemongrass essential oil, which revitalizes energy levels and relieves symptoms of fatigue. 200 Harbor Drive, Suite 150, downtown, 619.235.0000.
The Spa at The Grand Del Mar
According to Jim Croghan, the spa director at The Spa at The Grand Del Mar, autumn is the perfect time to revive summer skin—i.e., dehydrated, sun-exposed skin. Start with the Luminous Facial (90 minutes for $300), which combines acupressure, botanical elements and nutrient-rich clay with light therapy to induce deep relaxation and yield dramatic, regenerative results. For the body, the Sculpted Beauty treatment (120 minutes for $370) encompasses a contouring body massage followed by a mineralizing seaweed clay wrap, and finished with a Swiss shower and application of a sunflower-and-mango-infused goat butter (yes, goat butter) tightening cream. Your skin never had it so good at this posh spa, one of only 24 five-star spas in the U.S. 5300 Grand Del Mar Court, Del Mar, 858.314.2020.