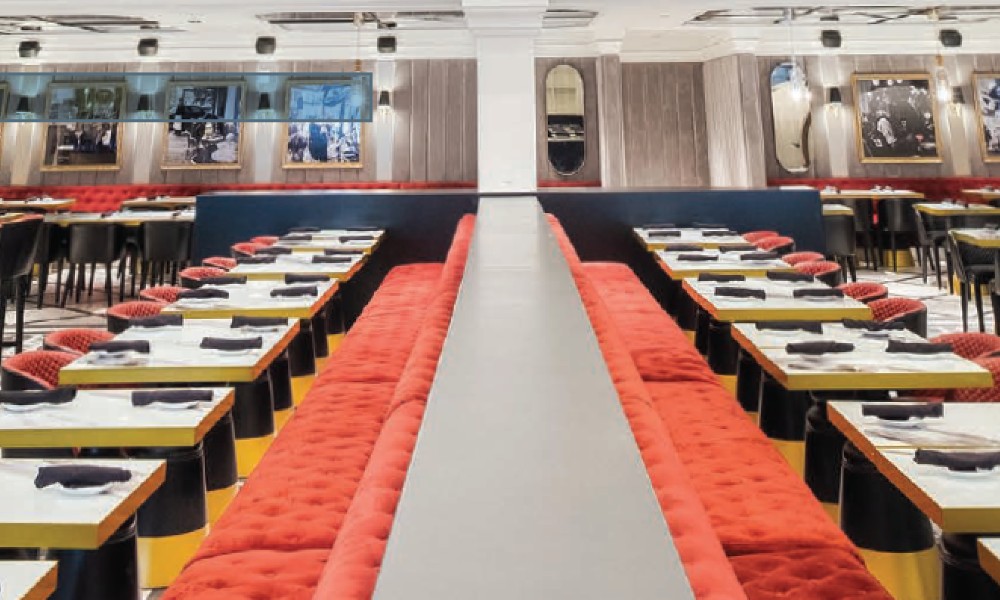 Theatre Box adds some Hollywood movie magic—and a sugar rush—to the Gaslamp.
A prime piece of Gaslamp Quarter real estate is buzzing once again. Shuttered in early 2016, the landmark movie theater long known locally as the Pacific Gaslamp 15 (and then Reading Cinemas) has reopened as Theatre Box—a stunning, 73,000-square-foot entertainment complex. Those who remember the old theater will be amazed by its monumental makeover. The modern venue looks and feels very "Hollywood glamor"—housing TCL Chinese Theatre's first luxury dine-in cinema, with eight state-of-the-art movie theaters complete with reclining leather seats; Sugar Factory American Brasserie restaurant and bar; a candy shop with 450 types of confections; a gelato bar and cafe; and the Chocolate Lounge eatery and cocktail/dessert bar. (Opening late spring: rapper Pitbull's iLov305 Rooftop Bar & Garden; and Nick Cannon's Wild 'N Out Sport Bar & Arcade.)
True to its name, the 14,000-square-foot Sugar Factory boasts a menu designed for the die-hard sweet tooth—themed cocktails and goblets rimmed with candy, "insane milkshakes," sundaes, banana splits, hot chocolate and dessert coffee drinks, chocolate fondue and more. For groups who really want to splurge: Sugar Factory's famous King Kong Sundae, priced at $99, serves 12 people. It's a true beast—made with a whopping 24 scoops of ice cream covered in dark chocolate, caramel and strawberry sauces; caramelized banana; marshmallows; chocolate chip cookie chunks; a whole glazed donut; a red velvet cupcake; white chocolate strawberry curls; gummy bears; Reese's Pieces; Oreo cookie crumbs; rainbow and chocolate sprinkles; graham cracker crumbles; waffle cones; unicorn pops; candy necklaces; whipped cream; gummy cherries; and sparklers. There's savory fare, too, including sliders, salads, gourmet sandwiches, "monster burgers," entrees such as steak frites and chicken 'n' waffles; plus a full brunch menu served daily until 4 p.m.
The Theatre Box cinemas—showing the latest mainstream movie releases— also feature dine-in food and cocktail menus. Afterward, enjoy an actual tower of brownies and a nightcap in the Chocolate Lounge. Willy Wonka has nothin' on this whimsical den of decadence. Care for a milk chocolate-dipped Mudslide Martini, anyone?
Theatre Box, 701 Fifth Ave., Gaslamp Quarter, 619.814.2225. theatrebox.com
Photo by Haley Hill Photography.