San Diego Nightlife: Where to Drink Downtown After Dark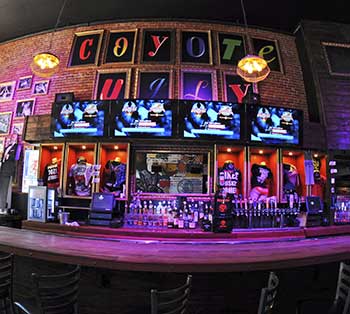 No matter your speed, downtown San Diego has a new nightspot for you. If you're looking for a fun way to experience the weekend, San Diego's nightlife won't disappoint!
From line-dancing country bars to an elegant champagne lounge to the best new place in town for live jazz, S.D.'s new nightspots in and near downtown are diverse and fabulous.
Country Delights
Step inside Moonshine Flats on a Friday or Saturday night and you'll be amazed by all the stylish, country-music-loving night owls two-stepping their way across the massive dance floor—all decked out in their Stetsons and cowboy boots. The 10,000-square-foot, multilevel former warehouse has been transformed into a high-energy honky-tonk bar and country-rock dance hall. The space houses five bars, San Diego's largest dance floor, old-fashioned barber "shot" chairs, Harley Davidson motorcycles adorning the walls and nightly live entertainment.
A couple blocks west from Moonshine Flats, Coyote Ugly Saloon is heating up the Gaslamp with a sexy country vibe of its own. Yes, the 2000 film Coyote Ugly, which highlighted the original Coyote Ugly Saloon in New York in 1993, inspired the bar. You'll find bartenders clad in cut-off shorts and crop tops dancing on the bar to upbeat country music; plus no cover charge and stiff cocktails.
A Casual Pub with Good Grub
The owners of beloved dive The Waterfront Bar & Grill (San Diego's oldest tavern) have launched Werewolf American Pub. Consider it a SoCal version of a London pub—a casual watering hole with craft cocktails, beers on tap and gastropub-style eats such as burgers, sandwiches, gourmet tacos and a sense of humor. The menu features a bottle service section that includes the Indie Package: 12 Pabst Blue Ribbon tall boys, a pack of American Spirit cigarettes and a tray of bacon.
Where Champagne and Wine Shine
At last, a chic spot downtown dedicated to bubbly: Encore Champagne Bar and Dining Room. The high-style bar with adjoining restaurant boasts a Champagne-centric menu with around 30 selections by the glass or bottle, plus tasting flights and an array of sparkling cocktails. Pair your bubbles with caviar, oysters and cheese; or stay for dinner and select from a menu of shared plates by Executive Chef Ryan Studebaker—favorites include the duck confit with risotto, marinated lamb chops and potato gnocchi.
At the southern tip of Little Italy, sleek wine bar and café The Flight Path recently opened to local praise—offering at least 75 wines from around the world amid a minimalist, sophisticated décor of white and black furnishings, with subtle candlelight warming the intimate space. A global, tapas-style menu shifts each month to focus on a different region of the world; expect such dishes as deconstructed bruschetta, turkey meatballs and bacon-and-brie sliders.
All that Jazz
San Diego music lovers were bummed when Croce's—an iconic restaurant and jazz bar of nearly 30 years—closed its doors in the Gaslamp in late 2013. But owner Ingrid Croce didn't throw in the towel for good, and instead launched Croce's Park West. It's a welcoming, neighborhood-style restaurant with a generous dining patio outside, cozy booths and banquettes inside, and a bustling bar. Croce's Expatriate Room features live jazz and singer-songwriters of different genres at least four nights a week; while the menu shines with modern American cuisine.