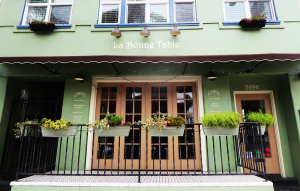 At La Bonne Table in Hillcrest you get the very best of the French bistro experience, minus the expensive airfare, language barrier and snooty waiters.
Adapted from Bon Appetit by Wendy Lemlin in the June 2016 issue of Performances Magazine San Diego.
Step into the intimate, cozy dining room of French bistro La Bonne Table in Hillcrest, and you can almost hear Edith Piaf warbling "La Vie En Rose" while everyone around you chatters away in perfect Parisian French. But, fear not, this is San Diego, and at La Bonne Table you get the very best of the French bistro experience, minus the expensive airfare, language barrier and snooty waiters. In fact, on the evening I dined there, all 10 tables were handled by one jovial server, who also doubled as the bartender for the six-seat bar. When I peeked into the tiny kitchen to meet chef/owner Renaud Tristan, I also noted that he was the entire cooking staff. I wasn't kidding when I called this restaurant "intimate."
Chef Tristan and his wife Sandra Cugusi—he's from Paris, she, Rome—opened La Bonne Table two years ago. When Renaud confided that he had always dreamed of opening an authentic French bistro, with a very traditional menu "like you would find in a typical Paris bistro in the 1940s or 1950s," Cugusi, a highly motivated dynamo with 25 years experience in the restaurant industry, said, "let's do it." Eh, voilà! They did.
On the relatively simple menu are all the classics you would expect: soupe a l'oignon (onion soup) with its dark, rich broth; onions cooked to sweet translucency; and its crust of croutons and melted gruyere. You'll also find escargots in garlic butter; foie gras terrine; roasted bone marrow; steak and frites; duck confit; and trout mandine—to name a few. Of these, the duck confit is one of several standout dishes that have been earning raves from local foodies. Its crispy skin is perfection and reveals tender, moist duck meat that literally falls off the bone.
On this particular visit, I began my meal with The Saint, one of seven cocktail options. Summery and refreshing, it featured the elderflower-flavored liqueur St. Germain and gin. (It's named for Saint Germain, a one-time bishop of Paris, known for his virtue and ministrations to the poor.) The carefully curated wine list features 20 French selections, and several European beers are available as well.
Favorite components of my nicely uncomplicated salade frisee were the accompanying slices of baguette perfectly toasted with mounds of goat cheese. Slivered almonds gave the salad a pleasing crunch, while the mustard vinaigrette helped to balance the slight natural bitterness of the frisee with the tartness of the goat cheese.
The Moules Marinieres were all that I had hoped they would be. Tender Carlsbad mussels were bathed in a garlicky white wine broth, and I ate way too many of the perfectly crisped fries, dipping them in the fragrant, tasty broth.
For my entree, I went with the daily special, a mammoth bowl of bouillabaisse. A big, sweetly succulent Maine
lobster claw topped a mound of mussels, clams, scallops and pieces of flaky cod, in a broth that had just enough of a zing of spiciness to up the interest factor to yummers plus. The portion was so large, that I made two more full meals out of my to-go bag leftovers.
Need you ask if I had dessert? It was a really tough choice between the crème bruleé, mousse au chocolat and tarte au poires. After much deliberation, I went with the crème bruleé, because I was just too full for the richness of the chocolate mousse, and my dining companion ordered the pear tart, so I was able to taste hers. Both were truly excellent—the crème bruleé's vanilla custard was silky and light, and the tart had a layer of delightful marzipan between the flaky pastry and the fresh pears.
Most entrees at La Bonne Table range in the mid $20s. The only disappointment (if you're not a carnivore): no vegetarian options on the regular menu. Open for dinner every night except Sunday, and offering patio dining, this romantic bistro is an ideal date-night go-to, or a lovely spot to enjoy your own company at the small bar. Sip a glass of wine, cognac or other digestif, and indulge in the fantasy of a stroll along the Seine on a moonlit Parisian night.
La Bonne Table, 3696 Fifth Ave., Hillcrest, 619.260.8039. labonnetablesd.com