Shop Talk with Tadashi Shoji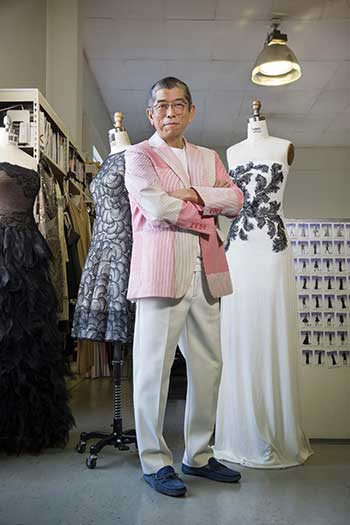 Fashion designer, Tadashi Shoji chats with us about his inspirations, aspirations and packing tips.
By Suzanne Ennis
For more than 30 years, Tadashi Shoji's namesake collection of special-occasion dresses has made women around the globe—Oscar winner Octavia Spencer, first lady Michelle Obama and countless wedding-party members among them—look and feel beautiful. In addition to his newly redesigned boutique in Costa Mesa and another due this fall in Doha, Qatar, the Japanese-born American designer has signature boutiques in Shanghai, Beijing, Jakarta and Las Vegas, and his designs are carried in more than 40 countries and 750 stores worldwide. Between trips to his offices in New York and Shanghai, Shoji sat down with Where at his Los Angeles headquarters to discuss his inspirations, aspirations and packing tips.
When did you know you wanted to be a designer?
I didn't plan to be a fashion designer. … I wanted to be an artist since I was a kid in Japan. But when I realized, "I can't make it in this world, in [this] art scene" … I ran away from Japan to the United States as a tourist. I ended up in junior college, Trade-Tech, in the fashion-design department. I had never sewn in my life. In the first semester, they were teaching about draping, and [I thought], "This is so interesting. This is sculpting! Fabric is sculpting on the woman's body." That hooked me.
What is your most memorable fashion moment?
When I started, maybe my second year or third year, so 30 years ago, Bullocks Wilshire department store [in downtown L.A.] was the best department store at that time. And that year, for the Christmas show, in the six windows facing Wilshire Boulevard, they put all my dresses. It was a highlight.
What was the inspiration behind your fall 2015 collection?
The beauty of flying. But I didn't want to do the regular uniform, the goggles. It's about flying and the feather and bird, all those mixing. Mechanical flying is very interesting. So we started collecting all the pictures and inspiration. That part is fun for me. … But usually, when our regular customers have to go to a cocktail party or black-tie [event] or wedding, they don't care about my inspiration. When [a customer] puts on a dress and feels so pretty and so comfortable, that is most important.
Who is your muse?
Everyday women. Our core customer is [in her] late 20s to late 40s, very self-confident. Working women or, like a soccer mom, very busy raising kids. The kind of person who loves life.
What pieces are key for fall?
We do a lot of capes. And the capelet dress. Always very packable, easy to wear. [The dresses are] two-piece, so you can wear [the capelet] with pants, you can wear a jacket, or you can wear the miniskirt.
Do you think about travelers as you design?
Oh, definitely, because I never check things. In the airport, carrying a bag of heavy stuff is too much. … You have to edit. Edit out—same thing we do [for a] fashion show. Women especially.
Do you have any other packing tips?
It's easiest if you do a theme of color. If you do black, then maybe accessorize with scarves or shoes in a different color. In the summertime, it's all white, or blue and white. Color coordinate, and you can interchange all the occasions, all the items. Also, if [you're taking] a 10-hour flight [over] the Pacific Ocean, don't wear high heels. Wear flats. Flat is in!
When choosing shoes for travel, how do you bridge the gap between style and comfort?
[My priority is] definitely comfort. But, you know, I do bright color, this kind of driver slip-on shoes. My favorite pair is red. Red or blue. Even in black attire, if you wear red shoes, it gives you an "I'm dressed up" kind of feeling.
What essential item should be in a chic traveler's suitcase?
One time, when I was coming back from New York to Los Angeles, this guy [was wrapped] in his own cashmere throw. Oh, that is so chichi, so cool, I think!
What are the perfect ingredients for your suitcase?
Driver slip-on shoes, drawstring pants and then T-shirts and a cardigan in the summertime. And in the wintertime, a down jacket. Everything you can smash, make tight and, still, it's OK, doesn't wrinkle.
If you forgot your overnight bag, where would you shop?
I like Ralph Lauren stuff. Like cashmere sweater, and the cardigan, bright color. Even in China, I try to look for the less expensive cashmere stuff, but his stuff is the best. So, T-shirts and polo shirts, bright color polo shirts, those kind of stuff I can buy at Ralph Lauren.
Other than clothing, is there any essential item with which you always travel?
Not only during travel, but definitely the iPhone and iPad. One time I lost my iPad in the airplane. I was panicked that I couldn't get it back. I also lost my iPhone one time. If I don't have that one, I can't survive!
How are your Costa Mesa and Asian boutiques different?
We have two boutiques in China. Here, it is people who are from Los Angeles or San Diego and tourists from all over the world coming to our stores. In China, it's Chinese people—that's it. And they're rich people—they don't care about the price, and they do special order. If they like it, they say, "I want to do this same style, what color is available? Can I order three different, four different colors?" There, we are catering to special customers for the custom-made kind of feeling. Here, it's for everybody, very democratically equal. Completely different customer service.
I imagine your own relationship with your customers is different, too.
Oh, yes. If I'm not there, they don't come sometimes! When I go back, then they make appointment and they come.
How else is the shopping experience different in China and the U.S.?
I have been in our business in China for, like, 15 years. Fifteen years ago and now, it's completely different. Now, if you're blindfolded, put in Shanghai on some street, open your eyes [and I ask], "Where is this, can you tell me?" You can't tell me. Maybe if you hear Chinese, then [you know you're] maybe in China someplace.… In Shanghai, especially, every 30 blocks is a luxury shopping mall. Who is shopping, I don't know! It's unbelievable. Not like here. In Beverly Hills and Costa Mesa, you have that kind of luxury shopping mall, but not like Shanghai—there, maybe seven, eight shopping malls, and you can walk from one to another in 10, 15 minutes…. It's just insane.
How does living in L.A. influence your designs?
Color. If I lived in New York, maybe my color would be more dark. [There,] everybody is wearing all black, even now. [With our] lifestyle, in this weather, I think color is much prettier. I think it's maybe my Japanese-ness, plus living in California, that's influencing me.
If you could wake up tomorrow in any part of the world, where would it be?
Morocco. … I did a Moorish theme one time, so maybe I should go there.
What's next for you as a designer?
Branching out all different lines. Like now, we are coming out with the mini-Tadashi Shoji girls' line for 2 years to 10 years old. Occasion dresses, like wedding-flower-girl or party dresses.
Is there anyone you would like to dress but haven't?
When [my publicist] came to work for us last year … I told her, "You have to dress Michelle Obama." And it happened! So maybe I can dress a queen of England. [Laughs.] Maybe Princess Kate. I think maybe the next dream is if she wears our dresses!
Around Southern California
Where do you eat for a special occasion?
My favorite Chinese restaurant here in the United States is Din Tai Fung. It's opened in South Coast Plaza. They started in Taiwan. When I'm in Shanghai or Beijing, I go. Very light dim sum, xiao long bao—it's a bun, juicy inside. When you bite, juice is coming out. Truffle xiao long bao is the best. That is so good!
Where do you shop for men's clothing in L.A., and what do you like best there?
Barneys or Neiman [Marcus] or Ralph Lauren on Rodeo. Or, [for] shoes, Bottega Veneta, Barneys or Tod's.
Where do you eat for a special occasion in L.A.?
I live in Pasadena, where I go to [an] Italian restaurant, Gale's. It's always crowded and always good food. … If it's Korean barbecue, I go to Vermont [Avenue] and Olympic [Boulevard]—Park's Barbeque grill. … If it's Japanese wagyu, it's a very hidden, weird place, Totoraku. It's not listed—everything [is] referred.
What are your favorite arts venues in L.A., and why?
Nearby my house is the Norton Simon Museum. The garden is beautiful, [as is] the Southeast Asian collection. Farther down is Pacific Asia Museum, a very interesting small museum. And the Huntington Library. You can spend almost half a day in the museum and the library and also the rose garden and restaurant. And then Getty Museum, that's beautiful. And MOCA and LACMA, as usual. People say L.A. doesn't have culture, but we have tons!
What do you appreciate most about Orange County?
It's real. Ethnically, it's all mixed and all different—Little Saigon, and all those kinds of places, and then also Newport Beach. [In Los Angeles] there's a Hollywood mentality. I don't want that kind of mentality, so I live in Pasadena. Orange County is very rich, chichi people, but it's also very open … accepting all different people.
Shop
Find Tadashi Shoji at the South Coast Plaza Tadashi Shoji signature boutique. Other retailers in Southern California include Bloomingdale's at Beverly Center and Fashion Valley Mall, Macy's at Beverly Center; Neiman Marcus, Saks Fifth Avenue, and Nordstrom at Santa Monica Place, The Grove and Westfield UTC.