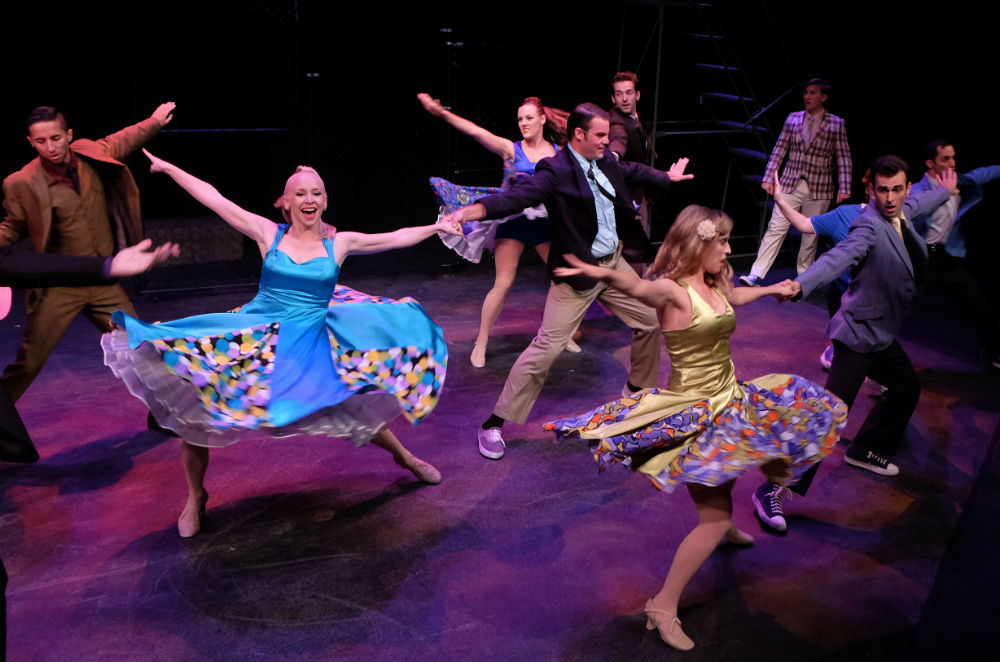 By Pat Launer.
Indeed, it is a Silver Jubilee. Revered troupe Lamb's Players Theatre is celebrating the 25th year in its beautiful Coronado home with a cabaret production whimsically called A Jewel in the Crown City.
The title riffs on the phrase "jewel in the crown," which initially referred to the place of India in the British Empire, but has come to mean something of great value among other valuable things.
And there's a good deal of value in Coronado, whose moniker, "The Crown City," dates back to 1602, when Sebastián Vizcaíno drew its first map, and gave the island its name: coronado means "crowned one" in Spanish.
Lamb's Players Theatre was founded in Minnesota in 1971. After moving to San Diego in 1976, the company spent its first few years in less-than-ideal locations in El Cajon and National City. Then, in 1994, they took over the 1917 Spreckels Building on Orange Avenue, and created an attractive home base.
The theater was initially intended to be a live performance space, says Lamb's Players Producing Artistic Director Robert Smyth. But from the 1920s to early '50s, it served as a movie theater, though it couldn't compete when the Village Theatre opened—with air conditioning. In 1952, the building was shut down.
"The city almost condemned it," says Smyth. "The marquee was torn down, and it was boarded up for storage. The building remained empty for 40 years. We pried it open and crawled back in. With a flashlight, I could see how big the room was. It originally had 600-800 seats. It was literally one of the seminal moments in my life. I said: 'This is phenomenal. We have to make it ours.' The new owner, based in Los Angeles, had cleaned up the outside and planned an inside mall, with apartments above."
Smyth and his wife of 34 years, Lamb's Associate Artistic Director Deborah Gilmour Smyth, still live above the theater in one of those apartments. Like 27 other couples, they met at Lamb's. A $3 million capital campaign helped the company gut the facility and build an attractive space with 348 steeply raked seats, so that no patron is more than seven rows from the stage. While many of the other major theaters in town pay little or no rent because their building belongs to the city or state, Lambs' rental tab is $350,000 a year.
"I'm not complaining," Smyth concedes. "But, if I didn't have that rent to worry about, my life could be so much easier."
As for the kind of work the company puts into the theater, Smyth says, "Our philosophy comes out of the Christian tradition. That doesn't mean we're proselytizing, or a religious entity. We don't write religious or political reasons to be. Our mission is 'Telling good stories well.' We're not sentimental people. We deal with a lot of rougher stuff thematically. But we hope that our choices help to improve life, society or community."
Over their 47 years in San Diego, Lamb's Players has produced shows in the Horton Grand Theatre, the Lyceum Theatre, the Hotel Del Coronado, the Avo Playhouse in Vista and the U.S. Grant Hotel downtown.
But the current celebration is all about their hugely successful 25 years in seaside Coronado, where they've produced 164 shows and, all told, 50 world premieres. In the past six years, says Smyth, "we've done phenomenally well, with multiple extended musicals like Fiddler on the Roof, Les Misérables, West Side Story and Once. The Lambs have a very loyal following, a $3.9 million annual budget, and they boast of hiring more San Diego-based actors than any other theater in town, and paying them the same wages as Actors' Equity Association performers.
"One of the things I love," Smyth adds proudly, "is that, at some point in our existence, someone has written: 'This is what Lamb's Players Theatre does best.' And they've said it about musicals, comedies, ensemble work and small dramas. That is the hugest compliment."
What continues to amaze him is the "range of work and amazing ability of the performers. When we started, people didn't think there was talent here in San Diego. But we've proven otherwise. We like to give the audience a balance, different flavors that will make them be impressed, intrigued and moved to thought. All that is part of the celebration."
The title of the 25th anniversary production, A Jewel in the Crown City, was Smyth's idea.
"A Jewel in the Crown City represents the idea that we are one of the—and the largest—gems of Coronado. I wanted to look at our relationship with Coronado over the years. We're making this a musical concert, featuring 25 of the most important songs from musicals we've done, or plays that feature music."
Each member of the cast of 14 powerful singers has performed in at least one show at Lamb's. "Some go way back," says Smyth, "and they represent different generations."
Three of the most senior Lamb's members—the Smyths and Associate Artistic Director (and resident playwright) Kerry Meads, who has penned the company's 16 Festival of Christmas scripts—will perform in the production. In their directorial capacity, they'll each be bringing pieces to the mix.
The evening, presented in two acts, will show, according to Smyth, "where we've come from, and where we are right now. It will be emotional and entertaining. I want someone who doesn't know us to be completely entertained, and our 30- to 40-year season ticket holders to remember fondly."
Some segments will feature "a little moment of medley," and others will spotlight Deborah's choral music. There will be solos, duets, chorus numbers, projections and photos.
Appropriately, the remainder of the Lamb's 2019 season is a mix of genres and shows, old and new.
First up is Chaps, "a quirky little musical piece we did 23 years ago. It takes place in the BBC studios during World War II, and we're describing it as 'Monty Python meets the Old West.'"
Next is a new dramatic adaptation of the 1985 Oscar-winning Danish film, Babette's Feast, which was based on a story by Isak Dinesen. The new version, which premiered off-Broadway last year, concerns a French cook given refuge in a rural Danish community, who finds a unique way to show her appreciation. "It's a story I love," says Smyth, "an immigrant story, which is also about race and gratitude."
In the summer, Mixtape returns (though it will be the show's first time in Coronado). The '80s musical pastiche has supplanted Boomers (that generation's musical revue) as the theater company's most requested show.
After that comes Ring Round the Moon, a funny and wise romantic adventure that looks at love and money. It was adapted by Christopher Fry in 1950, from Jean Anouilh's classic, Invitation to the Castle.
And then, as a special addition, Million Dollar Quartet, at the Avo Playhouse in Vista. The 2010 musical re-creates a 1964 recording session at the legendary Sun Studios in Memphis, that brought together early rock and country stars Elvis Presley, Johnny Cash, Carl Perkins and newcomer Jerry Lee Lewis. Right now, though, all the company's efforts, attention and prodigious talent are focused on A Jewel in the Crown City.
"I want people to go, 'Wow! That was fun,'" says Smyth. "'I want to come back and see it again!'"
A Jewel in the Crown City runs Jan. 11-Feb. 17 at Lamb's Players Theatre in Coronado. For tickets and info: lambsplayers.org.