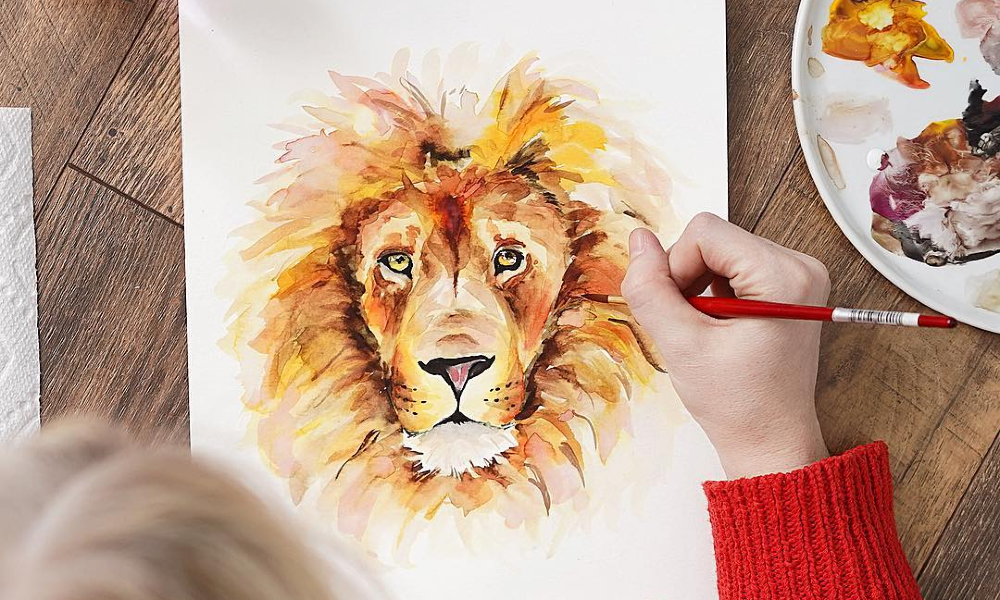 Live sound healing, Stay the F*ck Home Fest, LA Unbound's virtual dance classes, Stuck at Home Science and more … Here are some ways to keep busy and make the most out of your time at home. Stay safe and stay positive!
LIVESTREAM EVENTS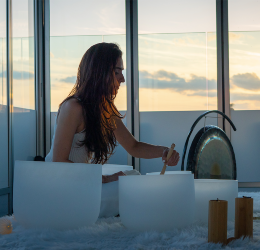 Live Sound Healing
March 25. More than ever, now is a perfect time to raise your energy and spirits with the ancient medicinal method of sound healing. Unwind to the peaceful and restorative vibrations of crystal bowls, symphonic gong, ocean drum and koshi chimes with certified sound healer Roxie. Her acoustic sound "concert" brings about nature's instinctive self-healing process within the body, creating a state of profound relaxation. 7 p.m. (PST). Free. Watch on your mobile device on Instagram live at @roxiesoundhealing. For more information about Roxie, visit roxiesoundhealing.com.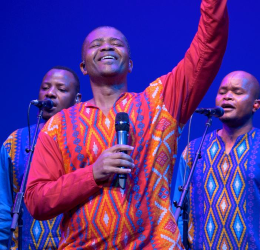 Ladysmith Black Mambazo 
March 26. Before returning to South Africa last week, Ladysmith Black Mambazo performed a special concert on UCLA's campus inside the empty Royce Hall. The UCLA Center for the Art of Performance recorded their performance with three camera operators and a small crew so that they could proudly share the private concert on-air and online for fans and music lovers to enjoy. 9 p.m. Watch on Facebook Live and YouTube Live. Hear on 89.9 FM KCRW.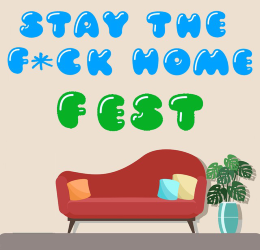 Stay the F*ck Home Fest
March 27. Sonicbids, CEG, Launch Global and Backline have teamed up to create a free virtual "festival" to showcase artists from around the country and the globe. Tune into the livestream to witness live performances by up-and-coming artists for a truly unique musical experience. While it is best that we all stay inside, "the show must go on(line)!" 7 p.m. (PST). Free with RSVP
STAY BUSY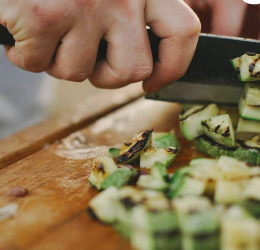 Avital's Remote Team-Building Culinary Experiences 
While working remotely, stay connected with your team with fun food-based activities. Create your own meal from home while being guided with instructions and tips from experienced chefs and restaurateurs via video chat. While you cook, blow off steam with your teammates by partaking in ice breakers, quirky culinary games and expert storytelling. Ingredients and materials will be sent to you in advance, so you won't have to brave the grocery store lines. 30-60 minutes. avitaltours.com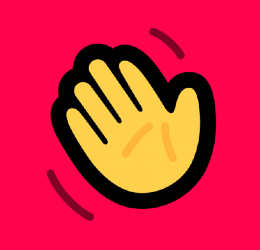 House Party
Although the thought of going weeks without seeing your friends seems daunting, the app House Party lets you have your own virtual game night over video chat. The most downloaded app during the recent social-distancing initiative, House Party offers games like Heads Up, Chips & Guac, Quick Draw and trivia. It holds up to eight players per game. Download now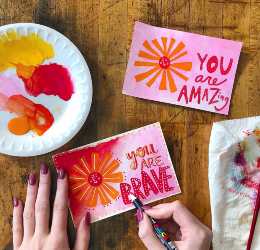 Let's Make Art
Perfect the art of watercolor, hand lettering and art journaling with lessons from experienced artists, all while creating colorful pieces you can proudly call your own. Order a project kit or sign up for a subscription box from Let's Make Art to get everything you need sent to your door. There are even special boxes available for kids! Complimentary video tutorials are available on its website to really get those creative juices flowing. letsmakeart.com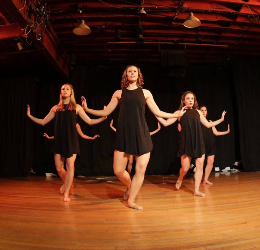 LA Unbound Dance Classes
There's officially no excuse not to polish your dance skills now. Every day, you can choose from dozens of LA Unbound's free live dance classes and participate from home. Whether you're a beginner or ready for something more advanced, you can learn dance styles like ballet, hip-hop, vogue, salsa, bachata, tap, afro-modern, contemporary jazz and more. Follow dance company LA Unbound on Facebook or Instagram to receive updates on the rotating daily class schedule.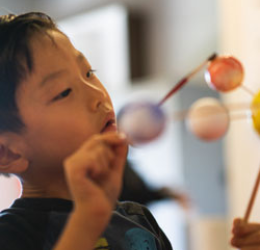 Stuck at Home Science
Continue your child's science learning with "Stuck at Home Science," available on the California Science Center's website. These educational activities are designed for families to explore, investigate and learn together without ever needing to leave the house. All activities use easy-to-find household supplies and are appropriate for a variety of ages. Discover "Stuck at Home Science" activities at californiasciencecenter.orgstuckathomescience.
BINGE-WATCH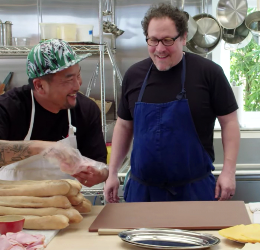 The Chef Show
While we can't dine out right now, we can support local restaurants in spirit. Kogi founder Roy Choi and director/actor Jon Favreau's The Chef Show travels across the country, but is full of SoCal love. See the duo prepare signature recipes with some of the region's hottest chefs, as well as celebrities like Gwyneth Paltrow and Seth Rogen. What's more, L.A. viewers can order takeout or delivery from many of the featured restaurants—Guerrilla Tacos and Pizzana are two of our top picks. All episodes of the Netflix original series are available on the streaming giant. netflix.com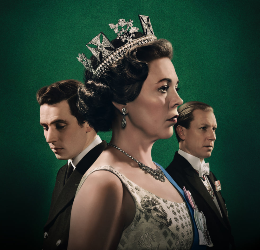 The Crown
Starring Claire Foy the first two seasons, and Oscar-winning actress Olivia Colman in the third, Netflix's gripping historical series centers on the reign, romance and rivalries of Queen Elizabeth II. It delivers high drama throughout, with sumptuous costumes and lavish design every bit as engaging as the acting; the storytelling only elevates, and episodes become ever more riveting as Britain enters the modern era. netflix.com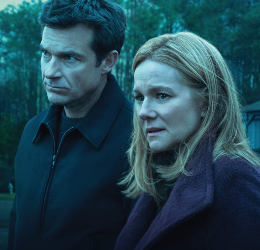 Ozark
How is it that Jason Bateman never seems to age? This is just one of many fascinating questions you'll ponder while watching Ozark. With its third season premiering March 27, now is the time to catch up on the Netflix crime/drama series, which shocks with plot twists and dark secrets. Financial planner Marty Byrde (Bateman) moves to the Missouri Ozarks with his wife, Wendy (Laura Linney), and two kids after a money-laundering scheme goes south, and he finds himself indebted to a Mexican drug lord in order to protect his family. The cliff-hangers from one episode to the next will have you on the edge of your couch. netflix.com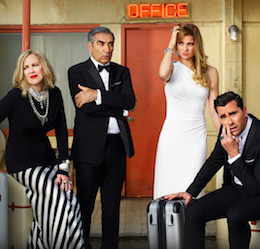 Schitt's Creek 
A wealthy family loses everything when they're defrauded by their business manager. Suddenly broke, the Rose family pack up and relocate to a small town named Schitt's Creek, their sole remaining asset that Johnny Rose (Eugene Levy) had gifted to his son (Daniel Levy) back in 1991 as a joke. Forced to live out of a motel, they slowly begin to accept their new lives and acclimate to their new town. netflix.com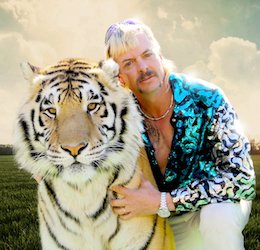 Tiger King: Murder, Mayhem and Madness 
Netflix's new seven-episode docuseries follows an eccentric group of people who have one thing in common: an obsession with big cats. The story is unlike any other, centered around Joseph Maldonado-Passage, better known as "Joe Exotic," a tiger breeder in Wynnewood, Oklahoma. Viewers will be introduced to a handful of large-cat owners in America, each as seemingly outlandish as the next. Factor in drug use, murder-for-hire plots, exploitation of both humans and animals, lawsuits and polygamy—and things keep getting weirder and weirder. netflix.com
BUSINESS SHOUTOUTS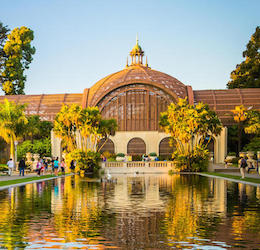 Balboa Park 
Though Balboa Park is temporarily closed, viewers can tune into Balboa Park TV to watch some amazing video content from the museums. Balboa Park also has a live chat team that is ready to engage and answer any questions. Additionally, the Explorer Pass website will soon have an activities page with puzzles, digital coloring pages and more. Stay tuned! culturalpartnership.org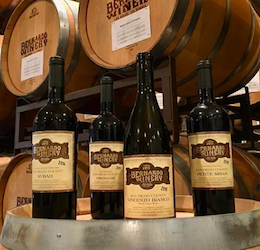 Bernardo Winery 
Bernardo Winery is offering $1 shipping to most states, and to locals. Those who purchase 6+ bottles of wine will receive 20% off, and purchases of 12+ bottles will receive a 25% discount. Call 858.487.1866 ext. 125 or email ross@bernardowinery.com to purchase. Wine list is available on the website. $1 shipping excludes:  AL, AK, AR, DE, IA, KY, MA, MS, MT, NH, NJ, ND, OK, SD, VA. Manzanita Coffee House is also taking online orders and offering free delivery. bernardowinery.com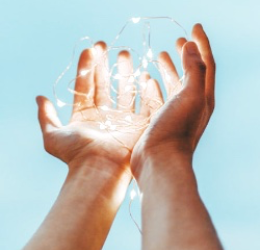 The Help Company 
The Help Company offers a variety of remote service options to assist you during this unprecedented time. There are well-vetted assistants to help with errands and organization, as well as drop-off chefs who will deliver delicious meals to your doorstep. Hire tutors who have developed remote systems for any subject (including test prep) using Zoom, or house managers who can help you craft a comprehensive household manual.  For employers whose job is deemed "essential" under the executive orders, the Help Company can offer top-notch child care solutions. Email lajobs@thehelpcompany.com for more information.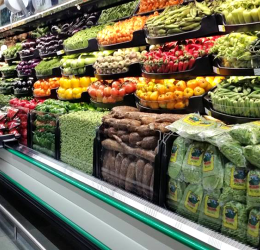 Vallarta Markets Exclusive Early Hours
While the lockdown is stressful for everyone, it is astronomically riskier for those with weaker immune systems to go out in public. To make things easier for people who are more vulnerable to the virus, Vallarta Supermarkets are opening an hour early to accommodate seniors (65 years and older), pregnant women and those with disabilities. 7-8 a.m. vallartasupermarkets.com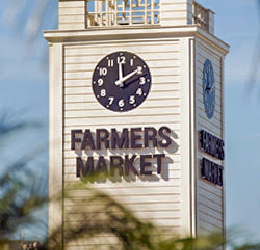 The Original Farmers Market
The Original Farmers Market at Third and Fairfax is open! Their grocers are open and stocked with essentials, and many restaurants have convenient family packs and meals to go. You can order online, too. Visit FarmersMarketLA.com/delivery for more details, and visit the website for regular updates. Free parking. M-Sa 9 a.m.- 6 p.m.; Su 10 a.m.- 6 p.m. 6333 W. 3rd St., L.A., 323.933.9211, farmersmarketla.com
Photos: Let's Make Art courtesy @letsgomakeart/Facebook. Live Sound Healing courtesy Roxie Sound Healing. Ladysmith Black Mambazo courtesy UCLA. Stay the F*ck Home Fest courtesy Stay the F*ck Home Fest. Avital's Remote Team-Building Culinary Experiences courtesy Avital. House Party courtesy @houseparty/Facebook. LA Unbound Dance Classes courtesy @LaUnbound/Facebook. Stuck at Home Science courtesy the California Science Center. The Chef Show courtesy Netflix. The Crown courtesy Netflix. Ozark courtesy Netflix. Schitt's Creek courtesy Netflix. Tiger King courtesy Netflix. Balboa Park courtesy Jon Bilous/Alamy Stock Photo. Bernardo Winery courtesy Bernardo Winery. Vallarta Markets Exclusive Early Hours courtesy @vallarta.supermarkets/Facebook. The Original Farmers Market courtesy the Original Farmers Market LA.