Get Fit at Studio Barre
Why wait for the New Year to start a fitness routine? We're getting fit before the holidays with San Diego-based Studio Barre.
By Lisa Kelley
I'm someone with very little sense of balance and even less coordination, so to say that a little hesitation and personal doubt accompanied me to my first class at Studio Barre is an understatement.
Like many of you, I'm typically more at home in my running shoes and headphones, hitting the pavement on a jog around San Diego, than I would be pointing my toes in a dance studio. However, to pursue a more balanced fitness routine, (and fit into my LBD for holiday parties) it was definitely time to add in some strength and resistance training.
Enter Studio Barre. With four locations across San Diego offering classes all day long, it's easy to fit into your schedule. The concept of barre focuses on building strength, improving posture and creating a dancer-like physique with movements inspired by ballet, yoga, pilates and dance. Classes utilize little or no workout equipment focusing primarily on resistance training. The key is tricking your body, according to founder Shannon Higgins, "Cross training strength and resistance training with your cardio workouts leads to muscle confusion (a good thing). The more the muscles have to work, the more they change."
Higgins began the company in 2012 with the flagship studio in La Costa, where she still actively teaches. Her background in professional ballet and as a certified personal trainer gave her the perfect platform to turn bring together her passions for dance and fitness, so she left her career in marketing to develop her own boutique fitness brand.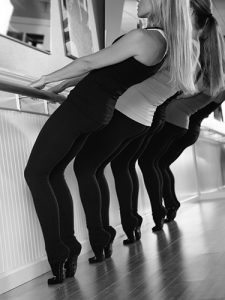 At my first class, despite 6 a.m. start time (and no time for my coffee to absorb), the brightly-lit, yellow-floral wallpapered studio helped me open my eyes enough to grab a mat, a resistance band and a couple barbells. Instructors helped demonstrate, critique and correct my posture, making sure I was maximizing my workout. The moves aggressively target specific muscle groups, and you can even modify them for ease or more challenging workout. Whether backing off the weight or increasing the challenge, you're bound to feel the burn (as I quickly discovered)! Attending classes regularly helps participants get a feel for the moves, but don't worry about plateauing—the choreography is regularly updated, offering a fresh workout routine to keep off the impending Christmas cookie bulge.
San Diego Studio Barre Locations
Carmel Valley: 7845 Highland Village Place, San Diego, 858.365.7169
Mission Hills: 321 W. Washington St., San Diego, 619.821.2840
Bird Rock (La Jolla): 5705 La Jolla Blvd., La Jolla, 858.459.1900
La Costa: 7720 El Camino Real, Carlsbad, 760.633.2243