North County San Diego Heats Up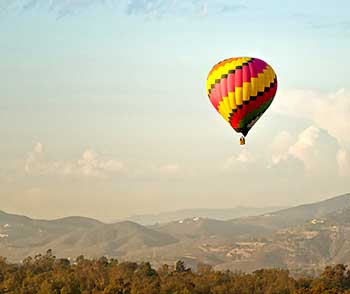 Explore the great outdoors of North County San Diego like a local. Since the weather's always awesome, spending time outside is always a favorite recreational activity in San Diego!
By Sarah Daoust
San Diego's North County has it all: idyllic beaches, innovative dining and dynamic cultural attractions. Our favorite way to enjoy this diverse landscape—especially during the warmer weather—is outside.
In our guide to North County's great outdoors, we present a few of our favorite ways to soak up the sunshine—from restaurants with a view to unique desert escapes to croquet in Rancho Santa Fe. Happy exploring … and don't forget the sunscreen.
Eyes On Oceanside
When exploring North County's outdoor gems, be sure to set your sights on Oceanside, the quaint coastal city rich in surf culture, the arts and postcard-worthy ocean views. In the heart of downtown Oceanside sits the new LEED-certified SpringHill Suites Oceanside—a surf-inspired, all-suite hotel with prime sea views at every turn. Just a 30-second walk to the beach, the property boasts such stunning outdoor spaces as its open fire pit area highlighted by a succulent-adorned living wall at the hotel's entry, a tranquil view deck with fireplace and abundant lounge-style seating, and a stunning pool deck with unobstructed views of the Pacific.
Nearby, make time to visit the iconic, 1,954-foot-long Oceanside Pier—first built in 1888—where friendly pelicans flock (some even have names), locals fish off its wooden sides, and surfers hang ten all around. The Junior Seau Amphitheatre at the foot of the pier hosts concerts year-round, while the '50s-style Ruby's Diner at the pier's end serves up classic burgers and shakes.
Dining with a View
North County is home to dozens of eateries with prime outdoor views. As we couldn't possibly pick them all, we chose a couple must-visits: one new restaurant and one new-again locals' favorite. At the new Hello Betty Fish House, located next door to the SpringHill Suites Oceanside, the diverse menu focuses on Baja-style seafood; while the expansive ocean-view terrace calls for lazy afternoons spent lounging with house-made ceviche, margaritas and friends. Don't miss the fresh Hamachi crudo and Baja fish tacos with house-made pico de gallo, shredded cabbage and crema on locally made corn tortillas.
Down in Del Mar, longstanding outpost Pacifica Del Mar—one of North County's best-kept secrets—has completely overhauled its happy hour menu, marking the coastal seafood restaurant's biggest change in a decade. Its Ocean Bar now offers a daily happy hour from 4 to 6:30 p.m. and all night on Sundays. Guests can enjoy 50 percent off on all small bites—such as lobster pretzel sliders, pulled pork tacos and goat cheese risotto arancini—plus discounted beers, cocktails and wine. And ocean views abound at Pacifica, including at its casual dining component, Breeze Café, which opens to a sun-filled patio overlooking brilliant blue waters.
Horsing Around
Playing around in North County means it's time to pony up. In summer, enjoy a season of equestrian polo at its finest at San Diego Polo Club in Rancho Santa Fe—encompassing five world-class polo fields across 80 glorious acres. With more than 25,000 spectators each year and averaging 1,000 fans per week, polo season begins with the fashionable Opening Day on June 1 and continues with polo matches presented to the public each Sunday through Sept. 28.
At Del Mar Racetrack, the first stretch of a new double season of thoroughbred horseracing begins with Opening Day on July 17 and continues through Sept. 3 (with a second season starting in November). Splurge and get gussied up for an elegant afternoon at the Turf Club, or attend a Four O'Clock Friday race and stay for a live music performance by headlining musicians as part of the track's summer concert series.
Artsy in Encinitas
Inside the architecturally stunning Lux Art Institute, guests can view not only completed art master-pieces but also the artistic process firsthand via its acclaimed artist residency program—featuring a changing lineup of internationally recognized artists who work in a live studio environment. Outside, Lux has expanded its experience with its innovative new Education Pavilion—nestled on a 6-acre site overlooking the San Elijo Lagoon and surrounded by a wildlife preserve that stretches all the way to the Pacific Ocean. The 7,000-square-foot building features four large classrooms, one of which is large enough to hold 100 people for conferences, lectures and film screenings; an artist's workshop; a digital lounge; a tiered amphitheater; and several spacious, 1-acre gardens landscaped for events, concerts and outdoor art classes. Lux has made the great outdoors a true work of art.
Soaring Heights
One of the best ways to explore and enjoy North County's scenic landscape is from the sky, specifically with an exhilarating hot air balloon ride. A handful of outfits specialize in flights that skim the magnificent Del Mar coastline at sunset—most offering one-hour packages that include a bottle of Champagne, wine or sparkling cider per couple—chartered by FAA-certified pilots. Popular local companies include Magical Adventure Balloon Rides, California Dreamin' and Panda-Air-Bear, known for its eye-catching panda-head balloons dotting the sky. Check their websites for special sales and seasonal packages.
Croquet, Anyone?
Considered the new "it" leisure activity of summer, croquet is making a comeback. What better backdrop for such a refined (and family-friendly) game than the rolling, bougainvillea-covered hills of exclusive Rancho Santa Fe? At Rancho Valencia—a Forbes five-star luxury resort and recent recipient of a $30 million renovation—an impeccably manicured, 8,400-square-foot croquet lawn sits nestled among 45 lush acres of gardens, olive groves and towering palm and oak trees. Use of croquet equipment is complimentary for guests. Flat-soled shoes are required.
Over at The Inn at Rancho Santa Fe, which recently underwent a $12 million renovation, croquet is a much-loved tradition among area residents and has returned for select dates throughout the summer. For $25 per person, locals and guests can learn from a professional croquet player on the property's main lawn, plus enjoy light refreshments. Look the part by donning traditional croquet attire; think crisp whites.
Desert Dreams
One of San Diego's most adventure-rich destinations for those looking to truly become one with nature is Anza-Borrego Desert State Park, located in the county's furthest northeast stretches—approximately 60 miles due east of Escondido. True, the desert isn't the first place to come to mind when one thinks of North County, but if you're looking for a trek that's truly off the beaten path, this gem promises a memorable excursion and unparalleled sightseeing. The largest desert park and second largest state park in the U.S., Anza-Borrego spans more than 650,000 acres of hiking and biking trails, wilderness, historic landmarks, natural preserves, paleontological sites, more than 4,500 cultural sites, campgrounds, canyons and caves. History buffs will literally have a field day here, as the park houses five locales on the National Register of Historic Places, and some of the rocks found on site are more than 470 million years old. Jaw-dropping views can be found at every turn, including the stark Borrego Badlands, Font's Point and the best stargazing in all of Southern California at nighttime.