Sip Summer Cocktails In San Diego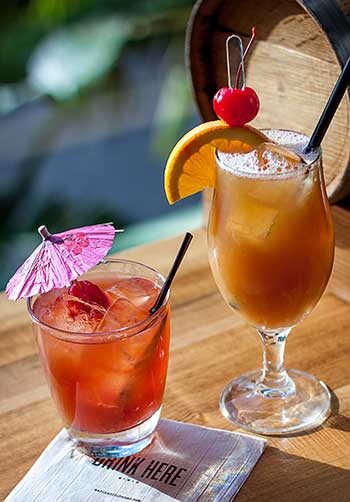 Drink in San Diego with our guide to the season's most popular cocktails. When it comes to awesome ways to spend an evening in San Diego, sipping a delicious cocktail in one of the city's fabulous night clubs definitely tops the list!
By Sarah Daoust
Finding the perfect summer cocktail—one that is refreshing, delicious and distinctive—is no small feat, but certainly a fun one. We rounded up our favorites from a diverse mix of the city's top bars and restaurants known for making mixology a true art form. Cheers to whetting your whistle with the hottest libations of the season, no matter your mood.
The chic hole in the wall for cool cats . . .
The cat's out of the bag in East Village. Cat Eye Club is a cozy, 1960s-reminiscent, Chicago-style cocktail den that is straight out of a scene from Mad Men. It's also one of the very few nightspots downtown that enforces a dress code (no baggy clothes or bad attitudes), so dress to impress. The low-lit space is intimate and sexy, complete with a red bar lined with purple suede bucket stools and Motown tunes playing in the background.
Our favorite drinks for summer at Cat Eye Club include the Tourmaline Typhoon, made with Ballast Point Three Sheets aged rum, Ballast Point Three Sheets white rum, guava purée and lemon juice; and the Scorpion Bowl, made with El Dorado light rum, Maison Rouge VSOP cognac, orange juice, pineapple, lemon and Orgeat syrup. 370 Seventh Ave., East Village, 619.330.9509
The true seafood lovers' new home away from home . . .
Easily San Diego's most anticipated new eatery of the year, Ironside Fish & Oyster—a new raw bar, bakery and restaurant—is the most ambitious culinary-focused foray to date by CH Projects. (The same team opened Craft & Commerce, Neighborhood, Underbelly, Polite Provisions and Noble Experiment.) Think of Ironside as a steampunk version of New York's famous Balthazar Restaurant—featuring custom, plasma-cut barstools; copper tabletops; a 14-foot-tall, overarching steel bar trellis; five massive floor-to-ceiling steel flip doors at the front of the building; and a 15-foot marble countertop near the open-air kitchen that doubles as a communal table. The overall effect is urban, nostalgic and nautical.
At Ironside, it's all about the oysters, baby. Its "Cocktails on the Half Shell" menu lets you have the best of both worlds, pairing one of three distinctive cocktails with a different oyster. Our favorite is the Golden Rivet: Fino sherry combined with Cocchi Americano and Champagne. It's a cocktail with depth that opens up the flavor of the oyster, but also just light enough to sip during summer. 1654 India St., Little Italy, 619.269.3033
The casual-cool marina haunt . . .
A modern, tropical escape awaits inside Marina Kitchen—from its sleek bar with views of exotic foliage, to its warm dining area overlooking waterfalls, to its outdoor waterfront porch perched at the marina's edge. A contemporary comfort food menu features hearty dishes such as turkey potpie, truffled mac 'n' cheese and pulled chicken noodle soup.
Cocktails flow like waves at the Marina Kitchen bar this summer. Our must-tries: the Barrel Aged Singapore Sling, made with dry gin, cherry liqueur, Benedictine and bitters—all of which are combined and aged in charred American oak barrels, then finished with splashes of lime juice and soda water; and the MK Hurricane, in which grenadine and passion fruit syrup are combined with fresh pineapple and orange juices, Bacardi light rum and a whisper of yellow chartreuse. San Diego Marriott Marquis & Marina, 333 W. Harbor Drive, downtown, 619.699.8222
The Del Mar darling always upping the ante . . .
Matt Gordon's happenin' Del Mar brasserie Sea & Smoke has hit a polished stride with its lively bar scene and modern spin on American cuisine; think responsibly sourced meat, seafood and veggie dishes cooked up in the restaurant's central wood-fired oven. He also recently launched a new breakfast menu served daily. Popular dishes include the Croque Ma-Daaaamn (yes, that's how he spells it) made with house brioche, Swiss cheese, cured ham, Mornay sauce and locally sourced eggs; and the cinnamon roll sandwich made with ham, bacon, cheddar cheese and a fried egg that are sandwiched between two cinnamon rolls, along with a side of maple syrup.
Sea & Smoke's patio, nestled in a charming courtyard surrounded by Flower Hill Promenade's sophisticated boutiques, is perfect for enjoying the summer weather with a cocktail. We suggest the Yuzu My Sweet Heart made with silver tequila, crushed cilantro, yuzu syrup and lime. 2690 Via de la Valle, Del Mar, 858.925.8212
The mother ship of no-joke craft cocktails . . .
Head to Polite Provisions when you want a stiff, expertly made cocktail and nothing else … because stiff, expertly made cocktails are all they serve. Actually, that's not true; they also serve milkshakes, egg creams, malts, handcrafted sodas and beer cocktails. The bar channels nostalgic Main Street America, where people once gathered at the local drugstore to catch up … and in this case, to drink medicinally inspired cocktails.
This summer, try Polite Provisions' tiki-themed concoction called the Hawaiian Sophie. It's a beer and booze cocktail made with white rum, lemon, Gran Classico, house-made grenadine and framboise. 4696 30th St., Normal Heights, 619.677.3784
The P.B. hang where everyone knows your dog's name . . .
Pacific Beach needs more places like The Patio on Lamont Street—a cozy, casual hangout with subtle style, where the fare is unpretentious yet farm-to-table fresh, and the craft beer and wine list is on point … oh, and where your dog is treated like family. Yes, pets are welcome on its sun-splashed patio, which is best enjoyed at sunset and during weekend brunch (try the smoked pork belly burrito).
A perfect warm-weather libation, The Patio's Memories of Maui cocktail consists of blueberry vodka, lime, mint, muddled blueberry and soda water. And bottomless water bowls for Fido are on the house. 4445 Lamont St., Pacific Beach, 858.412.4648