In the midst of Little Italy's hot dining scene, Monello—"naughty little brother" to Bencotto Italian Kitchen—is hitting all the right notes with housemade pastas, grilled octopus and Wednesdays on Wheel.
Monello has a tough reputation to live up to as owners Valentina DiPietro and Guido Nistri first successfully launched Bencotto Italian Kitchen next door. Monello's name translates to an endearing Italian term, "naughty little boy" and while it shares a kitchen with big brother Bencotto, the restaurant focuses more on authentic, upscale Milanese street food.
The restaurant is well known for its housemade organic pastas, as well as its extensive wine library, and entrees such as the quasi-legendary grilled octopus. The restaurant and bar's chic interior blends Old World Italian with a modern, streamlined style and guests can also enjoy San Diego's beautiful weather for patio dining.
At Monello's aperitivo experience, it offers three complimentary small plates or "tastes from the cook" with the purchase of a cocktail from 4-7 p.m.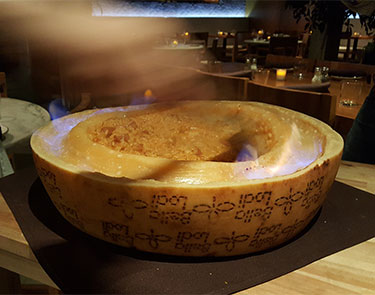 Diners can also enjoy a midweek performance by ordering risotto on Wednesday evenings. Wednesdays on Wheel introduces a unique risotto each week. The fun starts when a 40-lb. half-wheel of raspadura parmesan cheese rolls to the table and the chef stirs the risotto inside as the cheese melts to a creamy perfection. Recent risottos have included black truffle risotto, risotto alla argosta (lobster risotto) and frutti di mare (fruit of the sea). The dish is large enough to share.
750 W. Fir St., Little Italy, 619.501.0030. lovemonello.com