New Brunches In San Diego
As the weather is starting to heat up, San Diego's restaurants are waking up a bit earlier on the weekends. Check out some of the county's newest a.m. offerings.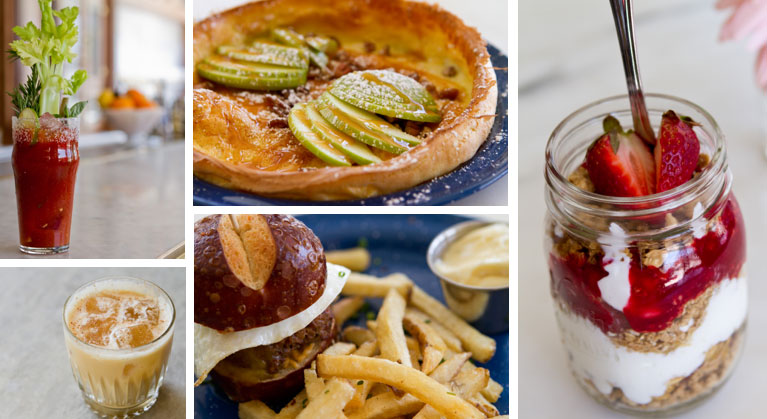 Bertrand at Mister A's
For the first time in its storied 48 years, Bankers Hill's landmark rooftop is serving a regular weekend brunch. The menu includes both innovative and traditional breakfast dishes created by longtime Chef de Cuisine Stéphane Voitzwinkler. Enjoy savory options such as pork belly and sweet potato hash, veal poutine, and chicken and waffles, and sweet treats like blueberry pancakes and Hawaiian Bread French toast. A range of craft cocktails will also be available. Hand-mixed, shaken and stirred selections include a variety of Bloody Marys, while other breakfast beverages will feature coffee, fresh fruit and vegetables as ingredient. Saturday and Sunday from 10 a.m.-2 p.m. 2550 Fifth Avenue Twelfth Floor, San Diego. 619.239.1377. bertrandatmisteras.com/menus/brunch
Chaplos
One of downtown's newer addition just launched a brunch selection of American and Mexican favorites. Dubbed B.O.Y.B, or "build your own brunch," Chaplos' new morning offerings include not only traditional brunch items such as pancakes, waffles and made-to-order eggs and omelets, but also dishes with a traditional Mexican flair such as Chilaquiles and a fresh ceviche bar. Imbibe with the Chaplos Bloody Mary or try a pitcher of spiked milkshakes in lieu of the usual mimosas. $27/pp, $12/child. Saturday and Sunday from 9 a.m.-3 p.m. 925 B Street, Suite 101, San Diego. 619.798.3888. chaplos.com
Cusp
Cusp Dining & Drinks has revamped its brunch experience with new dishes and fresh brunch punches. The new menu from Chef Lockhart includes items such as a guacamole grilled cheese with bacon and aged white cheddar on jalapeno bread, a crispy pork belly panini with pancetta cream and pickled red onion, and an open-faced pastrami and egg melt. Bar manager Nate Howell's brunch punches are an assortment of original concoctions perfect for any weekend afternoon. Try the 11th Floor Fizz, a combination of chamomile tequila, citrus cordial, soda and mint, in Cusp's 11th floor dining room. Punches serve four, so be sure to bring friends. Saturday and Sunday from 8 a.m.-2:30 p.m. 7955 La Jolla Shores Drive, La Jolla. 858.551.3620. cusprestaurant.com
The Grant Grill
Brunch might not be a new concept at the US Grant hotel's signature restaurant, but the build-your-own waffle bar sure is. Traditional or exotic, healthy or indulgent, sweet or savory—select a citrus, banana pecan, ricotta or traditional waffle then drizzle, spoon, spread and sprinkle it to your heart's content at the toppings bar. With dozens of toppings to choose from, the flavor combinations are almost as endless as the waffles at this bottomless brunch. Need a little inspiration? How about a ricotta waffle with fried chicken, herb gravy and apricot-cranberry chutney or a traditional waffle with maple syrup, duck confit hash and pecan crumble? Pair your perfect waffle with one of the Grant Grill's new breakfast cocktails: the maple Manhattan and the passion fruit screwdriver. $26/pp. Add bottomless mimosas or champagne for an additional $5. Sundays from 9 a.m.-2 p.m. The Grant Grill in The U.S. Grant, 326 Broadway, San Diego. 619.744.2077. grantgrill.com
Monello
Mornings in Little Italy are a bit more delicious thanks to the new breakfast menu at Monello. Meaning "naughty little brother," the sister restaurant of Bencotto now offers a full dine-in menu along with a notable to-go selection of pastries and breakfast paninis all made in-house. The authentic menu combines traditional sweet flavors from Milan and savory tastes from the U.S. with dishes such as custard-filled bomboloni, and eggs benedict with prosciutto and pesto hollandaise. Of course, everything pairs perfectly with Italy's number-one coffee, Illy Caffe. In cohesion with the nearby farmer's market, brunch items are made with locally sourced ingredients. Don't miss the Rossini, a Prosecco cocktail made with strawberry and basil puree Available Saturday and Sunday from 10 a.m.-3 p.m. 750 West Fir Street, Suite 102-B, Little Italy. 619.501.0030. lovemonello.com
Soda & Swine and Polite Provisions
True to its meatball and pie shop essence, Soda & Swine's new brunch offers ten palate pleasers. Varying from savory to sweet, new breakfast creations include the breakfast slider; biscuits and chorizo gravy; German-inspired Bircher Muesli with apples, whipped cream, berries and honey; and the three oven-baked pancakes with lemon, sugar and maple syrup. Soda & Swine's connecting bar, Polite Provisions, is jumping on the brunch bandwagon as well, offering a world of cocktails beyond cliché Bloody Marys or mimosas. The best part? During brunch hours, the sister establishments are teaming up seamlessly to offer full table service of Soda & Swine eats while inside Polite Provisions. Saturday and Sunday from 10 a.m.-2 p.m. Polite Provisions, 4696 30th Ave, San Diego, 619.677.DRUG, politeprovisions.com. Soda & Swine, 2943 Adams Ave., San Diego, 619.269.SODA, sodaandswine.com.
Spike Africa's Fresh Fish Bar & Grill
Spike Africa's is waking up the sleepy corner of Broadway and Fourth Avenue with its saucy new brunch. The mid-morning menu features sweet and savory fare from Chef Paul Rinaudo, including the OMG cinnamon sticky buns—a tray of six gooey, housemade rolls glazed with cream cheese hand-whipped topping—and Spike's griddled brioche French toast with apricot compote and blackberries. Savory "galley" fare includes chicken Chilaquiles, prepared the traditional way with tortillas, cojita cheese, guajillo chile salsa and topped with eggs any style. Spike Africa's is raising spirits during brunch as well with a variety of sippers from their Wake Up Call section. Saturday and Sunday from 10 a.m.-3:30 p.m. 411 Broadway, San Diego. 619.795.3800. spikeafricas.com
100 Wines
Pistachio apricot baklava milkshakes, Croque Madames and osso buco eggs Bendict are just a few of the delectable breakfast items on Executive Chef Katherine Humphus' new Sunday brunch menu at 100 Wines. Humphus continues her social dining concept with a plethora of appetizers to share, which pays homage to brunch's roots as a sociable meal. Sunday Funday's in Hillcrest can now start a little earlier at the Mediterranean-inspired bistro, where people-watching is prime while dining on the front alfresco patio. Guests can also bask in the sun on the back porch with a Beau Bellini, made with fresh peach puree, schnapps and champagne. Sunday from 10 a.m.-2 p.m. 1027 University Avenue, San Diego. 619-491-0100. 100wineshillcrest.com