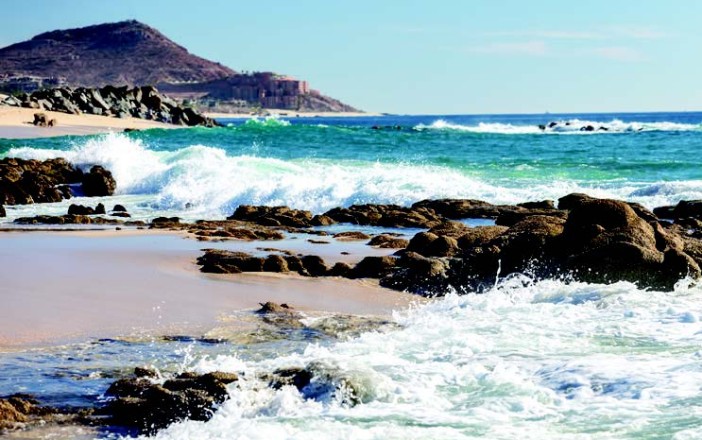 A "Cabo getaway" is often synonymous with "party time," in which case one is likely referring to a trip to Cabo San Lucas. The bustling resort city plunked on Baja's southern tip—where the Pacific Ocean and Sea of Cortez collide—is a playground for those seeking sun, outdoor fun and scintillating nightlife.
Yet, a Cabo getaway can also mean a quiet, restful escape for art aficionados, nature lovers and foodies—in which case one is likely referring to San José del Cabo, a 25-minute drive north up the coastline. It's the mild (versus wild) Cabo—a quaint, artsy town punctuated by galleries, colonial architecture and authentic eateries.
Touring central San José del Cabo can be done on foot and makes for an easy afternoon. Start at San José del Cabo Church, located in the heart of the Historic District. Founded in 1734 and relocated and rebuilt many times due to war and floods, the church was restored in 1940 and bears remarkable mosaic tiles and other significant architectural details capturing its rich history. Steps away, Plaza Mijares is a popular gathering point for locals, surrounded by historical buildings, the town's city hall, shops and restaurants.
Be sure to stop by the Casa de la Cultura, which offers music and acting workshops, dancing, painting and literary events year-round Also nearby sits San José del Cabo's Gallery District, home to around 15 fabulous art galleries showcasing everything from modern fine art to photography to jewelry by Mexican and international artists. Of note, Ivan Guaderrama Art Gallery features contemporary abstract paintings, sculptures, and glass and welding works by local craftsmen. Inside Frank Arnold Gallery, find dramatic bronze sculptures, oil paintings and fine art prints by abstract artist Frank Arnold. The district also hosts a weekly art walk every Thursday evening from 5-9 p.m., November to June.
For a dose of nature, San José del Cabo Estuary & Bird Sanctuary on the outskirts of town is an eco-tourist's delight. Its 2,000 marshy acres comprise the only freshwater coastal lagoon in Baja and the largest body of fresh water in southern Baja. The protected tropical landscape is home to some 250 species of bird, rare plants and hiking trails. Close by in Puerto Los Cabos, Wirikuta Garden grows more than 1 million plants—including 1,500 types of desert plants, 1,000 bonsai bougainvillea trees and three pyramids built from granite boulders. It's a special place unlike any other in the world.
The best dining outposts in the area are off the beaten path, both figuratively and literally. Tucked away a few blocks from the Gallery District, Mariscos El Toro Guero is a palapa-covered locals' seafood spot executing regional recipes that epitomize authenticity. This means dishes such as whole fried red snapper, chocolate clams, coconut shrimp and molcajete de mariscos—a stone bowl loaded with raw and cooked shrimp, scallops, octopus, lime juice and jalapenos. Wash it all down with one of their famous giant margaritas. For more authentic eats in town, Taqueria Rossy is a no-frills locals' joint known for its scallop tacos, seafood soup and extensive salsa bar.
No trip to San José del Cabo is complete without a stop at the famous Flora's Field Kitchen at Flora Farms—a 10-acre oasis at the end of a rocky, steep dirt road that will convince first-timers they're lost before they find it. Nestled in the foothills of the Sierra de la Laguna Mountains, it's a working farm with flourishing organic produce delivered straight to the restaurant's kitchen—surrounded by twinkling lights, gardens, cottages, roaming friendly dogs and shops. (There's even a James Perse concept store onsite.) At Field Kitchen, dine on vegetable risotto, seasonal salads and house-made gnocchi—while live music floats through the fragrant air as the sun dips behind the mountains, and you'll likely find yourself researching local real estate later to see if you can live close by.
A few questionable turns down another unpaved road nearby will transport you to Los Tamarindos, San José del Cabo's hidden (but not for long) gem of an organic farm, garden, market and restaurant. Offering cooking classes, private events and dining on a sprawling hacienda-style porch, Los Tamarindos emanates a community vibe that makes visitors feel like family. Order the baked eggplant rolls and the pork shank with green mole (warning: it's a massive dish), paired with a glass of La Cetta sauvignon blanc from Baja's Valle de Guadalupe, and life is good in Cabo.
As for lodging in San José del Cabo, its master-planned community vibe (on the outskirts of town) means plenty of tranquil, ultra-modern resorts and rental homes from which to choose. Of note, the JW Marriott Los Cabos Beach Resort & Spa perched above the Sea of Cortez is a luxurious stunner and architectural marvel.
Its open-air lobby flanked by soaring marble columns and walls— which unfold into infinity pools, water features and sculpture gardens—emanates the backdrop of a contemporary art museum. Dine and imbibe at six restaurants and bars; get pampered at Jasha Spa & Salon; enjoy world-class golf; and rest in a well-appointed ocean-view suite. For an even more private and personalized experience, the JW Marriott houses its own luxury boutique hotel within the resort, the Griffin Club. An added bonus: the property is a five-minute drive (at most) into town.
Photo: Ruth Peterkin.