From rooftop views to not-so-secret speakeasies, find the best places to grab a drink next time you're in downtown San Diego.
1. The Nolen
Watch the sunset while you sip on your cocktail at this chic rooftop bar. Try one of their originals like the Extra Fancy made with gin, elderflower, violet, honey and prosecco or opt for something more classic like a Manhattan. Enjoy daily specials on drinks and bites during Sunset Hour 4-6 p.m.
See website for hours. 453 6th Ave., downtown, 619.796.6536. thenolenrooftop.com
2. Fairweather
Walk through Rare Form and up the stairs to make your way to Fairweather, a cocktail bar that overlooks Petco Park. Stop by during a Padres game to sip on their "drinks from sunny places" including favorites like pina coladas, mai tais and daiquiris in addition to their signatures. Beer and wine are also served and featured in their weekly happy hour.
See website for hours. 793 J St., downtown, 619.578.2392. godblessrareform.com
3. The Lion's Share
Stop by The Lion's Share for an extensive menu of craft cocktails, featuring everything from whiskey to tequila. If you're feeling adventurous, try one of their absinthe cocktails with spirits from California all the way to France. Along with a full dinner menu, night owls can grab a bite from their late night menu, served 11 p.m.-1 a.m.
Open 4 p.m.-2 a.m. daily. 629 Kettner Blvd., downtown, 619.564.6924. lionssharesd.com
4. Craft & Commerce/False Idol
Step inside Craft & Commerce to find walls lined with old books and taxidermy. Their cocktails are divided into four categories: light and refreshing, stirred direct, beer cocktails and punch bowls. While they do not serve vodka, the bartenders will happily craft up a drink with an alternative to enjoy. While you are there, check out tiki-themed False Idol…if you can find it!
See website for hours. 675 W. Beech St., Little Italy, 619.269.2202. craft-commerce.com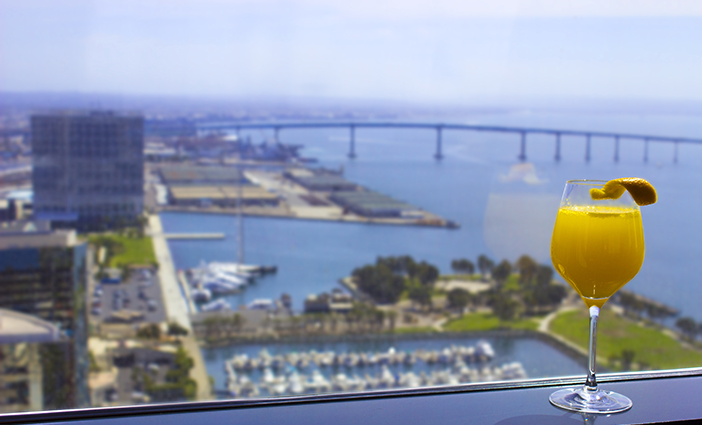 5. Top of the Hyatt
Experience panoramic views of downtown and San Diego Bay as you sit atop the 40th floor of the Manchester Grand Hyatt. Here you will find a cocktail menu complete with both fruit forward and spirit forward drinks, as well as a full beer and wine list. Dress sharp as they have a strictly enforced dress code; no flip flops or pool attire are allowed.
Daily 3 p.m.-1:30 a.m; 21+ after 5 p.m. 1 Market Place, downtown, 619.232.1234. topofthehyatt.com
6. Noble Experiment
Find yourself in this downtown speakeasy complete with chandeliers and gold skull lined walls. Choose one of the cocktails on the menu or let the bartender concoct something new for you with the dealer's choice. Perfect for a special occasion, but be sure to make a reservation well in advance as this place books up quickly.
Open Tu-Su 7 p.m.-2 a.m. 777 G St., downtown, 619.888.4713. nobleexperimentsd.com
7. You & Yours Distilling Co.
Stop and stay awhile in the quaint You & Yours tasting room where you can sip on cocktails that feature the spirits they produce in-house. Highlights include the Side Salad made with their vodka, Little Bunny Foo Foo made with their Sunday Gin and Pleased to Matcha made with their Winter Gin. Flights are also available to try out all three spirits on their own.
See website for hours. 1495 G St., downtown, 619.955.8755. youandyours.com