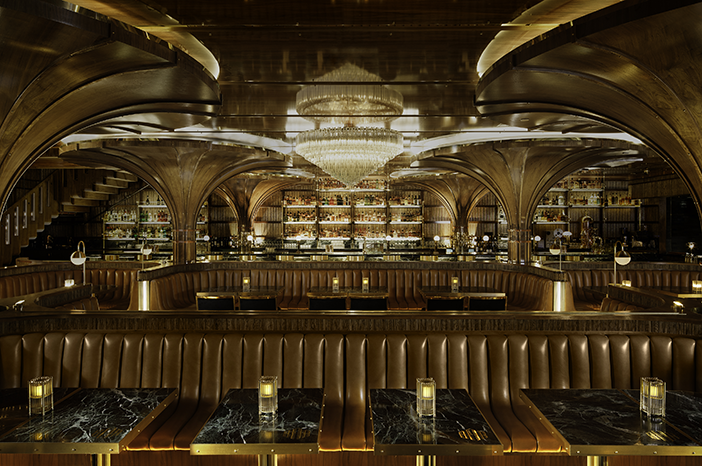 From glam hotspots to tried-and-true staples to cozy hole-in-the-wall joints, San Diegans who love steak are equally passionate about where they prefer to enjoy it. As steakhouses continue to make their culinary mark here, we rounded up some of our favorite spots doing it right—broken down by ambiance and menu highlights. Hope you're hungry.
The newest addition to the city's dining scene, STK has opened an outpost at Andaz San Diego. Steak is decidedly the star of the menu, but so are its dressed-to-impress patrons enhancing its chic lounge atmosphere—complete with smoky mirrors, tables illuminated by theatrical lights, DJs spinning, and expansive windows with views of the bustling Gaslamp Quarter just outside. As for the meat, choose your size and cut, ranging from a 6-ounce filet to a whopping 128-ounce dry-aged tomahawk; then choose a topping, such as Alaskan king crab and truffle butter; then add accoutrements such as horseradish and the signature STK Bold Sauce; and finish with a side of their famed sweet corn pudding.
And then there's reigning "it" spot Born & Raised—a posh, $6.5 million steakhouse in the heart of Little Italy. A nod to the original NYC chophouses of the late 1860s, the two-story restaurant spans 10,000 square feet of a 1930s-era building, featuring Italian marble-topped tables, walnut paneling, terrazzo floors, brass accents, rooftop dining, an in-house butchery and tuxedo-clad servers. Feast on filet mignon, porterhouses, rib-eyes, dry-aged cuts, American and Japanese wagyu, slow-roasted prime rib and more. There are even specialties such as British-style rib of beef served with Yorkshire pudding; Tournedos Rossini, a decadent French steak dish with truffles and foie gras; and Steak Dyyyanne (actual spelling), a vegan "steak." Libations include martinis prepared tableside, and the city's largest collection of scotch by the glass—with an inventory of 300-plus bottles.
In East Village, Cowboy Star Restaurant & Butcher Shop is a beloved neighborhood steakhouse … one where you can find casual sophistication and premium cuts sans pretention. The low-lit, urban-rustic chophouse is known for its Certified Humane Angus herd selection—from the hand-cut, 100-percent grass-fed bison strip from Wyoming's Durham Ranch; to the 35-day, dry-aged Cattleman's Cut rib-eye; to the Miyazaki Chateubriand filet, aged 24 days and flown in from Japan. Or indulge in the double-cut Porterhouse for Two from Niman Ranch. If you dare, order the wagyu beef ravioli with mascarpone as a starter or side dish.

Selecting your steak knife (from Italy, Japan, Germany and more) at Stake Chophouse & Bar is part of the fun. The indoor-outdoor rooftop oasis in Coronado is a sexy, modern steakhouse punctuated by an 18-foot, backlit onyx wall on the inside—opening out to a sleek, quartzite bar and fire pits on the terrace. The menu boasts a 50-ounce tomahawk rib chop, American wagyu beef, A5 Japanese wagyu beef, and a 35-day, dry-aged, bone-in New York strip. Stake also takes its wine seriously—with a 2,000-bottle inventory of 200 selections, housed in the restaurant's glass wine cellars.
If seeking a simple, straightforward steak dinner and a super-casual, campy-fun ambiance (complete with a couple of dudes performing Sinatra songs on piano and trumpet in the background), Red Fox Steakhouse and Piano Bar in North Park is your spot. The restaurant's furnishings date back to Surrey, England circa 1642 and were later shipped to the U.S. That old-school, tap-room vibe is unmistakable—from the fireplace to the bar to the stained glass and Tudor paneling. Reserve a red-upholstered booth and feast on the 8-ounce top sirloin and lobster tail combo—a steal at $37.95.
In Carlsbad, West Steak & Seafood is the embodiment of North County fine dining, serving premium proteins, seafood and spirits. Steaks and chops are USDA-Prime certified; along with transplants such as grass-fed, free-range filet mignon from Australia. But the Angus Beef NY steak sandwich on the lounge menu—with mushrooms, caramelized onions and cheddar on an Italian roll, with a side of truffle fries—nearly steals the show.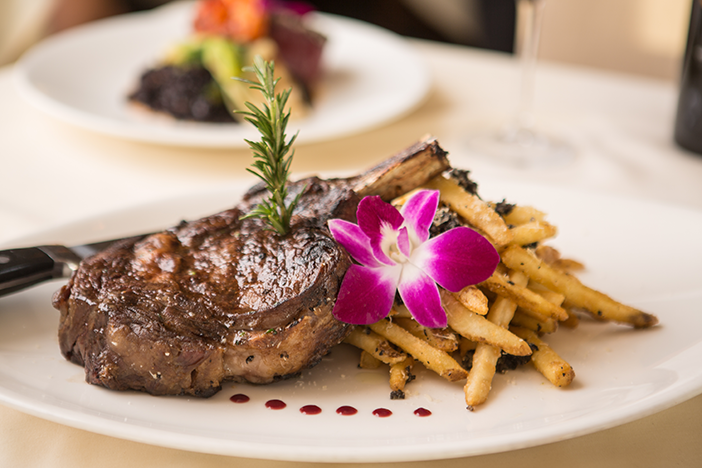 For coastal dining in Carlsbad, Vigilucci's Seafood & Steakhouse is nestled directly across the street from the Pacific and offers refined carnivorous dishes and sea fare with a decidedly old-world Italian charm. Choose from hand-cut, Nebraska Prime chops and steaks; as well as hearty prime rib and tender beef short rib.
More steaks by the sea can be had at Island Prime, a Cohn Restaurant Group institution parked on Harbor Island. The dreamy views of the downtown skyline, Coronado and San Diego Bay compete with their delicious artisanal steaks for your love. There's the Omaha-born 1855 filet mignon, the Cedar River Farms bone-in rib-eye, the Aspen Ridge flat iron and more—all with offerings such as Executive Chef Deborah Scott's blackening spice and pancetta-peppercorn demi-glace.
With locations in La Jolla and near the Embarcadero, Eddie V's Prime Seafood serves premium hand-cut steaks and such "chef's classics" as bacon-wrapped filets, served "Oscar style" with an Alaskan king crab leg. The La Jolla locale boasts ocean and cove views, and both locations offer live jazz nightly in the lounge.
And then there are longtime downtown staples that rarely disappoint. Ruth's Chris Steak House (which also has a Del Mar location)—known for its fine cuts of butter-topped, USDA Prime beef (we add the peppercorn char) served sizzling on 500-degree plates—offers bay-view dining from its perch near the Embarcadero.
Morton's The Steakhouse is touted as the mothership for steak lovers. The swanky spot showcases mouthwatering Prime steaks and cuts, from center-cut filet mignon to Cajun rib-eye. And the short rib steak tacos on the appetizer menu are simply divine.
Born & Raised, 1909 India St., Little Italy, 619.202.4577. bornandraisedsteak.com
Cowboy Star Restaurant & Butcher Shop, 640 10th Ave., East Village, 619.450.5880. thecowboystar.com
Eddie V's Prime Seafood, 789 W. Harbor Dr., Embarcadero, 619.615.0281; 1270 Prospect St., La Jolla, 858.459.5500. eddiev.com
Island Prime, 880 Harbor Island Dr., Harbor Island, 619.298.6802. cohnrestaurants.com
Morton's The Steakhouse, 285 J St., downtown, 619.696.3369. mortons.com
Red Fox Steakhouse and Piano Bar, 2223 El Cajon Blvd., North Park, 619.297.1313. redfoxsd.com
Ruth's Chris Steak House, 1355 N. Harbor Dr., Embarcadero, 619.233.1422; 11582 El Camino Real, Del Mar, 858.755.1454. ruthschris.com
Stake Chophouse & Bar, 1309 Orange Ave., Coronado, 619.522.0077. stakechophouse.com
STK San Diego, 600 F St., Gaslamp Quarter, 619.354.5988. togrp.com
Vigilucci's Seafood & Steakhouse, 3878 Carlsbad Blvd., Carlsbad, 760.434.2580. vigiluccis.com
West Steak & Seafood, 4980 Avenida Encinas, Carlsbad, 760.930.9100. weststeakandseafood.com
Born & Raised photo by Robert Benson. Stake Chophouse & Bar photo courtesy Blue Bridge Hospitality. Vigilucci's Seafood & Steakhouse photo courtesy Vigilucci's.