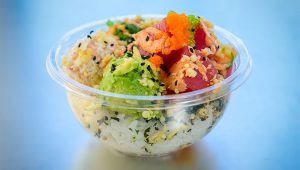 Poke bars are popping up all over San Diego County. Here's where you should jump on the "Poke Parade."
By Sarah Daoust, adapted from Poke Parade in the September 2016 issue of Performances Magazine San Diego
We're not exactly sure why poke bars are popping up all over San Diego right now, but we're not complaining. Named for the Hawaiian verb meaning "to slice or cut," poke is typically made from yellowfin (or ahi) tuna that is cubed, seasoned and served as a raw fish salad—a staple of Hawaiian cuisine. In San Diego, both authentic and creative poke bowls and their culinary cousins—poke burgers, poke tacos and even "sushi burritos" filled with poke-style tuna and salmon—are all the rage. We've rounded up our favorite new outposts.
Pokirrito
Leading the charge is Pokirrito—Chef Junya Watanabe's colorful dining nook located next door to his cult-followed RakiRaki Ramen & Tsukemen. The menu is a reflection of Watanabe's love of Hawaiian and Japanese flavors; as well as his commitment to using responsibly sourced macrobiotic produce and highest-quality seafood from local fish markets. Get creative and build your own poke bowl starting at the base, with choices such as non-GMO white rice, brown rice with cauliflower, or kale salad; proteins such as regular or spicy tuna, albacore, octopus and scallops; sauces such as spicy aioli and red miso; and toppings such as crabmeat, avocado and seaweed salad. Or try a pristinely packed sushi burrito wrapped in a micro-thin layer of Japan-imported rice; the Pokirrito Classic is exceptional, loaded with tuna, crab, lotus chips, broccoli slaw and shiso-tempura flakes. 4646 Convoy St., #101-A, Kearny Mesa, 858.573.2400. pokirritosd.com
San Diego Poke Co.
At San Diego Poke Co., find specialty poke bowls, house-made sauces and a range of poke burgers such as the Oh No Burger—tuna, mixed greens, white onions, seaweed salad, hot sauce and Flamin' Hot Cheetos, all sandwiched between buns made entirely of actual grains of white rice. The OG SD is our favorite poke bowl—tuna, avocado, white onions, green onions, sesame seeds and San Diego Poke Co.'s special sauce. We also love the Taco Bout It—salmon tossed in a spicy-sweet sauce and loaded into a crispy wonton taco shell. 10387 Friars Road, Mission Valley, 619.584.4786. sdpokeco.com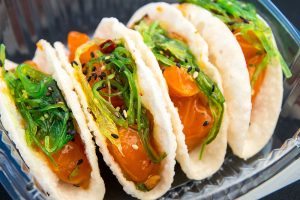 Poke Go
At Poke Go, go for the traditional Hawaiian poke salad, or Korean-infused specialties such as the Poke Bibigo with select proteins and shredded veggies served over rice and topped with a fried egg and side of macaroni salad. The casual-cool hole-in-the-wall also serves vegetarian dishes, such as the tofu poke platter; fun twists on traditional saimin, which is a Hawaiian noodle soup; and craft beer. 3614 Fifth Ave., Hillcrest, 619.230.5549. pokesd.com
Poke UTC
For fast service and simple, fresh, build-your-own bowls, Poke UTC is a hidden gem. Standouts include the tuna and salmon poke with seaweed salad and spicy original sauce; and the Asian-style potato salad that you can order on the side. 8895 Towne Centre Drive, #109, UTC, 858.202.1688. website coming soon.
Rolled Up
At Rolled Up, the filling sushi burritos are literally the size of giant Mexican burritos. The Hillcrest Roll is a true heavy hitter that can be shared—stuffed with ahi, hamachi, opah, jalapeño, blue corn chips, seasoned cucumber, wasabi mayo and seasonings. Another must-try burrito is The Pokey—filled with ahi, Persian cucumber, lettuce, masago, tempura crunch, ginger sauce and wasabi-soy mayo. Can't decide? Try the Half & Half, which lets you pick half-sized portions of any two rolls of your choice. Rolled Up is also known for its zesty dipping sauces and spicy wasabi-infused edamame. 3884 Fourth Ave., Hillcrest, 619.358.9397. rolledup.com
Tokyo Deli
At grab-and-go eatery Tokyo Deli, the menu screams authentic Japanese cuisine, with nigiri, sashimi and sushi rolls; plus poke salads, bowls and sushi burritos. The signature TD Special Salad Poke is fresh and flavorful—tuna, salmon, avocado, sushi rice, poke sauce, butter lettuce, red cabbage, masago and sesame soy sauce. Save room for yuzu pudding, a flan-like custard dessert made with matcha—a finely ground powder of specially grown and processed green tea. 871 G St., East Village, 619.564.6960. tokyodeli.com
Pokewan
Slated to open in October, Pokewan will offer build-it-yourself poke bowls with a variety of bases, sides, sauces and toppings. Consider it a poke party for your palate. 2958 Madison St., #104, Carlsbad, 858.886.9909. website coming soon.