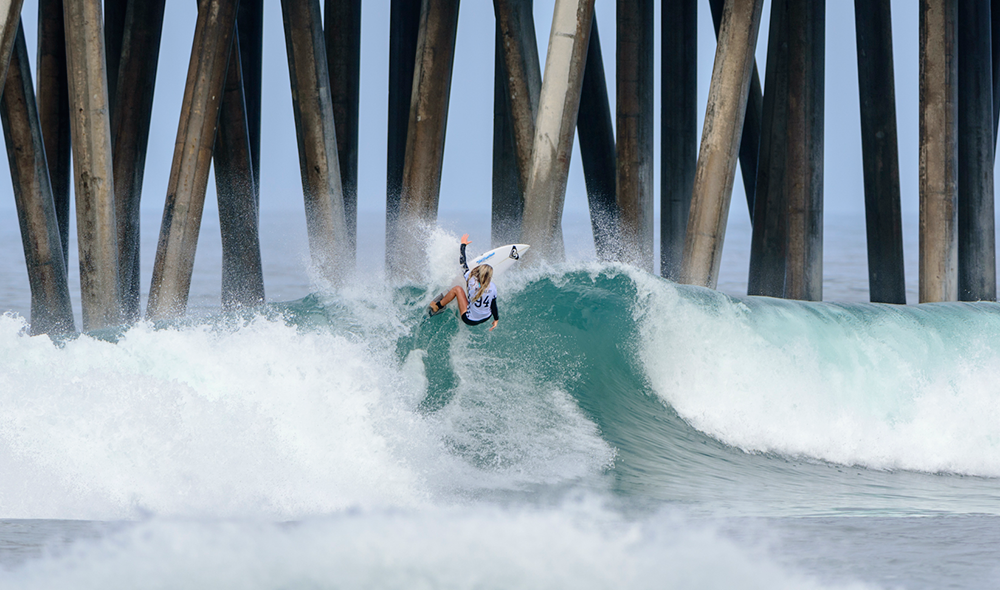 One of Orange County's slogans is "Forever Summer." It refers to the virtually always beautiful weather and the feeling even among residents that you're always on vacation. But the fact is, the season that is actually summer has its special charm and inspired a trio of events that have drawn throngs of visitors to the area for decades—and in one case for well over a century.
U.S. Open of Surfing
July 28-Aug. 15. The Vans U.S. Open of Surfing, Surf City USA's claim to fame, is one of the world's biggest action-sports festivals. The nine-day event draws top surfers from around the globe to compete on the south side of the Huntington Beach Pier.
In the late 1950s, it was called the West Coast Surfing Championships. With three titles clinched in the '60s, local Corky Carroll was the one to beat in the men's event; Joyce Hoffman won four women's titles from 1965 to 1970.
By dint of his powerful turns, Santa Barbara's Tom Curren took three championships in the raucous OP Pro days of the '80s, when a riot tarnished the event and nearly wiped it out of existence.
Big names competing in the '90s included 11-time world champion Kelly Slater, who won the event in 1996; he wouldn't nab another U.S. Open title until 2011. San Diego surfer Rob Machado was a podium regular during the same period.
In 2009 and 2010, Brett Simpson became the only competitor from the host city to ever win back-to-back titles. Last year, Huntington Beach surfer Kanoa Igarashi claimed the $100,000 prize and was hoisted above enthralled fans. The 20-year-old phenom no doubt has his sights set on a repeat this year. A repeat has eluded Santa Ana's Courtney Conlogue since her victory in 2009.
Surfing is not the only attraction. Skaters and BMX riders also compete at the event in a massive concrete bowl; and a mini-city built on the sand features a Vans gear mega retail center. Off the sand and around town are movie premieres, guest bartenders at restaurants, and athlete autograph signings at surf shops such as Jack's Surfboards and Huntington Surf and Sport.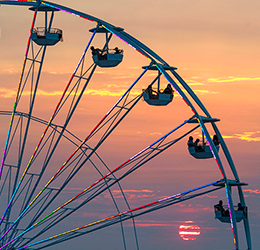 OC Fair
July 13-Aug. 12. It is hard to imagine a fair that has remained more relevant than Orange County's; now in its 128th year, it draws crowds of more than 1 million to the OC Fair & Event Center in Costa Mesa.
It's come a long way from its humble beginnings in 1890, when the highlight was a horse race and a few exhibits. Around the turn of the century, the fair was moved from Santa Ana and Huntington Beach to Anaheim and back; in 1953, its location in Santa Ana became incorporated into the city of Costa Mesa.
What began as a modest five-day event has evolved into a 23-day festival featuring live music and countless booths. Many go to the fair for the carnival rides, games, races, livestock exhibits and petting zoo. There are monster trucks and rodeo acts in the action-sports arena and free live entertainment in the Hangar.
But everybody knows it's all about the decadent food, and the fair has really stepped up its culinary game. No longer can you find just barbecued turkey legs and funnel cake: Every year brings zanier food, prime examples being a Hot Cheetos-encrusted corn dog and fried peanut-butter meatballs from perennial favorite Chicken Charlie's.
Organizers were smart to capitalize on the craft beer trend when they added to the lineup the Brew Hee Haw Craft Beer Roundup, July 14-15. Beer lovers enjoy unlimited tastings from more than 80 craft breweries. Tasting sessions take place noon-4 p.m. and 6-10 p.m. on July 14, noon-4 p.m. on July 15; tickets ($55 online, $65 at the door if available) include fair entry.
Nightly concerts and other entertainment at the adjacent Pacific Amphitheatre also require separate tickets. They include Frankie Valli and the Four Seasons with the Pacific Symphony on July 12, The Daily Show host and comedian Trevor Noah on July 14, Earth, Wind & Fire on July 27 and the Steve Miller Band and Peter Frampton on Aug. 12.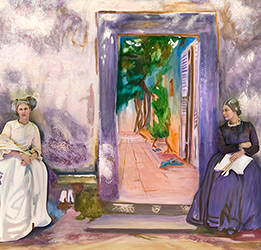 Pageant of the Masters
July 7-Sept. 1. Not an art lover? Odds are you'll still immensely enjoy watching renowned pieces of art coming to life right in front of your eyes at the beloved Pageant of the Masters.
First presented in 1933 as a publicity stunt to lure visitors to the Festival of Arts, the event was then called the Spirits of the Masters Pageant. A few local volunteers marched along Coast Highway decked out as characters from famous works of art such as Whistler's Mother and Leonardo da Vinci's Mona Lisa. The volunteer tableaux vivants—"living pictures"—would then gamely take turns putting themselves on display, holding their poses in tiny, booth-like sets.
In 1935, the show became a full production and over the years has developed into one of the community's premier events. Now in its 85th year, it's an integral part of the Festival of Arts, attracting more than 140,000 visitors annually to the picturesque Irvine Bowl. These days, each living picture is accompanied by live narration and a full orchestra.
Never mind that the show takes place after dark, the theme this year is "Under the Sun." It pays homage to Laguna's own cadre of early art masters, among them Anna Hills, William Griffith, Edgar Payne, Julia Bracken Wendt, Robert Kuntz and Joseph Kleitsch.
Guests will also be captivated by faithful recreations of familiar masterpieces—Claude Monet's The Boat at Giverny, Edouard Manet's The Luncheon on the Grass, Joe Rosenthal's photograph of the flag-raising on Iwo Jima—as well as three-dimensional objects such as gilt bronze Femmes-Fleur lamps. As it does every year, the 90-minute show culminates with da Vinci's The Last Supper, always a stunning finale. Tickets are $15-$240; performances begin nightly at 8:30 p.m.
The Festival of Arts, regarded as one of the top fine-art festivals in the United States, opens two days earlier, on July 5, at the same location. Works by more than 140 local artists are available to peruse and to purchase. The event also features live music, hands-on art activities and exhibitions of art by Orange County students of all ages
OC Fair photo courtesy of OC Fair. Pageant of the Masters artwork titled "The Garden Wall" by John Singer Sargeant, provided by Pageant of the Masters/Festival of Arts.

[et_bloom_inline optin_id=optin_12]