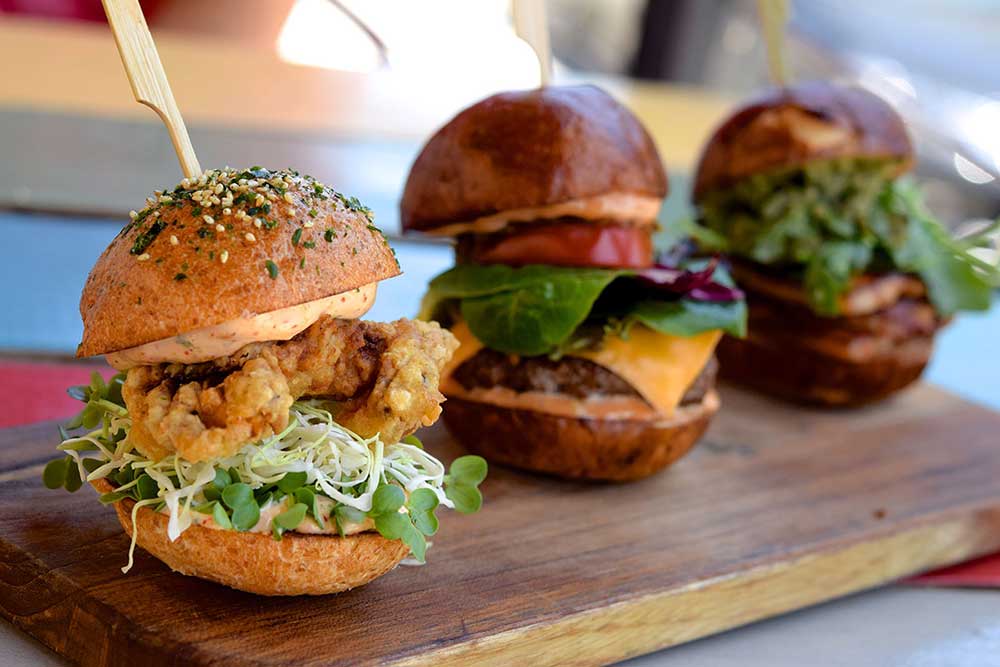 OC is a world leader when it comes to those convivial smorgasbords of cool known as food halls. Check out six top Orange County food halls.
Populated by casual offshoots of established restaurants, gourmet food trucks gone brick-and-mortar, and entrepreneurial experiments, the new food halls are contemporary takes on the historic food markets found in metropolises all over the world. Right now, Orange County may be the genre's hegemon, with the rest of the nation following with similarly groovy multi-vendor venues. Eating at the Anaheim Packing House, Huntington Beach's Lot 579, 4th Street Market in Santa Ana or Union Market in Tustin and Mission Viejo not only offers a look into O.C.'s culinary character but also a glimpse at the future of restaurant dining everywhere: Casual grazing is cheerfully replacing white-tablecloth tradition for all but the most formal occasions.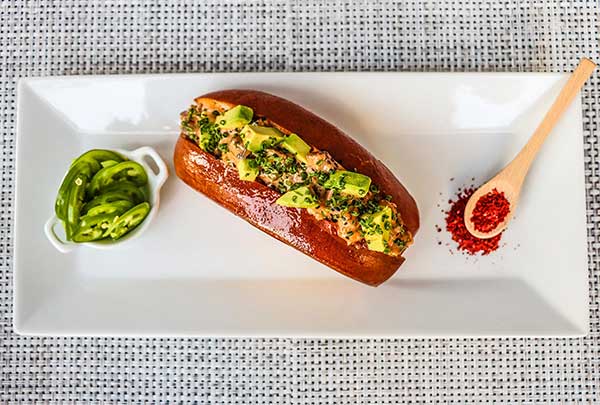 Lot 579
Located in Pacific City, Lot 579—named for lifeguard stations 5, 7 and 9, just across PCH—is fully stocked with the sort of nosh that one comes to a food hall to find. With its elevated burgers and 60 beers on tap, the American Dream is more than aptly named. Bear Flag Fish Co.'s ahi poke was locally famous long before the current poke craze took off, but its sushi, sandwiches, tacos and burritos—with or without its propietary Tommy sauce—inspire equally fanatical fandom. Burnt Crumbs—an evolution of the Burnt Truck-Burntzilla mashup that started in Irvine—takes the next-gen deli to next-next gen, making everything in-house: slow-roasting and braising meat, pickling vegetables, even baking the bread used for its artisan sandwiches. Australian meat pies and sweets found a happy home in O.C. when the first PieNot opened in Costa Mesa; now Lot 579 offers the same hearty Aussie treats, including vegetarian, vegan and gluten-free choices. It's flowers and fizz at Petals and Pop, a Seal Beach original where you can await your custom floral arrangement at the Champagne bar. PopBar, also at the Anaheim Packing House, offers frozen gelato pops in 40 flavors, dipped and topped according to your whim. Whether you're an espresso, pour-over or siphon fan, third-wave Portola Coffee Lab—Roast Magazine's 2015's Microroaster of the Year—is second to none among O.C.'s coffee cognoscenti.
21010 Pacific Coast Hwy., Huntington Beach. gopacificcity.com
Anaheim Packing House
The Anaheim Packing District shows that rehab/redevelopment can segue right into full reinvention. The district—composed of the Packard Building, Farmers Park and the Anaheim Packing House—inhabits a single walkable block. At one end, the Packard Building (originally an auto dealership) houses Anaheim Brewery and an Umami Burger. A brief amble through Farmers Park leads to the Packing House, a fun-filled food hall worthy of its proximity to the Happiest Place on Earth. Inside the Anaheim Packing House, find fine Italian at Ecco as well as speakeasy-style cocktails at secret-ish Blind Rabbit (shh: it's behind a wall of sake barrels). Settle in, or wander—a special liquor license allows sipping and strolling. Adya serves chef Shachi Mehra's delectable modern Indian food. When the cheese experts from the Cellar in San Clemente decided to open a grilled cheese bar, they didn't mess around: their Black Sheep GCB offers inventive combinations with thoughtfully chosen house-made condiments. The county's favorite fish and chips are cooked to order at the Chippy; beyond the batter there's grilled and baked seafood as well. Soul food is a rare—and welcome—sight in Orange County, and Georgia's fills the niche with Southern fried chicken, jambalaya and barbecue ribs, plus all the fixins. An island of green among the venue's more indulgent destinations, Mix It Up's salads are prepared to order. The popularity of the communal, cook-it-yourself hot pot, similar to Japanese shabu-shabu, makes Rolling Boil a great fit for group dining. Orange County, home to Little Saigon, boasts the very best Vietnamese food in the U.S., and Sawleaf brings the greatest hits to Anaheim—pho, the famed noodle soup; savory bánh mì sandwiches; and an array of rice-paper-wrapped summer rolls. Ultra-Italian Vitaly, a sibling of the Costa Mesa original, serves pastas and piadina flatbread sandwiched as well as house-made gelato, available in flights. Mini Monster, little sister to the Snow Monsters dotting the local foodscape, serves tea with or without boba pearls, as well as frozen yogurt and ice cream, in logo-etched, reusable jars—any of which can be crowned with a freshly spun cloud of cotton candy. Pandor Bakery offers trés française soups, sandwiches and pastries—but don't miss its all-American Dor-nut, a proprietary doughnut-croissant mashup in flavors that run from simple cinnamon-sugar to right over the top. When you get thirsty, consider BXCR's fine wines or Hammer Bar's superb craft cocktails.
440 S. Anaheim Blvd., Anaheim, 714.533.7225. anaheimpackingdistrict.com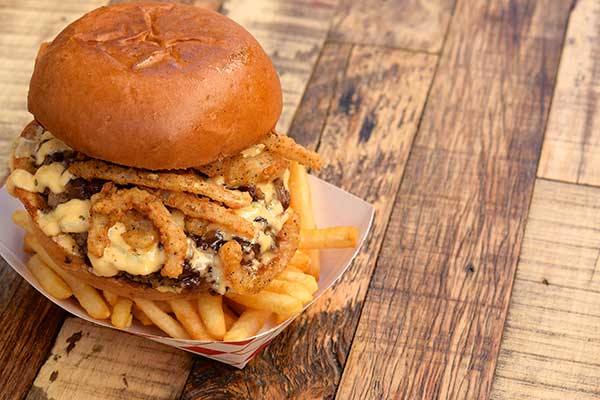 4th Street Market
In the heart of revitalized downtown Santa Ana—aka DTSA—4th Street Market has an urban-suburban cool that sets it apart in a county better known for theme parks and beaches. The vendors reflect the influence of O.C.'s pioneering gourmet food truck movement as the indie startups transition to brick-and-mortar. Expect corn and chilies and more at the latest add, Alta Baja. From its airy 4th Street vantage, the store/café showcases food products from across the Southwest and Baja California—and others showing Latin influence made on-site in the adjacent East End Kitchens. Tucked inside Alta Baja, lined with gleaming white tile, Electric City Butcher is the county's only whole-beast, nose-to-tail butcher; it features custom cuts of humanely raised meats and hand-made sausages and sauces. At Dos Chinos, one of OC's favorite food trucks put down roots for its first stationary site selling its only-in-SoCal Latin-Vietnamese fusion tacos and burritos. A second concept from the Dos Chinos founders, Sit Low Pho, serves Vietnamese noodle soup. Everything's made in-house at Jinny's Pizzeria—the dough, Italian sausage, pasta sauces and salad dressings. MAR takes its name from mariscos, Spanish for seafood; on the menu are poke, sushi and other raw dishes with a fresh Latin twist, as well as tacos and teriyaki bowls. At Pig Pen Delicacy, pork products every which way are the modern comfort-food focus—don't miss the candied bacon, by itself or enhancing a sandwich. At Stockyard Sandwich Co., hearty sandwiches overfilled with braised meat or cold cuts are complemented by house-made sides such as beer-battered onion rings; even the pickles are made on-site. On the beverage front, 4th Street boasts the Santa Ana outpost of Portola Coffee Lab's growing mini-empire, and Recess, from Lime Truck founder Jason QUinn, has house-made soda and craft beer on tap, wine and cocktails designed by an award-winning bartender. (Quinn's respected Playground DTSA is just across the street.) Chunk-N-Chip is so dedicated to its concept that Sammiches is trademarked—and when hot, freshly baked cookies meet house-made ice cream, you'll understand why.
Su-W 7 a.m.-9 p.m.; Th 7 a.m.-10 p.m.; F-Sa 7 a.m.-11 p.m. 201 E 4th St., Santa Ana, 714.486.0700. 4thstreetmarket.com
Union Market Tustin
Unique among Orange County food halls, Union Market is an island surrounded by retail sea—the huge, bustling District at Tustin Legacy, home to a range of big-box retailers, Whole Foods, restaurants, movie theaters and a modern bowling alley. It's also the only one with a selection of boutique retail sprinkled among the comestibles, though food is definitely the main event. Belly up to the glam Central Bar for a craft cocktail before heading to Kettlebar for steam-kettle-cooked fresh seafood with a Southern feel or to Market to Plate for design-your-own bowls and plated meals. Every food hall seems to require a poke specialist, and at Union Market Tustin this is fulfilled by Cubed. For artisanal sandwhiches and value-added poutine-ish frites—often with an egg on top—try the Kroft (there's a Kroft in the Anaheim Packing House as well). Hatch matches "moo, oink, flap, swim or sprout" sliders with superb Tiki drinks and 20 craft beers on tap. How often do you find ice cream that's churned à la minute? At Churned Creamery, watch state-of-the-art Italian machines turn fine ingredients into frozen dessert, and then have a scoop stuffed into a fresh croissant for a decadent take on an ice cream sandwich. Crêpe Coop starts with its namesake thin pancake baked to order on a traditional, French-style griddle, then wraps it around fresh fruit and sweet fillings (you'll find another Crêpe Coop at the Anaheim Packing House). Putting a sweet spin on edible vessels, Dirty Cookie bakes cookie shots—an adult take on milk and cookies. Frozen treats get the artisanal treatment at Front Porch Pops, using quality dairy and seasonal fruit—and don't miss the fresh-baked graham crackers and homemade marshmallows at Torch S'Mores from the same owner (both concepts are also found at the 4th Street Market). Juicers can get their fix at Drinkbar Juicery and OC coffee superstar Portola Coffee Lab keeps all of Union Market properly caffeinated.
2493 Park Ave., Tustin, 949.375.0749. unionmarkettustin.com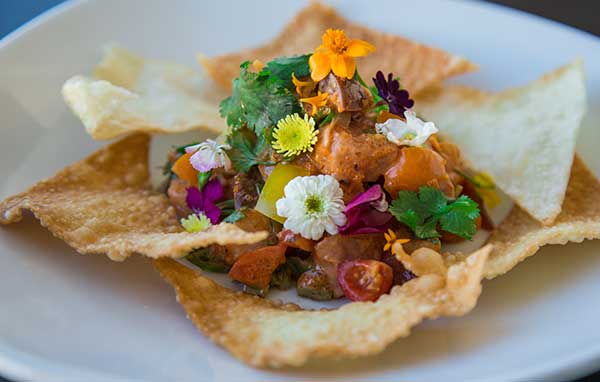 Union Market Mission Viejo
New sister to Tustin hall, Union Market Mission Viejo is on the upper level of the entertainment-driven Kaleidoscope Center, bringing food hall culture (finally!) to south OC. Fine seafood including seasonal raw selections, classics such as lobster roll and new classics such as abalone panna cotta rule at Anchor Hitch Seafood & Raw Bar, but there are non-seafood selections as well. Hot pot and poke are respectively covered by Oyu Shabu, and Diced, presenting the requisite Hawaiian-style raw fish. Hummus Bowl prepares Middle-Eastern classics with a contemporary healthy twist: nutritionally valued sprouted chickpeas. Before or after a movie, Dry Society Bar slakes your craft-cocktail thirst. Craft boba tea? Believe it: At Milk Box, natural ingredients elevate creative milk teas to new heights. Coming soon, as in can't come too soon: Portola Coffee Lab.
27741 Crown Valley Parkway, Mission Viejo, 714.454.4465. unionmarketmissionviejo.com
Trade Food Hall
Opening presently is Trade Food Hall, previously Trade Marketplace, in Irvine—a block from John Wayne Airport—presents nine vendors, notably all-new concepts from some of the county's most iconic foodie entrepreneurs: Andrew Gruel of Slapfish (six locations), Andy Nguyen of Afters Ice Cream (nine locations) and Hop Phan and Viet Tran of 4th Street Market's Dos Chinos and Sit Low Pho.
M-Th 8 a.m.-9 p.m., F-Su 8 a.m.-10 p.m. 2222 Michelson Dr., Irvine. tradefoodhall.com