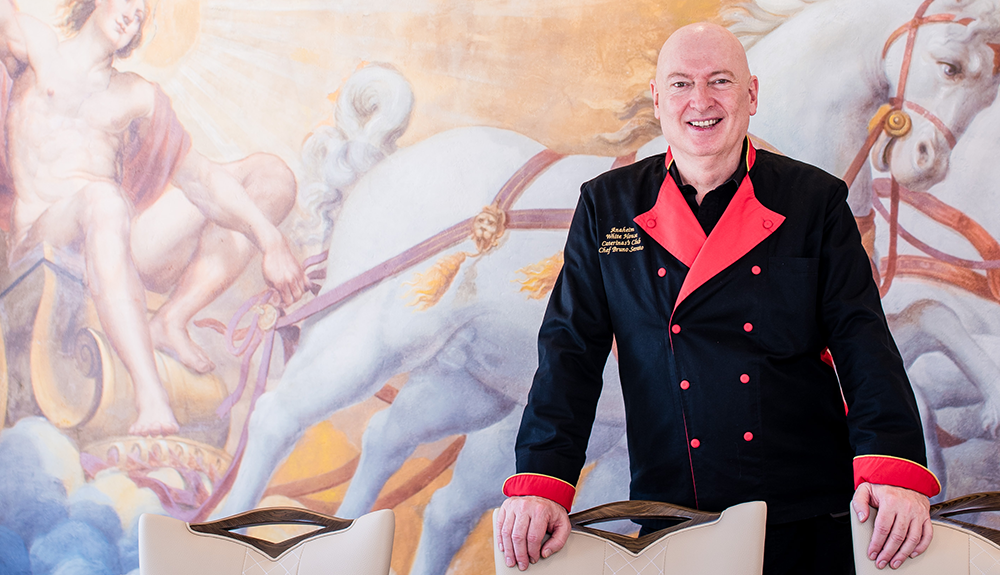 Out of the ashes: chef-restaurateur Bruno Serato's irrepressible spirit.
By Stephanie Sanchez-Brown.
The Anaheim White House had established itself as one of north Orange County's premier restaurants, a special-occasion destination, when fire devastated the landmark the night of Feb. 3, 2017. Its storied run, which had begun in 1981, came to a end—or at least it appeared to.
Bruno Serato has been chef-owner at the restaurant for about 30 of those years, and his ebullient personality contributed to its lofty reputation. The tragedy only fortified his resolve.
The blaze occurred just as Serato and staff were preparing their Romeo and Juliet menu for Valentine's Day, one of the busiest nights of the year for the venue. Despite suffering what was deemed a complete loss, the restaurant reopened 15 months later, largely on the strength of its owner's character.
An Italian immigrant who started out as a dishwasher, Sir Bruno Serato is much more than a restaurateur: He founded Caterina's Club, which feeds thousands of underprivileged children every single night, in 2005; was named a CNN Hero in 2011; and was knighted by the Italian consulate in 2013. He tells his story in The Power of Pasta (Select Books, 2017).
Most of the book was written prior to the fire and $2.5 million rebuilding. In it, Serato presents the inspirational story of his journey in America, focusing not on loss but on hope and revival. The Power of Pasta also portrays a man who consistently pays it forward—attending to the needs of those less fortunate—regardless of personal challenges he faces.
The fire not only delivered a crushing blow to the restaurant's loyal clientele—those privileged enough to enjoy Serato's veal osso buco, pappardelle Bolognese or salmon with white-chocolate mashed potatoes. It destroyed the very same kitchen used to prepare dinners for local needy children.
That practice began when Serato and his mother visited the local Boys and Girls Club. After meeting kids accustomed to eating potato chips for dinner, the restaurateur began caring for disadvantaged children through a foundation he named for his mama, Caterina's Club. Serato began making pasta for 72 kids five nights a week, a program that expanded to 2,000 meals daily at 70 sites in Orange and Los Angeles counties—and since the fire, somewhat miraculously, to 3,500.
The fire not only didn't slow the effort, but fueled it, thanks to the media attention that followed the conflagration. While the White House kitchen was out of commission, meals for the kids were prepared at Christ Cathedral, the landmark formerly known as Crystal Cathedral, whose bishop generously offered assistance. "It was a gift from God," recalls Serato. "We felt very welcome. It felt like home."
To date, more than 2 million meals have been served by Caterina's Club.
Caterina's Club also provides security deposits and first month's rent so that low-income families can move from dilapidated motels—where six or more people might be squeezed into a single room—to decent permanent housing; 170 households, more than 1,000 people, have been relocated. Chef Bruno's Hospitality Academy, which trains at-risk teens for careers in the restaurant/hospitality industry, is yet another program of Caterina's Club.
Serato easily relates to these kids. "I grew up poor but had no idea I was poor because I always had pasta on my table," he says. Caterina herself, who first had the idea of cooking pasta for the hungry children, passed away three years ago, poetically on the anniversary of the death of Mother Teresa.
Serato never forgets his early days as an impoverished immigrant, arriving from Italy with $200, unable to speak English.
When young Eddie Meza arrived with his family from Mexico in 1988, Serato found him an entry-level position in the White House kitchen. Recognizing Meza's passion for cooking, work ethic and desire to learn, he promoted Meza to executive chef in 2000. "He's like family," says the boss. "We've worked together as brothers for 30 years."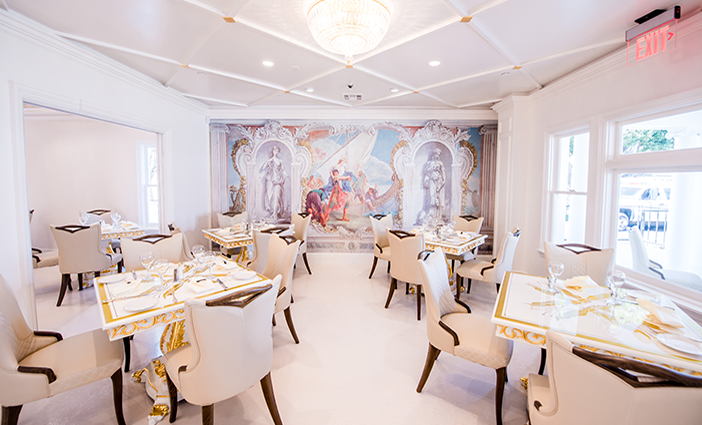 The Anaheim White House reopened May 8, 2018, its new facade painstakingly designed to honor the original 1909 Colonial-style mansion but with an even more opulent fresco-filled interior. "The 15 months we were closed felt like a lifetime," Serato says. "Now that we're open again, it feels like we never closed." The following month, pasta preparation for Caterina's Club returned to its kitchen, redesigned to accommodate ever-increasing numbers of beneficiaries.
"There's love in the air; you can feel it," Serato says of the "new" restaurant. He still gets a thrill when a customer tells him how special he made a birthday or anniversary—or weekly Tuesday night dinner. "But what really warms my heart," says Serato, "is each time we add another [Caterina's Club] location and I know more kids are being fed."
Serato recently added the Ellis Island Medal of Honor to his many prestigious tributes—in good company with seven U.S. presidents, Rosa Parks and Muhammad Ali—and says the photographs of immigrants arriving at the legendary port of entry resonated with him deeply.
"Love always prevails," he is fond of saying.
[et_bloom_inline optin_id=optin_12]