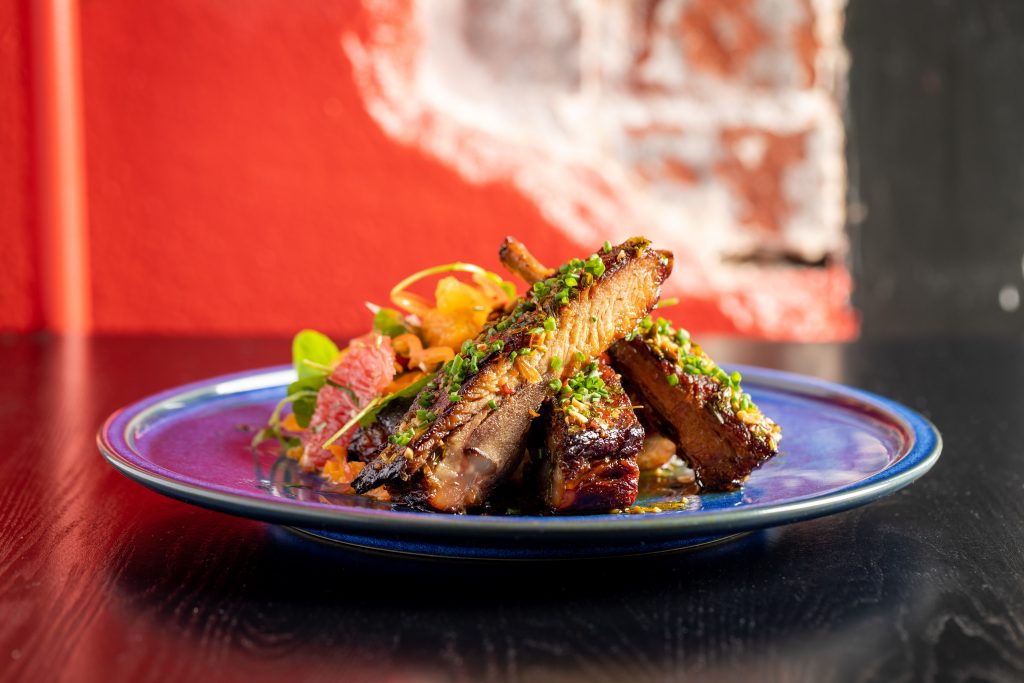 Chef Sergio Ortega presents distinctive Mexican menu in Santa Ana.
You could say that new Chato's Bar and Grill in downtown Santa Ana offers modern Mexican fare by Sergio Ortega, until recently chef at Descanso in Costa Mesa. But that wouldn't do it justice. Calling the cuisine Cal-Michoacán would better reflect Ortega's background and sensibilities.
The modest space, which formerly housed foodie havens including the North Left and Irenia, seems hyphenated, too: There's a convivial main room with dining, a bar and lots of large-screen TVs; to one side is an alcove better suited to those who come chiefly for the food. For those who prefer the outdoors, or when pandemic guidelines dictate, there are tables on the sidewalk.
Among antojitos, the sweet-potato blue-corn taquitos, topped with crème fraiche, citrus slaw, cotija cheese and Mexican herbs, are a standout.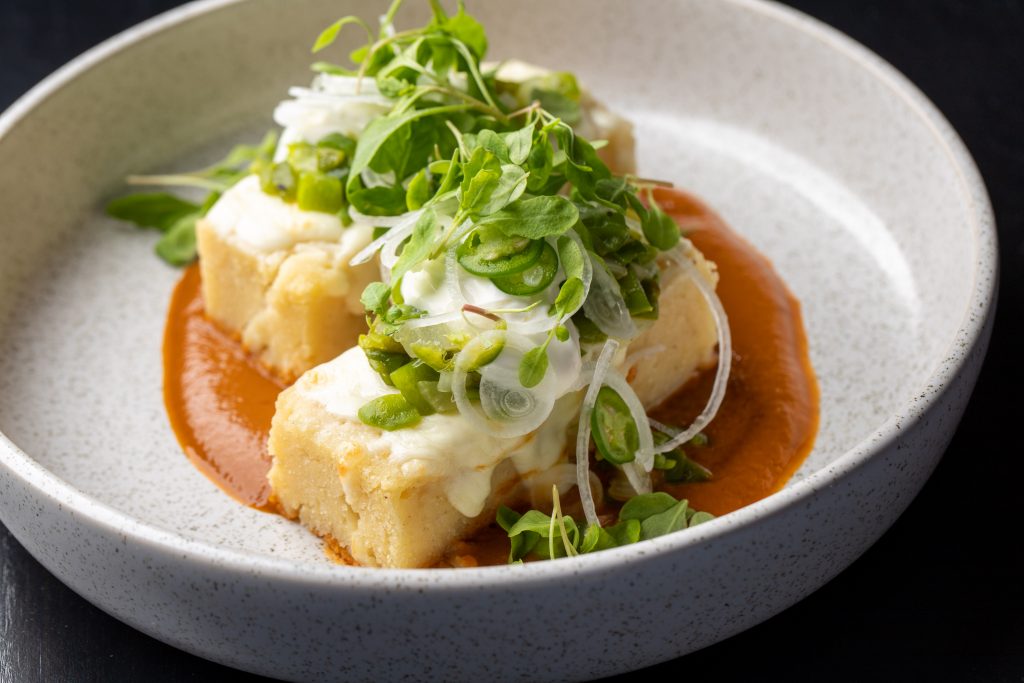 Among platos, corundas are reason enough to go: distinctive Michoacán-style tamales, not filled or wrapped, but rather rectangular cuboids prettily topped with salsa roja, quesillo, coconut crema and Hatch chile ragout.
But there is plenty else worth exploring.
That same ragout shows up on starters such as charred sweet corn, served in a simple bowl with burnt chili aioli, chili negro ash, cotija and epazote, and Ortega's fusionista house-made pork-and-veal dog with chile-perón mustard, gochujang, quesillo and crispy pork jowl on sweet Hawaiian rolls.
Main courses bring grilled quail with salsa borracha inspired by the quails Ortega enjoyed at fairs growing up in Mexico. The carnitas are bone-in, pork ribs citrus-agave-glazed and served with sweet-potato puree, citrus salad and a basket of handmade guajillo-infused blue-corn tortillas.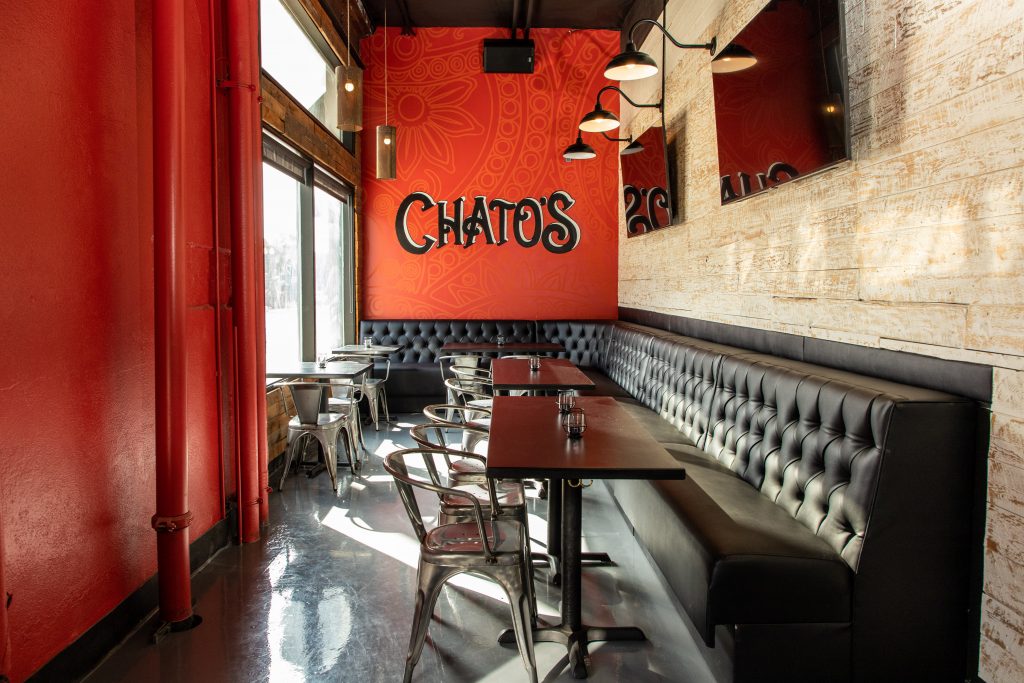 Amazingly, given its price tag of $127—more than $100 pricier than anything else on the menu—the tomahawk surf 'n' turf is a top-seller. The 32-ounce Prime tomahawk and U-8 tiger shrimp get a drizzling of chile de arbol dressing.
Atop those guajillo-imbued tortillas come tacos such as the al pastor, spit-roasted pork topped with roasted pineapple, and the chile guero with shrimp, spicy lychee slaw and burnt chile aioli.
Finish with a flourish: The cream-cheese flan, cuboid like the corundas, is festive with macerated berries, animal-crackers crumble and edible flowers.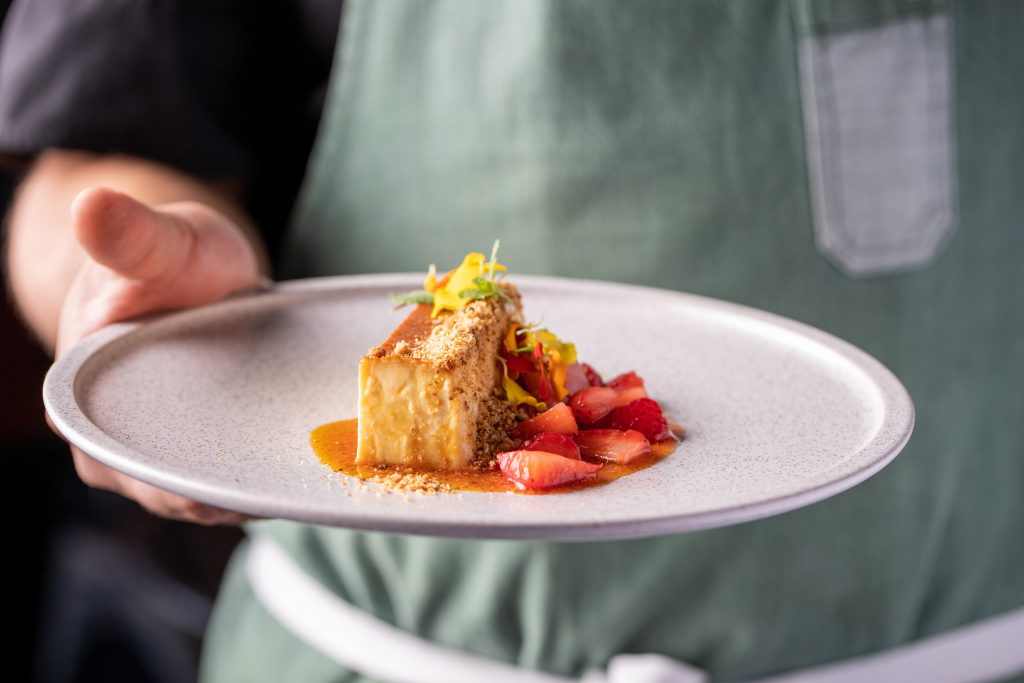 There are half a dozen margaritas, including an off-menu Millionaire Margarita with Patrón Extra Añejo, Grand Marnier Cuvee du Centenaire and gold flakes. The smoking, bubbling Saigon Lychee cocktail may sound off-brand but it outsells any of the dishes; it's delicious.
Come back for brunch: Flan-battered French toast with guava jam and coconut crema shows an altogether different side of Ortega.
Dinner is available nightly and brunch on Sunday. For those who can't dine out, to-go items include canned cocktails and family taco kits. 400 N. Broadway, Santa Ana, 714.852.3256, chatosbarandgrill.com
Photos by Max Milla.